The Illusions' 'City Of People' repro 45
Originating from the Michigan town of St Clair, and led by Tom Strascz who would later go on to be in the equally obscure psych band ATTACK, garage-punk  band THE ILLUSIONS released one single, on the tiny Michelle label, called 'City Of People/Wait Till The Summer'. Today any original copies from 1966 easily sell for north of £1000, but luckily Acid Jazz have reissued the 45 for those of us without such deep pockets. Here, in an exclusive extract, DEAN RUDLAND relates how he first came across the single
---
It was warm for October, and we were somewhere around Mid-Town on 1st Avenue. The steakhouse was old school New York and I had walked up from The Paramount Hotel to meet some of the team from Emusica, who I was working with on the Faniacatalogue. We were in town to celebrate the 50th Anniversary in music of Fania Records founder Johnny Pacheco with an All-Star line-up on stage at Madison Square Garden. It was a Nu-Yorican fantasy day for me, and the concert was one of the finest nights I have ever witnessed.
​Just as we were finishing lunch esteemed producer and fellow employee Bobby Marin joined us. He had been clearing out his apartment before making his move to Florida permanent, he had a pile of 45s in his hand, which he told me I could take away, check out and tell him if I liked any of them or if they could be used for anything. There was Latin soul, Latin funk, salsa and boogaloo on a host of small labels, but standing out of the pack was a faded green 45 on a label called Michelle; it caught my eye because it had an address in Michigan and not New York and it was obviously not a Latin record.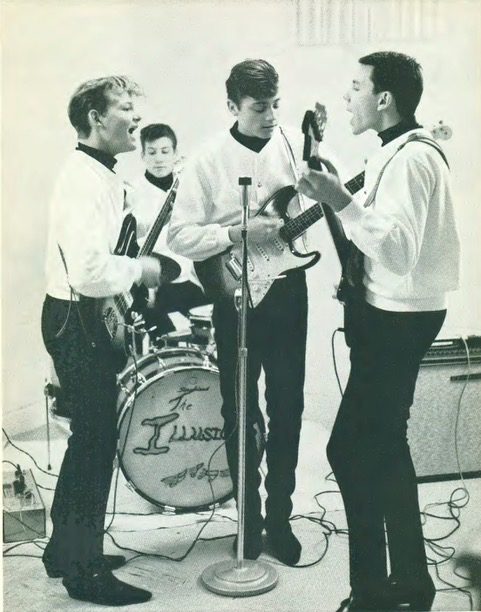 ​Later, back at the hotel, I Googled the record and discovered that it was a fabled garage rarity that really should have had nothing to do with Bobby, and yet his name was on it as producer and co-writer, and I knew that the label's name was shared by his daughter. I didn't get a chance to ask him about it then, and it was only a couple of months later over a coffee and beer in Miami that I got the chance to quiz him about it. Stationed in Flint, Michigan whilst in the air force and with a generation of bands appearing in the wake of The Beatles and the Stones, he decided he would use his music–business knowledge to start managing bands.
​It didn't matter that the knowledge at that point was not his, but his brother's, and that he had no way of promoting these groups anywhere but at their local dances, but it was worth a try. The Illusions single was recorded, Bobby then pressed it himself, and then just as he was about to release it, his tenure in the military life came to an end and he returned to New York, where at least one of the records stayed with him for the next 40 years, until he handed it to me.
​Bobby went on to have a long career after that, and as we were sitting in that restaurant he was about to embark on a legal campaign to get him the due recognition for the sampling of his composition 'I'll Be A Happy Man' on Christina Aguilera's 'Ain't No Other Man', one of the biggest hits of the year. That is most definitely another story.
'City Of People/Wait Till The Summer' is out now on Acid Jazz