Thee Hypnotics – The 2011 Shindig! Quarterly #1 Epic Interview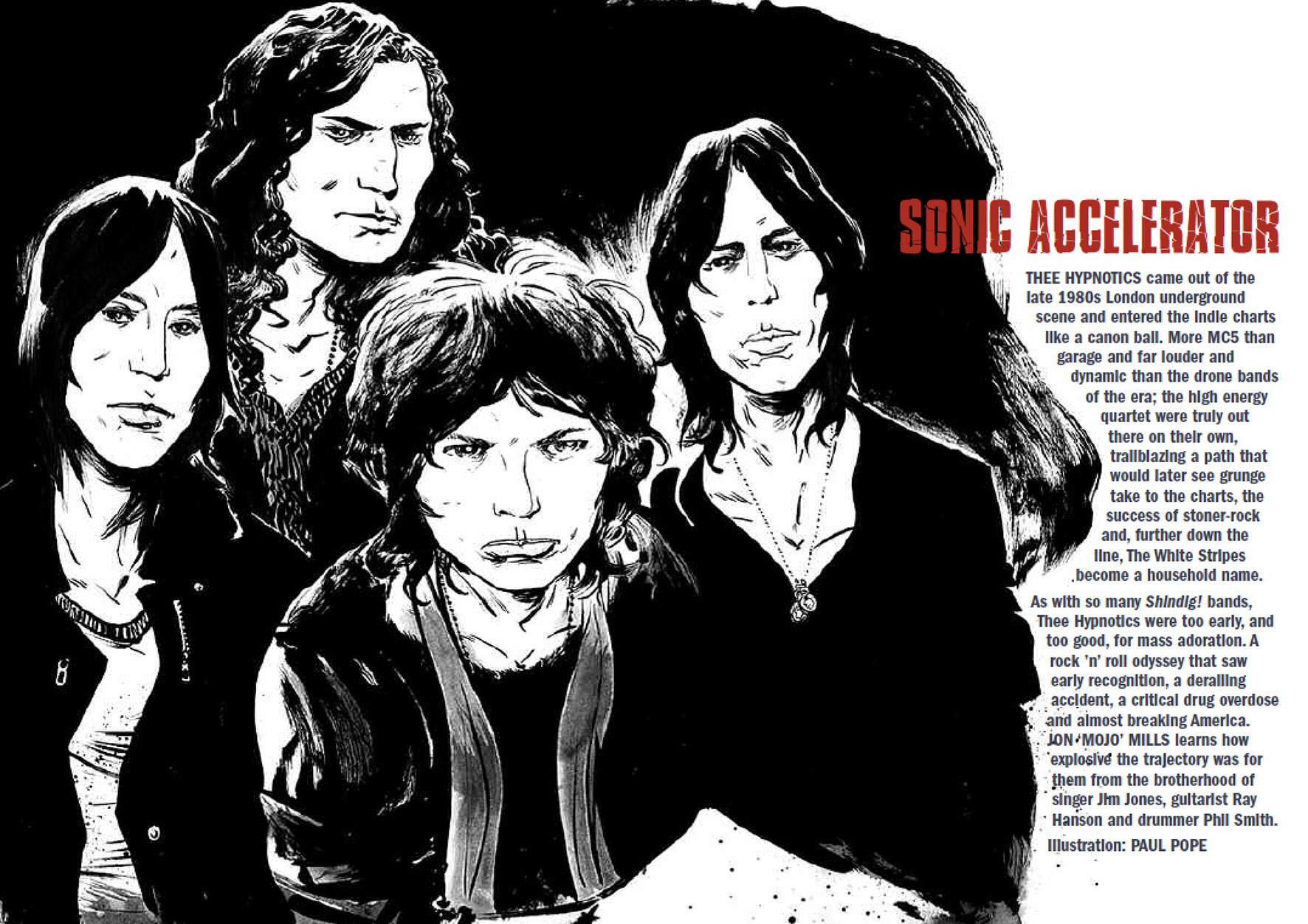 "It wasn't about fashion, being part of a musical trend or money. It was soul.  Thee Hypnotics may not have bought us houses in the sun… but we made REAL music. I still meet fans on my travels today who have been inspired by us… We were genuine."  ­– Jim Jones.
Witnessing Thee Hypnotics at the tail end of the '80s was a revelation. Echoing the spirit of the Detroit Rock Revolution of The MC5 and The Stooges they were completely mesmerising to both see and hear: oozing androgynous sexuality (not unlike Mick Jagger in Performance or the pre-booze Jim Morrison) theirs was a sound and style that was both singular and appealing, completely bereft of the dull attitude of 1989. This wasn't another bedsitter indie band or aging punk act. It was a youthful alternative.
What ended as the ultimate rock 'n' roll tragedy, a journey full of near misses, derailments and death began with childhood friends discovering music together. Jim Jones and Ray Hanson are both part Irish Londoners whose parents escaped the city sprawl in the '70s to raise their families in the Home Counties. Growing up in the village of Prestwood, near Great Missenden in Buckingham the two lads met at the local Catholic Church. As the rougher country boys were only interested in fighting and football Jim and Ray began to ingratiate themselves with older teenagers due to their shared love of music.  "I used to like The Sweet , Slade and T Rex and then got really in the Stones in my early teens," explains Ray, who to this day resembles a dandy Ronnie Wood and kohl eyed Johnny Thunders. All preened hair, trinkets and bourbon.  "Older punks from the area," he continues "were best friends with our mate's big sisters and they introduced us to Muddy Waters and John Lee Hooker, The Stooges and the Dolls."  Jones interjects, "There were one particular couple, Ali and Carlton, who were like surrogate parents. They taught us of the romance of Johnny Thunders being a loser, and how cool this guy was. We admired 'the outsider'."
The Road To Playing
By their mid-teens Jim and Ray had learnt guitar and were messing around in the school music room. "I started singing first and Jim was the guitarist," Ray remembers. "I sung 'Hippy, Hippy Shake' out of tune with Jim and our friend Bruce playing guitar, Graham Flynn on bass and Dave Davis on drums." (Many years later after the split of Thee Hypnotics Jim Jones would play in Black Moses with Graham Flynn.) Ray was already perfecting the blues, noting down how Hendrix did things and practicing hard. And although at odds with their surroundings the eager teens threw themselves into music heart and soul. The earliest Jones and Hanson acts were called The Lady Killers and The Swamps.  "We later had a band called The Kroon," says Jim, "which was just Ray and I both on guitars. T Rex, The Cramps and that glam kind of stuff drove us on. There was a little scene in Aylesbury in about 1985 that we started getting involved with and played at The Uptown Coffee Bar where older punks and psychobillys hung around." Ray laughs, "Contemporary music was our enemy. We were nothing to do with that shit at all… Duran Duran, Spandau Ballet…. Arggghhh!" The newly launched Channel 4's alternative music show The Tube did however broadcast the world the lads dreamt of "We were excited all week hearing that Iggy Pop was going to be on," smiles Ray. "Seeing him with his silver hair doing 'Sweet 16' on was amazing." "And," adds Jim, "The Lords Of The New Church, The Cramps and Tom Waits being on was great too. This was far too cool for TV." Having mastered their craft enough to play a bigger and better band was then formed.
The Trash Cadillacs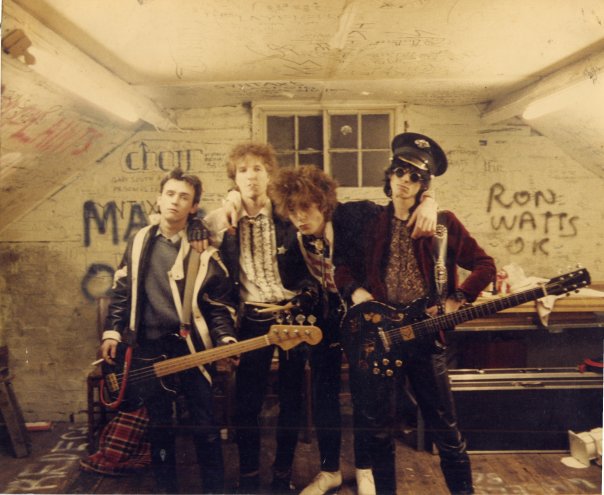 "The Trash Cadillacs played a lot at The Student's Union Bar at High Wycombe," explains Ray. High Wycombe was a far larger town on the way into London. More industrial, multi-cultural and druggy it was a stepping stone from the country to the smoke. "That was the very beginning of what went on to become Thee Hypnotics really," says Jim. "We were move slavish and did covers of things like 'I Wanna Be Your Dog', The Cramps, The New York Dolls, maybe a Ramones song, some Pebbles covers like 'Action Woman', but the feeling was there."
Thee Hypnotics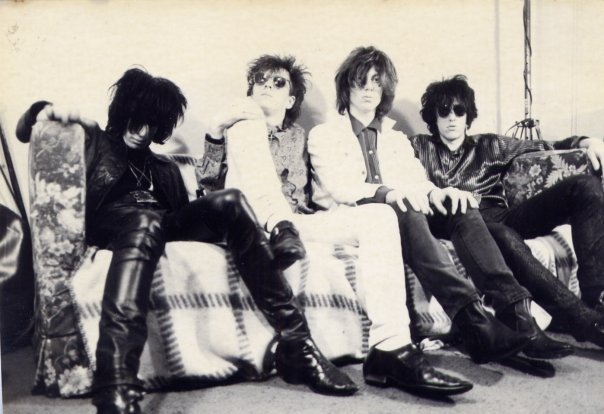 The first gig as Thee Hypnotics was on March the 6th 1986 at Chesham, supporting Episode Four (who would later go on to become East Village). Martin Kelly from the band (and also later a MD of Heavenly Records) was mightily impressed by their charged stage act and spread the word far and wide. His band were far more jingle-jangle indie, but he clearly knew a good thing when he heard it.
Honing their songwriting, playing and set at drummer's Mark Thompson's granddad's large house by the river in Cookham, Bourne End the free rehearsal time saw the newly named band flourish. "That was such a great place to have," remembers Ray. "We had this outhouse to rehearse in. We could go and do some trips, then just go in next door, switch on the amps and then jam away." Consisting of Jim, Ray and Mark, their bassist was an older guy from High Wycombe. "Chris Dennis," explains Jim, "[was] a renowned High Wycombe junkie who we knew was a great guitar player. We'd see him in The Nags Head. The landlord of the pub (which was a great venue where Johnny Thunders and the Pistols had played) would tell us that Chris was a naughty boy. Being a junkie seemed great to us though. He was the real deal! He was like Keef!" Though Jim had been to college and was by now training as an apprentice electrician Ray had remained part of Thatcher's youth, and preferred to remain unemployed whilst chasing his dream.  "I was constantly getting in trouble for passing out all the time at work," laughs Jim. "Smoking weed with them at Bourne End until 4am and then trundling off to work as Ray slept. It was exhausting. Looking back at it now though, that was a good year of hanging out, rehearsing and working up the music. The first couple of Jimi Hendrix albums were big on the listening front, as were The Cramps, The Stooges, The MC5, Blue Cheer…. these were things we all had in common. We would do teenage shit, smoke weed, do a few trips and dig the music. I didn't keep the job long either." Concurrently a guy called Carlton who was their friend Bruce's older sister's boyfriend was running an R&B club in High Wycombe at a pub called The Bird In Hand. Here the lads would soak up Elmore James along with visits to the locally renowned northern soul club at The Concord. Their decidedly dark, druggy rock 'n' roll aesthetic grew further through discovering the raw passion of black music.
"We got our first London gig through Martin Kelly," Jim recalls of the time when they first started to make an impact, "[and he] introduced us to this guy called Morris who was running Dingwalls. Morris got us a gig with Tav Falco & The Panther Burns, which we couldn't believe. 'Wow! This is fuckin' brilliant' we thought as he was connected to Alex Chilton and The Cramps. We went on stage and did this great gig and it was on the back of that we met Aaron, who worked at Vinyl Solution. He immediately approached us about putting out the first single."
Love In Vein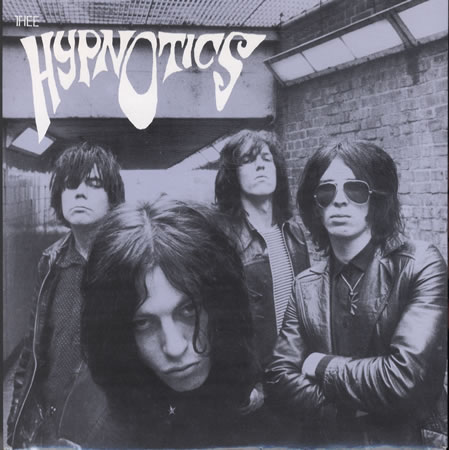 The debut 45 set the mantle for Thee Hypnotics being remembered as a seriously dirty, raunchy Detroit-styled rock band that could actually equal their influences. Housed in a sleeve taken by Dave Arnoff, who had also photographed The Scientists and The Cramps, the picture caught the downtrodden Stooges' appeal the band so sought to emulate. Ray with standoff-ish folded arms, wearing gold framed aviators, a leather jacket, black shirt and iron cross medallion, a tousled haired Jim leers into the lens and Chris Dennis and Mark Thompson stand at the back looking like thugs from a '60s biker flick. The bold white Hypnotics logo above their head with the resplendent garage band "Thee" perched on top in a small unassuming narrow font added a feral simplicity to the design. It looked suitably old. The back cover in truest MC5 homage featured a '68 shot of The Black Panthers whilst the label centre housed the band's own White Panther emblem. Justifiably this was a labour of love and a record that firmly stated the band's intentions. It was released on a very small label set up by Aaron from the prestigious Vinyl Solution record shop from the Portebello Road.  Jim explains: "We were living in High Wycombe in a house together but we spent a lot of time hanging out at Notting Hill, where the label was based. They'd also done a seven inch with The Hard Ons too. Aaron said, 'I'd made up a label for The Hard Ons so I'll make up one for you too.' He came up with Hipsville, which was fine with us as we thought it was very garage band sounding." In the Top 40 acid house was breaking and filling the Top 10. Meanwhile crap from Michael Bolton, The Pet Shop Boys, Kylie & Jason and Bros also filled the charts. At #1 that Christmas was the dire Christian hit 'Mistletoe And Wine' by Cliff Richard. Thee Hypnotics certainly had no chance at all in the pop world, and it was still a few years before grunge would take hold. Even the indie music charts were filled with dross. Hi Energy synth duo Erasure were actually doing better than the "jangle bands". Only The Wedding Present reached #1. It was on all accounts a terrible year for lovers of visceral rock 'n' roll and garage-rock, but underneath the surface a counter-culture of sorts was taking place. If any bands were in line with Thee Hypnotics it was the similarly drug laced drone bands The Spacemen Three and Loop that would have matched their ethos the most, but small town acts like The Beatpack (who played with Thee Hypnotics in Hastings) and Scottish bands The Thanes and The Offhooks were the ones that most adhered to their own rules. It was the very same couldn't care less purism that Thee Hypnotics gave off. Yet for every '60s garage band there were very few harder edged late '60s bands… and Thee Hypnotics were the best. Mark Thompson told Freakbeat fanzine in '89 that the cuts were originally recorded as demos in '87 when they were getting gigs on the London circuit. By the time the tracks were eventually mixed down eight months later the songs did not really represent what they were doing. Nevertheless, for a record released in '87 it exudes snot nosed garage-punk/rockerama. Fan of the band Jane Maben recollects the impact Thee Hypnotics made on her as a teenager:  "I first witnessed them at The Clarendon in '88 with their first bassist.  Up until this night I had happily gone along every Friday night to see the various '60s styled garage bands that were around at the time, which were promoted by Mike Spenser.  The Pebbles comps suddenly crumbled into dust for me… I wanted the hard stuff, not just rock but a heavier hybrid of the blues… The Hypnotics were my age…. at long last there was something for MY generation!
They rucked up on stage to the sounds of The MC5 and slung  Stars and Stripes flags over the speakers. They had me from THAT moment, even before they launched their glorious ear-violating assault! It was THE BEST performance I had ever witnessed…. they just had 'IT'! All my favourites rolled into one…. MC5, Stooges, Blue Cheer, Stones."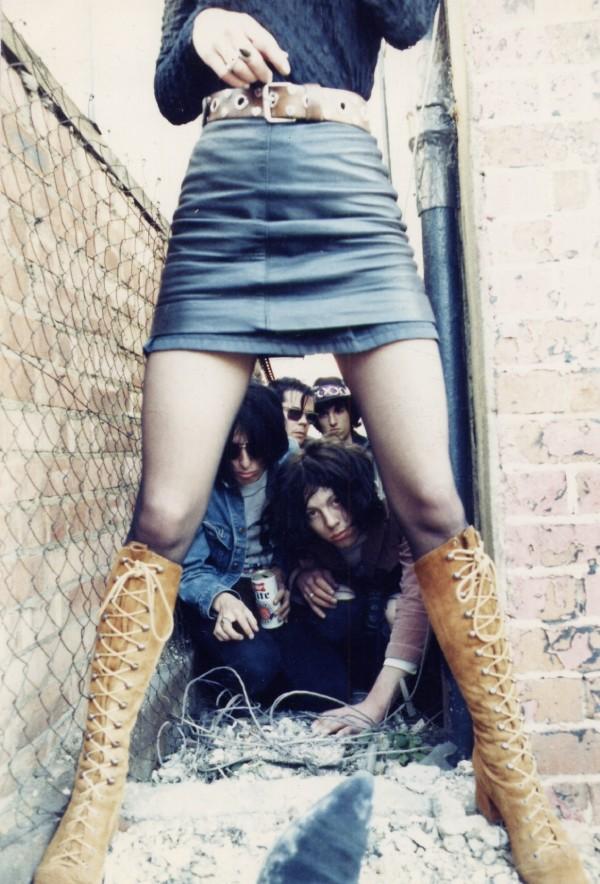 Rat Scabies had seen Thee Hypnotics play a number of times as support to both The Damned and spin off '60s garage parody Naz Nomad & The Nightmares and was smitten by these young upstarts who reminded him of the groups he had followed in his formative years.( Later in the band's career Scabies would deputise for them on drums when needed.)
First manager Steve Langdon (whom Ray describes as a hippy into Thai Chi who was obsessed by Hawkwind) drummed up interest from a number of labels. "It was an all dayer [where we got signed]," says Jim of the beginning of their ascent into glory, "and Junior Manson Slags played, along with another eight bands. By the time we got on the PA was fucked and as a result we were shit! Oddly Beggars Banquet came over after and told us we had a deal. We were like, 'After that? You should see us when we're firing on all cylinders!'
"Langdon had basically been shopping us around," he continues, "and quite a few people were interested. When we went ahead and did the deal I remember Rat seeming really let down. 'Oh man,' he said. 'I was going to do this, this and this. You could have done better.' Steve knew Rat was interested and perhaps kept him out of the picture thinking we'd be sold away by someone else." The Situation Two subsidiary of Beggars Banquet was still a decent sized label for a young band (with bigger acts like The Cult) and it seemed possible that Thee Hypnotics may just make it. Although at that time it certainly was not on their minds.
"There was a general sense of bands doing stuff that was outside fashion, even by indie terms," says Jim of the musical climate they were now part of. "These were bands that were pretty grungey. All through our career they tried to lump us in with certain things and "grebo" was the first. Bands like Pop Will Eat Itself and Crazyhead." (Thee Hypnotics' first major UK tour was in support to grebo kings Gaye Bikers On Acid.) "And then it went to The Spaceman Three and Loop thing," Jim continues "and then grunge. It was always you're this, this and this…. But Beggars Banquet did see something different as they had us and The Fuzztones."
These early gigs around London made quite an impact on a number of other youngsters whose life style choices were no part of the '80s. "We would see some guy in crushed velvet flares with a big afro and Jim and I would look at each other and wink," laughs Ray. "'He looks like fucking Rob Tyner. He's cool man.' It was a one off to see people like that. They were special. Back then you instantly knew if a person was one of us from what they wore. You could tell." As word of Thee Hypnotics spread they became one of the hot bands for people in "the know" to go and see. At venues like The Clarendon they would play to a full room of lank haired, leather jacketed teens. Kylie Minogue (pre sex kitten) may have coyly been singing 'I should Be Lucky' on daytime Radio One, but a night time performance by Thee Hypnotics could have been 20 years before.
A Bigger Deal
Perhaps the only indication of these sultry dudes being from the late '80s was the 12" format that their Situation Two singles were released on.  'Justice In Freedom' was a more mature sounding, less Stooges onslaught than the debut 7". "One of the main influences on [the song] was The Beatles' 'Helter Skelter'," notes Jim of the creative process of writing it. "We just jammed on the chang, chang, chang part of the riff for ages and did not bother to work the rest out. 'It's The Beatles but it's like The Stooges,' we thought. It was one of the early cases of seeing how the dots were joined. It's the same DNA. It's like 'Little Doll' but it's The Beatles." Lengthy, urgent and both narked off and sexy it's a song that takes cues from The Who (Thompson's and Ray's feedback laden and crashing drum ridden middle-eight), the Stones (a certain swagger in Jones' voice, some subtle honky piano tinkling away in the background) and the trusty revolutionary stance of old faves The MC5. Yet, they make it their own, sounding confidently assured of the mini-revolution they were causing. Equally strong are the two shorter tracks on the B-side: 'Preachin' And Ramblin'' is a rousing Detroit soulful rocker, right in line with the Five whilst 'Choose My Own' way  is perhaps more garage-rock with plenty of piping Farfisa. Unquestionably brilliant!
A second 12" followed. 'Soul Trader' was housed in a sleeve that saw the band dressed in vintage black leather, hipsters and with Jones crouched down looking every inch the androgynous pretty boy, mirroring the "Half Man, Half Boy" (also a later song title) image of Mick, Iggy and Jim. Musically, the A-side picks up the pace from the previous release with a high octane, speeding riff and a strong vocal. The two sided flip kicks off with the equally strong 'Earth Blues': a perfect head on crash between '69 Who and Stones with Ray's riffing strongly recalling both the styles of Townshend and Richards. The Hendrixified version of BB King's 'Rock Me Baby' meanwhile was something of a taster for the forthcoming mini-album Live'R Than God.
After the relative success of the two singles (of which both entered the indie charts and saw the band appear on MTV) Thee Hypnotics played alongside label mates The Cult for their Sonic Temple release party with pal Rat Scabies on drums. "We had such a laugh playing Stooges covers," chuckles Ray, "and it was great. Loads of Hells Angels came backstage and were handing out speed." Jim also has fond memories of the night, adding "Ian Astbury came and grabbed hold of us [when we arrived] and he looked like Grizzly Adams. We then played with him a few years later on the Ceremony tour. He was thin as a rake, had perfectly straight hair…. but seemed unhappy. As Grizzly Adams he was as content a pig in shit. He loved being a boozer. A really nice guy too.
"We then played with Stiv around this time, which was something Dave Arnoff had set up as Cheetah Chrome was not allowed to come into the country.  'He's really into your single,' Arnoff said, 'so do you want to come and be The Dead Boys for the night at Shepherd's Bush Green?'  We then became friends with Stiv and whenever we went to Paris we would hook up with him."
Live'R Than God
Although mini-album Live'R Than God was a major release for the band and opened up the doors for their first American tour and deal with Sub Pop, all was not well in Thee Hypnotics ranks. Drummer Mark Thompson had for some time felt aggrieved how Langdon was managing them, sensing that they could be progressing further. "We were caught up in the romance and I don't think it was necessarily the lack of making money [which annoyed Mark], but it was the way in which he was being controlled he did not like," remarks Jim. "Although he was right, he was just generally a pain to be around. There was in camp fighting. Mark's way of dealing with it was that he was trying to get us to see what was going on, but we were just trying to write songs and play. He kept telling us everything was heading in a bad direction." Yet Ray and Jim were happy how they were, and paid little thought to the bigger issues. Taking a swig from his bourbon Ray shakes his head and laughs, "Jim and I were so much more naive than Mark."
Recorded at London's Powerhaus the five track record shows how and why Thee Hypnotics were causing such interest. Having perfected their stage show in dank cellar bars and clubs for the past year they were tight, rehearsed visual and loud. God was a distillation of the influences fan Jane Maben mentioned and it certainly equalled any high-octane late '60s live rock album. Will Pepper's solid bass and Mark Thompson's outstanding Mitch Mitchell-like jazzy drumming support the malevolent sonic textures of Ray; although perhaps fuelled by drugs, they don't miss a note or put a foot wrong. Howling over the top of this is stew is the masterful Jim Jones who breathes Detroit rock-soul into the songs. A faultless debut, which as Jim tells me was literally recorded in one night with no over dubs.
Live'R Than God yet again saw Thee Hypnotics enter the indie chart and it was at this time a deal between Situation Two/Beggars Banquet and Sub Pop in Seattle was forged (the label that would of course break grunge and make millions from Nirvana).  The UK success funded a tour of the USA, and when asked about wads of money and the life changing experience of becoming rock stars Ray Hanson admits, "It didn't change our lives at all financially. We were still signing on. It just gave us more an ego."
Prior to the US tour frustrations between the logical drummer and the romantic rockers grew. It was at this point that the rest of the band auditioned new drummers behind Mark Thompson's back. The sole sticksman that impressed was Phil Smith (a Canadian ex-pat who had been drumming for alt rock band The Bambi Slam). Having seen a huge billboard poster for the 'Soul Trader' single Phil recalled this cool looking band he had seen playing a squat, and being a rocker at heart knew he had to join them. Discovering that there was an audition being held to felt like a stroke of luck. "We went out to the States on a Sub Pop tour with Tad. His album was called God's Balls and ours was Live'R Than God," explains Jim, "so it was the Live'R Than God's Balls Tour. Phil ended up doing the tour, but it was the one where Thompson had planned his escape. Before he implemented that we ousted him and we held auditions and Phil came up best player ­ ­- we played 'Kick Out The Jams' for a good 15 minutes."
America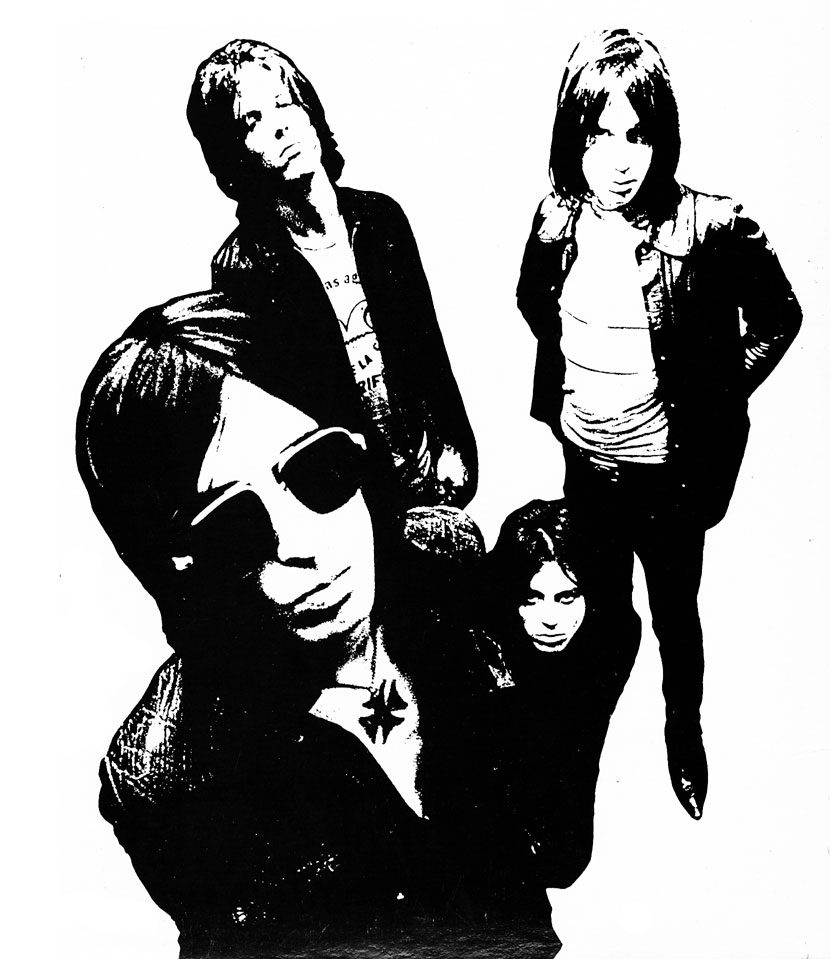 Seattle became a second base for Thee Hypnotics. But how did these long haired, vintage clothing attired British lads take to both America and their new label mates? Was this not a case of The Beatles and the Stones taking back the music to its rightful owners? Pondering this after our fourth beer of the afternoon Ray opened up, "We'd hung out with Mark Arm [Mudhoney] quite a bit and he would want to find all the rare Sham 69 and The Ruts' singles. They liked punk and were as fascinated by English music as we were by theirs. I think Curt Cobain wasn't into our band because he viewed us as a bit retro…. but he was fucking retro. When you think about it all now we're all fucking retro. And so what?"  The stylish Brit lads and slacker Americans became close friends, especially Mark Arm and (Tad's) Tad Doyle. "Also," Jim adds about the formative grunge bands, "the difference in Mudhoney's music to ours is that they would have been into Slayer too …and [Slayer] had no romance, great as they were. [Mudhoney and Tad] were smoking their spliffs listening to their favourite shit. We had a completely different musical background and agenda."
The Americans had a sharp humour though, which the young UK act instantly found amusing. If Jim Jones could be classified as pretty boy, out of shape grunge pioneer Tad certainly could not.  "I remember setting up for a gig at Hoboken at Maxwell's," giggles Jim, "and Tad Doyle and his band were all watching as we soundcheck. 'I wonder what they'll think of us?' I asked. 'They'll fuckin' rip your clothes off stud,' he replied. That sounds good I thought… or er… does it?" And yes, the crowd went wild as did the girls.  "It was great at this time," recalls Ray with a wide smile. "We still weren't thinking about money and had none, but chicks and drugs were prevalent."
Come Down Heavy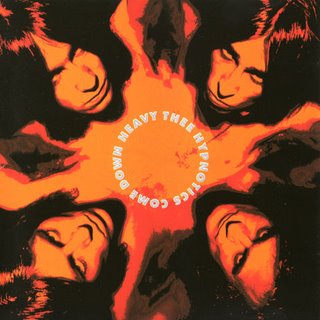 In the early '90 after having shaped up some new songs and broken in new drummer Phil Smith Thee Hypnotics returned home to the UK to start work on their first studio album. When asked if Beggars Banquet put any pressure on the band to become "more indie" or write material in a certain way Jim states the opposite. "They took us to Mark St John's studio 145 Wardour Street and said, 'What about here? It's in the centre of London and is connected with The Pretty Things. Looks like it should be up your street,' and we agreed. They brought in Dave Garland who was the engineer for Slade. It really was the right deal for us." Recorded on analogue gear with the finest vintage amps it was a wonderfully backward looking record, just as the band had wanted. They were happy: recording with top level engineers, touring the states and regulars to the charts. Maybe original drummer Mark Thompson and Rat Scabies had been right though as however glamorous their life had seemingly become, there was still no money. Jim recalls a comical situation: "We were all in the studio recording but had to go and sign on and attend these 'Check Your Circumstances' meeting as Ray and I were signing on the dole still. 'But c'mon guys we're recording,' Dave said. 'We know,' Ray and I said, 'but we have to sign on or we won't get any money.' The record company called out a Limo and we were driven down to sign on in this stretch to tell them that we weren't earning any money."
Jack Endino (known for his work with Soundgarden, Mudhoney, Nirvana… and more recently the first Sonics recordings in 40 years) mixed the album in Seattle adding his skill, but fortunately keeping the historic sound intact. The rock and Detroit stylistic they were known for now also featured some slower brooding numbers like The Doorsy 'Revolution Stone' and the tough bluesy 'Resurrection Joe'. Notable were performances from Shindig! deities Phil May and Dick Taylor of The Pretty Things.
"Keith Richards says that he was in a room and bloody Muddy Waters was painting the goddamn ceiling," points out Ray, seemingly out of the blue. "The exact same thing happened to us as Dick Taylor was painting the room where we recorded. Mark St John who owned the studio and managed The Pretty Things said, 'What would you think of having Dick and Phil play on your album?' So Dick laid down some guitar and Phil played some harp with Jim." Jim laughing explains how the two masterful bluesmen agreed on what to play: "'Do you know this one?' Phil asked. I nodded. 'Great, do this on the fourth hole down and then move it up one' he instructed. We were away… Wah..wah….wah. 'I always do that one," he said, "it's fucking great.' 'Me too,' I laughed. SO away we went."
Reaching #2 in the indie charts Thee Hypnotics had now become a recognisable name and were regulars in the weekly music papers Sounds, Melody Maker and NME… even if they were not quite as wealthy as Mick 'n' Keef.
On The Road South
Playing across France, Spain and Italy ­­­(Phil recalls "Paris was always good… they liked anything sexy, loud and psychedelic. We had long hair and wore tight trousers too, so they loved it") it wasn't long until the album tour took Thee Hypnotics back to their beloved USA. Everything was on the up. The record was selling, the live shows were rocking and the group were on form. America would be brilliant. They'd wow the audience, impress bigger labels and the World was their oyster. With the addition of Geordie  rhythm guitarist Robert Zyn to beef up the sound and let Ray focus on his razor sharp lead work… they were set to stun. After dealing with some business in Seattle the group travelled to Minnesota for the first stretch of a lengthy tour that would take them across the entire continent. Pleased with themselves after a gig with The Smashing Pumpkins Ray, Jim, Will, Robert and Phil returned to their van after a great show at Prince's Grand Slam club. "We had dinner at a Perkins Diner after the gig," remembers Ray with an uncomfortable expression. "When we walked out to get in our regular two bench seat van Phil said to me, and I remember this distinctly, 'No, after you Ray. Get in, be my guest'  'No Phil, after you,' I replied. 'No Ray, after you.' And he won, so I went in, Will followed and Phil sat by the window. A short while up the road at an intersection a Buick planed into the side of us at 70 miles per hour, smashing into Phil's hips." Jim continues, equally uncomfortable, toying with his mineral water bottle. : "I saw it coming. The guy ran a light. I saw this flash at the corner of my eye and thought 'That car should be slowing down!' And then bang… Our van was pushed up onto a ramp, his car span right round with the doors bent in and ended up pointing in the opposite direction. I ran over to the car to see if they were all right, and the bloke in the back said, "Hey dude, I was asleep. Wha'ppened?' There were beer cans everywhere. They had been really been boozing it up in the car and were utterly trashed."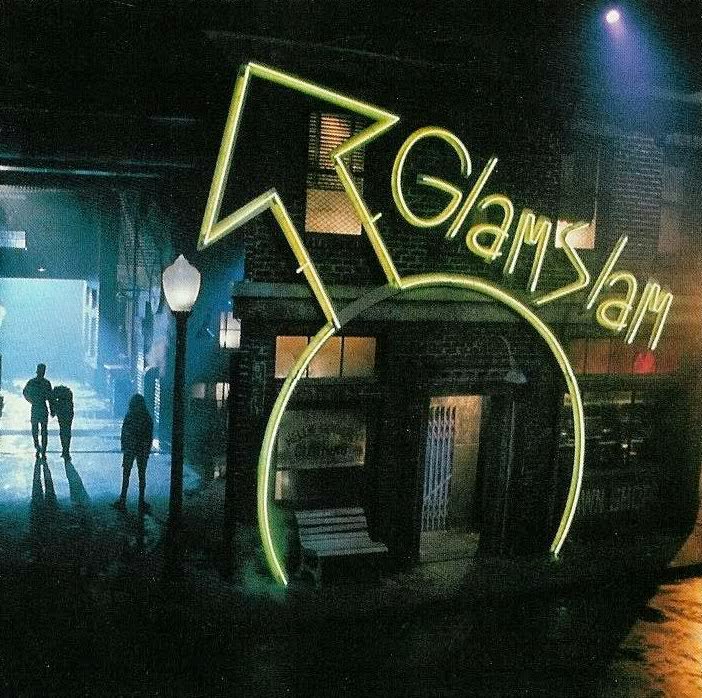 "I'm small," adds Ray, somewhat aggrieved.  "If it had hit me as it had Phil I would have been broken in half. My finger got cut badly from holding a bottle of beer and the heel of my boot just flew off from the power of impact. It was carnage everywhere. Jim was running around in a daze looking for his bag, the bloke who had hit us was trying to flee the scene even though his leg was broken. He knew he was drunk and fucked up. It was terrible. A real mess. Phil was on his back and could not move whatsoever. He couldn't breathe and the ambulance people were asking him his name. I was panicking, 'His name is Phil Smith. It's Phil! It's Phil! It's Phil!' 'Shut up,' they said. 'We're trying to do our job.' It was terrible. "
And what of Phil? How did he view this tragedy that had nearly taken his life?  "How bad was I? Very.  I was hooked up to Demerol morphine and it was administered every three hours. I was fucked with a ruptured bladder and all kinds of horrible thing, but the drugs were grrrrreeaat."
Rushed into the nearest General Hospital it was touch and go for a night, Phil was hooked up in intensive care with ice being dropped onto his tongue. Jim explains: "They would not give him medication for the first day as they were waiting to see if he had brain damage."
"I was crying, man," stifles Ray. "I thought he was gonna die as Will Pepper (our bassist) told me that he was sure Phil was not going to make the night." Miraculously he did, but it was a lengthy recuperation that saw Phil holed up in hospital for months after his band mates had returned home with their tails between their legs and their hopes dashed.
Yet Phil was making a steady recovering. "I can remember sitting in a bed in the hospital that featured in the Cohen brothers film Fargo," he explains. "I had a view of the ground where The Minnesota Viking's played, which is where The Black Crowes supported Robert Plant whilst I was in hospital. Now, somehow, this was the gig where Chris Robinson was handed Come Down Heavy. They later told me that on the way back to Atlanta they did some acid and listened to it. After that they just played it over and over on the long journey home. By the time they were back they had played it over 20 times and fallen in love with it." Having returned home to support new 12" single 'Half Man, Half Boy' (from Come Down Heavy) with Rat Scabies deputising, the rest of the band were clearly feeling down on their luck. The eruption of a US tour that could have made them must have smarted, and they were unaware of the new fan that they had gained who would later further their career.
Dark Days: Soul, Glitter & Sin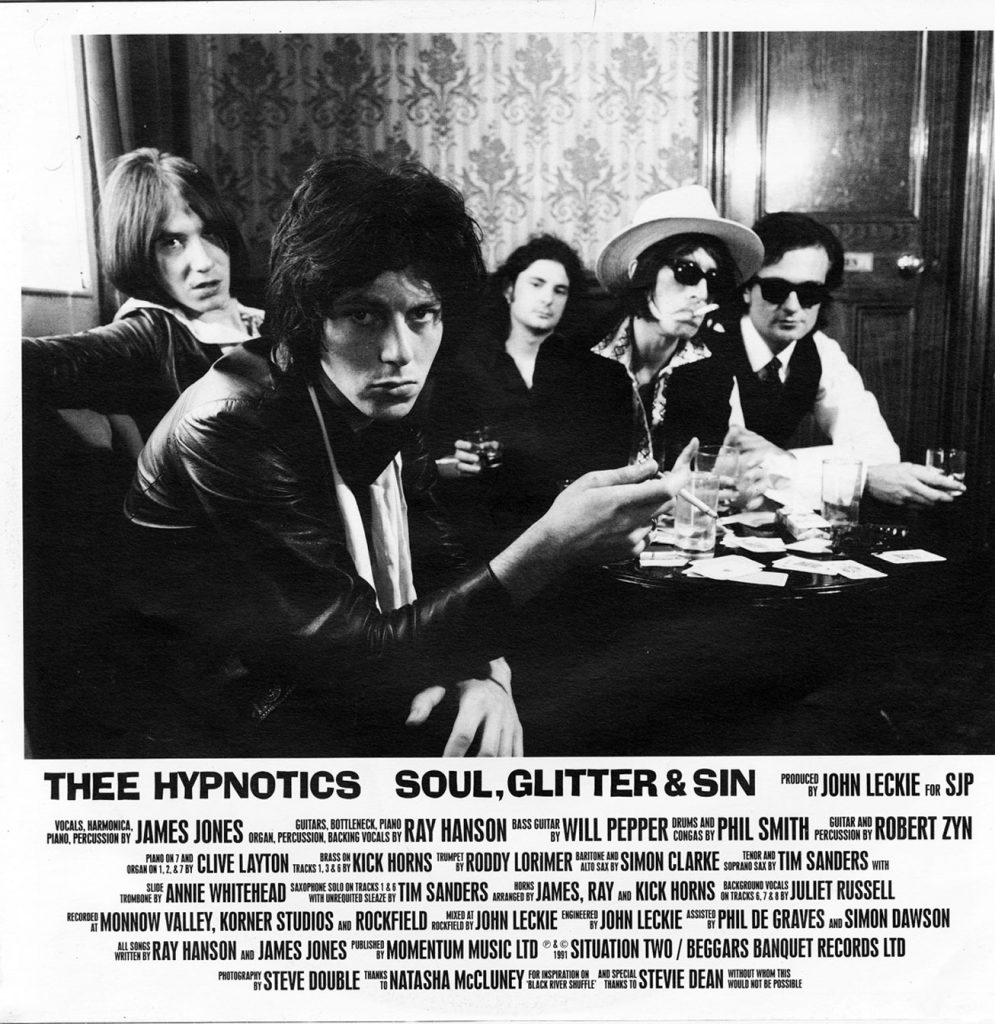 By the time Phil returned home the group were drinking more, taking more heroin than before and oddly finding creativity from the life changing and destructive turn of events caused by the accident. "It was a very messy fullstop for that chapter of the band," claims Jim. "I think this segues into [our next album] Soul, Glitter & Sin. During that dark period came a lot of other stuff we were listening too. Downer music. Big Star Third, The Gun Club, Sonic Youth, Nick Cave and Tom Waits… a more noir side of music that reflected our predicament." Having had enough time off touring, the narcotic haze of literature, crime film and a wide array of music saw them looking inwards aware of how newer bands had messed with the formula. Next single 'Floatin' In My Hoodoo Dream' was a slide guitar dominated Ry Cooder-esque hallucinatory opium daze of song. Very Goats Head Soup and an indicator of what was to come. "You'd hear The Gun Club and it would connect Robert Johnson and this dusty old blues thing with punk…. there was an exotic side door into all of this amazing history. It was the same with The Cramps. Sure there was the rockabilly and garage, but they took it all back as far as a caveman hitting a stone on a rock. All were gateway bands."
Soul, Glitter & Sin was recorded across the summer of '91 with the legendary producer John Leckie in the driving seat. If not entirely gone, mirroring the past in a purist manner was not the objective. Ray in particular had become very tuned into Thurston Moore's crafted dissonance in Sonic Youth, the early '60s tremolo driven guitar of Vic Flick from The John Barry Seven and the late '60s and '70s soundtracks of Lalo Schiffrin. "It was cinematic and different," says Ray of this progression. "We had done the first three Stooges and MC5 albums. There's only so much you can do with a blues scale. I'd also been through all of the long haired Detroit style; so there was the dyed hair, slicking it back and the Frank Sinatra romantic vibe." A number of followers however were not keen on the move away from the more grounded rock sound and felt at odds with the new, clearly heroin laced, style. Critics on the other hand were more forthcoming.
Phil recollects this uncertain time: "When I was better we went to Italy on tour to get in shape. This was one of our most bad ass moments: we were really irresponsible, drank a lot and just out for blood. The funny thing about these shows is that we became really good and a lot more musical, and a lot more focused on the music. And a lot more focused on Soul, Glitter & Sin. It was weird with John Leckie as we weren't sure, but there was something a bit special in there that we liked."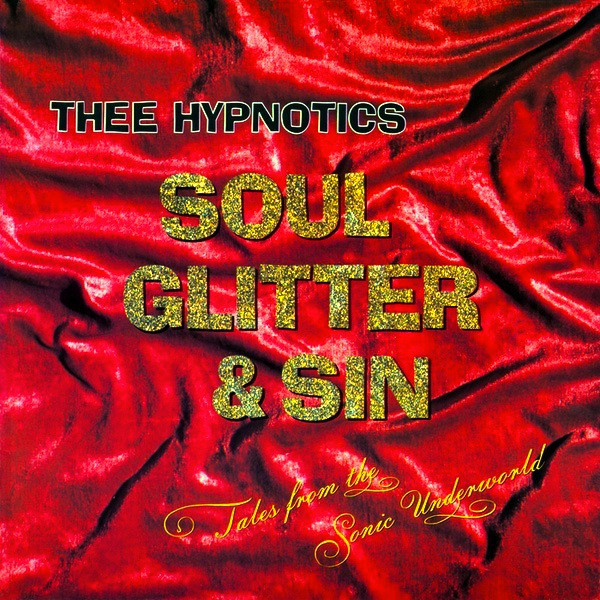 So what of the album? How does it hold up 20 years down the line? From its bold capital letters to its burlesque red and and gold design to the inner sleeve depicting a boozy looking band with Ray in Panama hat and shades with a fag dangling out of his mouth and a mournful, shorter haired Jim. Musically, yes there are elements of The MC5 and Stooges to be heard. : "Listen to 'The Big Fix'," remarks Ray. "It's The MC5 yet cinematic. It's quite original actually. It just wasn't 'retro rock'. There was an influence of dissonant chords, but formally it was not that different."Opening track 'Shakedown' was practically drowned in reverb with Jim's drunken Iggy vocal cascading over Ray's John Barry inspired guitar motif and a wash of hard boiled brass.  "I remember when we were planning it on tour we called it our Fender Twin album as opposed to our Marshall albums," adds Jim about their move left, right, backward… and forward. "John Leckie was very allowing of everything we liked to come through rather than being limited and sounding exactly like The MC5 and The Stooges. Suddenly we could like this and that. We had quite a broad spectrum of what we were listening to. Leckie did not push any ideas on us at all. He wanted to fully understand what it was we wanted to do. In the past, I'd said to people, 'You know that BIG Phil Spector reverb… well….' and they'd give you a tiny bit. When I said this to John he swamped the album in it…. woahhhh. He's a proper producer."
Dismissing Nick Cave comparisons 'Kissed By The Flames' is far more like Jim Morrison crooning with Ennio Morricone! Yes, this was daring and unlike anything the band had done, and under the guiding eye of Leckie they concocted a narcotic, boozy, stark, gothic affair: far mellower in tone, opiate and with the inclusion of instrumentals and jazzy lounge. 'The Big Fix' however took Stooges' punk to the max… only keeping the speedometer just below thrash.  Remembering the sessions with Leckie Ray extols "He put the pressure on, but this guy just comes off with the goods all of the time. I love him."
"While we were on tour with Soul, Glitter & Sin that was when Chris Robinson came on the scene," says Jim of The Black Crowes singer that had discovered the band the previous year. "As Phil had said, Chris had been listening for a while, but it was around this time when someone contacted us asking if we'd like to do a tour of England with them. They'd been touring solidly for two years since Shake Your Money Maker had come out, playing with everyone from Aerosmith to ZZ Top – but this was their first tour of the UK."
The new look Hypnotics set out on the road. "Their management had set up a support," adds Ray, "but the Crowes liked us so much they denied the agreed booked band of 70 grand and gave it to us. We met in Bristol for the first gig and Johnny Colt got up on stage for the soundcheck and started playing 'Half Man, Half Boy'. Chris Dennis was back on second guitar. The dilemma for me was that I'd do two guitar parts on the records and then not be able to do it live. First we had this guy Rob Zyn from Newcastle and he always got pissed and chased women, then it was Dave Ash who was another pussy monster… and it just never worked with two guitars in the band. We were just trying to reinact the album live." "And then Chris came back," Phil proudly states, "and it worked out really well. Chris played rhythm, Ray played lead.  He then left at the end as he could not be off the heroin, which got in the way!"
On the back of supporting tour with The Black Crowes Thee Hypnotics immediately travelled Europe with The Cult, who at this time were at the height of their mainstream rock appeal. "We'd never played a stadium before and at Rotterdam we didn't have time to do a soundcheck," says Phil. "When we came on there were 15,000 people out there. It was very strange, but we were actually very good and were very low maintenance. We'd do a 10 minute sound check and then go on and be really impressive. We had a lot more fun than The Cult too. They played all of their songs far too slow and weren't enjoying it. We were doing more drugs, scoring more girls and having lots of fun."
Highly praised by the music press the album did less well sales wise than its predecessor, although their short US tour with sold out headline shows at Chicago's Metro Theatre, St Mark's Church in New York and San Francisco's I Beam Club on Haight Asbury evened it out. If the album was a more restrained affair, live they rocked, even adding covers of Aerosmith to the set proving their hard-rockin' days were not over.
American Madness
"We did yes, we'd been living life to the max… and at the end of it we didn't want anything more to do with hard parting," says Jim of the extremes the band had been to. "When we came off the American tour Will said, 'I don't know how to say this but I don't want to be anything to do with this anymore. I can't take it. I'll finish the tour and then I'll be gone.' It was at this point that I stayed in LA (with my wife of the time) and we met through Candy [Del Mar, The Cramps, who Ray was sorta seeing] this guy who had played bass for Iggy Pop. It just so happened that we needed a bass player. And he loved our album as he had heard it playing through the PA at Donnington before The Black Crowes came on. He was there playing with Iggy and wanted to be in a real band and not be a session player/back up for Iggy, so he joined. We used to call him Little Boy Blue as he was constantly just going under. The amount of times we had to throw him in a bath of cold water. He wasn't fucked up in the head though, he just enjoyed it and always went too far."
Some candles burn too fast and flicker to an ember too soon. Craig Pike was the same. Playing with Iggy must have been a bad influence on the young, privileged middle-class musician who so enjoyed the rock 'n' roll lifestyle. For Iggy, and for that matter Thee Hypnotics, they could do it. But not everyone can. "In Italy [Craig's] heart stopped and we'd have to repump it," claims Ray shaking his head. "A few weeks later when back in London Jim and Heather weren't at their flat in London and he went all yellow and purple… and he died. It was heavy. The mad thing was that his father was a health expert in LA and had a show on TV!!!" After the near tragedy of the "Phil Smith car accident" death had now entered Thee Hypnotic's existence. "It was a wakeup call of sorts," claims Jim, "but we saw [that Craig] was a real lose canon, and that was his way. The saddest thing was that girlfriend followed in the same way shortly after." Ray tuts, ""Another clichéd story of drugs."
Drugs
"I have just finished the Keith Richards' biography," Jim explains, "and it's a great little read. It's fucking fascinating when he's writing about songs, but when he gets into the drugs thing it's like, 'Does anyone really care?' No one really cares that you couldn't be woken up before a gig. That's just fucking boring." And yes, all manner of hard drugs were consumed. Jim is now tea total and successfully touring the world with his new band The Jim Jones Revue whilst the equally gifted and charismatic guitar player Ray has not graced the stage since Thee Hypnotics called it a day, overcoming addiction and out of work.  As Jim honestly states "Becoming Iggy and Keef doesn't work on a budget."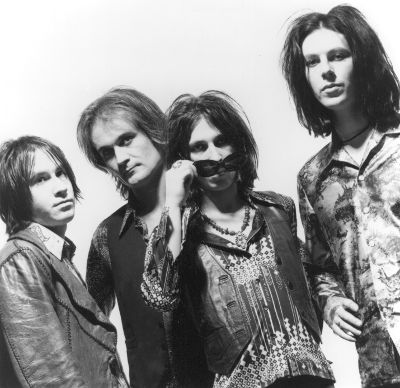 Perhaps a victim of what had began as teenage emulation of their rock heroes, all Ray has to say on the matter is "There's nothing glamorous about it… all my friends are down in a hole. There is no romance."
Album Number Three: The Very Chrystal Speed Machine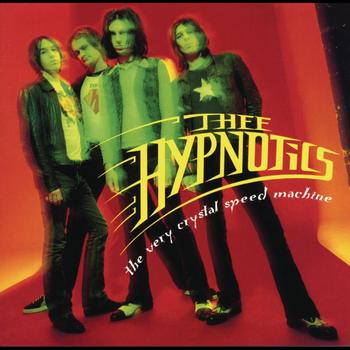 Across '93 and '94 Thee Hypnotics had been cementing themselves as a live draw in the States, winning fans everywhere they played. Johnny Depp was a huge fan, as was Harry Dean Stanton… even Cher showed up at Viper Room gig. Life had been tough, but it did look like that their star may still shine bright. : "Chris Robinson had a lot to do with instigating [our next album]. It was done as a handover from Beggars, rather than being dropped," explains Jim. "At one point Chris said to the label, 'Look I'm doing more publicity for your band than you are. What the fuck is that about?'  He really stuck his neck out and said he would produce us too." It was most unfortunate that before the recording of the album started Craig Pike OD and died. Having been part of the writing process for The Very Crystal Speed Machine and touring Europe with the songs a great gap was left without him. Long time friend Will Pepper  howeveragreed to help out when he was most needed. "He heard about it and was mortified," says Ray. "'Look if there is anything I can do, I will' he said on the phone. We told him we were recording a new LP in LA and Will was there for us and came back on board."
If Soul, Glitter & Sin was a harrowing ride through hellbound Americana (juke joints, voodoo and swampland) the new album was a return to the '70s and more importantly, England. "It was certainly our most British sounding record," agrees Jim. Producer Chris Robinson, was as in awe of England as Thee Hypnotics were of the States, and saw them as the new Free.  Fellow Crowes Marc Horne and Eddie Harsch contributed fine slide and keyboards, whilst the holy quartet of Jim Jones, Ray Hanson, Will Pepper and Phil Smith turned the clocks back to London 1970. The Very Crystal Speed Machine is a retro rock delight outstripping the similarly inclined Primal Scream or Lenny Kravitz, and to all concerned had the trappings of bona fide success. A video for the lead single 'Heavy Liquid' was directed in London by Martyn Atkins (Lenny Kravitz, Johnny Cash, Tom Petty etc). "Rubin had given me $17,000 to make this video, "he explains on the phone from LA, "which he wanted to look really English with a Faces-type vibe. We hired an old open top Bentley, scored a big bag of blow, brought in their female friends and made a rock 'n' roll video where we got trashed and drove around London. It was one of the best videos I ever made.  We hung out for a couple of days and had a really wild time." But even if Rubin was a fan of the band's music, and had so far spent a lot of money on making the album Jim explains the turn of events." Before going on tour, America [Rick Rubin's almighty label who were issuing the record] said, 'If you're Danzig or The Black Crowes, you're alright. If you're Thee Hypnotics we'll put the stuff out, but you're on your own. Things have changed." In legal proceedings with Polydor the company were in flux and had no money to break new bands. "They were throwing all of their money into this case," adds Jim. "There were tales of bugged offices and it all went… the funding went like that." A poorly attended string of shows followed. "We toured anyway with Archie O'Connor and Heidi Fufkin… not many people came to the gigs that had been booked and it was like starting out again," Jim soberly claimed. "Regular faces came along, but it was dying." In an almost by the books rock 'n' roll story Thee Hypnotics had been on a roller coaster ride of near misses, tragedy and destruction.  Of this final American tour Phil tries to pick up the tone. "The Weathered Wall at Seattle was a brilliant gig though. We were consistently good, but just dying on our arse. The album was only ever available on import in the UK on SPV Records from Germany who had a reputation for picking up dying acts…  I think they did something with The Jesus & Mary Chain too." Thee Hypnotics once again returned home with their tales between their legs, zero management, no deal and a support tour for third rate Shed Seven at Norwich! From L-fuckin'-A to Norwich! What an anticlimax. Having endured indie drone and grunge they were now plying their own brand of retro hard-rock to the new Britpop crowd. "We were perplexed, bewildered and bemused," states Ray.
Where now?
"All we knew is that we started playing to have fun and the music business came and went," Jim honestly tells me.  Under their own steam they continued to gig and as they had done with Soul, Glitter & Sin reinvented themselves. "We became more funky, which in one way or another had been with us all along. Sly & The Family Stone etc. We never sold out or made music to be more commercially viable. We had always played what we liked. For us. I was really inspired by Humble Pie, The Meters and that kind of sound. The hybrid between soul, syncopated funk and rock and that showed itself in the music. We were always a band that jammed and got together in a room, so what we were listening to always came through.  The band was me, Ray, Dave Danvers and Phil."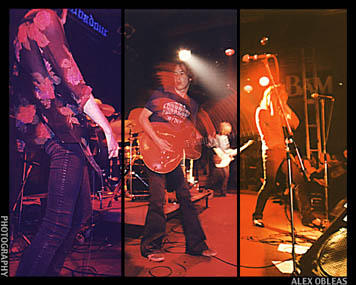 The End
"We did a great single at Toe Rag that was really good," Ray proudly adds, although it is a travesty that the session was never released. Could Shindig! rescue it? Watch this space.  "These Animal Men's manager Matt Willis looked after us for five minutes," adds Jim "… and it then fizzled out before the record was released. We did not know how to stop as Thee Hypnotics were something Ray and I had been doing since we were teenagers. That's how it was." Their last gig was in '98 at The Shepherds Bush Empire supporting Shed Seven.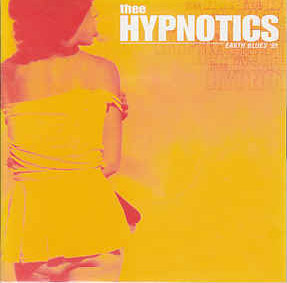 Shed Seven were now old hat and it was the beginning of a new era, and on all accounts the will was no longer there. "My son was born in '97 and my life changed drastically, I pulled myself together…" closes Jim.
Postscript
Like so many great acts Thee Hypnotics were so far ahead of the game in terms of what they were doing. As Jane Maben pointed out they had long hair and played hard-rock at a time when the London crowd were emulating '60s garage. When signed and playing alongside indie bands like Chapterhouse, the vogue was for shoe gaze. Thee Hypnotics were staring into the crowd and ripping their clothes off. The grunge crowd liked them, but their attention to style and craft confused them. And then when set to rival The Black Crowes their label dropped them. If only they had been born 10 years later and entered the world at the same time as The White Stripes, The Raconteurs, The Black Keys… hell even The Darkness… then their fate could have been so very different. "We always got amazing reviews and the journalists loved us," says a drunk and emotional Ray, "as did our peers. It's just the public who don't know who the fuck Thee Hypnotics are, that's all."
To see Jim (now conquering the world with his Revue, who were Mojo magazine's new band of 2010) carry on Thee Hypnotics' high-energy ram-a-lama albeit now more Little Richard than MC5, although of course the two are the same, is a pleasure. "For me my new band is coming full circle… it's something I have carried with me since I was a nipper," he matter of factly says. And it's true. He has stayed true to the spirit of rock 'n' roll. Phil has mellowed out and drummed for one time Rockingbird and UK country legend Alan Tyler in his Lost Sons Of Littlefield. And Ray, well Ray is a Ray; a rock 'n' roll survivor.
To see these three close knit friends reminisce was an honour. Thee Hypnotics lived the dream, nightmare and reality… and have been through more than your average rock band.
This article would not have been possible without the inside stories from the band. I raise my cap to the guys for supplying beer and opening up. Thanks to Jane Maben for her fan photos and words, Richard Allen for the scans from Freakbeat, Hugh Dellar and Lee Tea for memories and Martyn Atkins for his input.
*****
Since this piece originally ran Thee Hypnotics reformed in March 2018 for a string of dates to celebrate the Righteously Recharged boxset. For more information see theehypnotics.com. An interview regarding this runs in Shindig! issue #78