In depth interview with New York psych scene staples The Vacant Lots.
Formed in 2010, Brooklyn two-piece band, THE VACANT LOTS, have been ploughing their own unique path within the current psych-rock scene. With their 'minimal means maximum' ethos and boundless energy and enthusiasm, they have been tearing up psych music in a true punk spirit with their latest release Exit. MAGGIE GOSS finds out where they are heading.
---
In just a few years since their formation THE VACANT LOTS, Jared Artaud (guitar, vocals) and Brian MacFadyen (electronics, vocals, drums), have released two albums, Departure (2014) and Endless Night (2017). Their latest and second EP released, Exit, is featured on Anton Newcombe's (The Brian Jonestown Massacre) label, A Recordings. In addition to Anton, they have collaborated with cult legends, such as Alan Vega of SUICIDE, Sonic Boom of SPACEMEN 3 and Dean Wareham of GALAXIE 500.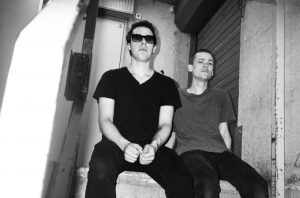 The Vacant Lots have extensively toured in the US with the likes of SPECTRUM and THE DANDY WARHOLS, and in the UK with THE BRIAN JONESTOWN MASSACRE and BLACK REBEL MOTORCYCLE CLUB in Europe. Their journey so far has taken them from Austin Psych Fest to Liverpool Psych Fest and on to supporting SUICIDE at Webster Hall in NYC in 2015. Following their most recent trip to Europe, they performed at shows in Copenhagen, Gothenburg and Fuzz Club Eindhoven, where I managed to catch up with them to find out what they've been up to.
MG: You've been touring with The Dandy Warhols in the US and Black Rebel Motorcycle Club in Europe. How did recording the Exit EP in Berlin between tours come about?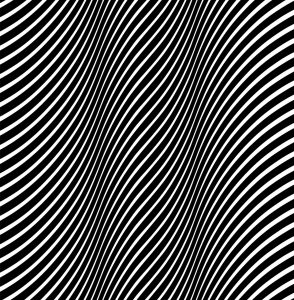 JA: It was similar to how Berlin EP was made a couple years ago. I had called Anton a week before we left for tour and invited him out to dinner and he was like "fuck that… let's make a record… come ready with your ideas…" and hung up. This time we had a a few days off in Berlin so I called up Anton & we discussed making another record together.
MG: What was process for writing the EP while on tour? How much was done in the studio?
JA: We came into the studio with fragments and ideas. I had most of the chord progressions and lyrics written in my notebook, but it was all produced in the studio. Anton didn't want to listen to the demos, he just wanted to start working and not waste any time, then one idea led to another.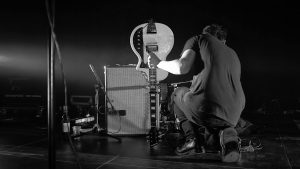 MG: Exit is the 2nd EP that was recorded and produced by Anton Newcombe (The Brian Jonestown Massacre), on his A Recordings label. He also plays bass, synths, guitars and backing vocals on Exit. Any cool or funny stories from the recording sessions?
JA: I remember this one time me & Brian were spending too much time working out some synth part, and Anton walked into the other room & came back a few minutes later & realized we were still talking about the same idea & he goes "it's rock n roll not rocket science." On the last day of recording we were about to track guitars for Bells. I recorded the rhythm guitar part first. Then Anton said he had an idea he wanted to try out for another guitar riff. So I hand him the guitar I was using (it was a Harmony H78 which I used on the whole Exit sessions as well as the entire Berlin EP sessions. Or as Anton called it the 'Take It From The Man guitar' cos he said he used the same guitar to make that album during that record in '95-'96… & also pointed out to me that it was the same guitar Keith Richards used on Exile on Main Street.) Anton takes the guitar then stops & goes "wait… why the fuck would you use the same guitar on all the songs when you have ALL OF THESE to choose from?" hands guitar back to me and grabs one of the myriad Vox guitars he has at his studio & lays down the opening chord for Bells… I remember he just picked up this guitar that was out of tune and somehow formed a drone chord instantly that worked and became the intro. One chord that he recorded in one take.
MG: In terms of the recording process with Anton, were there things that you felt worked well in the studio for the first EP (Berlin) that you continued to explore on Exit? There must be a spark of creativity working with Anton! Can you describe it?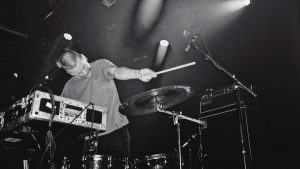 JA: There is a kind of psychic level shit when we get together to record. Instinct and intuition guide the process and you're developing ideas together rapidly with speed and intensity. Things happen more spontaneously and instantly. Fragments take shape into form a lot faster than when me and Brian work alone. Anton is a director and sculptor of sound. He really pushes us further to get the best results out of the ideas we bring to the table. I like how we are always moving forward and it's never stagnant. You know if you can trust in this method and creative process you'll come out on the other side with a fully realised album.
MG: What were some of your musical and/or personal inspirations for Exit?
JA: There is a line on Funeral Party where I say "are they waiting for me?" That comes from Alan Vega. A few weeks before Alan died, I went over to his apartment in Manhattan to play him the mixes for Endless Night. He was originally going to write lyrics & sing vocals on Suicide Note, the last track on the album. But he died before he could get into the studio. However, when he was in the hospital he kept repeating to his wife Liz, "are they waiting for me?" And she told me that Alan was talking about recording with us. Wondering if we were waiting for him to get out of the hospital to record his vocals. That haunted me for a long time. Alan was a mentor to us and my friendship with him meant a lot to me. I want to remember moments & particular feelings forever and I feel lyrics and music are a great place to do that. I want the music we make to be trans-formative and to inspire people. On 'Bells', I wanted to speak directly about the duality of love & loss. I like the contrast of 'Bells'. You know, it can be church bells for a wedding or for a funeral. The music captures the feeling of love whereas the lyrics deal with loss. Brian had the lyrics written for 'Disordered Vision' and I came up with the guitar riff during a soundcheck in Wiesbaden, Germany a couple days before we got to Berlin. On 'Silence', I was thinking about the Paris & Manchester terrorist attacks.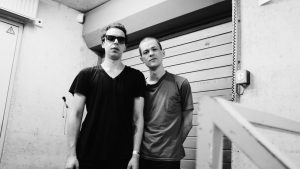 MG: You guys have collaborated with some amazing artists including Sonic Boom (Departure), Alan Vega of Suicide – RIP (Endless Night and a split 10") and Anton Newcombe (Berlin and Exit EPs). If you could work with anyone in the world, who would that be?
JA: I feel immensely grateful to make records with artists that inspired me to make albums. I mean I never imagined I would get a chance to work with people whose music changed my life & motivated me to be an artist. It's been an honour to work with them. I would really love to collaborate with Jamie Hince of The Kills and Bobby Gillespie of Primal Scream. I think we could create some great music together. On our third album we are working with Maurizio Baggio who's records sound fucking phenomenal.
MG: How would you describe the Exit EP to someone that has never heard The Vacant Lots?
JA: I wouldn't. I would just put on 'Bells' and let them hear it for themselves.
MG: You've just finished up touring the US and Europe. Will you hit the road again now that the EP is out? Or what are guys up to?
JA: This summer we're playing some music festivals & then plan to get back to Europe & the USA next year when we release our third album. In the meantime, Brian is working on building some new synths, effect pedals and tube amps. And I've been mixing & producing other bands while working on my third book of poetry & some new paintings.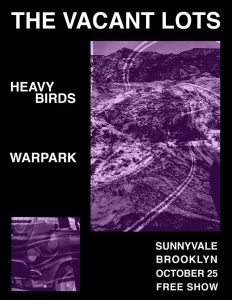 The Vacant Lots play Sunnyvale in Brooklyn on the 25th October. Get tickets HERE.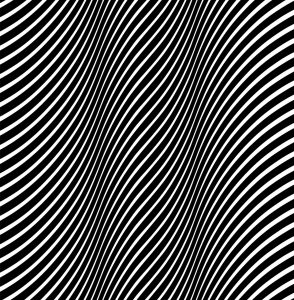 Exit is available now through Cargo Records in the UK and Europe, buy HERE, and also through Forced Exposure in the USA, buy HERE.