A dazzling show from the man of many styles
Bristol Colston Hall, 06/09/2015
---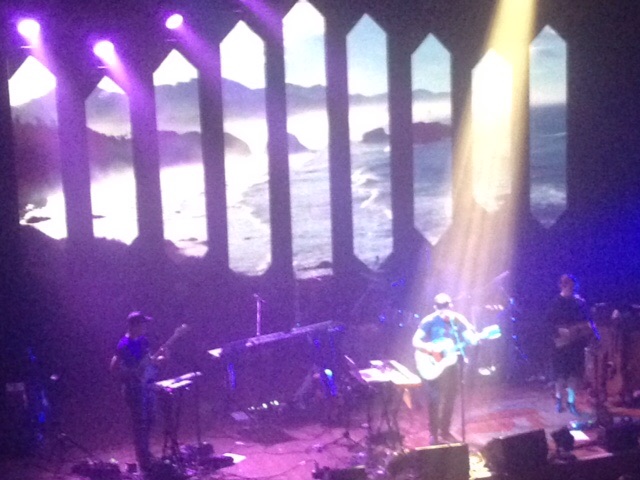 What a show!
Baroque , psychedelia, folk , electronica , indie , it had everything.
Commencing with a complete performance of his latest highly regards album Carrie And Lowell  Sufjan was supported by a band of multi instrumentalists, including female vocalist Dawn Landes. The album – a personal reflection of memories , experiences and relationships – deserved and obtained undivided attention, holding the audience spellbound. The beautifully crafted fragile songs, tackling sorrow and grief, were executed and delivered against a backdrop of home movies making the songs even more poignant if they could possibly be so.
The audience listened in silence to a masterclass of what you would term a "suite" of music rather than a set of songs. Sufjan is undoubtedly the Brian Wilson of a modern age.
It was only after the completion of Carrie And Lowell that he then took the opportunity to converse with the audience, seeming genuinely humbled by the deserved standing ovations and rapturous applause from all corners of the hall.
Accompanied by a fantastic group of musicians and the haunting vocals of Dawn Landes he then preceded to cover a variety of gorgeous songs from various albums including 'The Age Of Adz', 'All Delighted People' and in his words "My Murder Ballad, 'John Wayne Gacy , JR' from Illinois."
After another standing ovation and encore a wonderful show came to an end, leaving you feeling you had been a part of something very special.
Mark Roberts