Elephant Stone – Exclusive Interview
With the release of latest album Hollow set for 14th February 2020, MAGGIE GOSS caught up with ELEPHANT STONE Sitar superstar Rishi Dhir at this years Levitation Festival in Austin TX for Shindig! Magazine.
---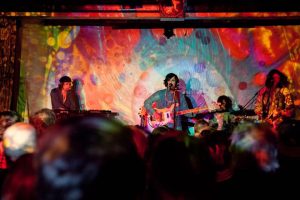 Formed in 2009 Montreal based psychpop band ELEPHANT STONE effortlessly combine Western psychedelia with traditional Indian instruments such as the sitar, tabla and dilruba to create their own unique blend of psychedelic music that can be both hypnotic and danceable – setting themselves apart from their contemporaries in a time when the term 'Psychedelic Rock' can be easily applied to bands in this modern era. With influences in 60's psychedelia and 90's shoegaze ELEPHANT STONE can be both spiritual and political in parts while also not being afraid to tackle modern day social and political issues by subtly combining these issues into their upcoming release Hollow.
MAGGIE GOSS caught up with Rishi Dhir at this years Austin, Levitation Festival for Shindig!. One of the most highly sought after sitar players in the psych scene Rishi has recorded, performed and toured with highly acclaimed artists such as Beck, The Black Angels and the Brian Jonestown Massacre amongst others.
The bands sixth and latest album, Hollow will be released through Fuzz Club in Europe and on Rishi's label Elephants on Parade for the rest of the world on Valentine's day 2020, with the album opener 'Hollow World' is currently streaming worldwide!
Shindig!: It has been almost 4 years, since your previous studio album, Ship of Fools, was released. It must be good to have returned to the studio together. Aside from the 2017 EP 'Live at The Verge' what has the band been up to?
Rishi Dhir: I took a break from Elephant Stone after we toured with the Dream Syndicate in 2017. I've been doing it nonstop for like four years, so I took a break. I put out a record with my side band Mein, we toured a bit in Europe, and I released some singles for my Acid House Ragas project that I was doing. I just wanted a change and do something different, but then, all the while, I was working on new Elephant Stone. My wife and I bought a house, and we built a recording studio in the basement, so I've been working there.
SD!: This is the first time you recorded and produced an Elephant Stone album at your own studio, Sacred Sounds. Can you describe the process behind this?
RD: Well, for this album, we finished touring. I just wanted to start messing around with sounds, so I bought all these drum machines and I just started doing stuff and tracking stuff by myself. A lot of it was me in the studio working individually with my drummer and my guitar player, and it took almost a year. My daughter sings on a bunch of songs and on the new single. Lyrically, it's everything that was going on in my life at that time, so it's a very personal record. I guess every record is personal. I recorded it, and I went deep into it, and I learned so much. I've been doing this for like 25 years, and this is the first time I've made the album myself. So, it was a big step.
SD!:  Speaking of your daughter, the single 'Hollow World' ends with your 9-year old daughter singing, "Goodbye, sunshine. Hello, dark skies. So long, clean air. Do you care?" Well, do you? What is the message behind the song, and does this theme continue throughout the album?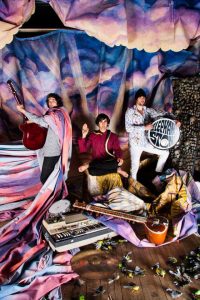 RD: Side A of the album is very conceptual. Basically, the whole thing went that I had an idea for a sci-fi dystopian story. So, I wrote this script and my buddy John Mark from Mien helped me write the lyrics. So, it's a seven-part song suite. Every song goes into the next. We're not blind to climate change and what's happening. So, I've been just writing it. It was all about us destroying the earth, going to planet B, ending up there and then the planet's dead, because there are people before us that did the same thing, and then it just perpetuates itself and then it touches upon religion. They start worshiping false idols to salvation. And in the end, they reject it. It's all very Tommy.
SD!:  In the past, you have collaborated with amazing artists, such as Anton Newcombe of The Brian Jonestown Massacre, Tom Furse of The Horrors,  Alex Maas of The Black Angels, Peter Holmstrom of The Dandy Warhols, to name a few.  Any collaborations on Hollow?
RD: My daughter! I was talking to people, but then I just wanted to keep it very homemade. It's like my little project, so I kept it pretty close to home. My wife sings on it as well.
SD!:  You're just kicking off the tour in support of the new LP. Levitation is the third show on your West Coast tour, and you're heading to Europe this winter. Are you looking forward to getting back on the road?
RD: Yeah, I mean it's been so long. I was kind of scared before the tour cause' I haven't played live in ages, but it's nice to be back at it with the new music. There are two new guys in the live band as well. It is still the same Drummer Miles, but we switched up the guitar player and keyboard player, so it's new to all of us. Robbie, was on the first album and Jason was on the second album; it's friends that are coming back.
SD!:  You incorporate sitar, tabla and other various Indian instruments within your sound. How difficult or easy is it working with the different temperaments (tuning) and scales of the American and Indian Instruments when you play live?
RD: Live? I've been doing it so long, it took me 10 years to figure out how to do it live and once I got it, it's been working and songwriting wise, I'm able to make it work. I understand the Sitar really well and how Indian classical music works, so I'm able to bring people in like my Tabla player and tell them what to do, 'cause I can speak that language, and so even writing the songs, a lot of them are written on Sitar. Our first single for the new album, 'Line of Dead', was written on Sitar.
SD!:  Speaking of Sitar and Microtonal Music, Helicon from Glasgow (Fuzz Club) and Kikagaku Moyo from Japan (Guruguru Brain) combine sitar with their psych sound and King Gizzard & The Lizard Wizard (Flightless Records) released an entire microtonal album, The Flying Microtonal Banana. Do you follow these bands to see how they combine the two sounds?
RD: I mean, I'm curious. I saw Kikagaku Moyo at Desert Daze last year. It's great. It's cool. I mean everyone's doing their own thing and it's neat and Helicon, yeah, I've played with those guys a few times – wonderful people.
SD!:  And have you listened to the LP The Flying Microtonal Banana?
RD: It's a very cool record.
SD!:  Who are you musically influenced by these days? Any current favorite bands?
RD: I've been so lost in my own world. I got really into Parachute by The Pretty Things. It's all about The Beatles for me in the end. There's so many new bands. I like Frank Ocean a lot. You find inspiration in areas that aren't the music that you make usually. So, I find that the most exciting stuff because I like when I can incorporate stuff that people outside of my genre do, into what I do. Not that I'm Frank Ocean, but in some ways, I find that it did influence me on the new record – I don't know how.
SD!:  Awesome. Thank you so much. We look forward to the release of Hollow.
Hollow is released on 14.02.19 and is available to pre-order from Elephants On Parade HERE.
Here are those tour dates in full. Elephant Stone play Moth Club in London on 14.02.19 and you can buy tickets HERE.