Thrill Further: Outtakes, demos and alternate versions of San Franciscan favourites
CAMILLA AISA's playlist on the back of her Shindig! issue #86 BIG BROTHER & THE HOLDING COMPANY cover story
---
---
Big Brother & the Holding Company 'How Many Times Blues Jam'
We start off with, of course, our cover story champions. Four gentlemen and one great, great broad…Big Brother & The Holding Company! Their Sex, Dope & Cheap Thrills was one of the most exciting reissues of the year, so here's a thrilling studio jam to celebrate that and beloved classic Cheap Thrills' 50th birthday.
The Great Society – 'Free Advice (Alternate Version #1)'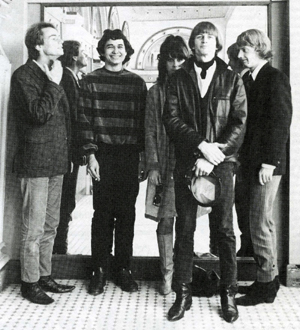 In our interview for the cover story, as we were talking about the early days of Big Brother, drummer Dave Getz recalled auditioning various singers, and deliberately looking for a woman. "That was the intention," he said, "inspired by other bands like the Great Society with Grace Slick. There were a few bands that had strong singers, but I think it was mainly the Jefferson Airplane that really set the template that we were looking at." In this alternate version of a pre-Airplane gem, Grace explores Eastern influences and redefines the concept of backing vocals.
The Beau Brummels – 'Magic Hollow (Demo Version)'
Featured in Shindig!'s guide to "lost" San Franciscan keepers, The Beau Brummels' Triangle (the band's fourth studio album) shines particularly bright thanks to single 'Magic Hollow'. In this demo recording, the song is stripped naked of its harpsichord magic – a nice way to retrace the ductile mid 60s permeability of folk and trippy rock.
Blackburn & Snow – 'Post-War Baby (Alternate Version)'
Speaking of folk getting edgier and hungrier… in the second half of the '60s acoustic darlings Blackburn & Snow went electric for an album that would be released some 30 years after the duo's breakup. 1967 single 'Post-War Baby' gets the deluxe treatment on the long-awaited compilation Something Good For Your Head: not only it proves that Sherry Snow and Jeff Blackburn were not your usual lifeless folk couple (hey, they could get groovy!), but they could also enclose a convincing West Coast jam in just one minute and forty-five seconds.
Mystery Trend – 'Carrots on a String (Audition Version)' 
With a fate that's similar to that of Blackburn & Snow, Frisco psych pioneers The Mystery Trend only managed to record one single, 'Johnny Was a Good Boy', in 1967. A much anticipated compilation arrived in '99, finally freeing the Trend of some mystery and presenting pop gems like 'Carrots on a String' (here in its audition version). "So glad I found you" indeed!
Sopwith Camel – 'Treadin''
Featured in the current issue's Vinyl Art column, the self-titled Sopwith Camel debut album is filled with vaudevillian charm and delicate spacey-ness. 'Treadin', the B-side to lead single 'Hello Hello' did not make it onto the LP until recent reissues, where it closes the record with a summery spark of irresistible West Coast flair.
Neighb'rhood Childr'n – 'Long Years In Space'
The "Jefferson Airplane template" Dave Getz talked about couldn't be more evident than on the Neighb'rhood Childr'n cult favourite 'Long Years in Space'. Here's an alternate version of the track: the Slick-ian force is strong with this one, ladies and gents. And we couldn't ask for more.
Fifty Foot Hose – 'If Not This Time (Alternative Version)'
Described on Shindig!'s guide to San Franciscan lost classics as "always too far out for the beautiful people", Fifty Foot Hose conjured electronic flirtations that still sound fascinating 50 years after the release of their Cauldron LP. 'If Not This Time' is one of the highlights of that record, a recondite sci-fi trip that gets even stranger in this alternate version.
The Grateful Dead – 'Cream Puff War (Studio Demo)'
The most iconic originators of the so-called San Francisco Sound were somewhat late to the party of making records. Notably, members of The Grateful Dead weren't too happy with their self-titled debut; the recorded versions of their early songs "failed to capture the energy that we had when we performed them live," drummer Bill Kreutzmann later commented. Perhaps there's more truth to be found in this studio demo of 'Cream Puff War' – if nothing else, its raw flavour and more exploratory spirit are getting closer to typical Dead territory.
Country Joe & the Fish – 'I-Feel-Like-I'm-Fixin'-To Die Rag (Alternate Take)'
Here's an alternate take of a classic that doesn't need any kind of introduction. It just poses a question: how on earth does a song about the Vietnam war sound so damn topical and so damn fresh at the end of 2018?
Frumious Bandersnatch – 'Cheshire'
Okay, Frumious Bandersnatch, an obscure name in the immense pantheon of psychedelic rock for the vast majority of people, never released a proper album. But they ended up recording some of my all-time favourite acid-fueled songs. 'Hearts to Cry', of course, and a long strange trip called 'Cheshire' – living its hypnotic second life on the 2003 compilation The Studio Outtakes.
Tripsichord – 'Sunday The Third'
By the time Tripsichord Music Box released their full-length debut in 1971, they had become simply Tripsichord. These days that LP is a cult favourite, but what most people tend to forget is a handful of interesting earlier singles – first of all 'Sunday The Third', the B-side to 1970's 'Times And Seasons'. The song was written by bassist Dave Zandonatti, a recent convert to the The Church Of Jesus Christ of Latter-day Saints, or LDS Church. But it certainly sounds like a more appropriate anthem for devotees of the LSD Church.
The Savage Resurrection – 'Thing In E (Unissued Rehearsal Recording)'
Ultimate proof that Californian rock was not all about sweet harmonies and acoustic utopia. The Savage Resurrection belonged to the raw side of the Bay Area, a place of pulsing wonders inhabited by the likes of Blue Cheer and, as the rousing 'Thing In E' proves, heavily influenced by Hendrix. Here's the song that should have been an all-time classic in a vigorous rehearsal version.
Moby Grape – 'Skip's Song (Demo Rec)'
'Skip's Song', later known as 'Seeing', was featured on the Moby Grape '69 LP – it was Skip Spence's moving keepsake to his band. "We did a few different recordings of that song," Moby Grape's Don Stevenson tells Cam Cobb in the latest issue of Shindig!, "including Skippy's demo, which was kind of the spookiest." Guitarist Peter Lewis compared it to a vision: the end was near. Oh, but there was still a great deal of tragic beauty to find along the way.
Ace Of Cups – 'Music' 
They waited 50 years to release their debut album – between the late '60s and 2018 only one compilation of unreleased original material surfaced. "We have a passion for the songs that we wrote in those days," Ace Of Cups bassist Denise Kaufman recently told Shindig!. "We love them and most of them really feel like they're still true. It's not like humanity has evolved that much, we were singing about relationships and what mattered to us in the world, things like that, they still totally make sense to us". Here, they sing about the one thing that will always make sense: music.
Sly & The Family Stone – 'I Get High on You (Version Two)'
The Family takes on a Sly solo classic. Stoned harmonies, the usual unparalleled groove and a reminder: nobody celebrates the sheer joy of highness better than the Stone clan.
Quicksilver Messenger Service – 'The Fool'
It could be argued that instead of hazarding with words, a good dictionary should just display 'The Fool' as the definition of "space out". This interesting studio outtake is led by an evocative acoustic guitar – wrapped in bewitching melancholy, it gets more mysterious as it grows. Compared to the LP track, this one is more East than West.
Janis Joplin – 'Me And Bobby McGee (Demo Version)'
"All my life I just wanted to be a beatnik, meet all the heavies, get stoned, get laid, have a good time, that's all I ever wanted, except I knew I had a good voice and I could always get a couple of beers off of it," Janis once said. The demo version of 'Me And Bobby McGee' begs to differ: she could always get a good deal of goosebumps off of it, too.
Jefferson Airplane – 'Things Are Better in the East (Marty's Acoustic Demo)'
Let's now end with a confession. For me, Marty Balin will always be the underrated Jefferson Airplane member. And it's my fault completely. I can blame it on every other member's unique charm (Grace and Jack's, especially), but it's just my fault. And I am not willing to change anything about it – the other Airplane members will always look more fascinating to my eyes. But I do know something: for me that strange thing called Jefferson Airplane was, right after The Beatles initiation, the threshold of loving psychedelic rock, and rock music in general. Of venerating badass ladies and also playing bass. Jefferson Airplane, simply put, changed my life. Marty Balin founded that band, opened The Matrix and fuelled the kaleidoscopic revolution of San Francisco. I will never possibly express how grateful and indebted I am to Marty Balin. So… you better listen to his sweet demo of 'Things Are Better In The East' one more time. Go ride the music, Marty.