Exclusive Shindig! Qobuz playlist #3: Continental Mutations: Soul, Funk & Jazz In European Rock 1968-77
We're very excited to be media partners with the truly unique online streaming platform and download store Qobuz. The third of our monthly bespoke playlists, which will take in all manner of genres and sub-genres, scenes and beyond, then and now, focuses on how the core roots of soul, funk and jazz inspired a legion of European bands, East to West, South to North to expand and mutate the forms into something progressive
---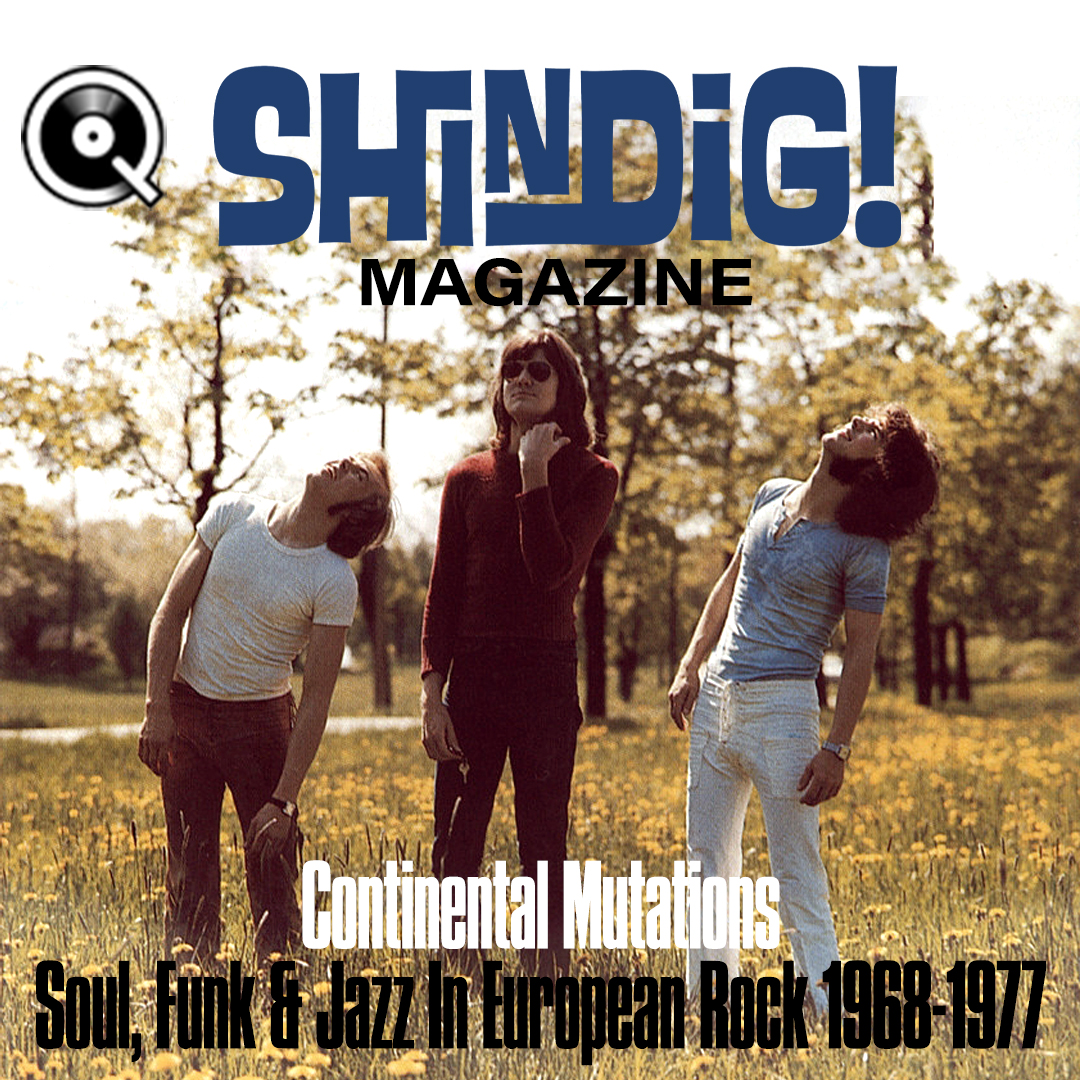 Play here or use the scrollable frame with tracklist the bottom of the page. You can sign up for a free trial today. Plans start from £10.83 per month. For more on Qobuz read our interview with MD Dan Mackta here
Whilst America and Britain undeniably led the way in the rapid move from pop into rock, the artists of the European continent, east to west, moved at a different pace, invariably in their own unique way. This playlist takes the listener on a journey through numerous countries, focussing on how the key building blocks of soul, funk and jazz informed these nations' approach in progressing their later blooming pop culture.
It seems fitting how Spain, "the gateway to Africa", embraced the '60s invasion of American soul music with such passion; and it has certainly been theorised that this embodied the country's own struggle against the fascist dictatorship of Franco. In 1969, Los Buenos, featuring token '60s Brit musician abroad, Rod Mayall, the organ playing brother of Brit blues god John, issued the applicably titled 'Groovy Woozy' as the flip to their debut single. Soul may have informed the song's structure, but the wild Hammond and guitar expositions pointed to something more daring. Barcelona's Máquina 'Look Away Our Happiness' furthered the funky Hammond into the progressive landscape that same year. After a brief introduction, which moulded mellow Bee Gees and Moody Blues' pomp, we're straight into pumped up soul music swathed in the psychedelic guitar and jazzy organ feel favoured by Arthur Brown and The Brian Auger Trinity. German transplants The Vampires had also landed in Barcelona, and with the inclusion of a local guitarist became Evolution, taking their initial soul inspirations left field. 'Dr Vazquez' from their self-titled '70 album embodies this late period, distinctly Spanish, soul sound into visceral garage-punkified territory.
If the music of Black America was a pretty good fit for the predominantly dark-haired, brown-eyed bands of southern Europe, it's interesting to note how Communist Hungary adapted a strident funk-based music all its own. There have been books written about this phenomenon, and numerous compilations. Take Kati Kovacs, later to become a household name after her pop music debut in the early '70s. 'Add Már Uram Az Esöt' was re-recorded in '73 for an East German LP and released as a single, 'Wind, Komm Bring Den Regen Her', due to the popularity of the emerging Hungarian sound in Eastern Europe. What's wonderful is how the pumping heavy-funk, peppered by Joplin-esque vocal interjections, drops in a rather instant pop chorus that wouldn't shock tea-time TV audiences. Sarolta Zalatnay was equally as famous. Her lengthy career even took her to England and America. The classic 'Hadd Mondjam El', the title track of her fourth solo LP from '73, shows how far these young female singers had come from their conservative and traditional mid-60s roots. Funk music had truly become the voice of the East.
Estonia is another country that has gained attention for its musical output in the soul, jazz and funk idioms. The unreleased cover of US folk-rockers America's 'Three Roses' by Soviet jazz star Marju Kuut is given a typically Estonian period production and performance. This '74 cut is lo-fi, soulful and jazzy, full of restrained vocalisation and bursts of effective wah-wah guitar; a folk-funk sound that reimagines the song's Western origin into something soulful yet Soviet. Poland's Czerwone Gitary formed in '66 and later gained hits in both East Germany and the USSR. The title track of '74's Rytm Ziemi is a break-beat laden percussive mid-tempo groove with washes of synth, a jazzy violin solo, and an almost pop-psych chorus.
As funk and rock coalesced in The Eastern Bloc, the then West Germany was the real hot bed for visceral countercultural rock. Whilst Tangerine Dream, Popul Vuh, Kraftwerk and numerous others embraced technology many other acts took the red-hot acid-rock of Jimi Hendrix and Funkadelic to new heights, such as Orange Peel's '70 debut 'I Got No Time'. From the '81 collection of unreleased tapes Curly Curve's 'Deception', recorded in '74, continues the soulful-rock styling with the type of refined blue-eyed soul vocals that Blood, Sweat & Tears, Chicago, Three Dog Night, etc… made in the States. The Hendrix licks, Hammond and pure abandon however take it somewhere else. Cut from the same cloth, Kin Ming Peh's 'Everything' adds a little more restraint with a head nod to prog, but keeps things decidedly funky with the traditional guitar, Hammond and vocal blend. Klauss Weiss' percussive heavy Afro-rock studio project Niagara paved the way for an array of Continental Afro-rock, including rock band Birth Control's insane 'Gamma Ray'. Brit German transplants Nektar cut the danceable prog-funk 'Nelly The Elephant' at Richard Branson's The Manor in '74, further expanding the genre's boundaries.
That weird amalgamation of heavy-rock and funk wasn't solely the domain of Germany either. As evidenced by Nektar, bands moved between countries. Norwegian act Titanic ended up in the South Of France, cutting 'Macumba' in '73, and hitting the #1 spot in Spain. Like the last two tracks, it combined Afro-rock with hard-rock, predicting disco with its four to the floor beat. Remaining in France, Les Variations' 'Berberian Wood', featuring FR David, even became a club hit in New York. It's syncopated funky-rock style ideal disco fodder. In Holland, Focus' guitar legend Jan Akkerman teamed up with singer Kaz Lux in '76 for an album. 'Can't Fake A Good Time' took jazz-fusion in a direction that fused rock and disco. Even the melting-pot Gong, who like Nektar, cut a warped funk classic in The Manor in '74 for the final instalment in their Flying Teapot trilogy. 'The Isle Of Everywhere' blends trippy with funky, an apt cosmic journey onto the dancefloor. Brainticket, headed up by Belgian Joel Vandroogenbroeck, also offered a hallucinogenic jazz groove in the form of 'Places Of Light' from '71's Cottonwoodhill.
Made In Sweden's 'Little Cloud', from the aptly named Scandinavian act's self-titled third album, recorded in England and produced by Colosseum's Tony Reeves, sticks with the jazz pantheon. Its slo-mo groove maintains all the hallmarks of The Canterbury Sound and is utterly infectious. It's jazz. It's soulful. It's delightfully breezy and danceable, while Italy's New Trolls' 'Searching' from their '72 LP Searching For A New Land gently rides a folk-funk guitar riff akin to Pentangle before the last third goes off into free-jazz piano as the pace builds.
Sticking with jazz, France, following the yé-yé pop boom of the '60s, certainly readdressed its natural association with the genre across the early '70s. Triangle, featuring veteran jazzer François Jeanneau, were very much part of la pop progressive music scene. The distinctly jazz textured 'Litanies',  from their second album Viens Avec Nous ('72), has a hippy sheen, taking American influences somewhere closer to home, as did the incredibly laidback star Nino Ferrer. 'The Garden' from Nino And Radiah Et Le Sud, is mellow funk with jazz flourishes. Like Serge Gainsbourg's L'Histoire De Melody Nelson it's utterly French, even if its inspirations are not. Greek keyboard god Vangelis, recorded in Paris too. 'Let It Happen' from his '73 solo album Earth combines a funky bass driven groove with both progressive and jazz flourishes, notably his wonderful textured keyboards.
If there's one thing that this curated two-hour selection shows is that so much impeccably good music was made outside of England and America in the era that redefined pop and rock.
© Jon 'Mojo' Mills/Shindig! magazine in partnership with Qobuz