The Byrds: 1964-1967 – a 400-page art book curated and annotated by surviving members Roger McGuinn, Chris Hillman & David Crosby.
BMG Publishing unleash this epic new book on 1st September. To celebrate this momentous occasion we are running HARVEY KUBERNIK's exclusive interviews with McGuinn, Hillman, and Crosby
---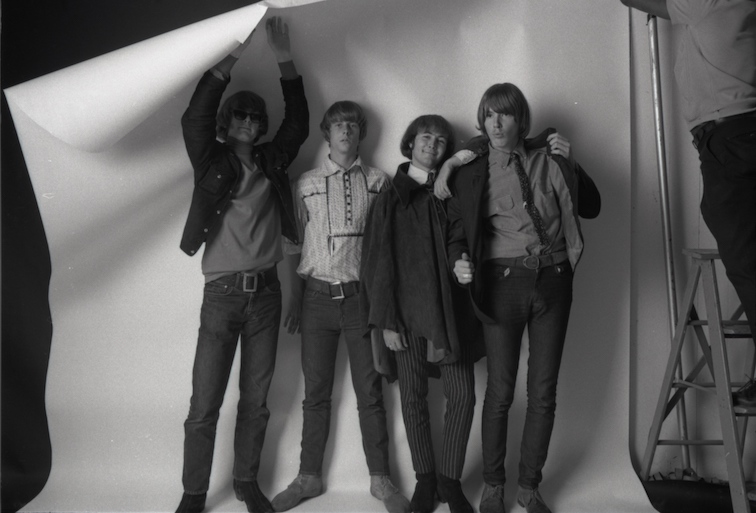 BMG has announced The Byrds: 1964-1967, a new large-format 400-page collectible art book curated by the band's three surviving founding members, and available in three versions, including a Super Deluxe Limited Edition signed by Roger McGuinn, Chris Hillman, and David Crosby.
It's the definitive visual history of the group and features rare and never-seen photos, and is available in numbered and hand-signed limited editions.
The Byrds: 1964-1967 is available at The Byrds 1965-1967
When the Byrds released 'Mr. Tambourine Man' on Columbia Records in 1965, they introduced Bob Dylan's songs to a new audience and launched a career that would see them grow to become one of the most influential rock bands of all time.
With their unmistakable harmonies and Roger McGuinn's innovative 12-string Rickenbacker guitar work, The Byrds never stopped experimenting. They incorporated folk, country, jazz and beat influences into a fresh blend that helped define an era. "And not to be too shallow," Tom Petty once wrote, "but they also were just the best-dressed band around. They had those great clothes and hairdos."
The band's three surviving founding members – Roger McGuinn, Chris Hillman, and David Crosby – have come together to present The Byrds: 1964-1967, a large format tabletop book that offers a unique visual history of their group with vocalist/songwriter Gene Clark and drummer Michael Clarke.
Featuring more than 500 images from legendary photographers such as Henry Diltz, Jim Dickson, Barry Feinstein, Curt Gunther, Jim Marshall, and Linda McCartney, the book also includes restored images from the Columbia Records archives and the personal archives from the band's original manager, Jim Dickson.
Gary Strobl, archivist and Diltz librarian, cleaned and scanned 180 images culled from original negatives snapped by Diltz, and Dixon.
A dozen of the pictures of The Byrds were first displayed in my 2009 book, Canyon Of Dreams The Magic And The Music Of Laurel Canyon.
The Byrds: 1964-1967 is accompanied by a running commentary featuring McGuinn, Hillman, and Crosby's memories of the group, the era, and their late compatriots Gene Clark and Michael Clarke, this crafted volume is a glorious collector's item for Byrds fans and anyone who enjoys photography books spotlighting the pop culture of the '60s.
 "I loved being in The Byrds," volunteers Chris Hillman. "I absolutely loved it. And as crazy as we all were at times, when we were on our game, we soared, we flew high and mighty. I think we all shared a private belief and a strong faith that this was going to work. And it worked so well."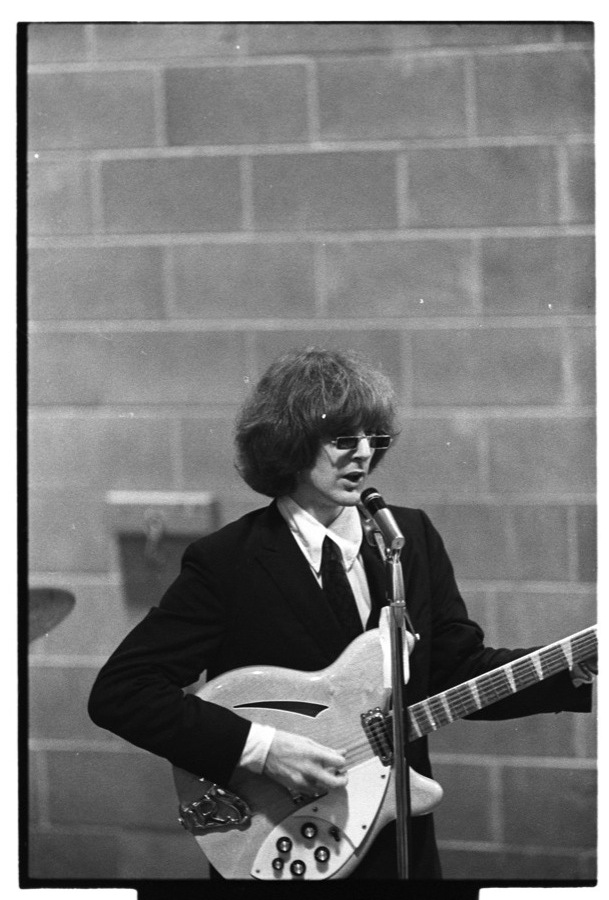 Adds Roger McGuinn: "Being in The Byrds was a detour to my dream of being a folk singer. It was a very special detour, and one I will always hold close to my heart."
This century I've interviewed Roger McGuinn, Chris Hillman and David Crosby. My first interview with Roger was in 1974 for the now defunct Sounds magazine.  Chris and I spoke a few times over the last couple of decades. My brief Crosby interview was in 2021.
I remember when The Byrds played Hollywood High School and Fairfax High School in 1965. They used to have these $2.50 school assemblies. During '65, I saw The Byrds taping an episode of Shindig! at ABC-TV studios on Prospect Ave. in Hollywood.   I followed the band from '65-75. I recall a May '68 benefit concert that the McGuinn and Hillman helmed Byrds did for Robert F. Kennedy's presidential campaign at the Los Angeles Sports Arena. Professional football player Roosevelt Grier was involved. Sonny & Cher were there along with Mahalia Jackson.
One marvelous Byrds' gig was in '70 at The Ash Grove club in West Hollywood when guitarist Clarence White was in the outfit.  In '88 I worked on the benefit concert for the New Ash Grove at the Wiltern Theater in LA where all five original members of The Byrds appeared.
Kim Fowley: I was at Ciro's night club the night Dylan jammed with The Byrds in 1965. I had seen Roger, then Jim McGuinn, play in Las Vegas in '62 when he was in Bobby Darin's group. He was like a music student. Jim Dickson the group's co-manager who helped them develop their sound was there. He was a nice guy. Jim was like an older brother of everybody. He had worked at Dick Bock's World Pacific studios with Nik Venet and Lenny Bruce. He produced Odetta and the MFQ. Jim discovered Lord Buckley and produced several of his albums, including Hipsters, Flipsters And Finger Poppin' Daddies and then The Byrds.
I had grown up with Terry Melcher who was The Byrds' producer at Columbia Records. I loved The Byrds when I first heard them the first time with 'Mr. Tambourine Man'. Great. It was electric folk music with a rock 'n' roll backbeat.
Dylan showed up the afternoon before and had a press reception that Columbia Records publicist Billy James arranged. I was introduced to Dylan and asked him, "Bob Dylan what is your concept?" And he replied, "I have two: Asking questions. Telling stories."
I later wrote a song for The Byrds' Untitled LP with Roger McGuinn and Skip Battin, 'Hungry Planet'.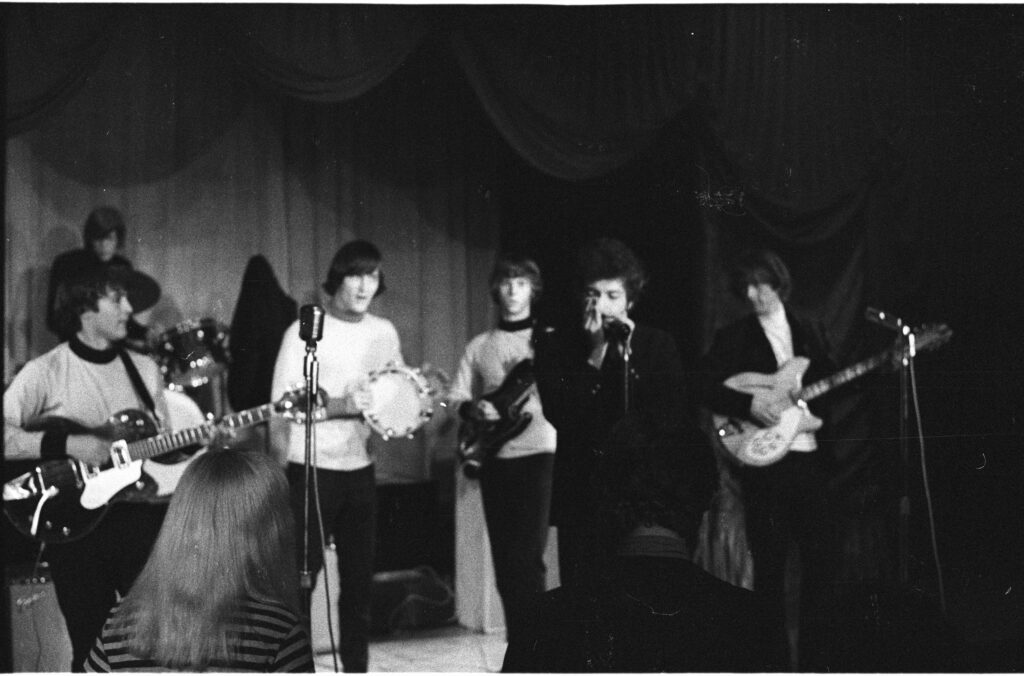 Rodney Bingenheimer: In 1965 I stood outside The Peppermint Stick nightclub in San Francisco, North Beach and heard The Byrds. I was underage. Later in '65 I moved to Hollywood and was at The Big TNT Show where they played in The Moulin Rouge with Ray Charles, Joan Baez, Donovan, Bo Diddley, Roger Miller, The Lovin' Spoonful, The Ronettes, Petula Clark, and The Ike & Tina Turner Revue. It was Godhead! Because of the sound system, the guitars, amps, drums and Chris's bass playing, The Byrds were really making folk music come to life. Chris Hillman was always the quietest rock star and a nice guy. I saw him at Ben Frank's on Sunset Blvd. around the time I met Bob Dylan at The Trip which was across the street.
Henry Diltz:  I knew The Byrds as fellow musicians. I was with The MFQ, did some sessions with Phil Spector, and I played on Bob Lind's 'Elusive Butterfly' that Jack Nitzsche arranged. I didn't see The Byrds play a lot in 1965 and '66, except once in '66 in downtown LA because I was working with The MFQ.
To stand there and watch McGuinn play that Rickenbacker 12-string was mesmerising. It just put me into a place, and the harmonies, those were the songs we heard everyday driving down Sunset Strip on the radio. So, to me it was magic.
I do know at The Monterey International Pop Festival there was tension in that group. Crosby was rubbing McGuinn and Chris Hillman the wrong way somehow. Well, Crosby is a Leo, the royal sign. He's like a young crown prince of rock 'n' roll. He's a great harmony singer and wrote some fantastic tunes. And Crosby has kind of a naughty boy thing. Holding up the guitar at Monterey with an STP sticker and doing his rap about the Kennedy assassination.
Johnny Rogan: There were several reasons why Jim Dickson was fired. David Crosby had become entranced by Larry Spector, who was representing Dennis Hopper, Peter Fonda, Hugh Masekela and various Monkees. Crosby persuaded the others that a change of manager would be a good idea, something he later regretted.
Dickson could be overbearing and would never play the sycophant. He always told The Byrds what he thought about every aspect of their career, music or personalities – whether they wanted to hear it or not. Beyond the issue of personalities, his leaving was also symptomatic of the times.
In 1967, The Rolling Stones dismissed their great mentor Andrew Loog Oldham and there were strong rumours that The Beatles might not be renewing their contract with Brian Epstein, who died that same summer. It seemed that change was in the air everywhere and artistic autonomy was the new watchword.
Daniel Weizmann: It's a common thing to point out that The Byrds married Dylan to The Beatles and created the '60s – but I think it's equally important that the marriage took place in LA.
For all their genius, neither Dylan nor The Beatles ever bring the kind of bright, spacious, sunlit sense of air and ocean that is part and parcel of every Byrds record. Even a simple blues like 'I Know My Rider' soars like a runaway kite caught on sea breeze in their hands. Make no mistake: The Byrds are a surf group.
It's no accident that The Paisley Underground flowered here. For us LA kids who were born in the late '60s, you can't imagine the civic pride we felt stumbling on a Byrds Greatest Hits record in the library on Hillhurst, seeing those photos of them lounging among the daisies that could have been Bronson Canyon or Fern Dell or some other sun-splashed LA grove. The myth of the '60s belongs to everyone, but The Byrds were ours.
I had just turned 15 when I checked that LP out of the public library. It was the early '80s and I was becoming ever-so-slightly bored with punk. What happened next was either crazy coincidence or magnificent fate. Two nights later at a "normal" Marshall High party – ya know, Michael Jackson on the hi-fi, cute girls in pastel, vodka in the punch – some chick I'd never seen before led me to a dark corner of the house and asked me if I ever tried magical mushrooms. I had no idea what they were, but, improbable as it sounds, maybe she was hitting on me! I ate 'em.
I don't remember the party. I don't even know who gave me a ride home. But as long as I live, I will never forget being back in my room, slipping on the big Panasonic headphones, and putting the needle on Side One.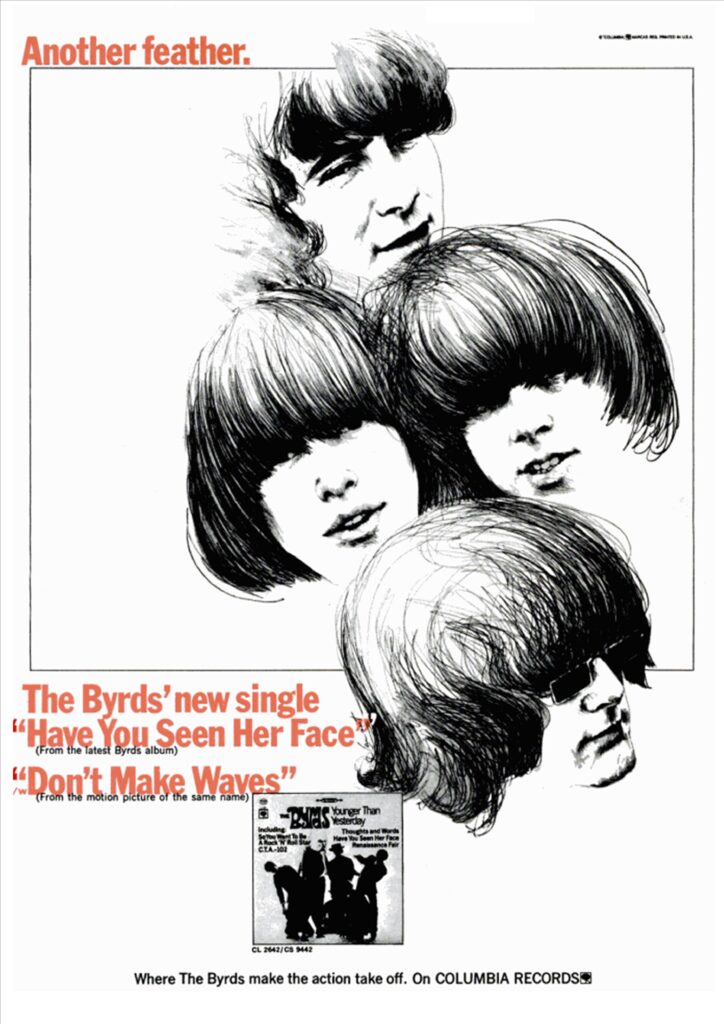 Harvey Kubernik and Roger McGuinn Interview:  
Shindig!: Your 12-string Rickenbacker guitar sound integrated into The Byrds' music since 1964 is acknowledged as one of the most influential guitar roles in recorded rock 'n' roll history, alongside other pioneers like Chuck Berry and Jimi Hendrix. How did this guitar enter your life?
Roger McGuinn: I still use it. But it wasn't part of my arsenal back in the folk days 'cause it hadn't been invented yet. F.C. Hall came up with the idea in the early '60s, and I asked him, "Why did he do it?" And he said "For folk music." He didn't realise that no self-respecting folk singer would be caught dead with an electric guitar at that time. So, he created the genre by creating an instrument by misunderstanding the folk mentality since they didn't like electric guitars, in fact they hated them. And so he made this folk electric guitar which was perfect for what I was doing. I did apply my banjo rolling techniques to the Rickenbacker when I got it. I changed my whole picking style. I used to use a thumb pick and two finger picks.
In The Byrds I had to play lead lines with a flat pick so I started combining the two styles by having a flat pick between my thumb and fore fingers and moving the finger picks down one to middle and ring finger and then doing those banjo rolls like that. That's how I did my arpeggios in The Byrds like 'Turn Turn Turn', the jingle jangle sound. In The Byrds we used a lot of electronic compression on the Rickenbacker and it gave it a sustain that it didn't have as a natural instrument. That was a really important thing.
S!: The Columbia studio had staff engineers.
RM:  A funny, ironic story about how that came about, Ray Gerhard was the engineer at Columbia Records when The Byrds started recording. And at the time Columbia was a middle of the road record label, and they were scared of rock 'n' roll. So, Ray, to protect his precious equipment would put limiters on everything, compression, and double compress it for the Rickenbacker, and that is what gave it the wonderful sound. When I heard the sound for the first time, I could not believe we had done it. It knocked me out. At the time I was on the band track with The Wrecking Crew guys, and that was fun, and we did the vocals, and it was all different parts. But when it all came together on the playback it was bigger than the sum of its parts. I couldn't believe we had done it. It sounded so creamy, rich, big and full.
Well, I did engineer my vocal, but it wasn't to match the Rickenbacker but to get between John Lennon and Bob Dylan's vocal. I wanted to try and hit that niche there between the two of them. With The Byrds we over dubbed with the Rickenbacker, like the lead break on 'Eight Miles High' and 'Turn! Turn! Turn!' They were not done with the band track. We just did a rhythm track and I would go in and do the leads until I got it right.
S!: The Byrds' unique vocal blend?
RM: We sang together well. I give the credit to Crosby. He was brilliant at devising these harmony parts that were not strict third, fourth or fifth improvisational combination of the three. That's what makes The Byrds' harmonies. Most people think it's three-part harmony, and its two-part harmony. Very seldom was there a third part on our harmonies.
S!: In 1967 The Byrds released a single of the Goffin/King composition, 'Goin' Back' in the UK that was a hit before in the UK by Dusty Springfield.                  
RM: Gary Usher got the tune and brought it to us in the studio and played it for us as a demo. I didn't know of Carole King, even though I had worked in The Brill Building earlier on. And, I had never heard of the Goffin/King songwriting team. But I loved the tune and thought it was really good. Gary explained that these were "Tin Pan Alley" writers who had just kind of taken a sabbatical and come back and revamped their style to be more contemporary, like we were doing. So, it really fit well I thought. We learned it and put a kind of dreamy quality into it.
There were only a few producers around at that time. Like Phil Spector and The Brill Building people on the West Coast, along with The Beach Boys and The Wrecking Crew. Gary was amazing when he was doing this. He was a "tech head" for the time. Very innovative. We had done this phase-shifting he had done with two tape machines. And he took that idea, which was moving the machines closer together, after recording them spread out, and then one would phase shift, and move them and make a 16 track out of them. I was loving it. He was great. Gary and I were kindred spirits and very creative. Gary was the shining light in that whole thing.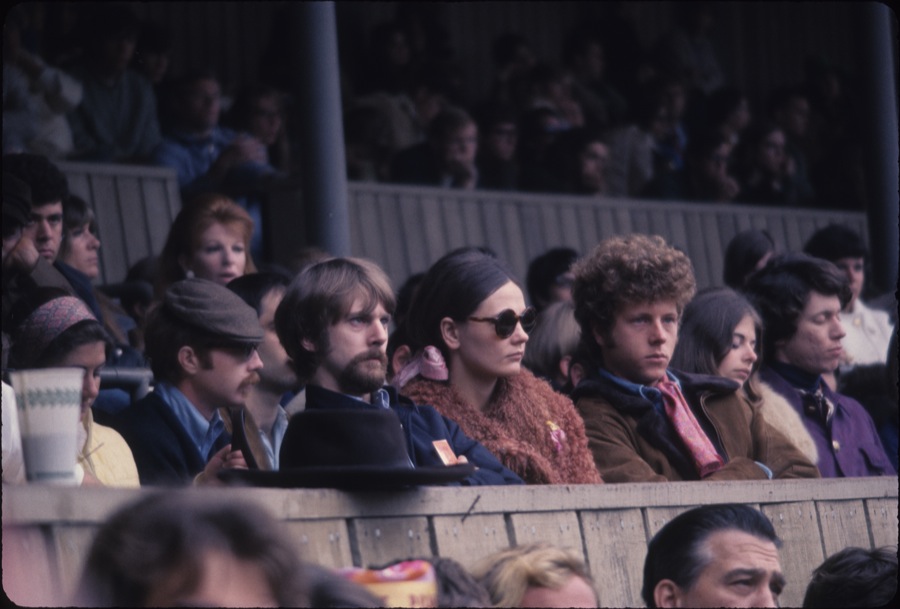 Harvey Kubernik and Chris Hillman Interview:        
Shindig!: What is your favourite record by The Byrds?
Chris Hillman: 'Bells Of Rhymney' is my all-time favourite Byrds' song. What song best describes The Byrds? I would say that. Because of the vocals on it. The harmony. Because of the way we approached the song and we had turned into a band. We had turned into a band with our own style. We went from doing Bob Dylan material and then we take 'Bells Of Rhymney" and it's our own signature rendition of it. It's not like Pete Seeger's at all. It's our own thing. And Michael Clarke, who was a lazy drummer but when he was on, he was great. And he's playing these cymbals. A great experience. I just love that cut.
The Byrds on the Turn! Turn! Turn! album on 'Satisfied Mind,' which really was a Porter Wagner hit, and I think we had heard Hamilton Camp do it, but it's such a great song. And then, I still think 'Time Between' was our country-rock song of the time. That's when we started doing that stuff. When we had Clarence White come in and play on Younger Than Yesterday. I'm not taking credit for any of that. Rick Nelson deserves credit in the country-rock thing, too. Big credit. Way beyond anybody else. But you know how this business works.
S!: The Columbia recording studio. I loved that place, knowing the history going back to radio broadcasts with Fred Allen and Jack Benny.
CM: I remember that Columbia was a union room. The engineers had shirts and ties on. Mandatory breaks every three hours. Record producer Terry Melcher was a good guy. I didn't really get to know him. I was shy. Columbia was comfortable to record in there. Terry was good. I liked him. I will say this, and on The Byrds albums I was not mixed back. Sometimes it worked. And I do have to say all five of us were learning how to play. Once again, coming out of the folk thing and plugging in. And we were all learning. Roger was the most seasoned musician, and we all sort of worked off of Roger. He had impeccable great sense of time. His style and that minimalist thing of playing that was so good. He played the melody. Our first album cover was shot by photographer Barry Feinstein, who was an old friend of Jim Dickson who was our manager.
S!: You really blossomed on Younger Than Yesterday.
CM: I started really writing songs after Crosby and I were on a Hugh Masekela session that Hugh was doing with these South African musicians way ahead of Paul Simon and one of them was a piano player named Cecil Bernard was very inspirational. And, a gal, Letta Umbulu. A wonderful singer. All the musicians were South African with the exception of Big Black. I played bass on a demo session. And David was a good rhythm guitarist.
I went home and wrote 'Time Between' and 'Have You Seen Her Face'  influenced by a blind date Crosby had set me up with along with other young ladies. There was something that connected with me and that was where I came out of my shell with that session. I came home and wrote songs that entire week after that session. And Hugh we were working with Letta Mabulu, so some of that carried over to the Monterey International Pop Festival.
S!:: The Byrds and Hugh Masekela played together at the 1967 Monterey festival.
CM: Hugh Masekela at Monterey was one of the highlights, and earlier recording with him was one of the highlights of my life. At Monterey we did Dylan's 'Chimes Of Freedom'. I didn't realise how beautiful that lyric was until years later. And Jim Dickson, and you gotta give ol' Jim credit, he instilled in us the concept of depth and substance.
He said, "Do you think you're gonna be able to listen to this 20 years later?" And, here we are yelping about 'Mr. Tambourine Man' when he brought it to us. 'Chimes Of Freedom' and the reading, the version we did on that first album was the band. We all knew it. And 'Chimes Of Freedom' is a killer. It's just one of Dylan's beautiful songs and he was just peaking then.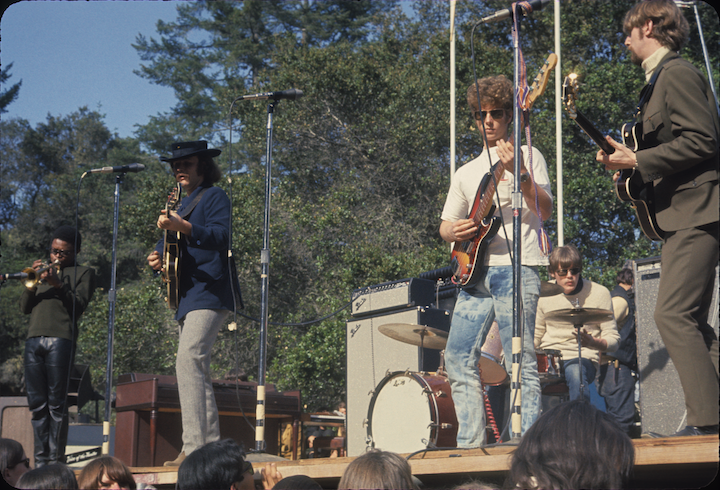 Harvey Kubernik and David Crosby Interview:
Shindig!: You had a relationship with jazz. You saw John Coltrane play live and spent a lot of time at Dick Bock's World Pacific studio. Bock issued many legendary jazz albums and titles from Ravi Shankar.
David Crosby: I was a young folkie musician. My brother played a lot of '50s jazz. I got turned on to jazz long before I got turned on to pop or rock 'n' roll. They played me Gerry Mulligan, Chet Baker, Dave Brubeck, Bill Evans, all of those guys in the late '50s. And more obscure stuff like Cal Tjader. J.J. Johnson. All jazz.
I get to a point where my head starts to open up a bit and I started playing guitar and getting more interesting on it. I'm starting to listen to pop music and I realised those chords that I really liked they were a little further along. And I started hearing some people using chords like that. And I wanted to go that direction.
When we started The Byrds, man, there were other people around town. Paul Revere & The Raiders. We're tallkin' primitive shit, guys dancing on their amps in uniforms. I mean, come on. (Laughs). This is a different world. And I hear Steely Dan. Man do I wish I was in that band. And other bands came along as well as Michael Hedges. Another one. Strongly jazz influenced but strongly classically influenced too.
And I gotta say that is really where it came from to me. I listened to a ton of classical music from my parents and folk music from my parents and jazz music from my brother. My parents played classical music every Sunday of my life. And that's what did it. I knew those chords were out there and I was lookin' for 'em. The Weavers and folk singers who could really do it and really had something to say. Those people taught us a whole lot.
S!: There is your tune 'Triad', a 1967 composition about a threesome and sexual freedom. Decades ago, it was presented to The Byrds for potential inclusion on their LP The Notorious Byrd Brothers, recorded and rejected, later surfacing on 1971 on CSN&Y's 4 Way Street. In 2006 The Byrds' recording of 'Triad' appeared on the Columbia/Legacy label's There Is A Season box set.
DC: The reason the French call it ménage à trois is they've been doing it for a long time. It's not controversial. I think there are people who are very strait-laced, some of it for religious reasons and some of them because they are squares. And for them the idea of three people making love at the same time is not only strange but outrageous, terrible and offensive. I don't feel that way. Those things are very deeply seeded, people's reactions to sex and religions