Delia Derbyshire: The Myths & The Legendary Tapes
DELIA DERBYSHIRE: THE MYTHS & THE LEGENDARY TAPES – a cinematic portrait of the legendary musical innovator Delia Derbyshire – is written and directed by Caroline Catz, who also performs the lead role. Catz's directorial debut feature-length film is a conceptual and atmospheric journey into the legacy and character of electronic music composer/sound pioneer Delia Derbyshire, who, in 1963 conceived one of the most familiar compositions in science fiction, the Doctor Who theme, while working at the BBC's Radiophonic Workshop. Shindig! are very excited
---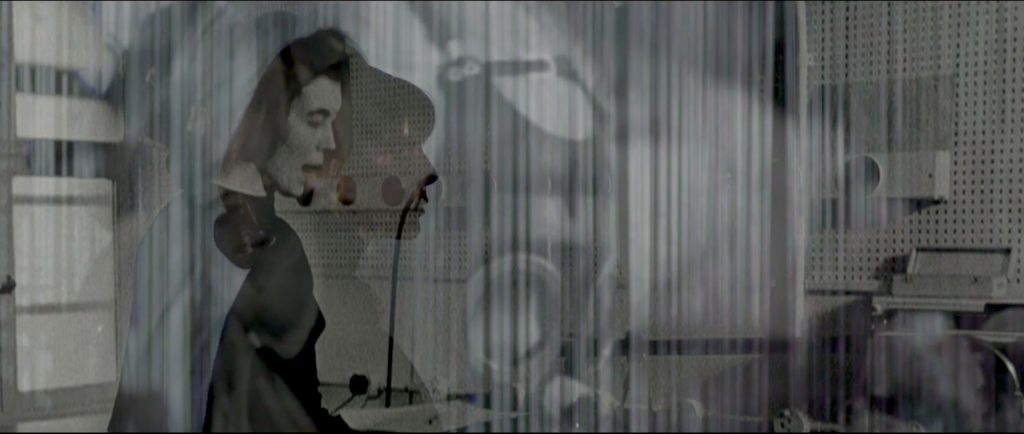 Written/Directed and Starring Caroline Catz 
Produced by Andy Starke
Soundtrack: Cosey Fanni Tutti
Featuring Original Music by Delia Derbyshire 
Premiering at the BFI London Film Festival
Available on BFI Player: Link to Tickets Here
18:30 BST, Thursday, 15th October 2020 –
18:30 BST, Sunday, 18th October 2020
Delia Derbyshire: The Myths & The Legendary Tapes expands upon the idea that Derbyshire was an extraordinary artist who lived outside of time and space as other people experience it and her soundscapes seemed connected to another realm. The film's playful, psychedelic mix utilises archival materials and interviews with Delia's colleagues and collaborators alongside dramatisations and Cosey Fanni Tutti's psycho-sonic channeling with inventive juxtapositions that mirror the famously eccentric BBC Radiophonic Workshop arranger/composer's own unorthodox and questing spirit. 
The film is a life story told through sound. Delia's own musical creations are featured alongside a soundtrack by musician/performance artist Cosey Fanni Tutti (Throbbing Gristle, Chris & Cosey, Carter Tutti Void), constructed from samples chosen by Cosey and Catz from Delia's posthumously discovered "Attic Tapes". Delia Derbyshire: The Myths & The Legendary Tapes explores the fantasy of an otherworldly creative collaboration, an exchange of ideas between two unique and fascinating maverick female artists, traversing temporal and spiritual planes. 
Produced by Andy Starke (Duke of Burgundy, In Fabric, The Greasy Strangler, A Field in England, Kill List, Free Fire, Sightseers) through Anti-Worlds, known for its slate of wild, entertaining and provocative films. Caroline and Andy have been developing this film together since 2014 and were thrilled when it was commissioned by the BBC for Arena by Mark Bell.
"The journey of working on this film and developing it over the years has really focused my thinking about how I wanted to tell Delia's story," explains Catz. "Rather than make a simply linear biopic, I wanted to probe themes that seemed to be present in Delia's life, and Delia's poetic collages of atmospheric soundscapes appear to be intriguing expressions of her inner life. The resulting film is a portrait of Delia filtered through a mix of observation and imagination, with the premise that no single perspective would be sufficient to gain a true understanding of her, replacing the rigidity of a biopic style with something more mysterious and lyrical."
Though best known as an actor who has worked extensively in television, theatre, film and radio, Catz says her transition into filmmaking isn't as much as a departure as it might seem: "People will be less familiar with the fact that I've directed two other films that are music related, Tapestry Goes West and A Message to The World, along with a short film about Delia that screened at BFI London film festival 2018.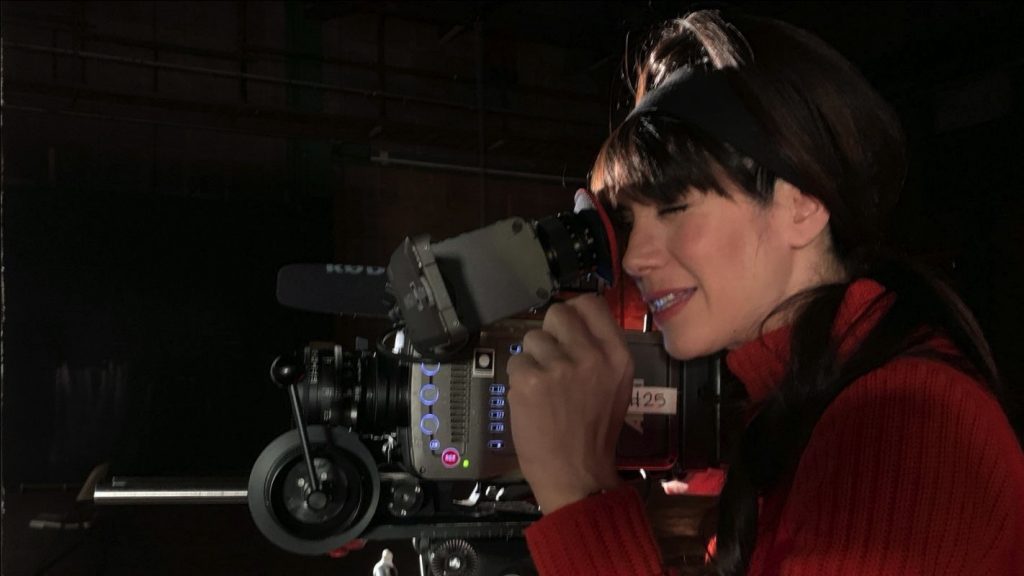 "The films have a common theme, I think. I'm really interested in the idea of outsiders brushing against the mainstream of the dominant narrative of the time: people that are unsung, forgotten or uncredited, but that are also driven by a strong force of creativity in spite of that. 
"I'm fascinated by Delia Derbyshire, her music and her legacy, and the fact that she introduced avant-garde electronic sounds to a whole generation through the medium of a teatime television show – that's really what inspired the whole idea for the film. 
"Having spent time at Delia's archive at John Rylands library in Manchester and watching the archive grow over the years, it struck me that the clues to Delia's life, and perhaps what she really wanted us to know about her, lay in the recordings she left behind. I thought it would be interesting to explore the archive through performance and the construction of a film soundtrack, combining the unfiltered fragments from this amazing resource to conjure an imagined landscape of Delia's life based on the evidence we found therein.
I felt I needed to collaborate on this project with a musician whose own work is also singular and atmospheric, Cosey seemed to me to be the perfect choice. I was thrilled that when I proposed the idea of a collaboration to Cosey that she was enthusiastic and open to it, and such a brilliant person to work with. We went on an amazing sonic adventure together up and down the M6 in a Skoda, searching for echoes of Delia."
Delia Derbyshire: The Myths & The Legendary Tapes 
Runtime: 98 minutes
Available soon on BFI Player as part of the BFI London Film Festival 2020
From: 18:30 BST, Thursday, 15th October 2020
Until: 18:30 BST, Sunday, 18th October 2020
Production company: Anti-Worlds 
Writer/Director Credits: Caroline Catz 
Tapestry Goes West / Message to The World / Delia Derbyshire The Myths & The Legendary Tapes 2018 (short).
Acting Credits: After graduating from RADA, Caroline has worked extensively in television, theatre, film and radio. She is best known for her leading television roles most recently in the series Doc Martin (ITV) and I Want My Wife Back, (BBC1), McDonald And Dodds, and DCI Banks.  Catz's recent film credits include In Fabric, I, Anna, and Radio Mania: An Abandoned Work. 
Cast:
Caroline Catz
Julian Rhind-Tutt
Tom Meeten
Saskia Reeves
Richard Glover
Michael Higgs
Honor Ray Caplan-Higgs
Zachary Hart
Cosey Fanni Tutti (as herself)
Soundtrack: Cosey Fanni Tutti 
http://www.coseyfannitutti.com/content/biog.html
Director of Photography: Nick Gillespie
Production Designer: Felicity Hickson
Costume Designer: Jo Thompson
Graphic Design and Titles: Julian House
Editor: Luke Thompson