The Story of Ready Steady Go!
HARVEY KUBERNIK gets behind the scenes of The Story Of Ready Steady Go! which airs tonight, March 20th on BBC Four (available after on the BBC iPlayer), remember kids, The Weekend Starts Here!
---
On March 20, 2020, BBC Four, the UK television channel will premiere a definitive music documentary of the iconic and influential music show of the sixties The Story of Ready Steady Go! at 21:00. This landmark British series, a music and dance programme, was broadcast every Friday night and directed by Michael Lindsay-Hogg. It debuted August 9, 1963 and a final taping December 23, 1966.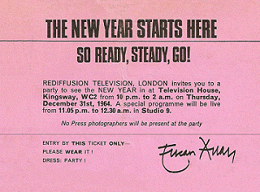 "The story of Britain's iconic 1960s music show, Ready Steady Go! The programme revolutionised television 'for the kids' and coincided with the tremendous explosion of British pop talent that took the world by storm. It championed emerging talent like The Beatles, The Who, Sandie Shaw, Cilla Black, Otis Redding and The Rolling Stones.
"Kicking off in 1963, for over three years music fans around the country would religiously tune in to watch unmissable performances from some of the top recording artists of the time. Each week, the line-up offered an evocative snapshot of the British pop scene.
"This priceless archive has rarely been seen and includes some of the most memorable performances from the greatest stars of the day. Tune in to see The Beatles perform Twist and Shout on a moving stage, The Rolling Stones presenting their very own episode, and Otis Redding's sensational duet with Chris Farlowe and Eric Burdon. Other acts include Cilla Black, Lulu, and Martha and the Vandellas. Dusty Springfield also take centre stage.
"This definitive documentary covers every aspect of a pioneering show. Its style rewrote the rulebook for music programmes, with its intoxicating blend of performance, celebrity interviews and items on fashion. It often featured cameras in shot, live mishaps and the young audience interacting with their pop star heroes.
"We go behind the scenes and speak to the people who made it all happen, including original producer Vicki Wickham and the programme's pioneering director, Michael Lindsay-Hogg. Plus further contributions from Annie Nightingale, Eric Burdon, Chris Farlowe, Mary Wilson, Martha Reeves, Paul Jones, Gerry Marsden, Georgie Fame, Jools Holland, Theresa Confrey, Chris Cowey, and Melanie Coe."
Executive producers on the documentary are Malcolm Gerrie and Genevieve Dolittle. Producer is Geoff Wonfor.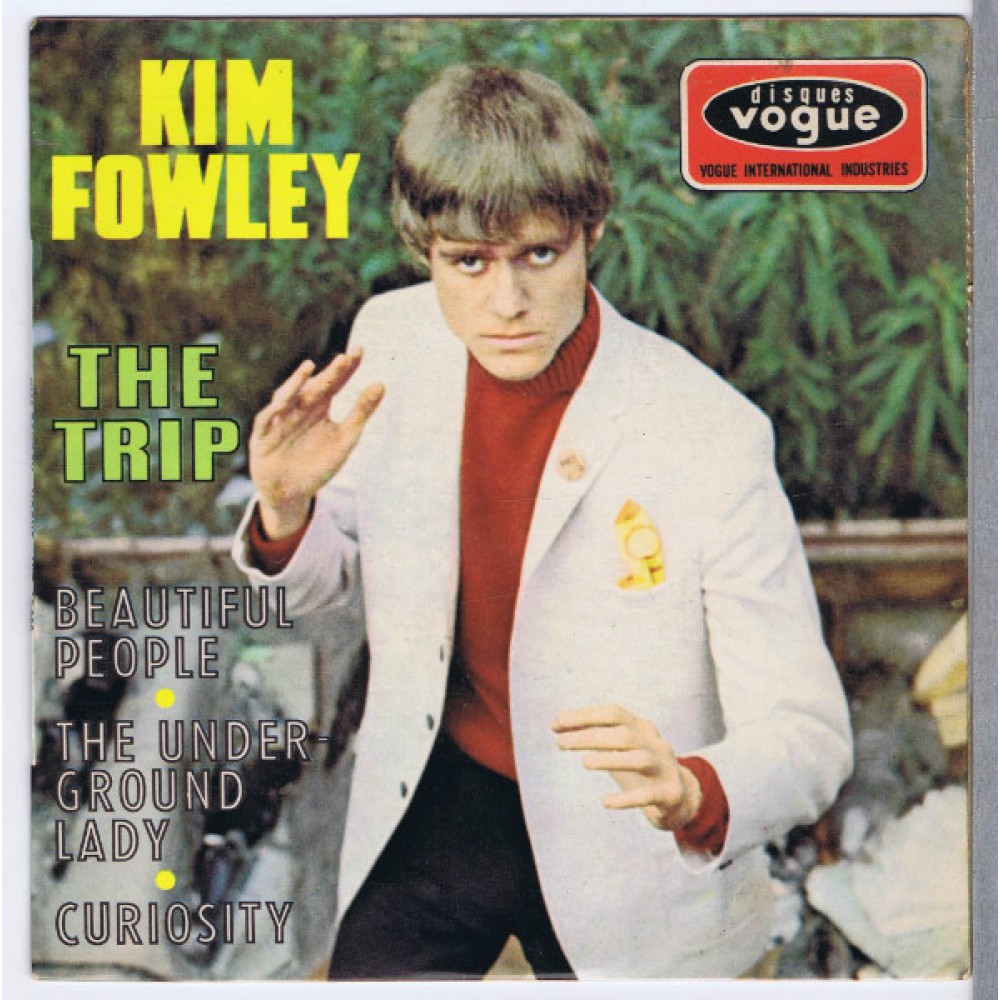 "I was a dancer on the Beat Room, which was on BBC2 in 1964," music business veteran Kim Fowley reminisced in a 2006 interview we conducted. "In 1965, I appeared and sang on Ready Steady Go! Otis Redding booked on Ready Steady Go! in September 1966 was a seismic event for the UK and must-see TV."
For many years, Dave Clark from The Dave Clark Five who purchased the rights to the programme in the eighties was restrictive and very protective about licensing footage, which might be a reason, why an essential figure, Cathy McGowan, who served as a host, doesn't appear in the 2020 documentary.
In 2018 the BMG company secured all the ancillary rights from Clark.
Currently BMG is preparing a comprehensive book on Ready Steady Go! that is being written by Andy Neill, a respected music journalist. Lindsay-Hogg has done an interview for it.
The BBC Four documentary that's being screened is followed by a brand-new compilation The Best Of Ready Steady Go! Scheduled are The Beatles performing "Twist & Shout," The Rolling Stones hosting their own episode, as well as a few clips from the Dusty Springfield-hosted Motown Records special.
Director Michael Lindsay-Hogg helmed many of The Rolling Stones' promotional video clips after 1966: "She's a Rainbow," "2000 Light Years From Home," "Child of the Moon," and "Jumpin' Jack Flash," as well as The Beatles' "Paperback Writer," "Rain," "Hey Jude" and "Revolution."
Lindsay-Hogg is the pioneering music video director behind The Beatles' Let It Be feature film and lensed many of The Rolling Stones' recorded appearances. During the course of his career, he has directed specials for Simon and Garfunkel, Neil Young, Paul Simon and The Who.
Like visionary director/producer Jack Good before him, both studied at Oxford, Michael Lindsay-Hogg viewed and lensed rock 'n' roll as a dramatic subject. Michael's first job, at age 16, was serving as an apprentice for John Houseman's repertory theatre company in Stratford, Connecticut.
. "I started out as a child actor and fell in love with the theater," Michael told me in a 2019 interview. "The first jobs I had were in Shakespeare on stage. And that's how it started and I tried very much to bring some of those elements to Ready, Steady Go!"
RSG! was conceived by Elkan Allan, then head of Rediffusion TV. Vicki Wickham assembled the talent and dancers and served as one of the producers. After 1964 the live show was aired nationally on network. The program was recorded at the RSG! studio in Rediffusion's headquarters in Kingsway, London.
RSG! gave a platform to some of the most successful recording artists of the sixties: The Who, Otis Redding, The Animals, Gene Pitney, The Zombies, Sandie Shaw, The Beatles, Burt Bacharach, The Stones, The Temptations, Donovan, The Kinks, James Brown, The Fortunes and The Walker Brothers.
Initially, the musical guests on RSG! mimed to their pre-recorded tracks, by late 1964 some artists performed live and eventually all acts to all-live performances in April 1965. The hosts/presenters were Keith Fordyce and Cathy McGowan. Early shows were introduced by singer Dusty Springfield.
"It was a black and white program," reinforced Michael. "A lot of the great comedies and dramas from the forties and fifties were in black and white. In England we had no color.
"I had no worries from the people above me. Elkan Allen was the creator and always encouraged me to go further. Very helpful.
"And I think people were stunned by the comparative substance of the rock 'n' roll that was on television," Lindsay-Hogg underscored.
"1963 was a revolution. It was the kids who had been children in World War 2. The world was opening up for them. They could have long hair if they wanted too. And it was the discovery of the pill for pregnancy. And so a whole nation was open for young people and freedom. There was long hair, the pill and music. The paper was ready to be lit and the match came," ventured Lindsay-Hogg, who along with John Lennon, Andrew Loog Oldham, Vicki Wickham, Mick Jagger and other bold Brits embodied the confidence of a new London.
"There were new managers in rock 'n' roll and around Ready Steady Go! Don Arden, Andrew Loog Oldham, and Kit Lambert and Chris Stamp, had been assistant stage managers or involved in acting."
"In 1963 I was working," Andrew Loog Oldham happily confessed in a 2016 interview we did.
Between January and April of 1963, Andrew as a publicist represented The Beatles and their manager Brian Epstein's other new acts, Gerry & the Pacemakers and Billy J. Kramer and the Dakotas, and spent one of the most productive and carefree times of his life.
"I was doing The Beatles' PR in early '63 and Kenny Lynch and The Beatles were on a tour with Tommy Roe and Helen Shapiro. It was over that tour, between 'Please Please me' and 'From Me To You,' that you saw the chaos and the pandemonium grow to explosive proportions. Something had to give, the UK was bursting at its Beatle'd seams, and what finally gave was America. I was representing this fascinating wonder, the Beatles. I liked Brian Epstein and the way he got things done."
In my 2004 book, Hollywood Shack Job: Rock Music In Film and on Your Screen. Andrew recalled, "RSG! represented the time when we were in the business we wanted to be in and RSG! on a Friday night the Green Room was the meeting place of all those similarly blessed. Vicki Wickham booked the show from late 1963 to December 1967. Michael Lindsay-Hogg directed it, and tried new techniques like stop action and freeze frame while the band was on camera.
"Save to say I still communicate with both of them so that tells you the lot. You were dealing with nice people. None of the people had an agenda. On the show, the visuals propelled the music."
In 2016 he elaborated, "For one it was obvious that 'this thing of ours' was not going to disappear. We had come in following the Twist, Davy Crockett, Skiffle, and Trad Jazz. Skiffle and Trad Jazz had been very important; they had been the BBC and the Establishments last chance to control the key to what music we got to hear. You had shows like The 6.5 Special; hosted by Pete Murray (God bless him!) and Jo Douglas which invited us all to deck up in jeans and sweaters and be really daring with our shirt collars turned up.
"The music was shite-with a few exceptions like Lonnie Donegan whose earnestness and belief was almost evangelical-the rest were a bunch of lame skiffers and jazz musicians who thought they were in a lamentable kindergarden, which they were. Yes, we had Eddie Cochran, Little Richard, Duane Eddy and Buddy Holly and the rest but it had been a fight.
"The Stones and I in that first electrifying, exciting year working and getting known in the U.K. I've also told of the state of our nation and the time and conditions into which all of us rock 'n' pop war babies were born.
"You see, before the Beatles went to America the best possibility that pop music offered was not having to get a regular job. You must remember that Ringo would have happily called it a hard day's night if he'd made enough money to open a ladies hair salon and settle down with Maureen. Life was that simple until America entered the equation. It was an age of innocence that ended when America became a possibility. America seized the Beatles in the same way people seized Davy Crockett and hula hoops.
"And then I met the Rolling Stones and said hello to the rest of my life….
"As for Mick and Keith becoming songwriters–yes, I locked them up in a room until they came up with a song and knew they could write songs. That's how the process began."
The team created music together in 1963-1967 that still remains an important part of the soundtrack of the sixties: "(I Can't Get No) Satisfaction," "Time Is On My Side," " Nineteenth Nervous Breakdown," "Paint It, Black," "Under My Thumb," "Play With Fire," "Get Off of My Cloud," "Mother's Little Helper"–Oldham managed and produced the first golden era of the band
"On RSG! Andrew had some ideas about lighting and shots," offered Lindsay-Hogg. "One evening at the Ad Lib club I met up with Andrew and we agreed to debut a couple of new songs he was hyped about, including 'Satisfaction.'
"When The Stones did 'Paint, It Black,' we put camera effects on Mick's face and made it darker and darker," Lindsay-Hogg emphasized. "We were broadcasting live. It felt dangerous and primitive.
"The cameraman, Bruce Gowers, later did the great video of Queen's 'Bohemian Rhapsody,' which was a very calculated video.
"With RSG! it was about as much about the technique as the performer. In the early RSG! stages I was always thinking about the performer and somehow marrying the technique to them. If the performer was Mick Jagger and John Lennon you don't want to get in the way too much.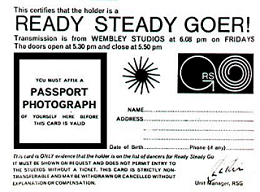 "Mick is a very bright person and he always has been," observed Lindsay-Hogg. "And Mick, when was a younger man was as keen to know what was going on in the world. He read a lot. Or at least he said he did. And was into movies, and Andrew was very much interested in movies and presentation.
"He had been trying to figure out how to make a movie with The Rolling Stones, which Mick and Keith were interested in. Because in those days, even though rock 'n' roll was coming to mean what it came to mean, movies were still sort of the art form going back to comedies. So Andrew was always trying to find a book or a script. And Mick went on to act in Performance and Ned Kelly.
"RSG! went off the air in 1966 when the video was music promotion for the record to be out. 1967 was a difficult year for The Rolling Stones. The set-up drug arrest in Redlands. Touring was becoming a headache.
"In 1966 I had done earlier videos of the Beatles' 'Rain,' and 'Paperback Rider." And Mick knew that. And it always was between The Beatles and The Rolling Stones," stressed Lindsay-Hogg.
"The music video had been around. There were earlier attempts. Scopitone. [A jukebox 16 mm film]. The first Scopitone ones were made in French. Lip-sync to a pre-recorded track. Used to be seen in bars or in diners with French acts [Serge Gainsbourg, Johnny Hallyday] miming to rock 'n' roll videos.
"There was Dick Clark's American Bandstand. I used to watch it in the fifties, Jack Good, the wonderful producer and director of Shindig! and Hullabaloo.
"And so did we know what was gonna happen to rock 'n' roll in the sense that we know that it was ultimately going to blast through the roof? We thought it would.
"When I worked with The Beatles and The Rolling Stones they were really the first videos which tried to take the form a little further. Like The Beatles playing out in the fields. Following me was a long line of very interesting visual attempts with music."
Ready Steady Go
Ready Steady Goes
Ready Steady Gone
(Harvey Kubernik is the author of 16 books. His literary music anthology Inside Cave Hollywood: The Harvey Kubernik Music InnerViews and InterViews Collection Vol. 1, was published in December 2017, by Cave Hollywood. Kubernik's The Doors Summer's Gone was published by Other World Cottage Industries in February 2018. It was nominated for the 2019 Association for Recorded Sound Collections Awards for Excellence in Historical Recorded Sound Research.
In November 2018, Sterling/Barnes and Noble published Kubernik's The Story of The Band From Big Pink to the Last Waltz. During 2020 Harvey and Kenneth Kubernik are writing a multiple voice narrative book on Jimi Hendrix for Sterling/Barnes and Noble.
This century Kubernik wrote the liner note booklets to the CD re-releases of Carole King's Tapestry, Allen Ginsberg's Kaddish, Elvis Presley The '68 Comeback Special and The Ramones' End of the Century.
In 2020 Harvey Kubernik served as Consultant on a new 2-part documentary Laurel Canyon: A Place In Time. Alison Ellwood is the director who helmed the History of the Eagles.
It will have a world premiere at the SXSW Film Festival in Austin, Texas on Friday, March 20th. Premium television network EPIX will broadcast it on Sunday, May 31st at 10 p.m., and conclude the following Sunday, June 7th at 10 p.m.)