PHIL SUGGITT reports on camping, frugging and the music of the UK's premiere garage/frat gathering
---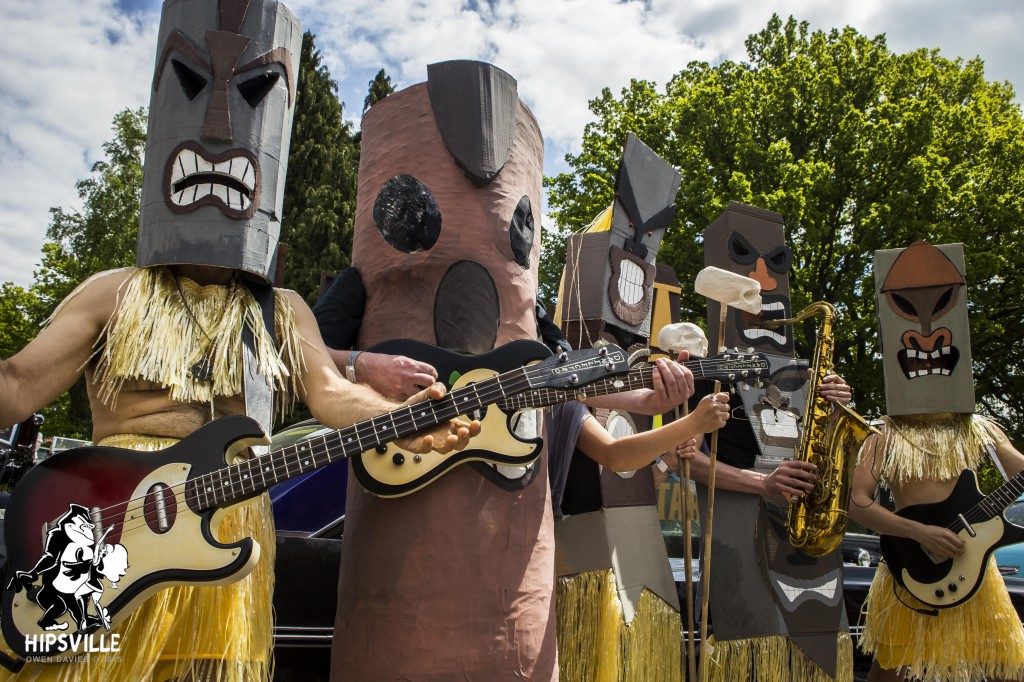 HIPSVILLE FESTIVAL, Bordon, Hants, 13-15th May
After three years as a mostly indoor event, this years' Hipsville festival was held in the open, essentially a cricket ground in the woods. Fortunately the sun shone, although the vibe might have been different had it rained all weekend. Small scale festivals have many advantages; they are always friendly, and it was a pleasure to walk straight up to the bar, food stalls or toilets without queuing.
Hipsville
This year's novel attraction was The Demon Drome, a '20s Wall Of Death. Saturday saw many spectacular stunts on vintage Indian motorcycles. In keeping with Hipsville traditions, Go-Go dancer Wanda De Lullabies premiered her "Cosmic Rider" burlesque at The Demon Drome, ably accompanied by US organ duo Archie & The Bunkers.
Friday's headliners were garage veterans The Wildebeests. Clad in Paul Revere costumes, it was obvious that the band were having a lot of fun on stage, which transmitted to the audience. Throughout the weekend, the bands that didn't take themselves too seriously were often the most entertaining. Davros & The Deep Space Deviants (aka The Stags) played a whole set of tunes reworked with Dalek lyrics, such as 'Sweet Home Planet Skaro.' France's L.A. Brats glammed it up with covers of Dolls and Hollywood Brats tunes, whilst on Sunday the reliable MFC Chicken delivered a really tight set of chicken-themed frat r&b.
Japan's Stompin' RiffRaffs, three girls and a guy, were a pleasant surprise, and went Theremin crazy. Possibly the best set of the weekend came from The Missing Souls, whose English/French/Spanish line-up should convince the UK never to leave Europe! They played a dynamic set of '60s garage with outstanding girl/boy vocals.