Say She She – Online Exclusive – Groovy Communion
Following on from her article in issue #143 (buy here) CAMILLA AISA talks further with Brooklyn trio SAY SHE SHE
---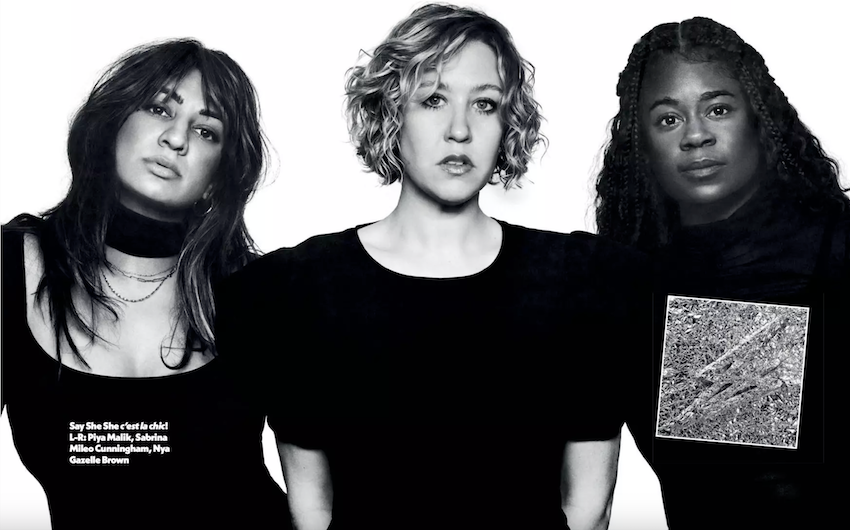 "That's the greatest gift you can give to somebody, making them appreciate a song or listen to something that they would never have gone to look for", says Piya Malik, one third of Say She She, a group brought together by shared favourites as much as the music they wouldn't have discovered without one another. Sabrina Mileo Cunningham points to Rotary Connection as a source of inspiration she plunged into thanks to her bandmates, Malik and Nya Gazelle Brown: "There's the psychedelic elements, the group singing, the harmonies and that untraditional songwriting style…it resonated so much."
What the trio makes is electric music for the mind and body, the soul and the dancefloor alike. Think of it, you couldn't ask for a better encapsulation of the current generational shift in listening habits: genres and styles – especially ones historically kept at a distance from each other – coalesce, decades connect, and equal space is made for the highbrow and the catchy, the niche and the popular. "The way that we listen to music with streaming and the advent of all these different platforms (as well as people's short attention span) is that we have access to so much more," says Malik . "Growing up I would buy one CD or one tape and listen to it over and over. I used to sit in my bedroom and rewind the tapes before I went to bed, making sure they'd be ready in the morning for me to listen to fresh. The listening experience was very focused and concentrated. Now we have access to so much music from around the world, and people are putting out much more music. Music creation is easier in some ways". Brown agrees: "In the past record labels had much more of the control, the big wigs were curating the whole music scene. Now I think that with indie labels taking chances with bands like us and other types of musicians that tend to express themselves in different ways we're not thinking about money as the driver. Of course we'd love to make money," she laughs, "but that's not a driver. It's the love of music." Say She She have brought their all-embracing listening habits into the studio. "The way that we record is a reflection of the kinds of music that we like to listen to, which is lots of different things but most importantly late '70s stuff," Malik points out. "We always record live to tape. It's the way that we write best as well: with the live band, with the energy of everybody in the room. Every single person in our band is a songwriter and we couldn't do it without that communitarian feel. Sometimes an idea might be birthed by one person, but it's never finished without everybody involved". Say She She's experienced backing band is made of members of acclaimed soul-funk outfit Orgone, with co-founder (and owner of North Hollywood's Killionsound studio) Sergio Rios acting as producer. Rios and Dan Hastie have been playing together since their high school days: it's a musical brotherhood that Say She She find perfectly fitting with their strong sense of sisterhood. "It's like a marriage of people who are already families," they enthuse.
At the core of Say She She's genre-defying sound is a love of disco that is proudly unabashed and utterly inspired. In spite of what rock-loving machismo might have asserted back in the day, nowadays it is safe to say that disco never sucked. In fact, Say She She are noticing a revival. "Maybe it was happening before the pandemic to some extent," Malik considers, "but I think that after the pandemic there's definitely been a resurgence of people wanting to just get up and get out on the dance floor. Disco culture means a lot of different things to people. But for us it reflects a New York disco mentality, which is grounded in loft parties, a culture where everyone's from everywhere and we're just united by the dancefloor.  It's a pure-hearted celebration of music. After being confined for so long I think that's definitely what people want now, to be out there and celebrate".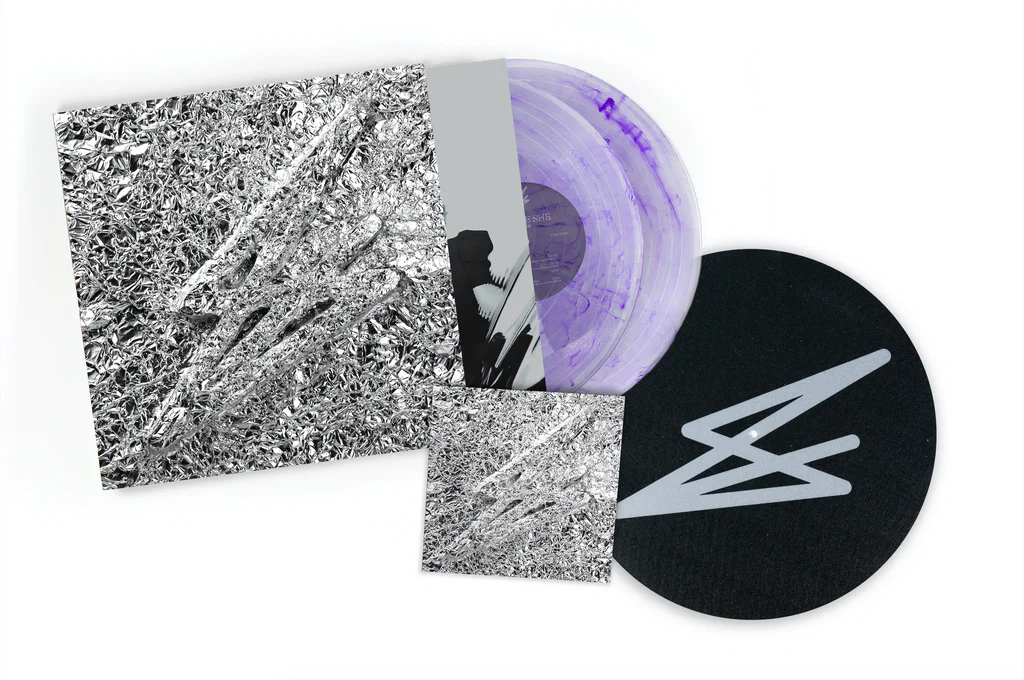 Silver, Say She She's new album, blurs the boundaries between platform-booted jubilation and political commitment. Take a single like 'Norma', for instance, equal parts discodelic belter and rousing protest song. The band wrote it in the studio, in one go, after hearing the devastating news of the Supreme Court's overturn of Roe v. Wade. "The leaks were announced," Malik recalls. "I remember that we were in tears. It just felt like there was no other song that we could write. It fell out of us. Sabrina said, 'We will not go back' and then it just grew from there, we penned the lyrics very quickly. Sometimes we feel guilty about saying that we wrote it, because it feels like a song that was there for everyone, and it's not ours. We were just the vessel." Say She She realised that it was time to bring action – as well as their own background in political campaigning – into music. "I think that sometimes the best things are the most simple ones that come out of a visceral emotion," Malik considers. "We never ever imagined that the right and the access to abortion would be taken away from us. We thought that our parents had lived through that so that we would never have to. To see things revert is truly scary, and I feel extremely worried and sad for younger women in their teens or 20s who don't feel protected and don't know what the future holds for them. Writing 'Norma' was as much for ourselves as it was for them. To make a statement. It felt like the right time for us to use our voice in ways that could reach people. That song was the starting point for us, it was always in our heart to do that." Silver doesn't shy away from applying fine grooves to strong calls to action, whether it's instinctively responding to current affairs or reclaiming a long tradition of politically engaged art. Cunningham's closeness to one of the founding members of the Guerrilla Girls proved particularly inspirational. As it is customary for the feminist contemporary art group, she remains anonymous but goes by the name of Alice Neel.  "She's a really inspiring woman who had a very interesting experience as an artist coming up in the New York art scene of the '80s," Cunningham says. "She taught us a lot about fact-based campaigning. She told us all these really cool stories about how they came together and how they were expressing themselves – it was very inspiring to see how they were standing up to the biases, the discrimination happening in the art world, and the lack of representation". The video Say She She filmed for single 'Forget Me Not' plays like an homage to the topicality of the Guerrilla Girls, who in 1988 included "being reassured that whatever kind of art you make it will be labeled feminine" in their listing of The Advantages Of Being A Woman Artist.
It was thanks to fortuitous New York connections that the members of Say She She found each other ("I always say that New York is the biggest smallest town I've ever lived in" quips Malik, who grew up in London). Up to that point both their musical and life experiences had been remarkably different, with the notable exception of being invariably typecast. "Actually, we all sang classical music growing up", Malik considers. "An Indian girl singing arias… you're going to get some funny looks from your friends' parents. But never mind: you win the competition and they soon shut up." In some ways, the trio's musical voraciousness is a perfect form of retaliation. It is also a signpost of a meaningful real-life bond. "We've all been in groups before, but there's a certain chemistry with the three of us," Brown enthuses. "I love their voices so much: they're such strong, amazing, beautiful singers, and I can admire them, or blend with them, or support them. We've also got this band behind us that is so amazing and so supportive, each individual bringing so much talent and musicality to the stage. I feel so grateful and excited to co-create with them on stage, in the moment. Malik concurs, "I think that our friendship and our ability to talk and communicate sometimes acts as a catalyst for understanding things. Whether we're explaining ourselves as best friends in oursafe space, or writing lyrics and having discussions about the songs, we're learning all the time. It's powerful that we have each other in our lives".
Some might expect to see such powerful vocalists in competition to take the lead; but when Say She She are in the studio you're more likely to hear a deluge of "You take this", "No, you take this." "We all cherish what each one brings to the table,"  states Cunningham. "Even in the writing sessions, we embrace each other's differences, support each other. We always want what's best for the song, so we let each other experiment. It's all very collaborative, and just joyous." Confidence and mutual respect are as crucial as a shared musical vocabulary, they assert. "I've been in songwriting sessions in the past where people would just shut you down and say no, that's not a good idea," Malik reflects in hindsight. "Whereas we always have a thing of saying, if you don't think it's right for the song then don't just say "No," come up with another thing to replace it. That has been such a wonderful change in my life, to be around that kind of positivity. Sometimes people will tell us that their favourite part in a song is a change that came out left-field. That, too, comes from being really accepting of each other: when one of us comes up with one of these surprises that happen out of nowhere, instead of saying that it doesn't go in the song we'll ask ourselves what steps do we need to take to make it fit the song. That's been really fun with this project. It means you write faster, too, because you're accepting all these ideas and finding a nice thread to put together". Two full-length albums and a fine selection of singles in just two years seem to be ultimate proof of exactly that. "That's what makes us genreless," adds Brown. "We're allowing all these different things to appear in the song. It's like a safe space: suggestions come about, we're accepting and loving, we find the freedom."
Say She She are in their tour van, moving across the States. Don't expect the usual uncommunicative-fatigue-from-playing-every-night schtick. They can't stop raving about writing and singing songs with one another. "Sorry, we're having a love fest," they remark at one point. But that is exactly what music  – and the world at large – needs more of.