Temples – Live at Beavertown Taproom
No April Fools as TEMPLES perform an intimate career spanning set at Beavertown Brewery and Taproom in Tottenham Hale, London. SARINA REUBEN was there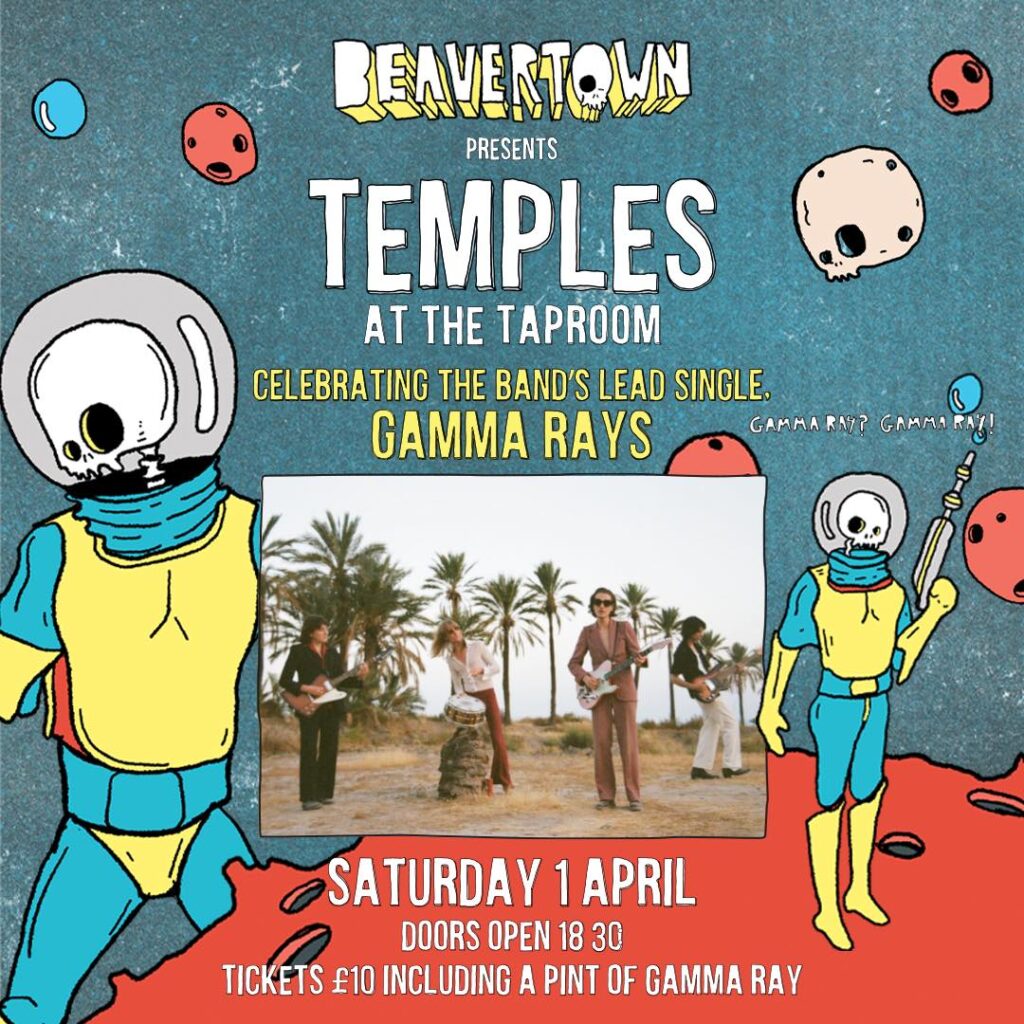 It is not every day that I travel to the far north boroughs of London, but there was a special reason for my unusual journey, this was how my Saturday evening would unfold as I arrived in the middle of an unassuming industrial estate, where lay the Beavertown Brewery & Taproom, the venue for a unique and intimate performance from Temples.
The doors opened at 6:30 sharp and as I walked in, the band members were having their press shots taken, I was welcomed by very friendly staff and a lovely pint of Beavertown's signature beer, Gamma Ray.
Band members Adam, Thomas and Rens, were in high spirits, chatting away to their good friends and most devoted fans, no doubt being nicely lubricated by London's finest American Pale Ale.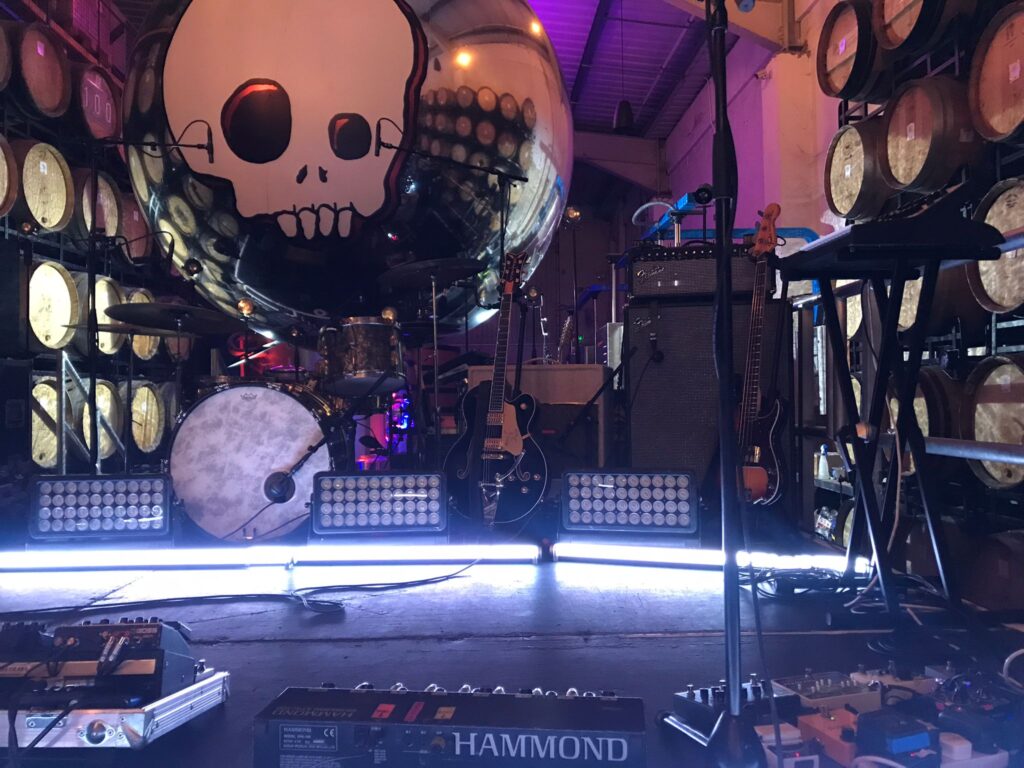 The band walked on to the stage, which was surrounded by beer barrels and watched over by a Beavertown Skull on a giant helium balloon, to the dreamy sounds of Henry Mancini's 'Lujon' which was cut abruptly but quite aptly by the band's opening track 'Certainty', now you know Temples have landed from whatever cloud they were floating on.
James takes centre stage, welcoming the crowd and pointing out that this is a different type of gig for them, and they certainly looked and sounded relaxed in this unusually intimate setting.
They follow on with 'Cicada' from the new album Exotico, this song sounds great up close and personal, oriental sounds with a killer hook bringing the east to north London.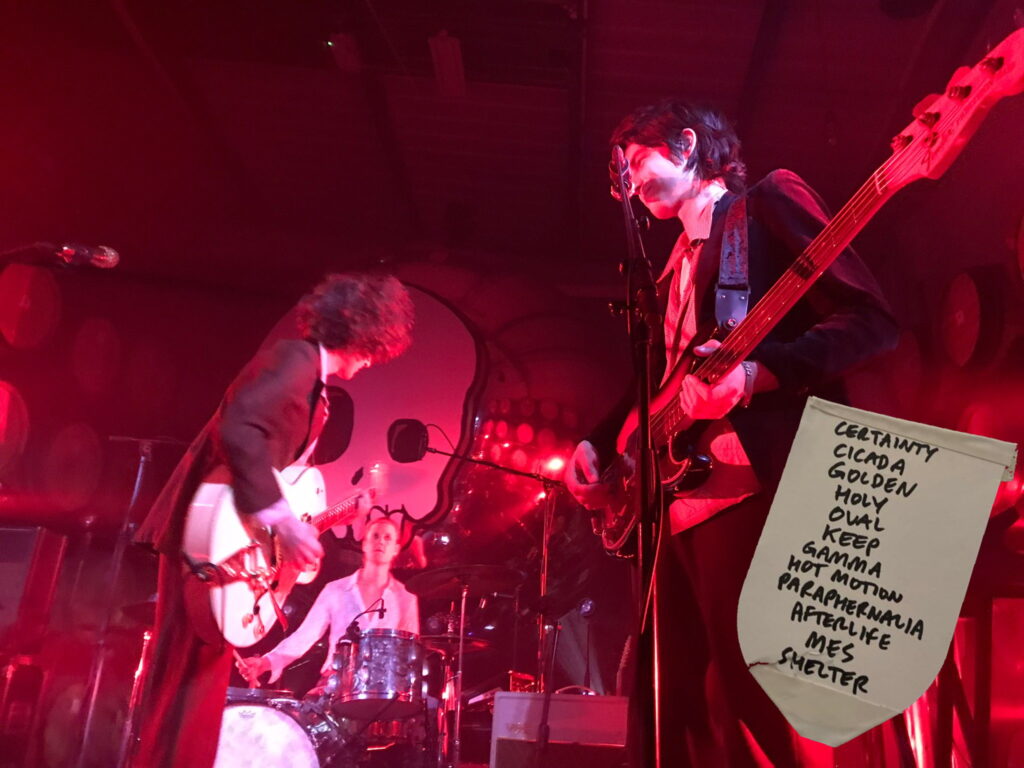 As the set continues with 'The Golden Throne', James, in a jovial mood, responds to someone shouting from the crowd, "C'mon boys." "Boys?", he chuckles, "We've been doing this for 20 years." It's hard to believe, as Temples still sound as fresh and relevant as ever.
A superb rendition of 'Holy Horses' follows, before James declares that the next song is one that we have not heard yet. 'Oval Stones' carries ethereal undertones and the audience shows its appreciation. The band and their sounds are evolving, with definite nods to disco, post-punk, electronica and even a hint of new-romanticism to boot, then back to an oldie and a singalong, with 'Keep In The Dark'.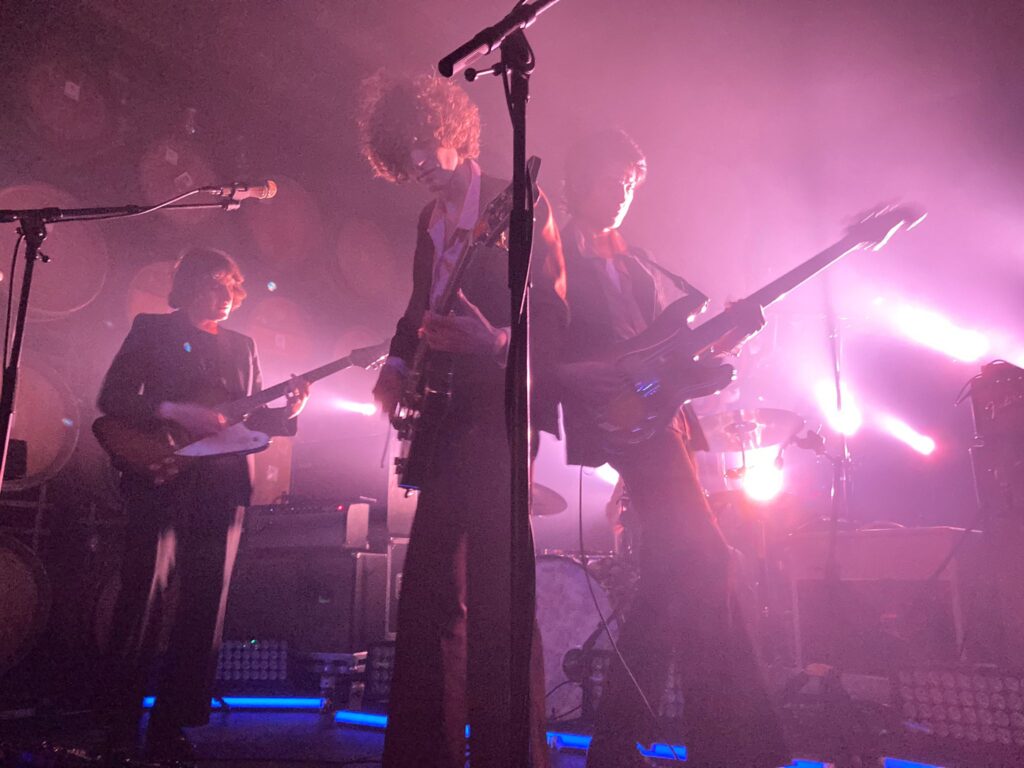 James then asks the crowd if they're enjoying their Gamma Ray beer, and judging by the raucous response they definitely were! "Well, as it so happens, 'Gamma Rays' is the next song, and it's being filmed," he says. The band thrash out their instruments to this new offering from the upcoming album and the crowd just can't get enough.
Next follow, 'Hot Motion' and 'Paraphernalia', which definitely take their toll on the ol' vocals, quite understandable as the band poured it all on stage.
Latest single 'Afterlife' is played next and its lovely to see and hear Thomas' vocals adding another layer and a point of contrast to James' falsetto. This track could be on a soundtrack of a David Lynch film, it's got surrealism written all over it.
As the gig was nearing the end, 'Mesmerise' and its climatic outro gave the distinct feeling that this band whilst as tight as ever were evidently having so much fun, enjoying performing in a smaller setting once more.
As the chords to closer 'Shelter Song' were being strung out the crowd were singing at the top of their voices. It was a good thing too, as James had a total mind blank and forgot the lyrics (oops), but he could totally be forgiven, after such an incredible performance.
With just under 100 people in the audience who were lucky enough to bag tickets to this exclusive gig, the successful collaboration with Beavertown Brewery proved that size doesn't matter, quality bands can rock out any stage. With sound this good and the perfect pint who could ask for more?
'Exotico' by TEMPLES is released on Friday 14th April on ATO Records. Order HERE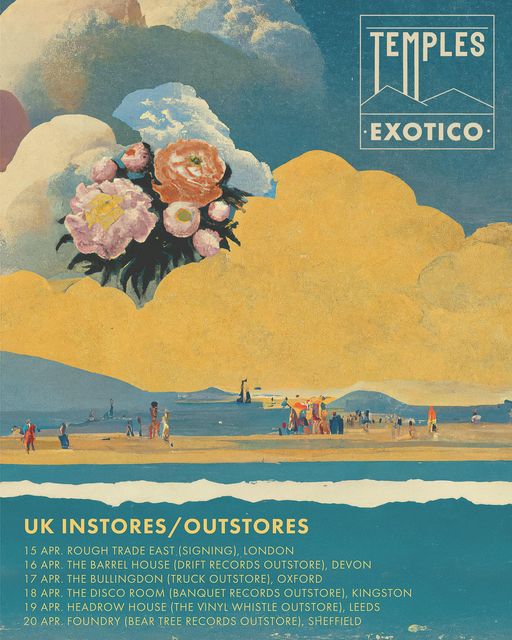 Beavertown Taproom is open Saturdays and Sundays from Midday, just five minutes walk from Tottenham Hale Tube Station. Check it out HERE