The first of our monthly Qobuz playlists
We're very excited to be media partners with the truly unique online streaming platform and download store Qobuz. The first of our monthly bespoke playlists, which will take in genres and sub-genres, scenes and beyond, focuses on what can loosely be termed "PAGAN, PROGRESSIVE & ACID-FOLK"
---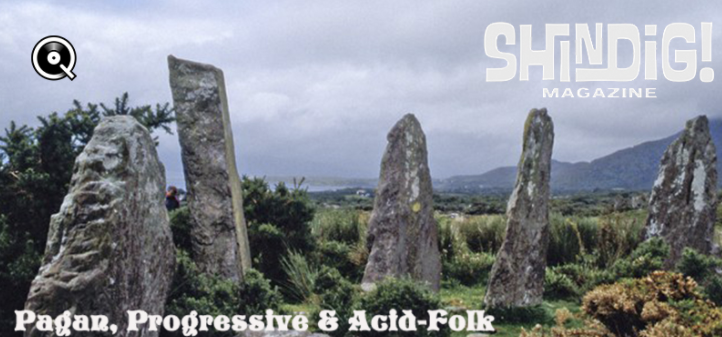 Play here or use the scrollable frame with tracklist the bottom of the page. You can sign up for a free trial today. Plans start from £10.83 per month. For more on Qobuz read our interview with MD Dan Mackta here
Folk music in the late '50s and early '60s was progressive. It was the music of the "left"—from Greenwich Village in America's New York City to the basements of London's Soho, spreading across into the political conversations taking place across Europe, and beyond. Pete Seeger was a spokesperson, and Dylan was king. Once The Byrds had reimagined Dylan's songs as electric pop music, and Dylan himself went electric, young people in the process of forming bands took note. Fairport Convention's Ashley Hutchings told Shindig!, "Bob changed everything, changed pop music forever. I saw him at The Royal Albert Hall in 1966 when he was booed, and with that came the background of counterculture, really. Then the psychedelic thing happened."
The music featured on this playlist follows that moment in time and shows how folk music's influence washed across popular music and morphed into the progressive and forward thinking. In an era taken hold by liberal sexuality, mind-opening psychedelic drugs, and, as the 1970s dawned, an increasing fascination with the arcane practices of the pre-industrial age, folk truly spread its wings. Like jazz, folk music is polymorphous and easy to adapt. Not all of the acts featured here would ever have considered themselves as folk, but its influence permeated so much of the underground rock scene of the 1967-78 timeframe that it became an undeniable undercurrent.
If Dylan influenced The Beatles and The Rolling Stones, then so did the cosmic wordplay of The Incredible String Band, and The Incredible String Band also greatly inspired Led Zeppelin, proving how folk music of a fantastical and creative nature cast its distinctive magical force across the musical landscape. The Incredible String Band influenced many of the young acts included on this mix, too, who were undoubtedly trailblazers in what we now term "acid-folk" or, perhaps more accurately, psychedelic folk.
Sitting under the loose banner of "Pagan, progressive and acid-folk" the music featured here takes in well-known artists, such as Marianne Faithfull and Traffic, to acid-folk outliers Mark Fry and Oberon.
Opening with Welsh Dylan acolyte Meic Stevens' Shakesperean-themed "Yorric," from his 1970 cult English language album Outlander, the stall is set with a hippie era production, swathed in heavily strummed acoustic guitars, flute and sitar. Ever since David Crosby went weird with the philosophical dirge "Mind Gardens" on 1967's Younger Than Yesterday, folk music had a pass to go anywhere. Marianne Faithfull's version of the much-recorded traditional Irish folk "She Moved Thru' The Fair," from her 1966 album North Country Maid, is a rather early outing in British pop for the sitar, post "Norwegian Wood" and "Paint It Black," but well ahead of the curve. Played by Big Jim Sullivan, and cut before Marianne became associated with The Rolling Stones' Redlands drug bust, there's a nascent psychedelic charm to it, strengthened by its sexual undertones. The theme of sexuality and its power would become further explored in the folk and pagan horror movies of the time, culminating in The Blood On Satan's Claw and The Wicker Man. "Willow's Song," from the latter, would see a naked Britt Ekland entice a conflicted policeman, played by Edward Woodward, torn between his Christian chastity and the temptation of lust. The song is the perfect accompaniment to the scene, and like so many of the songs on the first half of this playlist, plays with the notion of corrupted female innocence.
As those seeking an alternative to the thriving boutiques and fashions of '60s society dropped out of consumerist society—from the Haight-Ashbury scene of San Francisco to numerous European acts following Traffic's lead of getting back to the country—the frugalism of the past, and its simple peasant clothing, was matched with medieval instrumentation and song lyrics that conjured up magical elements. The Incredible String Band were the main proponents of this, as heard on "Witches Hat," from 1967's The Hangman's Beautiful Daughter, an ominous title if ever there was. The album's cover portrayed the band and their friends as Merry Men living outside the confines of convention, which was crucial in both the mindset of young aspiring hippies and an inspiration to a legion of rapidly emerging new acts: Forest, Mark Fry, Dr. Strangely Strange, Spirogyra, Fresh Maggots, The Sun Also Rises, and numerous others.
Traffic were never a folk act per se, but their cover of the traditional "John Barleycorn Must Die" embraced the pagan origins that were being reimagined. Like Traffic, young hippies Heron very much got it together in the country, recording their fantastic self-titled 1970 debut album in a tumbled down cottage. Again, their music was not entirely folk, as much influenced by Dylan, The Band and CSN as Fairport Convention or The Incredible String Band, but "Lord And Master" is an original song, that like so many of the chosen tracks here, could have been written 300 years earlier and sang by an Albion fireside.
Folk artists like Strawbs moved towards progressive rock, yet, most notably on their 1971 album, From The Witchwood and its title track, fused English folk melodies with Anatolian folk and subtle rock arrangements to create a commercial yet mystical sound. Principal Edwards Magic Theatre and Comus came from an art school background that borrowed from the String Band's theatrical period, playing with prog and folk. "Weirdsong Of Breaking Through At Last," from The Asmoto Running Band, released on John Peel's Dandelion label in 1971, was as much King Crimson, who to be fair had dalliances with folk on In The Court Of The Crimson King, as it was anything else. Trees came from the Fairport school, but were more psychedelic. "The Great Silkie," from 1970's The Garden Of Jane Delawney, carries a Jefferson Airplane influence too, but its folklore reference to a mystical beast puts it firmly in the psychedelic folk canon.
Hopefully this playlist, based on many of the acts we have afforded lengthy articles to in the pages of Shindig! magazine, will open up this unique music to new ears, allowing you to discover more acts that tick the "Pagan, progressive and acid-folk" box. The past 20-30 years has seen something of a renaissance in this style, which perhaps also deserves a thorough and expansive playlist of its own.
Earth, water, fire, and air
Met together in a garden fair
Put in a basket bound with skin
If you answer this riddle
If you answer this riddle, you'll never begin
© Jon 'Mojo' Mills/Shindig! magazine in partnership with Qobuz