Now You've Met The London Boys: The Bolan and Bowie '60s years book launch
SARAH GREGORY heads to London's celebrated Denmark Street for the launch of MARC BURROWS' new book The London Boys: David Bowie, Marc Bolan And The '60s Teenage Dream
---
It's remarkably fitting that the launch of new book The London Boys: David Bowie, Marc Bolan And The '60s Teenage Dream, chronicling the pre-fame years of David Bowie (and Marc Bolan), should be held at Denmark Street's new venue The Lower Third – named as it is after one of the many '60s bands in which Bowie starred on his long road to superstardom.
The work of writer, comedian and musician Marc Burrows, The London Boys is a refreshing take on a well-trodden story – focussing on the days when Messrs. Bolan and Bowie were just two wannabes marauding the Soho streets hoping to be noticed: their stories dovetailing within the context of rapidly shifting societal norms. Both were Londoners, both spent their early years metamorphosising from jazz-heads, to mods, to hippies as they went in search of their own unique personas and both were singularly determined as they fought the tide of failed releases and revolving line-ups until they reached the brink of fame and fortune.
As we gathered in the cosy back room of The Lower Third, a space that lends itself perfectly to this type of low-key gathering, we eagerly awaited the arrival of a couple of the boys from the good old days. But not before an on-point reading by the wildly-entertaining and very shouty Andrew O'Neill from his first-rate A History Of Heavy Metal.  Unfortunately, Bolan's first manager, Allan Warren couldn't make it, but Lower Third drummer Phil Lancaster more than made up for that – himself a documenter of the era in At The Birth Of Bowie.
It's always a pleasure to hear from these "lesser-known" characters, who usually have a better grasp on what was going on back then than the protagonists themselves. Lancaster told how the band worked with the laid-back Shel Talmy and the not so laid-back, but equally effective, Tony Hatch; of Glyn Johns (Beatles engineer and recently-anointed king of '60s fashion thanks to Get Back) and Nicky Hopkins. It was during this period that Davy Jones gave way to David Bowie, but the legendary status was some way off yet as he was dismissed by the BBC with the verdict "Can't sing. Sounds like a Cockney-type."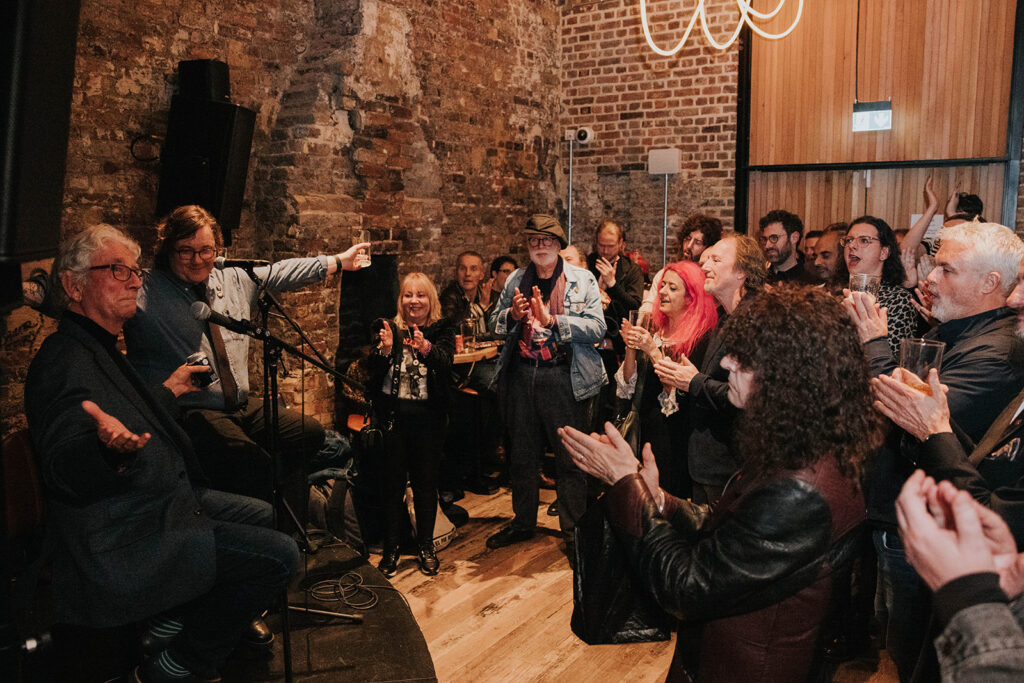 As this interview (and the book) prove there really hasn't been enough attention awarded to this gestation period – The Lower Third and John's Children (Bolan's pre T-Rex outfit) were decent bands in their own right, stepping stones as it turned out but with their own inherent value.
As a self-confessed Bolan obsessive – would you expect anything less from someone whose father just stopped short of awarding him the middle name of 'Bolan' – Burrows' enthusiasm for his subject is contagious.  The London Boys is a cracking read and The Lower Third was the ideal venue for this coming together. As I left, I tipped my provisional hat to the sadly long-gone La Giaconda café – the site where Bolan and Bowie plotted their rise to infamy. The wizard knew.