Olympus LS-P4 Pocket Recorder – Perfect Gig Recording
JON 'MOJO' MILLS' opinion of the new Olympus LS-P4 Pocket Recorder
---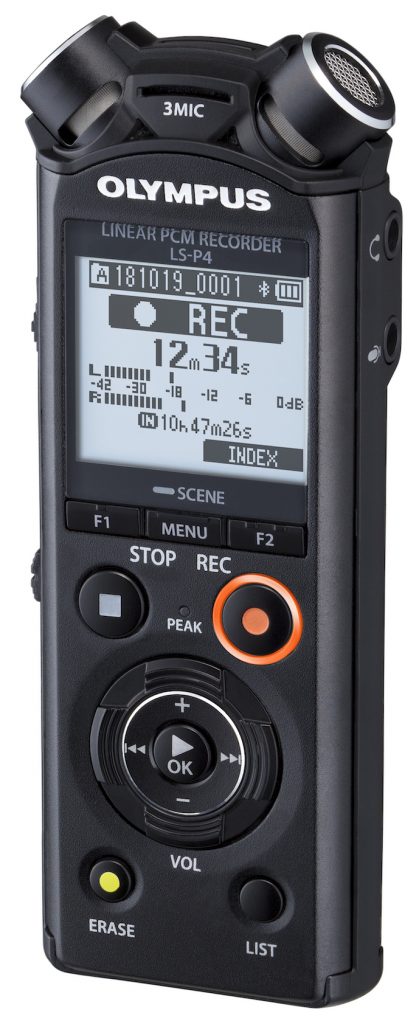 Interviewing people is something we have to do weekly. Usually an iPhone would ably dothe job for a pub or café set-up, but often it was problematic with background noise and the limited reach of the mic. The first Shindig! Broadcast featured a pre-recorded interview with Faris Badwan of The Horrors/Cat's Eyesmade this way. Although acceptable for broadcast I do wish that this wind-beaten segment of audio had been undertaken with an Olympus LS-P4.
Since obtaining the said little black recorder (15cm tall by 1.8cm thick) the results have been incredible. Although resembling a dicataphone this machine records in stunning radio play Linear quality, incorporating a TRESMIC, 3-microphone system. Since having interviewed Ray Davies of The Kinks, Jonathan Rado and Sam France of Foxygen and The Flaming Lips' Wayne Coyne, we have been stunned with the results.
Everything is broadcast quality. For those who may want to record gigs the LS-P4 can hook up with headphones (both wired and Bluetooth) to allow real-time monitoring of the output. This is something we will try down the line, and I'm sure we'll want to air the results on Soho Radio. Uploading the high def file to your Mac or PC is easy too as a USB pops down from the base. Long files do take a few minutes to transfer due to their size, but the quality is outstanding.
Getting guests into the Soho Radio show (The Shindig! Broadcast) has been easy so far, but I am so confident of the Olympus LS-P4's capabilities that I am now keen to try out some post-gig recordings, field recordings and more. For a magazine like ours, Olympus has provided a solution to all our needs.
Learn more and buy here.