Dungen
London Rough Trade East
03/11/15
---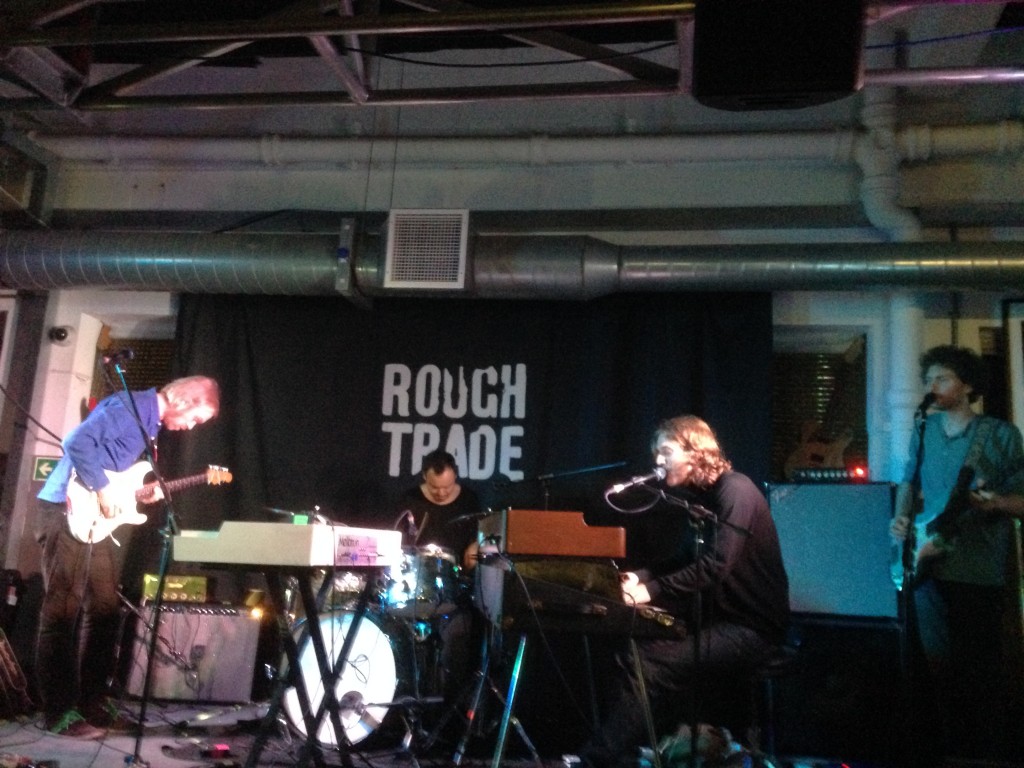 Stockholm's Dungen have quietly been making some of the best psych-influenced albums of modern times (no word of a lie). Despite a recent and well-received US tour, it's somewhat shocking to see that their only UK date in almost five years is an in-store promotion event for their latest opus Allas Sak.  Appearing on stage they spend a little time setting up, joking with the audience "meanwhile you can shop for records in the dark" before launching into 'Åkt Dit'. The remarkable elements of their recordings are preserved here: the wonderful harmonies, lolloping bassline and groovesome drumming giving everything a hazy sheen.
It's clear from the off that although lead vocalist and all-round instrumentalist Gustav Ejstes has been the driving force in the past, the band now sound more solid and their individual influences intermingle effectively.  Long-term Bassist Mattias Gustavsson and drummer Johan Holmegard are, to coin a phrase, tight but loose but tight. Also, did I mention that guitarist Reine Fiske is probably one of the greatest lead guitarists on the circuit right now?  If you want to hear the power and inventiveness of Hendrix crossed with the precision and virtuosity of Jeff Beck, or you just want to hear a guitarist with great tone and the chops to match – Fiske's yer man.
The almost acoustic 'Sister Festen' is followed up by the serene 'Sista Gästen', each one seemingly formulated to put a smile on the face of even the most cynical of punters.  Ejstes switches flawlessly between keyboard, acoustic guitar and a variety of flute and woodwind instruments.  Even an abandoned cover of an Aphex Twin tune can't lessen the sense of musical euphoria Dungen produce; nor are they afraid to keep things merely instrumental as an airing of 'Franks Kaktus' lush soundscape proves – check out the hilarious video for this one online!
The finale of the short set includes a sublime reading of 'Sova', before hurtling headlong into a fiery 'Gör Det Nu', dispelling the notion that they're only masters of the mellow.  However, just as the house lights go on, they huddle together and decide to finish with a stunning rendition of 'Du E För Fin För Mig' from their majestic third LP Ta Det Lugnt.  Fiske's guitar work on the outro is even reminiscent of fellow psychedelic Stockholmers' Baby Grandmothers at their most ferocious. It's a wonderfully crunchy end to the proceedings and leaves the crowd with baited breath for the next visit to these shores.  Hopefully it won't be another five years wait!
Marc Le Breton