Two Knocks For A Yes, Hove
Two Knocks For Yes
St Andrew's Church, Hove
October 23rd 2015
Spooky goings on…
---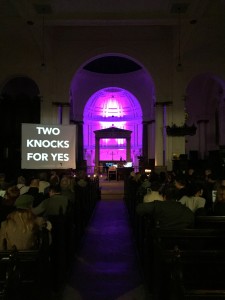 We gather and take our pews at St. Andrew's church, tucked away in Waterloo St just off the seafront in Hove, on a Friday night to experience Two Knocks For Yes, an event promising "an exploration of the paranormal… featuring recordings, stories and sounds from British cases including the famous Enfield haunting".
A solemn Curtis James, brother of Simon (one half of both Black Channels and The Simonsound), addresses the audience with a brief history of the nearly 200 year old church and its hidden burial catacombs below. Warning that we take our safety in our own hands as there is no knowing what spirits could be conjured up during the proceedings he then introduces James Burt who talks about how death, spirits and the superstitions of fisherman are intrinsically linked to the sea in Brighton. Slides are shown and ghost stories told before the main event – a solo Black Channels performance, minus singer Becky tonight, of last year's Halloween mix, 'Two Knocks For Yes'.
Sitting with his back to the audience while his brother pours a salt circle around him to ward off spirits, Simon busies himself between his Buchla System 3 synth, Roland Space Echo and MiniMoog Voyager to pull otherworldly sounds from their circuits. Running in tandem with a specially created film collage of VHS clips, spook documentaries and found footage that perfectly visualises the score he soon has us hooked into his creepy electroacoustic soundtrack.
For anyone who hasn't heard 'Two Knocks…' (and it's freely available online) I can tell you that it is genuinely scary in places, akin to parts of Barry Bermange and Delia Derbyshire's 'The Dreams'. The first time I listened to it happened to be late at night in headphones and I had to turn it off midway as it was starting to freak me out in the quiet house. Hearing it in a darkened church by candlelight with accompanying visuals and surround sound was equally unsettling, did someone turn the heating off at one point or did the atmosphere genuinely get colder all of a sudden? The Two Knocks of the title reveals itself towards the end of the piece and whether you believe in ghosts or demonic forces you'll never quite hear that bump in the night the same way again.
All too soon it's over and with more than an hour to go until closing time we stumble out over the road to the pub to assess the performance, knowing we'll at least have an early night. As settings went it would be hard to beat the reverb-laden acoustics of the Charles Barry-designed church which only added to the experience but another act as part of the bill could have filled out the concept and satisfied those hungry for more. As a first live performance of the piece it worked in both sound and setting as proof of concept but could be fleshed out even further I feel, perhaps as part of the Black Channels live show in the future once the debut album is released.
You can hear 'Two Knocks For Yes' on the Black Channels Soundcloud page https://soundcloud.com/blackchannelsband/two-knocks-for-yes. The Castles in Space label have also produced a very limited run cassette which features exclusive B-side instrumentals http://www.castlesinspace.com/?p=183  or you can buy a digital copy from their Bandcamp page https://blackchannels-cis.bandcamp.com/album/two-knocks-for-yes
Kevin Foakes