Cropped Hair, Bovver Boots, Flat Caps & Glitter
In this accompanying piece to the cover story of  his Shindig! issue #51 SLADE story GREG HEALEY continues to ponder on the band's growth and change from faux skinheads to million selling owners of teethy grins and platforms.
---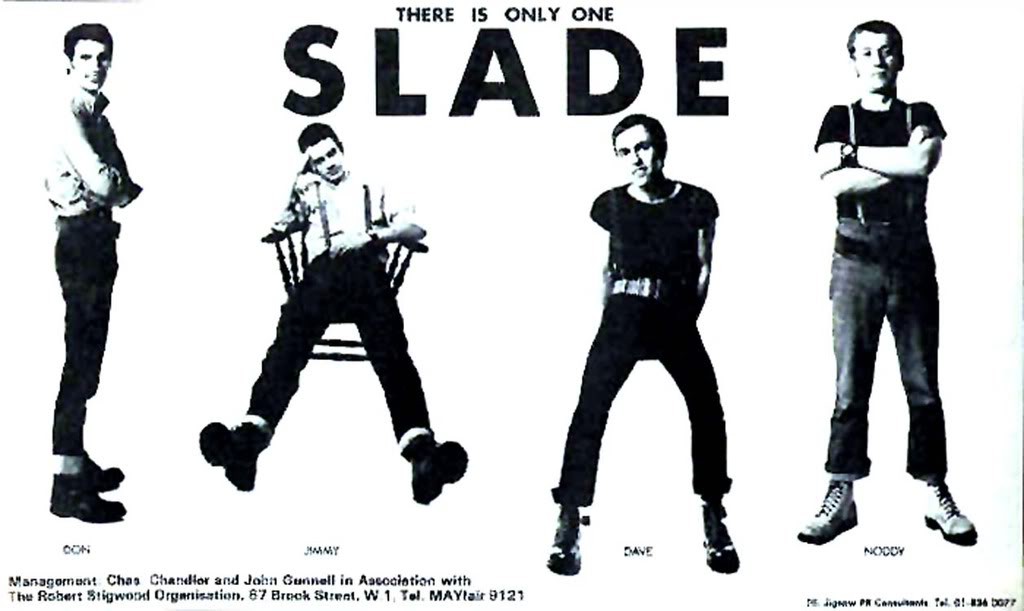 By shaving the heads of Slade and dressing them in the bovver boy clothes of the skinhead Chas Chandler and Keith Allen unwittingly unleashed an image that the more gentile sensibilities of the the home counties and the BBC were not ready for. It was too edgy, too aggressive and too redolent of no go slums and the rougher parts of the nation.
When Noddy, Don, Dave and Jim stepped out of Harry's Hair in Soho they were joining a subculture that, from it beginnings in the London of the mid-60s, was resolutely working class and unflinchingly disruptive and violent. Originally associated with West Indian culture, and in particular the rude boys that sprang from Jamaican, Kingston, the British skinhead was originally, and at time Slade adopted the look, an apolitical movement for discontented youth. Whether it was the disruption of gigs through fighting or simply making their intimidatory presence felt on the high street, the Skinhead represented something no Government welcomed: disorder.
The Britain of chaotic slums was being swept away in the clearances as successive Governments pursued a vision of neat modernisation. Back to backs with outside toilets and washing lines that hung from window to window across the street were being replaced by open grassy vistas and sweeping crescents of high-rise concrete. In this land of order and restrained and carefully delineated plenty the worker was supposed to be happy, content and pliant. The skinhead movement was a vivid reminder that, beyond the planning committees of central and regional government, was a mass of people whose decisions and choices were not always entirely rational.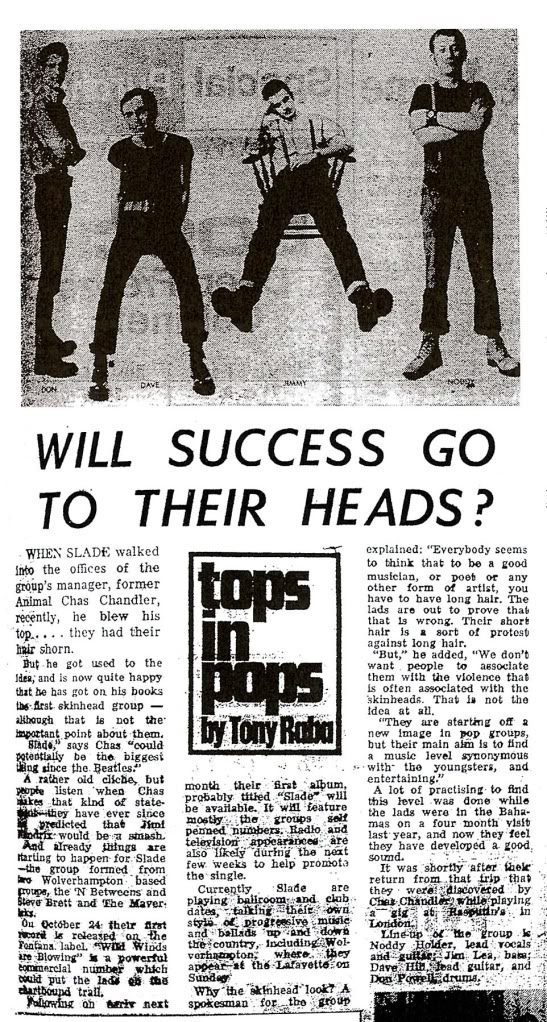 By the time Slade's Play It Loud was released the band had softened their image and become what are known as suede heads, but their image was still significantly at odds with the prevailing style of every other band. The album cover, shot in grainy black and white, presented straight cut jeans, Doctor Martin boots and short hair set amongst a scene urban and industrial bleakness. Standing, hands in pockets, the band exude a cocky insouciance that would become the hallmark of so many images of punk a few years later. This image did not refer to the middle-class counter-culture of prog, where left wing university graduates would get mildly high on dope or LSD, but instead channelled the often amphetamine fuelled aggression and disenchantment of a group that eschewed political solutions and dialogue in favour of the pure hedonism of violence.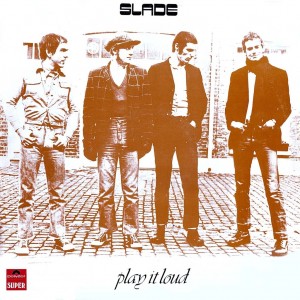 The rocky and raw live sound of Slade had long been a magnet to the skinheads of the land and it was this association that Chas and Keith sought to capitalise on as they searched for the catalyst that would catapult the band into the broader public consciousness. As Noddy Holder explained in a recent interview with Shindig! Magazine: "Skinhead's weren't generally into our kind of music but they loved us live and the audience participation. They stamped their feet along to the beat of the songs. That became the moon stomp dance that became a key part of our act. We used to do the Little Richard song 'Get Down And Get With It' and we'd have the whole audience joining in stamping their feet. The venue would shake."The energy that was such an integral part of the live show was difficult to catch on record and it took a piece of Chas Chandler genius to figure out how to achieve it. Recording handclaps and boot stomps on the stairwell of the studio building provided a flavour of what Slade gigs were about and also gave the band a trademark sound that would serve them well for years to come.
'Get Down And Get With It' was the first time Slade used this formula, and it delivered the band a Top 20 hit, however, 'Coz I Luv You' was the first time the stomping beat was used on a composition by Noddy Holder and Jim Lea. Following Chandler's prescription to "forget about complex arrangements and be a basic gutsy rock 'n' roll band and write basic gutsy rock 'n' roll tracks," this rousing song builds and builds around Lea's swooping violin, the band's driving beat and Holder's powerful vocals. By the time of its release in 1971 their hair had grown and a more outlandish image had replaced the skinhead look as the band attempted connect with rather than terrify their broader potential fan base.
Footage of a live performance of the song from the year of its release shows Holder's flat cap as having ballooned in size to become rather more a caricature of itself. Alongside this Dave Hill is seen sporting the beginnings of his own outlandish glam style. Despite this fun image and the undoubted good time party pedigree associated with Slade in this era, 'Coz I Love You' is a powerful song that is marked by a dark undertow. There is menace in the voice and words, such as: "You make me out a clown and you put me down". These lyrics and the relentless onward pounding march of the beat make this not a generic love song but instead something that speaks of ordinary people and their struggles. This is popular music as realism. Add to those ingredients the decision to make the song title "something more Slade like," as Holder puts it, and it is possible to see that there was real intent at play. The adoption of colloquial vernacular spellings, as used in the graffiti that was often seen daubed in white paint on the crumbling walls of the many derelict buildings found in our cities at the time, reinforces the notion that this band and their able manager had succinctly caught the spirit of the age.
On all the subsequent hits of the era '71 to '75 there is a curious blend of aggression, threat, fun, elation and even, sometimes, strains of melancholy that makes their music exactly right for the youth of Britain in that era. In a country that was enduring rolling power cuts and three day weeks that mix of conflicting elements, delivered by a band whose costumes became more and more outlandish, is strangely apposite. They were like the jesters of the medieval era who were entrusted with the job of delivering bad news in a flurry of colour and song. More importantly, Slade were a proto-punk band who, through their music, laid the foundations for what was to come next.
If you listen to the chiming fuzz guitar and bass of the opening bars of '73's 'Cum On Feel The Noize', and the way it breaks into the main rock 'n' roll riff, you could be listening the beginning of a Sex Pistol song. Slade's influence on punk is well documented and recognised. Joey Ramone pointed to Slade Alive as being a key influence. With this in mind, and having taken on board the earlier incarnations of Slade as a band whose image was designed to shock, it is not beyonds the bounds of possibility that Malcolm McLaren had them as his model. After all, when you consider that between '70 and '75 Slade sold 6.5 million records in United Kingdom alone, you can see why the idea of Slade mk2 might have appealed to McLaren.
An important and key band of the years '70 to '75, their legacy from this time is long overdue a reappraisal. Beyond the festive anthem that is 'Merry Xmas Everybody' tracks such as 'Gudbuy T' Jane','"Skweeze Me, Pleeze Me' and 'Mama Weer All Crazee Now' have been overshadowed and forgotten. Slade understood who they were and who their audience were and delivered for them time after time. It's time to take another listen.