Goblin to perform Dawn Of The Dead
CLAUDIO SIMONETTI'S GOBLIN TO PERFORM DAWN OF THE DEAD LIVE
29TH OCTOBER 2015, 7:30PM
BOXXED, 104 – 108 FLOODGATE ST, BIRMINGHAM, WEST MIDLANDS, B5 5SR
£20.00 + B/FEE
'When there's no more room in hell, the dead will walk the earth…'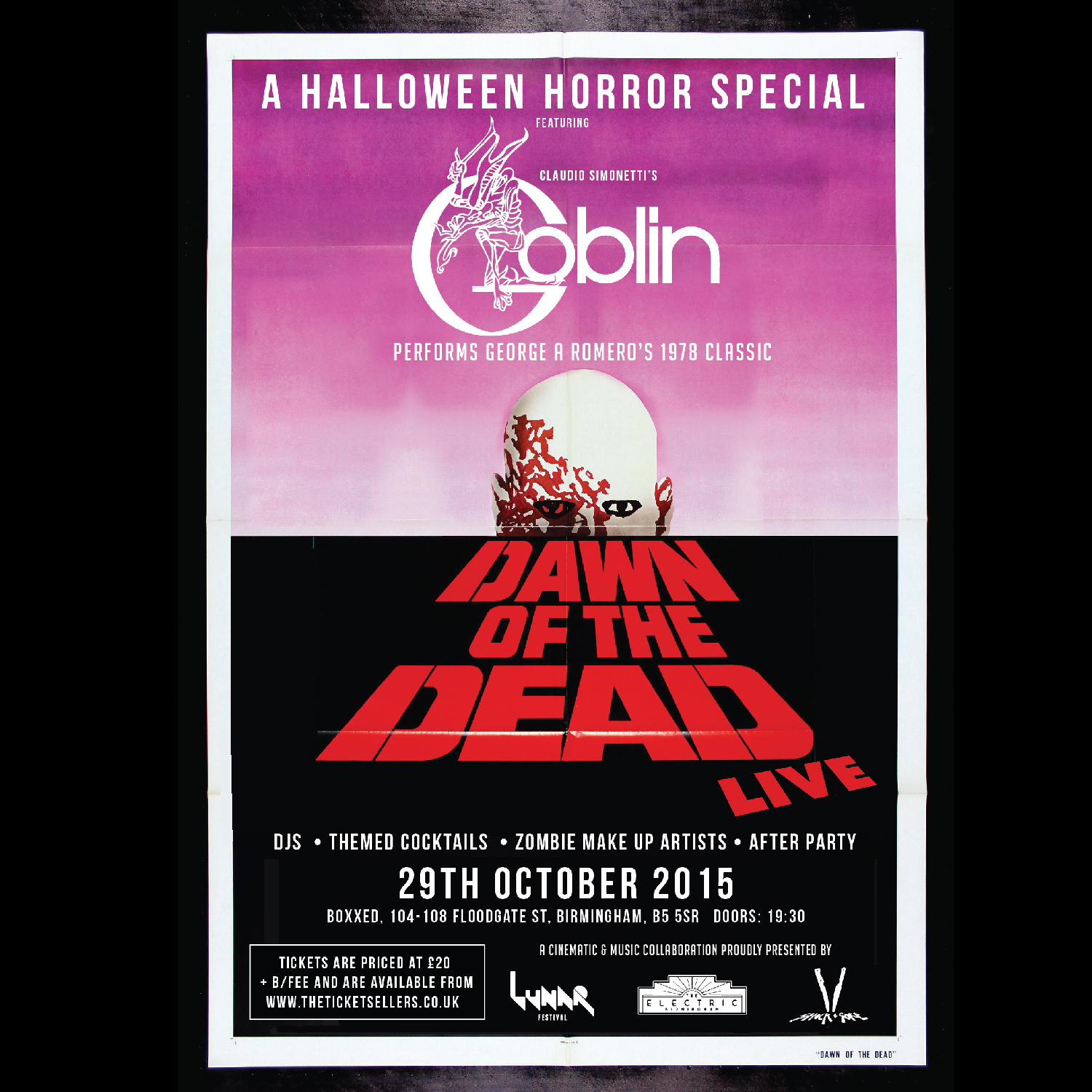 Lunar Festival and The Electric Cinema are teaming up on Thursday 29th October to present a very special cinematic event, as Claudio Simonetti's Goblin arrive in Birmingham to perform a live soundtrack alongside a screening of George Romero's original 1978 horror masterpiece Dawn Of The Dead.
A follow-up to his late '60s horror Night Of The Living Dead, George Romero's Dawn Of The Dead sets the brunt of the action in a large shopping mall, where survivors (including a traffic reporter and ex-SWAT members) hole up as the undead take over the world. Can they survive until help arrives? More importantly, WILL help arrive?!
Dawn Of The Dead cemented Romero's reputation as a horror great, and part of that achievement was due to Goblin's seminal music score, which will be performed live by the band themselves on October 29th at the Boxxed Warehouse in Digbeth.
This very special screening will also be followed by an afterparty with music supplied by Birmingham's finest DJ's, along with some twisted horror visuals and themed cocktails.
The night begins at 7.30pm and tickets are priced at £20. Ages 18 and over only.
Tickets are on sale now and available from www.theticketsellers.co.uk