Trip: A Journey Into The World Of Psychedelic Sight And Sound, Doc 'n Roll Film Festival, UK
SARAH GREGORY gets turned on in Hackney, and chats with TRIP director, Lilly CREIGHTMORE
---
There have essentially been three waves of psychedelia. The mothership that coursed through the mid to late '60s; the '80s resurgence spearheaded by the likes of Spacemen 3 and The Brian Jonestown Massacre; and the most recent third movement that kicked off in the early noughties. Since then, neo-psychedelia has never really gone away taking its position as an underground mainstay, occasionally trickling into the mainstream.
Lilly Creightmore's documentary Trip is a visual record of this "third wave". But it's not a documentary in the traditional sense.  It's a personal journey of youth finding its tribe neatly nestled in a (very) loose history of the neo-psych movement. Moving as it does from the point when Creightmore joins The Black Angels on their US tour with Roky Erikson in 2008, to footage of bands old and new, by way of some rather electrifying performances and an insider's view of the musicians at play.
Filmed with an otherworldly quality that evokes the prototypical, sun-drenched psychedelic stock footage we all know and love, Trip really gets going when we home in on The Black Angels performing with Erikson, followed up by the band pondering on whether their live version of 'Don't Fall Down' was, in fact, better than the 1966 original.  What then follows is a series of similar "vignettes" that takes in a musical stop at the Joshua Tree – probably no better location for a festival of lysergic freak music; a wasted High Dials discussing getting kicked in the balls by a random Frenchman; Spindrift "trying" to make a video and early footage of BJM.
Creightmore's friendship with musician Tess Parks and the latter's work with Anton Newcombe underscores the supportive spirit inherent within this tight-knit group – the elder states"men" championing the new guard. Naturally, Newcombe looms large throughout alongside the three-left handed Will Carruthers who pops up playing with Spacemen 3, BJM, Dead Skeletons not to mention the Austin Psych Fest (or Levitation as it is now known). With Morocco Creightmore's last stop – where she pays homage to the Brian Jones and his work with the Master Musicians of Joujouka – this is a fascinating doc, well-crafted and loaded with great footage. It's not a potted history – it's something far more fascinating.
---
INTERVIEW WITH LILLY CREIGHTMORE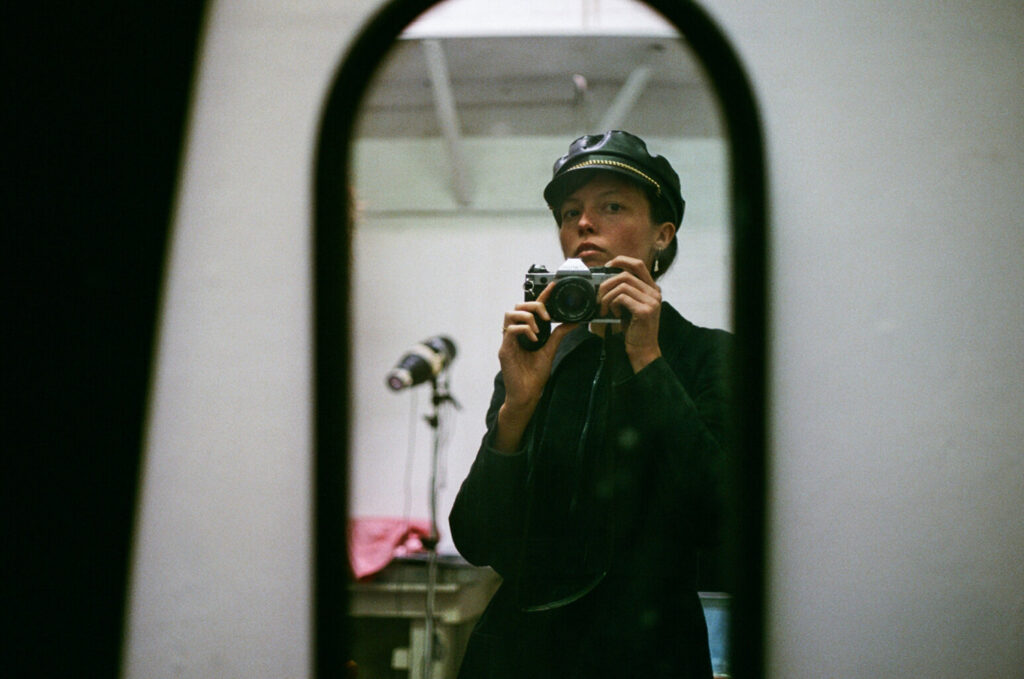 Shindig! chatted to Trip writer and director Lilly Creightmore to find out more about why this music needed to be celebrated and the decade-long process of getting her documentary made.
It all started back in 2005 when Lilly was looking to find "her people". "I just couldn't get into the more mainstream indie explosion that was happening around me, it all felt too contrived and overruled by a clique that would rather be papped for smoking heroin and dating supermodels than anything else." Thanks to her boyfriend at the time she was introduced to US alt-music, Sonic Youth and Pavement alongside the new British vanguard of Spacemen 3 et al and of course, The Brian Jonestown Massacre.
As a budding photographer, Lilly had a leaning towards making documentaries thanks to her day job and some solid advice. "Pick a subject, teach myself how to edit and go for it!  Best and only career advice I ever had." But it wasn't until Creightmore found herself on tour with The Black Angels that the she flicked that switch.  "They very kindly let me join them on some of that tour with Roky, it was a very real and raw moment, just me and the band on a weeklong run through the South, the anxiety was palpable, I had no idea what I was doing really, but as I've learned since, that youthful creative anxiety is an energy that can often be turned into something wonderful." Anxiety indeed. The Roky in question was none other than psych godfather Roky Erikson. "He wasn't really a big conversationalist at that point in his life, he exuded nothing but good vibrations though!"
There were several hurdles before she could even get started and unbeknown to Creightmore at the time, there was a long slog ahead. "I had no idea how I was going to fund the film and just slowly chipped away myself over the years… crashing on friends' floors, shooting for festivals and tagging along on tours." The doc was given a boost when word spread, and crowd funding kicked in.
With all this footage at her disposal, Creightmore sought help when it came to pulling some sort of narrative. "I found Oscar Gogerly, who whipped up the brilliant cut we have now in about six weeks, with my occasional peeking in to see how he was doing… I am pretty pleased with what we have and the length of the film. I personally don't think any music documentary needs to be longer than 80 mins!"
And now nearly 15 years on, Trip is showing at the fabulous Doc 'n Roll Film Festival. Despite constant encouragement from founder Colm Forde, Lilly "had no idea whether the final film would fit their vision and was preparing myself to self-release if needs be". But they loved it and agreed to distribute it. "I was giddy, over the moon and still am. I'm not sure I'll believe it's all happening, until it has happened."
Now it's time to soak it all in. "I would love to continue on this adventure as a director/filmmaker, in what direction I am not quite sure yet… But I think for now I just want to enjoy this and see, if anything, what comes my way next."