It's A Mod, Mod World – This Is The Modern World: The Jam & Style Council Exhibition, Brighton
BEN GRAHAM catches up with a new exhibition on THE JAM and THE STYLE COUNCIL, and chats with former Jam drummer Rick Buckler
---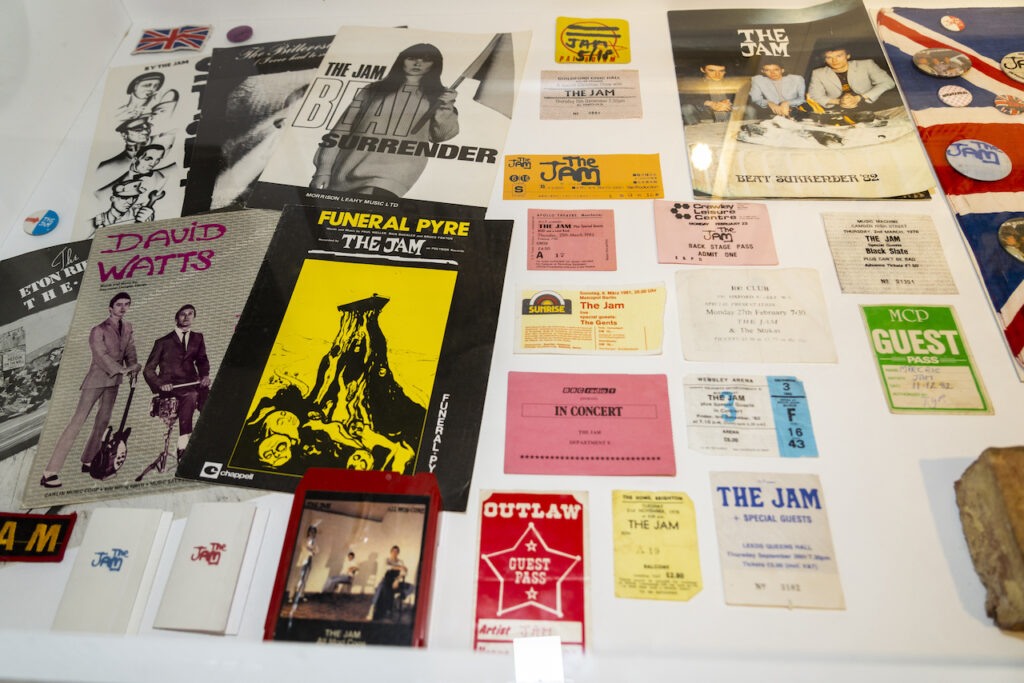 This Is The Modern World is a new exhibition in Brighton that charts Paul Weller's ever-changing career moves across two decades, from The Jam to The Style Council (though not beyond). As such, it's an evolution from the About The Young Idea exhibition of a few years ago, which focussed solely on The Jam and which, like This Is The Modern World, was co-curated by Paul's younger sister, Nicky Weller.
 "I did About The Young Idea with a guy called Den Davies, and basically he didn't want to get involved in this one," Nicky says. "We just rebranded it to give it a little freshen up as This Is The Modern World, and obviously it's grown since then because now pretty much half of it is The Style Council. Maybe a lot of people saw The Jam items before, at Somerset House and Liverpool, but this time they've never seen the stuff that we've done with The Style Council."
About The Young Idea was meant to come to Brighton after its run in London and Liverpool, but problems with the site and then the COVID pandemic forced a rethink. Anyone who bought tickets for that can use them to see This Is The Modern World, which now has its own festival-like space on Valley Gardens, outside St Peter's Church in the heart of the city, a stone's throw from the North Laine which is Brighton's hub of music and alternative culture. It's also barely 10 minutes' walk from the station and a similar distance from Brighton Museum, which has a smaller exhibition of The Jam magazine covers, should you want to combine both in a day out to the seaside and the city that has long been The Jam and UK mod culture's spiritual home. Indeed, as fate would have it, the exhibition coincides (give or take a few months) with the fortieth anniversary of The Jam's farewell concert, at the Brighton Centre in December 1982.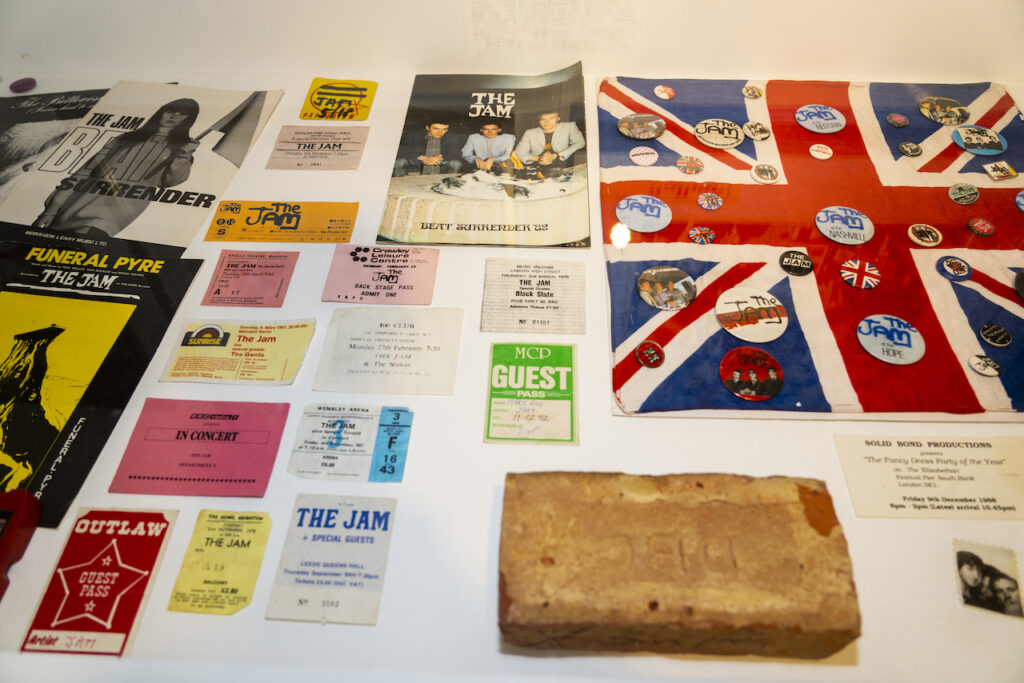 The main body of the exhibition is in a large marquee tent, with four shipping containers acting as extra galleries and a gift shop. Walking in, you're confronted with a collage of posters and magazine covers, before being transported back to the very early '70s and Paul Weller's school reports, childhood exercise books and a wealth of family photos. We follow The Jam's career from their first publicity shots and onstage snaps, through ads for shows, tickets, receipts and letters from Opportunity Knocks. Then it's on to badges, posters and record sleeves; T-shirts and stage clothes displayed on mannequins; and vintage Rickenbacker guitars, drumsticks and reel-to-reel tapes. All the minutiae of band life in the '70s, moving swiftly from school concerts and working men's clubs to the punk toilet circuit, then theatres and festivals and finally arenas, all over the course of just 10 years.
The Style Council section that follows features a similar mix of clothes and records, posters, photos and souvenirs. There are display cabinets covering Red Wedge and Live Aid, and a wall-size blow-up of the Our Favourite Shop sleeve photo. Indeed, one of the joys of this exhibition is seeing the Council finally getting their dues, their critical status having been reassessed in the wake of 2020 documentary Long Hot Summers (screening at St Peter's Church on 25th August, with Mick Talbot and Steve White in conversation).
Particularly poignant is the shipping container dedicated to John Weller, Paul and Nikki's late father and Paul's manager throughout his career. Titled '44 Balmoral Drive' and decorated in fetching period wallpaper, the room includes Weller's boxing trophies alongside gold and silver discs and brings home how much The Jam especially was a family affair, driven as much by Weller sr.'s belief and determination as his son's talent and ambition.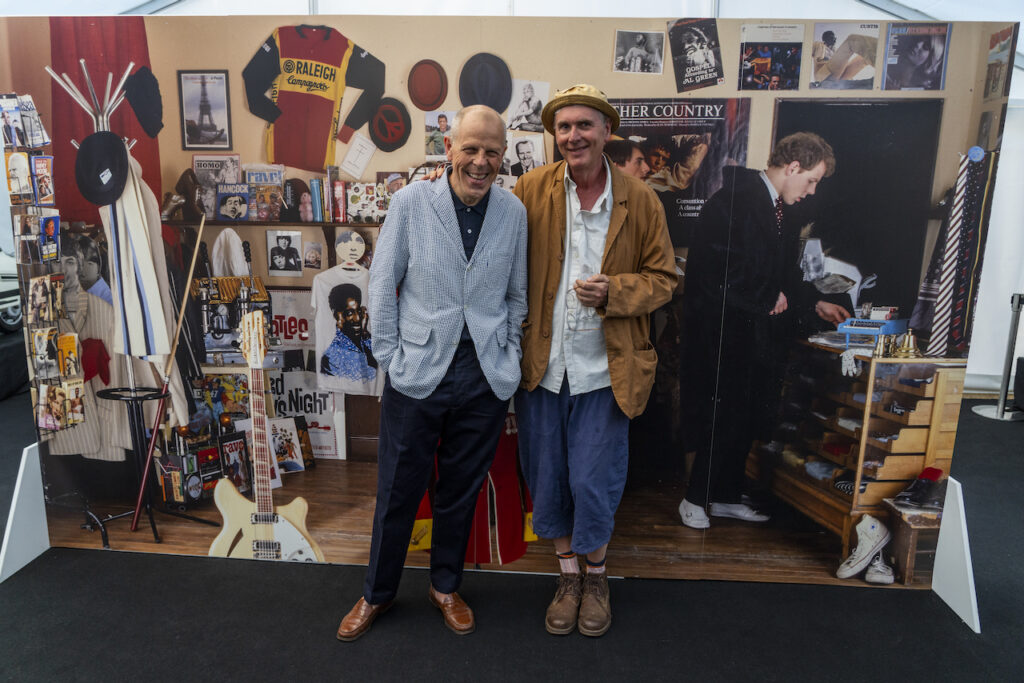 It also makes you think about how Paul Weller has never really known any other life outside of his chosen musical career. He formed The Jam in '72, aged 14, and his earliest exercise books already have the band's name doodled across them. He left school as soon as possible to turn professional, all with dad's encouragement, and signed a major record deal at the age of 18, literally never looking back.
Essentially, Weller has lived his life in the public eye: onstage, on magazine covers, on videos, on vinyl, and on posters on a thousand teenage bedroom walls. It's a certain kind of mod life, perhaps, to be one with the media flash, living pop art, a household name and an iconic ace face in the style supermarket. Perhaps that's another reason why Weller is so keen to keep moving on: to avoid being trapped by yesterday's image, to keep his soul intact, one step ahead of the relentless commodification of his every artistic statement. And for all the candid snapshots and backstage glimpses on display here, Weller the everyman pop star remains something of an enigma as well; captured in pieces, but never whole.
Nevertheless, Weller is fully supportive of the exhibition, and Nicky says he'll doubtless be down at some point to check it out. Jam drummer Rick Buckler and the Style Council's Mick Talbot were both present at the private view, and both will be involved in Q&A's throughout the run, while Bruce Foxton will be performing two shows with his band, From The Jam.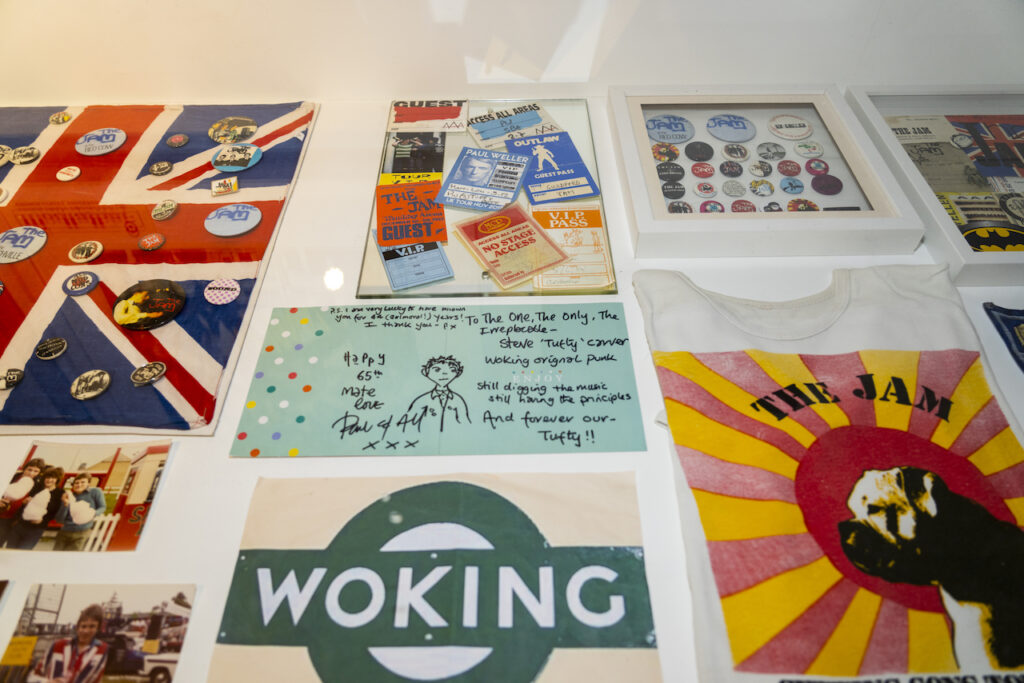 "I remember when I first told Paul about Somerset House he said, 'Huh, Nick, who's going to want to see our old rubbish?'" Nicky says. "But he was amazed at how many people were queuing up around the block to see it. He came nine times to that exhibition. He's been digging out some of his old items as well. He's 64 now and you've got to look back on some things, haven't you? We reminisce a lot, which he never would've done before, and he doesn't get the hump about it like he would've done in the past, like, oh, don't talk to me about that, I'm moving forward, I'm a mod!"
The exhibition is of course named after The Jam's '77 sophomore LP, but This Is The Modern World actually conjures up a bygone era, a world of paper tickets and handwritten fan mail, of telegrams from record companies, flights on Concorde and easily forged passes for Top Of The Pops. One wonders what physical memorabilia today's digital age will leave behind to rival this emporium of ephemera.
From the early '70s, when ordinary people kept pet lions in Woking, to the late '80s, when some of the UK's biggest and most credible pop stars came together to encourage the democratic ousting of a mendacious tory government, the exhibition almost accidentally tracks the shifting social mores of the two decades covered. This isn't the modern world: it's a gift. A chance to see the dreams of children come true, and pop history as it was made.
 This Is The Modern World runs from 30th July to 29th August at Valley Gardens, Brighton, with events, film screenings and concerts taking place at St Peter's Church throughout. Visit www.thisisthemodernworld.net for more information.
Thanks to Nicky Weller and Luigia Minichiello
---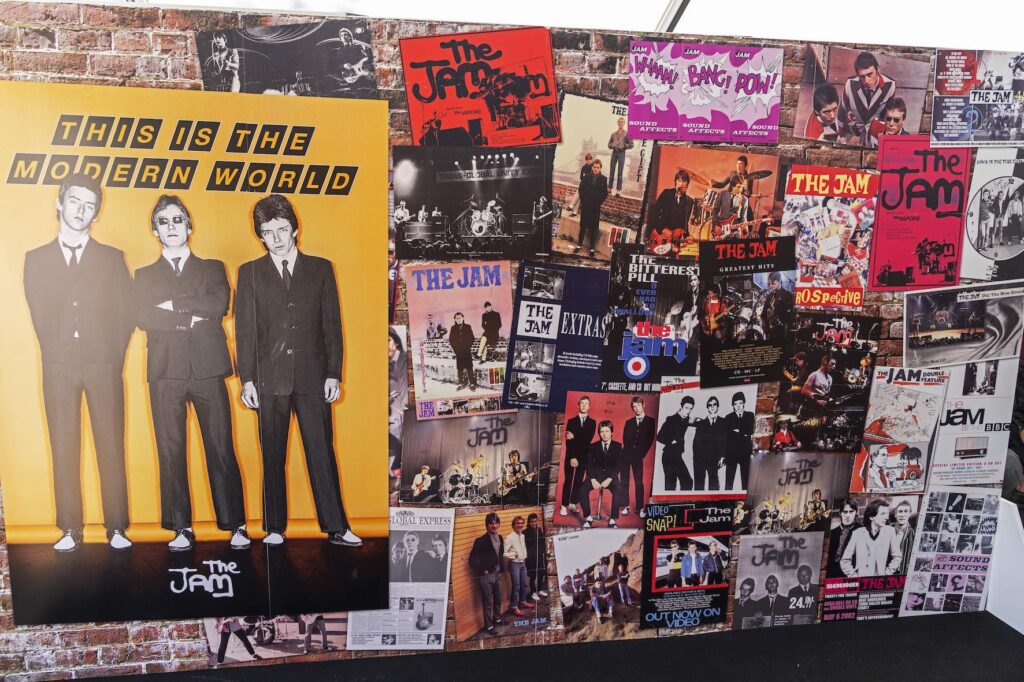 BEN GRAHAM also caught up with ex-Jam drummer RICK BUCKLER before the exhibition and got to ask him a few questions.
Shindig!: I guess you're familiar with a lot of the material here from the About The Young Idea exhibition, but it does it feel weird having people digging through all of this stuff going back to your childhood?
Rick Buckler: It's strange suddenly having an exhibition about it. As far as we were concerned, we were very much a live band, more so than we were recording artists. But I suppose the fan base was always there, and a lot of fans collected stuff: programmes, ticket stubs from the shows they went to, that sort of thing. It really just seems like a very large extension of that. I think there's certainly a growing interest in the band from a younger audience, people who weren't there back in the day. But yeah, it is a bit strange. You've almost got your trousers on display or something, which is a bit weird!"
S!: Are you personally a hoarder at all? Do you keep stuff?
RB: I do. I've got two collections at home. I really did it because I've got two kids. I thought, when I'm long gone, whether they keep it or not, if they're interested in it or not, there's a collection for my son and a collection for my daughter. So, I tried to get two of everything whenever I could. It got a bit out of hand as the years wore on because more and more stuff came out. Books, revamped collections of albums, what have you. So, I did collect, but not like this. Not every single scrap of paper!
S!: Do you have any kind of contact or relationship with Paul? Famously you didn't for a long time.
RB: No, he absolutely refused to talk to me and Bruce for some years after. We've got our own theory about why that is, but he's always been like that. Once you're out of his particular bubble, that's it, you're out. He was the same with girlfriends.
S!: You'd think that maybe this exhibition, this celebration of your shared past, might be a time to just say, "Hello, we did some good stuff together!"
RB: I know, you'd think so. We have made overtures to him in the past to maybe do some odd shows, but he's not interested at all. He was very much in denial about The Jam for a lot of years. I don't know why, really. He should be very proud of it. He wouldn't play the songs for a long time, which is very strange. It was all a bit odd. I don't know what was going on in his mind after that. Both myself and Bruce made a lot of efforts to stay in touch with Paul but to no real avail, which is very strange considering that we literally lived in each other's pockets, me and Paul, for 10 years.
S!: Finally, I know Bruce is playing a couple of gigs over the run of the exhibition, are you going to be down, playing any music?
RB: No. I'm going to come down and do some Q&As. I enjoy doing those. A lot of people have got questions they've been dying to ask for ages and it's always fun. There's a sort of camaraderie which I think was always there with Jam fans, between us and the fans, and of course a lot of them we've got to know personally over the years. Plus, I've got a book coming out in November which is just focussing on 1982. That was quite a traumatic year for us. It started out with all optimism and then obviously things went a bit awry as the year went on! So, that'll be out, and I'll be doing more Q&As around the country to do with that.