Paul Gorman on Barney Bubbles
On the back of issue #129's piece on PAUL GORMAN's Barney Bubbles book, THOMAS PATTERSON learns of the writer's love for the artist
---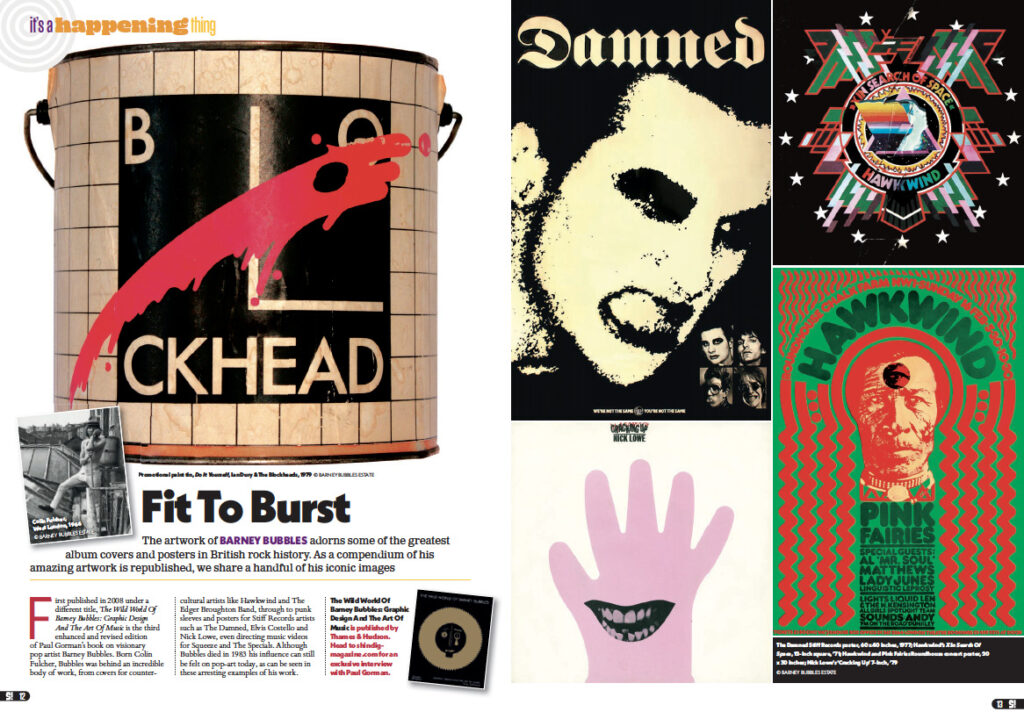 Shindig!: What was the first Barney Bubbles work you can remember being first aware of, and when did you first start exploring and investigating his work?
Paul Gorman: Friends' copies of  In Search of Space, Doremi Fasol Latido and Space Ritual were followed by seeing Hawkwind live at The Roundhouse supported by Pink Fairies and others in February 1975. I clearly remember connecting the brilliant poster for that event with his other, credited work for the group even though it wasn't signed. A couple of years later when I bought the early Stiff singles by Elvis Costello, The Damned, Ian Dury, Nick Lowe, Larry Wallis and Wreckless Eric from Manzi's record shop in Swiss Cottage the late and much-missed Eugene Manzi told me the designs were by the designer whose work I had liked earlier and I began to actively seek it out.
S!:Where did you begin when you started working on the original edition of the book, and was it hard to compile? Was his archive in good order or did you have to track down many of the pieces within?
PG: I began by contacting my now great friend Jake Riviera who unlocked the whole thing for me, enabling me to connect the dots and link up with many people who hadn't spoken about Bubbles on the record before. There was no archive to speak of since he didn't keep anything; friends and admirers had rescued artworks and designs sometimes literally from the dumper. Others, such as his partner Belinda Syme and his late sister Jill Jewiss, were gracious enough to give me their time and stories but it was akin to detective work, building a chronology out of old music press ads, half completed student sketchbooks, undated letters and postcards, old Polaroids and 'analogue' print-ready artboards.
S!: What prompted this new edition of the book, and do you think Barney Bubbles' reputation has changed in the intervening years? If so, how?
PG: It's been 12 years since the last edition and copies were more than £100 so the impetus was to make a new edition available at a decent price to the waves of new fans, particularly young designers and design and music followers not only in Britain but in continental Europe, the US and Japan. He was virtually unknown when the first book came out in 2008 and was in danger of remaining a hip secret among a certain type of over-protective design freak/gatekeeper. I wanted to bust him out of that exclusiveness and show as wide an audience as possible that this is an important body of work which can be enjoyed today. The new edition has an essay by Latinx designer Clarita Hinojosa – for too long Bubbles has been the preserve of middle-aged (and older) white guys like me – and the new cover, as well as a section of my introduction, addresses the mental health issues with which he struggled. I thought it was important to bring that into the arena for discussion
S!: Barney died at a tragically young age. Had he lived, do you have any thoughts on which direction his work would have gone? Can you see his influences in contemporary artists and designers?
PG: It's a good question but one I can't answer. Had he survived – and in many ways he appears to have painted himself into a corner psychically – I think he would have had to endure years of unfashionability and one wonders what that would have done to someone whose work ethic was so strong once the commissions dried up. For sure his influences are everywhere but they're now silent since successive generations have taken up the gauntlet he threw down and run with it. Aries Moross, who is among my favourite contemporary designers, says that they see how their work chimes with his, and I'm also interested in as diverse range of practitioners who share his exuberance, invention and daring use of colour and type. There's so many doing great work, including but not limited to Raissa Pardini and The Fandangoe Kid in the UK,  Patrick Thomas in Berlin, Experimental Jetset in Amsterdam and M/M in Paris.
S!:
Do you have any favourite images in the book, and if so what are they and why?
PG: The poster for the Roundhouse gig featuring Hawkwind, Pink Fairies, Al Matthews, Lol Coxhill and Lady June's Linguistic Leprosy is very close to my heart since I was 15 at the time and recall the poster as being as much a part of the event as, say, Stacia Blake's majestic dance performance or Lemmy's bass bins vibrating. The Ian Dury Cocktail Cabinet he designed is also pretty special since I now own it, as well as two exquisite watercolours he painted for an unpublished mods & rockers project in 1964, but it's very difficult to chose any one work since his quality threshold was so high. As Peter Saville told me, "You can tell that he never said, 'That'll do.'"
Info here. Purchase in all good bookshops.