The Quest For Holy Mountain
Soundtrack obsessive JONNY TRUNK marvels at the length of time it has taken for Alejandro Jodorowsky's 1973 cult classic THE HOLY MOUNTAIN to gain a vinyl release – as featured in issue #46
---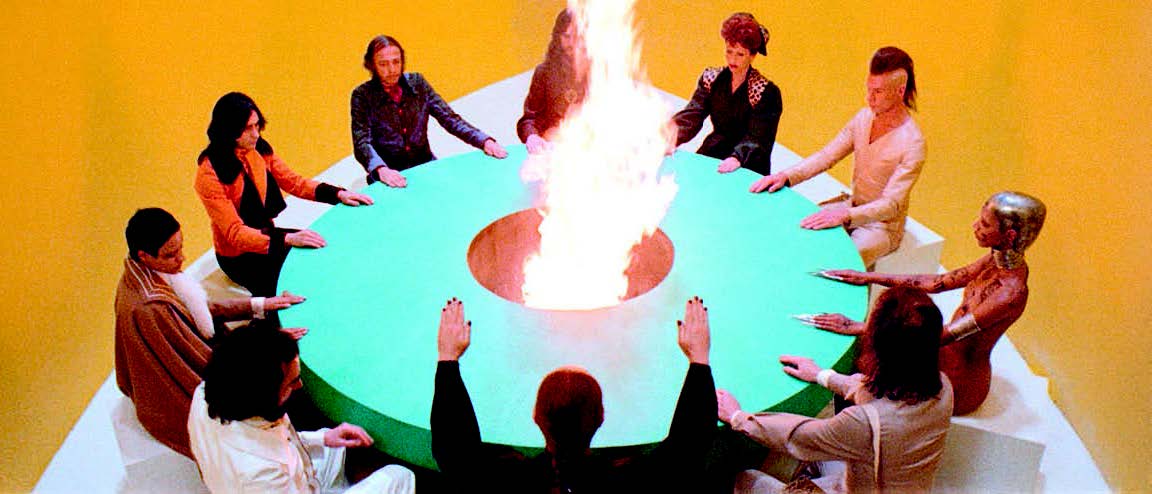 In 1997, after several years of obsessive phoning, faxing, badgering, detective work, determination and more, I finally got permission to issue the music from  The Wicker Man. As a soundtrack collector I had nearly run out of soundtracks to collect and realised that the ones I really, really wanted I couldn't get, because they simply hadn't ever been issued at the time. There were no logical reasons for them not being pressed up when the fims came out, it was just overlooked or not really considered as a commercially viable thing to do back in the '60s or '70s. So, if I wanted it, I'd have to issue it myself, and so I did.  The '97 limited vinyl release of this tripped-out folk oddity struck a chord with many, and the LP sold out instantly.
From that moment on, small ripples spread out and like-minded collectors and labels started spotting important gaps in film music releases. Th e next big one to fall was Get Carter, a score that, apart from a single, a Japanese oddity and a couple of cues on a comp, had never been given the full soundtrack release it deserved. Slowly, over the following years, other missing soundtrack links were issued:  The Hired Hand, Valerie And Her Week Of Wonders, Dawn Of  The Dead, La Piscine (to name a few). And here we now sit, [which at the time of writing was] in 2015, with a lively little soundtrack market, a growing niche filled with fresh vinyl issues of soundtracks that have never been issued on wax, or expanded double albums of newly discovered lost cues. And it is all about the vinyl. Yes, many unreleased scores (especially to stranger continental films and horrors) have come out on CD over the last 20 years, but we are a generation that has never really committed to or got along with this evil little plastic horror. For us it's all about the vinyl LP, it's the definitive article, the true connection with not just the film but the music – for us the LP is the genuine and most important artefact. So if a soundtrack never came out on vinyl, there will be someone out there right now trying to make it happen.
See the recent Invada successes, with massive vinyl pressings of Solaris and Drive, soundtracks on wax that outsell the soundtracks on CD. Same as Death Waltz's multiple represses of The Fog expanded CD. His double LP easily outsold the little plastic digital release. But even now, with this all this activity and interest, gaps still remain – there are unreleased scores still yet to surface; the music by Brian Jones for A Degree Of Murder, The Texas Chainsaw Massacre, Morricone's score to Danger Diabolique to name a few. But the one major missing one, the big fat elephant in the room (or rather not in the room) has been the soundtrack from Jodorowsky's The Holy Mountain.
Cult Chilean director Alejandro Jodorowsky is a fascinating man. A poet, musician, playwright,cartoonist and all round sort of god-like being, his film productions are fascinating, entwined as they are with The Beatles and controversial musical accountant/hardcore business maverick Allen Klein. I shall elaborate, but only briefly – you can do some research into this on your own. Cinematically it all begins with El Topo (The Mole), an unforgettable, wacked-out 1970 western that Jodorowsky wrote, made and starred in, that became the first late night movie classic in NYC. It quickly came to the attention of John and Yoko who loved the film, and a subsequent soundtrack with lush packaging was released on Apple. Unusually an album of jazzy interpretations of Jodorowsky's El Topo music had already come out as the first release on the Douglas label, as had a seven-inch cover by jazz flute marvel Paul Horn. Allen Klein, overseer of Apple Corp at the time also saw the potential big buck bonanza in Jodorwsky's rising stock and stumped up a million dollars towards his his next film, The Holy Mountain. This movie appearedin '73, and is extraordinary in many ways. It's the kind of film that haunts you, such is the vision, the filming, the complex patterns of ideas, narratives, spiritualism and sound involved. It's unlikely you will experience anything quite as odd and out there. Musically there was a vision too, and Jodorowsky, with the help of sax overlord Don Cherry and engineering superstar Ron Frangipane (he'd done The Monkees, Neil Diamond, the Stones etc) created a clash of sounds that few had experienced before. The Holy Mountain mix of bizarre, big budget surrealism, and sonic, spiritual chaos is extraordinarily potent, and if you are a soundtrack collector with big ears, the kind of feeling you get experiencing such a film and score leads you down a simple one-way road, all the way to the record shop. But the   The Holy Mountain soundtrack LP had not been made. And, due to a mass fall out between Klein and Jodorowsky in about '74 (over Klein's next planned film –   The Story Of O), Klein withdrew El Topo and The Holy Mountain from circulation for the next three decades.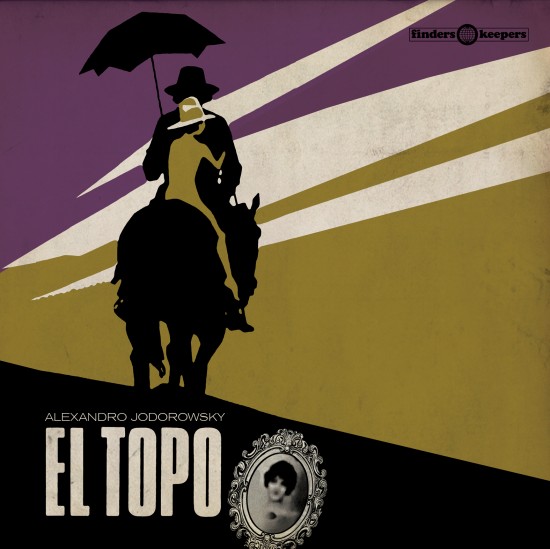 Fast forward to the noughties and 10th generation bootleg videos/DVDs of Jodorowsky movies have steadily kept his following lively and a few keen viewers were more than likely hopelessly enquiring about the music. But just like the films themselves, it all remained locked away. Then in 2007, after several years of nightmarish work, Tartan Video released a very fine Jodorwosky box set, and unexpectedly it came complete with a CD of the whole The Holy Mountain score. To many people like myself this was a GIANT flag-waving thing saying, "Look! We have the complete score, it really exists and we managed to license it," and anyone with any serious interest in film music, jazz and vinyl was straight on the phone to Tartan and to ABKCO asking, enquiring, begging to make a deal for a one-off  wax pressing. I know because I was one of them, and I'm aware of at least  five other companies and individuals who gave it a go too. You'd phone up and ABKCO would say "No", then nothing would get released. You'd try again some months later, they'd say "Maybe".  Then "No", then "Maybe", then they'd ask you for a proposal which you'd send and get excited about and then they'd tell you it had already been licensed, or that they never licensed anything EVER. The company at then time was run by Allen Klein's son, Jody Klein, whose nickname to people trying to license anything had become "Jo Decline", simply because anything to do with this release seemed impossible and was normally met with a "NO".
Then in 2009 there was a strange blip, when the label Slow To Speak issued two cues from the soundtrack on a Don Cherry 12", 'Tarot Will Teach You' and  'The Sapphic Sleep'. But nothing else appeared and I, for one, couldn't understand why anyone would put out two cues from the film and not the rest. I eventually gave up trying to license the music from ABKCO in 2012 when I was told they had "struck a deal overseas". That was 2012.  The Holy Mountain world then went silent.   There was nothing. The music was made available on iTunes, and also pressed onto CD. No one cared though as there was still no vinyl. Not even a sniff .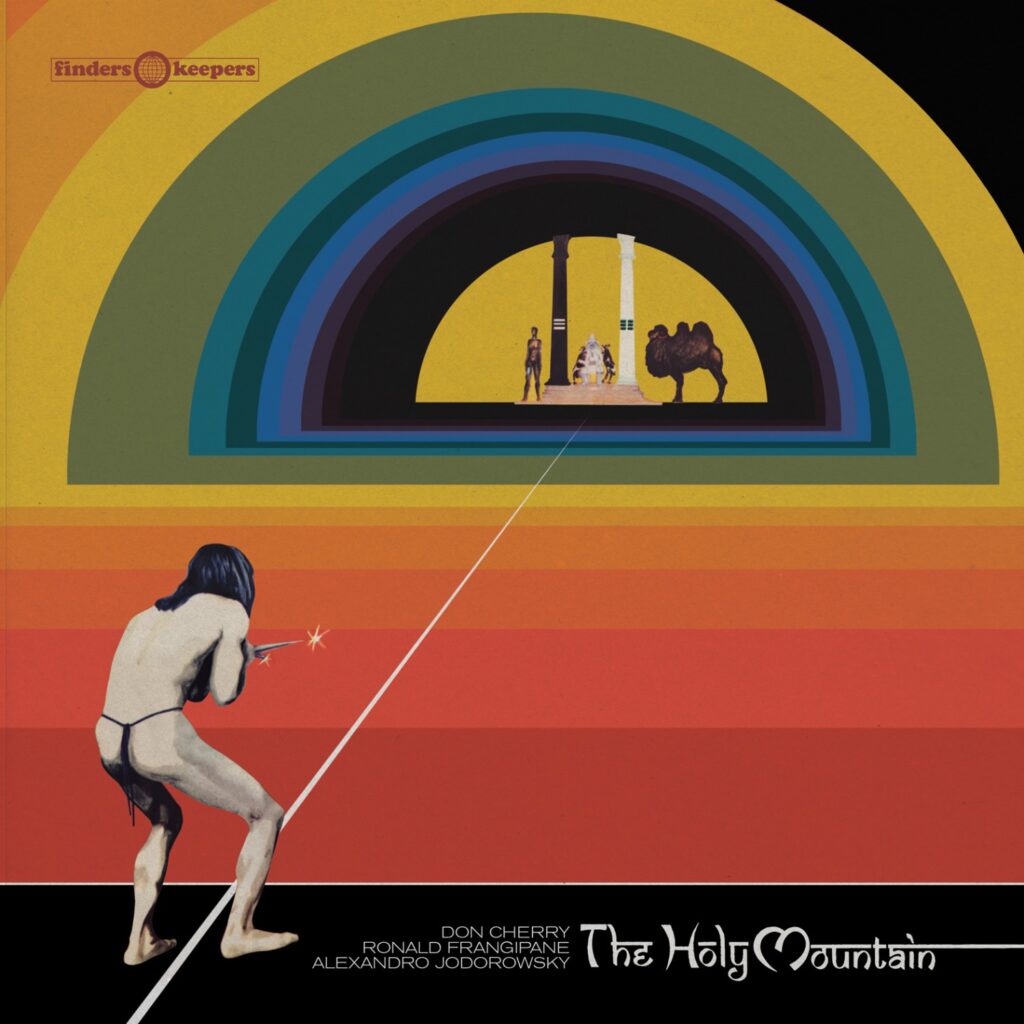 Then, at the end of 2014 I get a furry of emails to my inbox telling me that two different companies are about to issue vinyl pressing of three Jodorowsky-based soundtracks, including The Holy Mountain. We have Finders Keepers here in the UK. And a company I've never heard of in the USA. I was thrilled. That day I sent Andy Votel at Finders Keepers a message saying 1) Congratulations, 2) Well done on your unbelievable persistence and commitment, you really deserve this, and 3) You bastard for beating me to it. He told me he'd been trying to get this done since 2002 – and still has the first email he sent ABKCO in his email archive. So that's about 12 years of pestering. And more pestering. And then probably some hardcore negotiations with one of the hardest musical companies out there.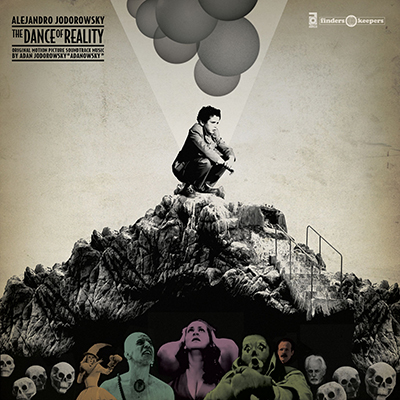 But I still remained confused as to the double licensing. When I imagined that the ever creative and commercially hardcore ABKCO had doubled their license income by granting the same permission to two companies. And also, by the looks of it, only allowed the The Holy Mountain score to be released in combination with two others, which would also have to be paid for. Which is even more cunning. But the fact still remains, as a soundtrack collector I am beyond thrilled that the The Holy Mountain music is finally coming out on vinyl. And that's double vinyl too. It's one gaping holy hole in my soundtrack collection that is now finally and properly filled.
El Topo, The Holy Mountain and The Dance Of Reality were released by Finders Keepers and are still available