Françoise Hardy: What is La Question?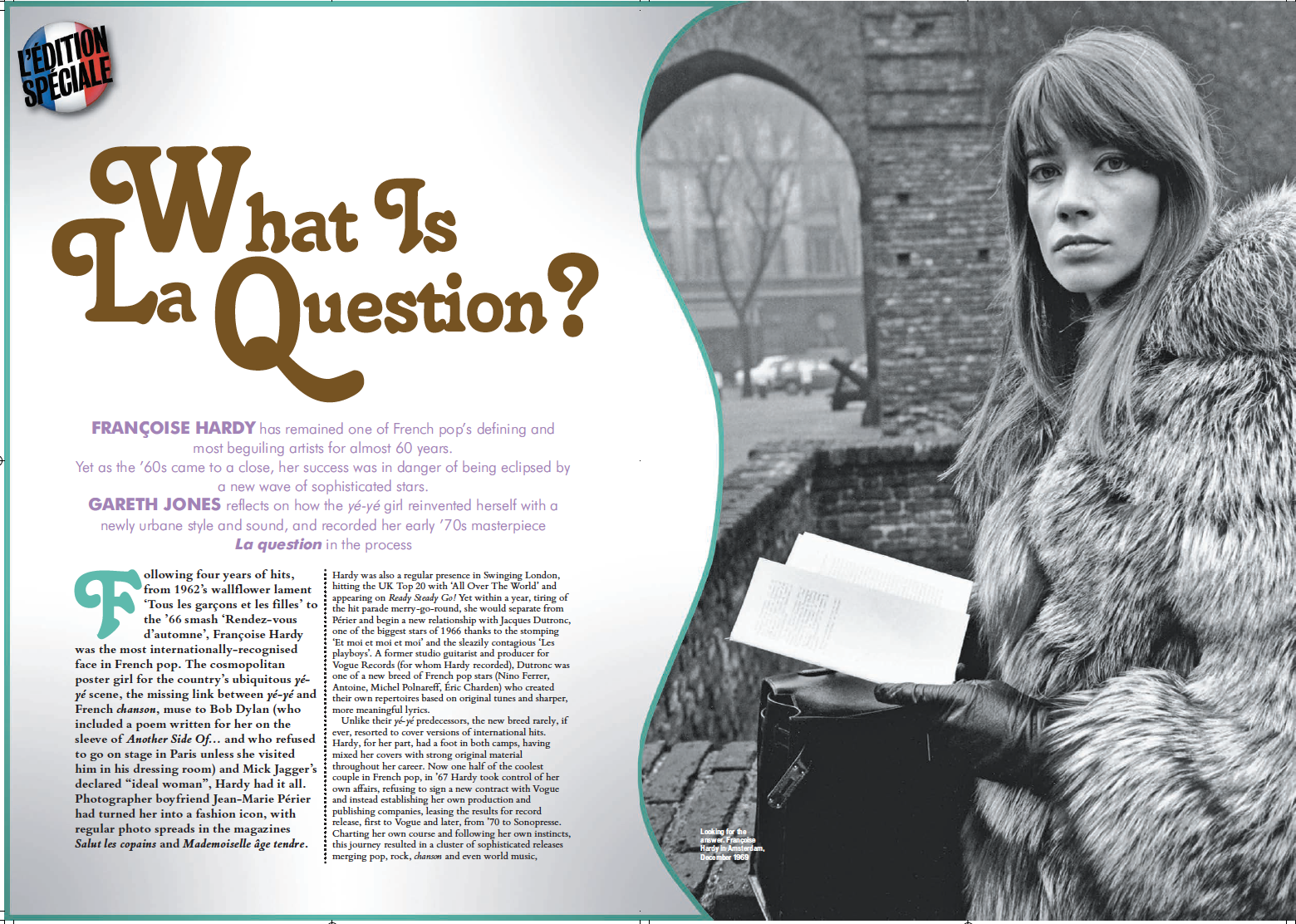 In 1970 Françoise Hardy teamed up with expatriate English duo, guitarist Micky Jones and drummer Tommy Brown (musical lieutenants to Johnny Hallyday since '66), resulting in a new, rockier direction. The pair had already worked with Hardy on One-Nine-Seven-Zero and the new album (untitled but known these days as Soleil) reworked some of the songs from that LPwith new French lyrics. Hardy also added newer tunes penned by the post-68 generation, among them Bernard Ilous and Johnny Rech ('Effeuille-moi le coeur') and Étienne Roda-Gil ( Julien Clerc's lyricist) and producer Bernard Estardy ('Le crabe'). The album sold well, generating two hits with 'Soleil' (Sandy Alpert's 'Sunshine') and 'Point', but Hardy remained restless, seeking something new to fire her imagination.
The answer came from an unexpected direction. Disenchanted with pop stardom and with her relationship with Dutronc entering stormy waters (not for the last time, although they would stay together, marrying in '81), Hardy journeyed to Brazil to serve as a judge in a Rio de Janeiro song contest. Long interested in Brazilian music (there had been a cover of Chico Buarque's 'Sabiá' ('La mésange') on Comment te dire adieu), on her return she approached a Brazilian musician living in Paris with a view to collaborating on a new album. Valeniza Zagni da Silva, generally known as Tuca, had met Hardy via a mutual friend a few months earlier. Hardy had been particularly taken by 'Même sous la pluie', a moving song that Tuca had co-written with lyricist Bob du Pac, and she envisaged a whole set of songs constructed on similar lines. The song had been earmarked for another artist but Tuca eventually agreed to give it to Hardy and work began early in '71 on what would become La question.
Aside from 'Rêve', adapted from Brazilian singer Taiguara's 'A transa', and the self-penned 'Doigts', all of the tunes were composed by Tuca, although Hardy was determined not to make a "typically Brazilian" album. As a result, while drawing on Brazilian sources, the songs sounded nothing like the bossa nova hits that had reverberated across the globe during the '60s but instead took on an identity entirely their own. Lyrics were added by Hardy or by trusted professionals and while throughout her career, Hardy usually tended to favour simple words rather than the elaborate poetry of la chanson française, this time the lyrical content was truly remarkable, as exemplified by the poignant "…avec toi, je ne suis plus que perdante ou bienbperdue…" ("…with you, I am either lost or a loser…") from 'Oui, je dis adieu', one of five songs to feature Hardy's own lyrics. Despite the multiplicity of wordsmiths (there are five lyricists credited on the sleeve), the album pulled together as a whole, perfectly capturing the troubled personal circumstances of both singer and composer – in addition to Hardy's travails, Tuca was herself in the grip of unrequited love at the time.
Accustomed to adding her voice to prerecorded tracks in the studio, this time Hardy found herself put through endless rehearsals, working up the songs with Tuca one after the other until they had them note perfect. As Hardy recalled in her 2008 autobiography, Le désespoir des singes… et autres bagatelles, "For a month, (Tuca) came every day to Rue Saint-Louis-en-l'Isle to make me rehearse the songs, one by one. (As a result) I arrived at CBE (studio) without needing to note, as I usually did, the exact number of beats between the words… because I could find my bearings in the guitar accompaniment that the rehearsals had helped me to memorise." Accompanied only by Tuca on guitar and Guy Pedersen on double bass (occasionally replaced by Francis Moze on electric bass), Hardy recorded her vocals alongside the two musicians, as if performing in a club. They were so well rehearsed that nothing required more than three takes, yet the results were impeccable: beautifully played, sung with perfect timing and sustaining a quiet, intimate mood that drew listeners closer on every hearing.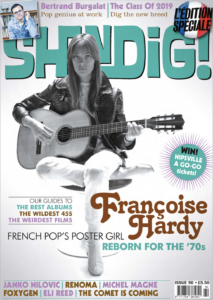 Extracted from the article in issue #90. Order now to read the full feature.
Subscribe to Shindig! here to read many more articles like this in our 100 page monthly print magazine