Dave Davies – Perfect Stranger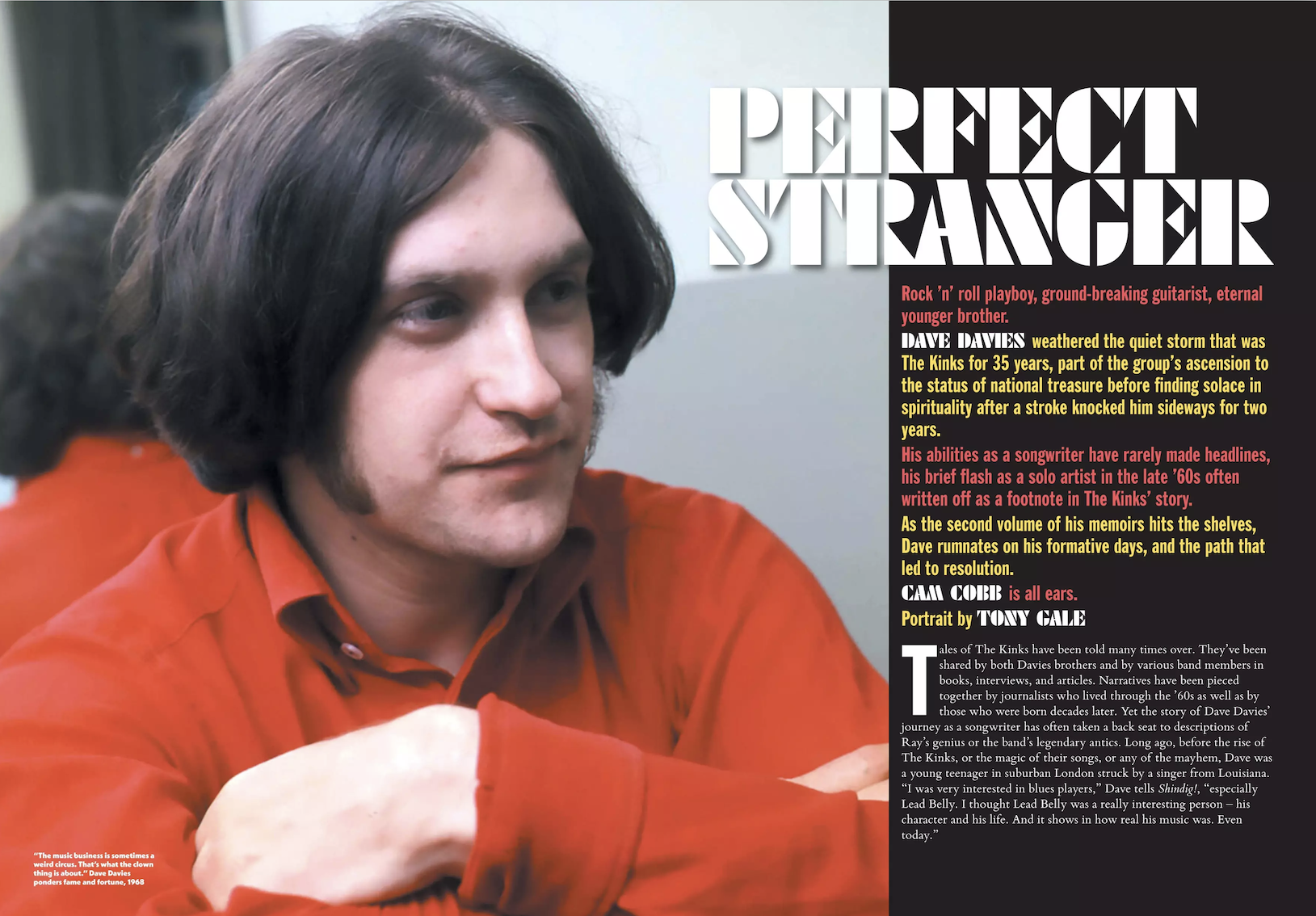 Tales of The Kinks have been told many times over. They've been shared by both Davies brothers and by various band members in books, interviews, and articles. Narratives have been pieced together by journalists who lived through the '60s as well as by those who were born decades later. Yet the story of Dave Davies' journey as a songwriter has often taken a back seat to descriptions of Ray's genius or the band's legendary antics. Long ago, before the rise of The Kinks, or the magic of their songs, or any of the mayhem, Dave was a young teenager in suburban London struck by a singer from Louisiana. "I was very interested in blues players," Dave tells Shindig!, "especially Lead Belly. I thought Lead Belly was a really interesting person – his character and his life. And it shows in how real his music was. Even today."
With three tracks on the LP Something Else By The Kinks, Dave had arrived. He was chronicling the times and bearing his deepest emotions. Like George Harrison, another blossoming songwriter, Dave was his band's lead guitarist and youngest member. A solo hit was on the horizon. Released in July '67, 'Death Of A Clown' climbed to #3 in Melody Maker and #4 in NME. While the success was a welcome surprise, it altered the young guitarist's path. No longer could he inconspicuously pen B-sides or deep cuts. Now Pye wanted a follow-up. They wanted Dave to catch lightning in a bottle… again.
Stepping back into the studio in October, Dave recorded 'Susannah's Still Alive' with Ray, Pete, and Mick as his backing band. With a jaunty piano run, the catchy track offers a folk-pop portrait of a hapless misfit. With memories of a long gone loved one tucked inside a locket, Susannah drowns her sorrows in whisky and gin – not unlike the sad figure in 'Death Of A Clown'. Hitting record shops in late November, the single reached #20 in NME and failed to chart in Melody Maker. All at once, the course of Dave's career as a songwriter was paralleling The Kinks' own descent as a commercial force.
A smattering of solo European dates for Dave was set for February, March and April '68, with a January press release even announcing that Dave was auditioning musicians for his own band. When the first run of shows was cancelled, the guitarist returned to the studio in March. Ray had a new potential A-side called 'Wonderboy', along with a few other songs on the go. Dave, meanwhile, had two new songs of his own.
Co-written with Ray, 'There Is No Life Without Love' forecasts Dave's later explorations into spiritualism. With a catchy country vibe, 'Lincoln County' relays the excited plans of a man who's just been released from jail.
A Kinks UK tour was set for April, but Disc & Echo published an unflattering piece on the band's penchant for missing gigs. Things got worse when 'Wonderboy' failed to crack the Top 30. Biding their time, Pye put Dave's own single of 'Lincoln County' on hold as the quartet returned to the studio in May and June. After The Kinks played a run of shows in Sweden, their new single 'Days' was released in the early summer. Though it wasn't a blockbuster, peaking at #12, the song has become a classic in The Kinks' canon.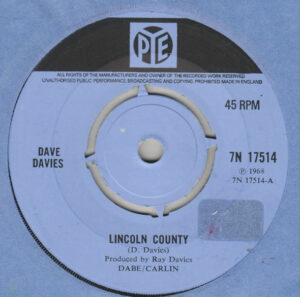 Extracted from the article in issue #127. Order now to read the full feature.
Subscribe to Shindig! here to read many more articles like this in our 100 page monthly print magazine