Dan Horne 'Ode To The Road'
Fun new video from one of our fave cosmic Americans, DAN HORNE, featuring on the road appearances from Jonathan Wilson, Mapache and the late Neal Casal
---
Dan Horne's new single 'Ode To The Road' is a celebration of tour life: travelling town to town in the mythical tour bus, the load-ins and load-outs, the dirty rock clubs and hallowed concert halls, the hanger-ons and backstage parties and, of course, the big payoff when the band hits the stage each night. Following up The Motorcycle EP, Horne's debut recording under his own name, 'Ode To The Road' is imbued with all of the cosmic California stardust present in his work as a founding member and bassist for the bands Circles Around the Sun, Grateful Shred and The Skiffle Players, as well as, his work producing artists like Cass McCombs, Allah-Lahs and Mapache. Horne recorded 'Ode To The Road' at his studio, Liberty Hair Farm and plays all of the instruments, including a soaring pedal steel part, with exception of Luke Clebsch who adds harmonica.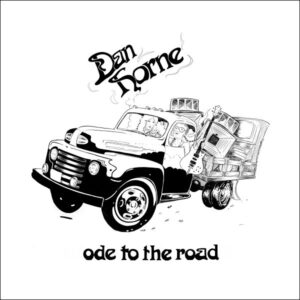 ''Ode To The Road' was conceived while stuck at home reminiscing about tour when everything was cancelled," explains Horne. "The best thing about tour is friends, the people you meet, the connections you make and the places you get to experience playing music. We all missed that so much and are ready to get back on the road."
Horne puts his money where his mouth is diving head first back into tour life with The Dan Horne Band, Circles Around The Sun and Grateful Shred, all of whom will be on the road throughout the winter and spring. With his own group, he'll headline The Chapel in San Francisco on 23rd February with support from Sam Blasucci of Mapache. This is followed by a string of California shows in March with support from Omar Velasco and Austin McCutchen.