Wouldn't It Be Nice To Live Again – The Dennis Wilson & Rumbo LP 'Poops'
To celebrate the release of THE BEACH BOYS' 1969-71 treasure trove FEEL FLOWS, SHINDIG! and TSPTR present a reconstruction of DENNIS WILSON & RUMBO's lost album POOPS.
Words and pictures by MARTIN RUDDOCK and RUSS GATER
---
In December 1970, on the eve of a Beach Boys tour of Europe rogue Beach Boy Dennis Wilson released a stunning surprise solo single, 'Sound Of Free'/'Lady' with trusted sidekick and musical director Rumbo, aka touring keyboardist Daryl Dragon. The soulful, passionate songs were inspired by Denny's relationship with second wife Barbara Charren – an invaluable sounding board and Denny's muse. The inseparable pair nicknamed each other 'Big Poop' (Dennis) and 'Little Poop' (Barbara).
The UK-only single wasn't a success, but emboldened by Barbara's encouragement, Denny, a prolific contributor to the last three Beach Boys albums began to consider striking out on his own with Dragon. Sessions for a joint album with working titles of Poops and Hubba Bubba continued through '71 amid endless rumours that he was quitting The Beach Boys. Although Dennis hedged his bets as to whether he was in or out, events conspired to scupper his attempt to break free of his dysfunctional musical family.
Having pulled his songs from Beach Boys albums for the duration of the sessions, the project collapsed in early '72, by which point the parent band had sequestered two of the dense, orchestrated tracks for use on underrated BBs album Carl And The Passions – So Tough. Dragon then left the touring band shortly afterwards to form The Captain and Tennille with wife Toni Tennille (also in the touring band, the only 'Beach Girl').
Thanks to the release of Denny and Daryl's work in progress tracks on Feel Flows, we now have an idea of what form Poops might have taken.
Side One:
Lady
Make It Good
Barbara
Cuddle Up
(Wouldn't It Be Nice) To Live Again
Side Two:
Medley: All Of My Love / Ecology
Before
Behold The Night
Hawaiin Dream
I've Got A Friend
Sound Of Free
---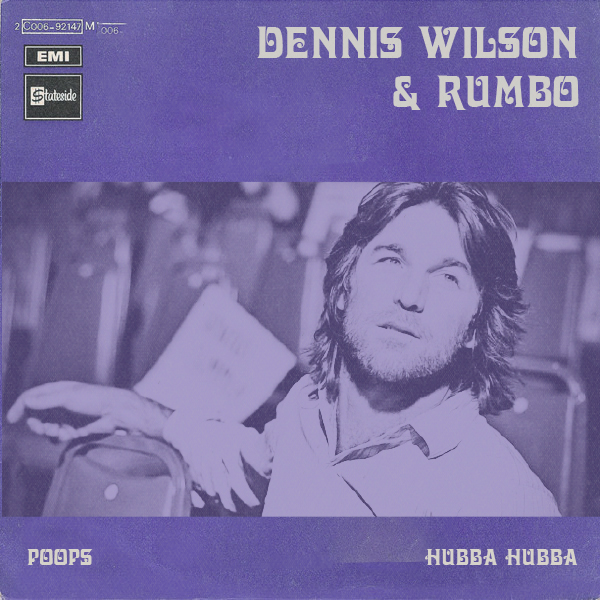 Side One:
Lady (Recorded December 1969)
One of the earliest romantic odes written to Little Poop. Dennis recorded 'Lady' on Christmas Eve 1969. Backed by the pulse of an early drum machine and swathed in a lush string arrangement from Daryl Dragon, 'Lady' was submitted and rejected for an early assembly of Sunflower. In Autumn '70 it was ruled out of the tracklist of putative new album Landlocked by manager Jack Rieley – leading Denny to take matters into his own hands and put 'Lady' on the flip of the only Dennis Wilson and Rumbo single 'Sound Of Free'. Whether the other Beach Boys took part at the time and were ultimately mixed out is unknown. It's likely that they might have been, as 'Back Home' was laid down on the same day, but it's almost definitely Carl Wilson playing the twangy lead guitar trills. Unavailable in its original form for decades, a remix of 'Lady' featuring additional vocals, possibly also from Carl was released on the 2013 Made In California box.
Make It Good (Recorded 1971-72)
A refugee from the 1971 Poops album sessions, the dark, intense 'Make It Good' surfaced on the underrated '72 Beach Boys album Carl And The Passions – So Tough. Sitting uneasily amongst the varied mix of sometimes ragged tunes on So Tough, 'Make It Good' makes perfect sense in the context of the recently-released tunes intended for Poops, and Daryl's dense arrangements give Denny's emoting an epic scale. Various chord sequences and motifs repeat across these songs, which in some cases seem to have possibly been built up in sections in a manner reminiscent of Brian's painstaking work on the SMiLE sessions. As 'Make It Good' seems to have been one of the later recordings for Poops it's possible that the vocals were added quite late in the day. Denny's anguished croak of "All of my life" line crops up again, as we'll see.
Barbara (Recorded 1971)
Big Poop sings to Little Poop again. A tender demo featuring Denny and Daryl sat at the same piano. A full recording never materialised, but the song appeared occasionally during Denny's solo spots in 1972 Beach Boys shows.
Cuddle Up (Recorded March 1971 and early 1972)
"I know a man, who's so in love." Another hymn to Barbara, originally titled 'Old Movie'. This epic weeper's backing track was probably the first song from the main Poops sessions to be put down. The first version had no vocals but was accompanied by a choir of harmonies (probably by Dennis and Carl, whose guitar work is all over Poops). Furnished with another sumptuous Daryl Dragon arrangement, the first 'Old Movie', recently released on Feel Flowsis audibly a different take with more even piano playing from Daryl and its keening melody played by a clarinet. It's unknown when the final, more dramatic vocal version that closed So Tough was cut but it's likely to have been mid-late 1971. To complicate matters further, as engineer Stephen Desper has confirmed – Denny also used 'Old Movie' as a working title in April '71 for his shattering Vietnam lament '4th Of July', co-written with manager Jack Rieley and sung by Carl. The subject matter of the songs couldn't be more different, but Denny just really liked the title.
(Wouldn't It Be Nice To) Live Again (Recorded May 1971)
Locked away in the vaults for over 40 years, this staggering anthemic ballad belatedly made its debut on the Made In California box. Running to almost seven minutes, it features arguably Denny's finest lead vocal, its melody echoing The Beatles' 'Golden Slumbers' in places. Cut in May 1971, nobody seems quite sure whether it was intended for Surf's Up or Poops. As to the involvement of the other Beach Boys, there are brief sections of block harmony and what sounds suspiciously like Mike Love muttering the bass vocal at the end. There's also a Moog bass typical of the band's recordings of the time, suggesting the involvement of Carl. We can't be sure exactly the song fits into the puzzle of Denny's activity during '71, but there is evidence to suggest that much of Poops was intended to feature elaborate segues, and Denny offered some songs to The Beach Boys before subsequently withdrawing them. "I have a belief in my music. And it sounds nothing like it should on the album – it should have a flow on it from one song to another…," he told Al Aronowitz in a September '71 interview. "It didn't sound like The Beach Boys. They thought it did. I said 'Bullshit' and pulled my songs off." To complicate things further, manager Jack Rieley contended in interviews that it was his decision to leave Denny's songs off Surf's Up.
Whatever the intention, the key and tempo of 'Wouldn't It Be Nice To Live Again' dovetail perfectly with the end of 'Cuddle Up, so we thought it was a fitting finale to Side One.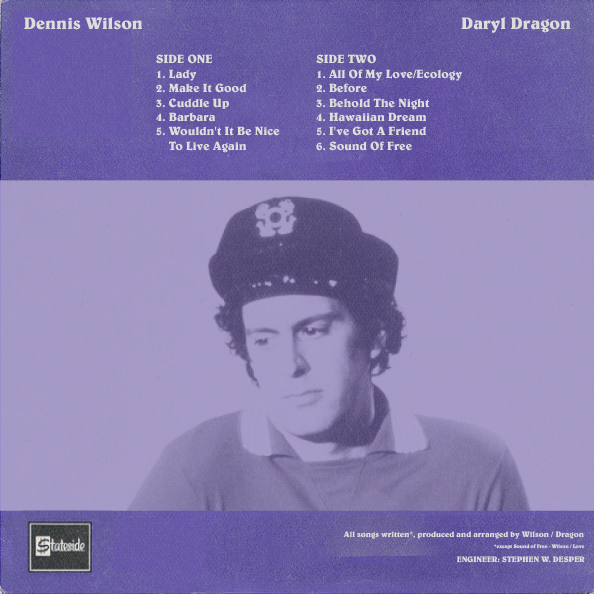 Medley: All Of My Love / Ecology (Recorded 1971)
Aside from his considerable sexual antics, Denny's other extracurricular activities usually involved being outdoors – hiking, fishing, surfing, camping, swimming – his heart was in nature. Both of his favourite obsessions (love and nature) are blended succinctly with the beautiful opening gambit of 'All of my love / Ecology' – "All of my love, bigger than the ocean. All of my heart, I give it to you. All that I am is moving in the river". His lyrics articulate a quasi-transcendental, romantic faith in nature's benevolence, a primitivist sense of its mystic, sacramental properties. There's also a critical desire, to experience and venerate, fully immersing and identifying himself in the natural world while utilising the ecology to demonstrate the sheer breadth of his love for wife Barbara. For Dennis, nature wasn't just a romantic metaphor but moreover a spiritual analogue. The "All of my life…." line turns up in slightly revised form in 'Make It Good' while elements of 'Ecology' would later be developed into Pacific Ocean Blue's 'River Song', the piano melody (first introduced in 'Sound Of Free') intact but the 'Run Run River Run' motif sadly missing, however Daryl and Denny's harmonic resolutions and rising and descending key changes ensured that nature never sounded so sweet.
 Before (Recorded 1971)
 'Before' demonstrates the deftness and lightness of touch inherent in Daryl Dragon's arrangements. The melancholy opening bars share the same chord progression as the "I know a man, who's so in love" line in 'Cuddle Up'. It quickly shifts into soaring harmonies, and then into a different, more sexually assured sidewinding groove incorporating Dennis' vocal that beckons his Lady to "Come on, come in…..", a familiar refrain that channels one of his earlier songs, 1969's 'Celebrate The News', B-side of The Beach Boys' final Capitol single 'Break Away'. Although recorded in 1971, 'Before's inception was possibly earlier, around the same time as 'Sound of Free', the overall vibe of both tracks dovetailing unlike any others on the album.
Behold The Night (Recorded July 1971)
An aching, shape-shifting ballad, 'Behold The Night' is one of the more complete songs on Poops with a breathtaking filmic arrangement of low fluting synths, organs and Harry Lime zither from Dragon. With a structure that never settles, unlike the other songs it appears to catch Denny and Barbara in a rough patch. "Lie on my bed, look at the wall/Maybe this longing will go away," he sings in a wracked tenor. Captured just weeks after Denny put his hand through a pane of glass, taking him off live drumming duties until 1974, perhaps this documents their first big row.
Hawaiian Dream (Recorded 1971)
Presented as an instrumental ebb and flow of Denny and Daryl's musical musings that would ultimately find their fruition as 'Farewell My Friend' on Pacific Ocean Blue, 'Hawaiian Dream' shares Island-style nuances with Pet Sounds instrumental track 'Let's Go Away For A While' but transcends it with a soaring harmonic conclusion.
I've Got A Friend (Recorded 1971)
In Fall 1971, Dennis was only 27 years old, but had already done a lot of living. Here, he delivers a soul searching, piano driven ballad about personal reliance. Exposing his own vulnerability, he sings "Sometimes I feel lost and can't find the way….", sounding like someone physically and emotionally 20 years his senior, an old soul revelling in the ephemeral nature of time and love. Daryl Dragon later recalled his first introduction to Denny's solo music while playing keys as part of The Beach Boys touring band, "Before a typical tour sound check, I saw Dennis sitting at the piano, playing some beautiful chords… I asked him what composer that was: He answered 'I wrote that'. I was stopped cold! He hummed a melody to these absolutely inspired chords…I realised that Dennis' heart was NOT in rock 'n' roll, as much as it was in romantically based musical writing." As with all of the Poops tracks, Dragon's work with Dennis hints at new artistic blueprint that would later be fully realised on Pacific Ocean Blue.
Unfortunately the studio cut of 'I've Got A Friend' never received a vocal, but a very fuzzy live version with The Beach Boys can be heard here
Sound Of Free (Recorded November 1970)
The Beach Boys band dynamic was always extremely complicated, but none more so than Dennis' relationship with his cousin Mike Love. Usually at loggerheads, to the point where apocryphal accounts have Dennis literally beating Love down both on and off stage, they would also find the harmony at times to collaborate on several songs including 'Only with You', 'Pacific Ocean Blues' and 1970's 'Sound Of Free'. Love doesn't sing on the track, but Carl Wilson provides his signature needling guitar trills and big brother Brian makes a one word cameo with a single high "Free!", making this basically a Beach Boys cut by any other name. Recorded post-Sunflower during the early Surfs Up album sessions, it opens with Dragon's unmistakeable harpsichord riff, kicking into a powerful Sunflower-esque jam with Dennis' seductive vocal driving the song forward. The tempo shifts down a gear into some beautiful sections that evoke much of what's to come in Denny's music, analogising with the natural world, the familiar 'Come on…' refrain once again present before building into a crescendo. According to Love the 'Children of light…' referenced in the lyrics refer to the practitioners of Transcendental Meditation with the 'Sound of Free' being the achievement of inner balance and unity. Although he'd already written a number of standout tracks ('Little Bird', 'Forever', 'Slip on Through', 'All I Wanna Do'), in many ways 'Sound of Free' reflects the genuine burgeoning of Dennis Wilson as a songwriter, growing in confidence and power thanks to the encouragement and support of Dragon.