Live Review: This Is The Kit @ The Barbican 30.05.21
As far as May 30ths go, this year's was truly a reassuring affair according to reviewer Alex Mills. As life begins to take a turn for the relatively ordinary, and optimism seeks to exist, we turn to the outdoors for comfort, and live music (if socially distanced and seated) to remind ourselves once again of life's little pleasures.
---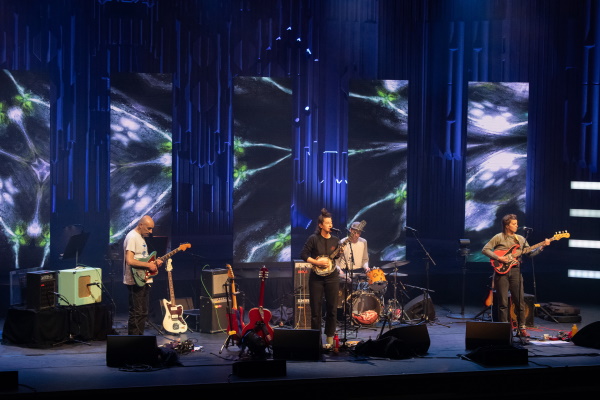 This Is The Kit, for all their seismic soulfulness, aren't necessarily the first band you might think of when the sweet croon of the dance floor beckons… yet there's no denying that in the heat of the post-lockdown sun, a chance to bask in some narrative pluck is a joyous opportunity entirely paralleled to none.
Performing at The Barbican as part of the venue's Live From The Barbican series – a string of concerts performed live and live-streamed, throughout the spring/summer of 2021 – the notion of sitting down all evening remains still a bit bizarre.
Where some may have turned to performative spectacle – a maximised approach to compensate for a year spent in listless transience – Kate Stables and her band of merry groovers tuned inwards, to radiate outwards. Exuding meditative delight up and over the high heavens of The Barbican's brutalist architecture, opening number 'Bullet' Proof', from 2017's critically acclaimed Moonshine Freeze, was about as captivatingly adept an introduction as Alice's Wonderland was to a restless state of mind. A record which touches on themes of change ("how we deal with change and how we relate and live with other people in different situations"), in Moonshine Freeze TITK welcomed all into their captivating universe of contemporary folklore, and there could be no better time than the present for a little bit of quirky escapism.
"Thanks for being brave enough to do this guys," said Stables, with a beam as broad as the prospects she carries. "We're all a bit different now aren't we… but that's alright, it's good to be different."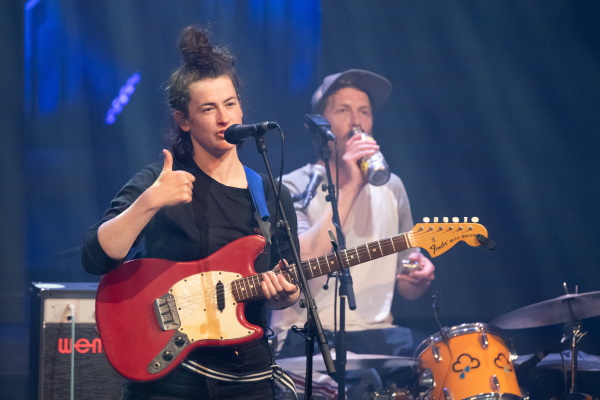 "Welcome back," responded a voice from somewhere in the depths of the back row; and what a welcome return it was.
Having not had the chance to tour their 2020 released, fifth studio record Off Off On, TITK aren't alone in their stagnancy of traditional band duties and yet, it has to be said that not many bands can claim The Barbican as the location for the return back to semi-normality.
With the addition of Rozi Plain on bass and backing vocals, TITK transcended all forms of formulaic structure, instead creating a collaboratively respectful expanse of which they themselves, at least in those very moments, appear to be living their best lives. This was more than just a gig – this was an encounter with seven uniquely individual artists who, when placed within the same space, pluck strings into gold.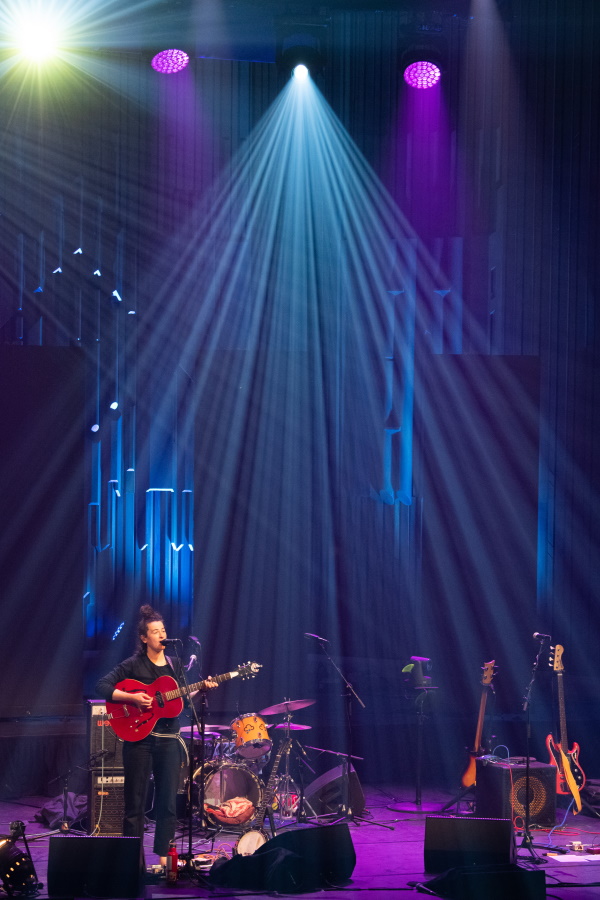 Despite having had a cold in the week building up to the show – an untimely nuisance that resulted in Stables having to "whistle" along to the songs – the evening's set was a songwriter's master class in lyrical transcendence.
Keeping the focus to tracks from Off Off On, 'Coming To Get You Nowhere' and 'This Is What You Did' stood out as two consecutive gems which, despite their themes of weighty indiscretion, and some minor performance blips, absolutely yearned to be played live. "Most of you have probably come to our gigs before," mused Stables mid re-tune. "I think you would've been very disappointed had I not supplied for you a bit of a tuning saga."
A euphoric eruption that unfurled like a bud in an Attenborough documentary, the evening's highlight, 'Empty No Teeth', was a brassy example of time standing still. C.S. Lewis may have claimed "the present is the point at which time touches eternity", but with 'Empty No Teeth', TITK took the very concept of timelessness to a whole new sensory experience.
'Bashed Out', the oldest song on the set list, was where hand-drawn film projections courtesy of Pete McPartlan truly came to life. Amicably swirling like pastel-phosphorene for the mind, body and spirit, speckles of lucid kaleidoscope bathed the stage in swashes of illuminated pleasure. A marbled balm of textural marvel, Stable soared over undulating tides of overlapping delicacy with an aesthetically contemporary core, enhanced by the sheer rhythmic splendour of her band.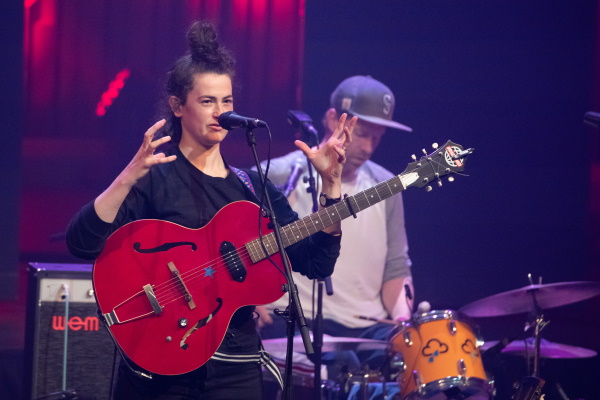 There's an intimacy that comes from sitting back, and soaking it all in. Think goose-bumps tumbling steadfast, hand-in-hand with the hairs on your arms and Stables' lyrical lavishness trickling down the groove of your spine and you might well be halfway towards capturing their alt-folk neurological pleasures.
To witness TITK live is to truly unwind, if but only for an hour or so, into an all-encompassing warmth of the heart; one which lingers like a kiss on the cheek whilst the sky outside turns from an early summer blaze to amber dusk.
"It's been quite particular getting back on the gigs," acknowledged Stables as the night drew to its end. "Thank you again, I've got immense feelings of gratitude to you all for being here."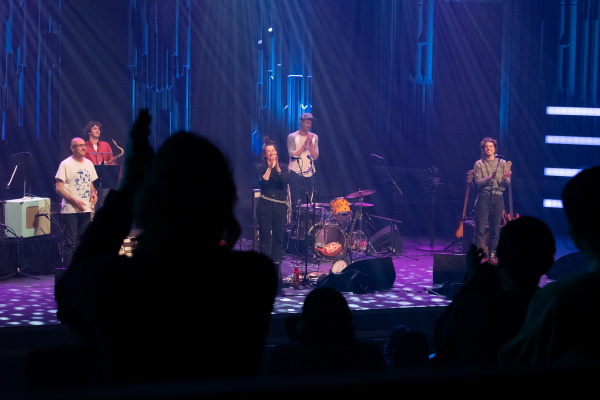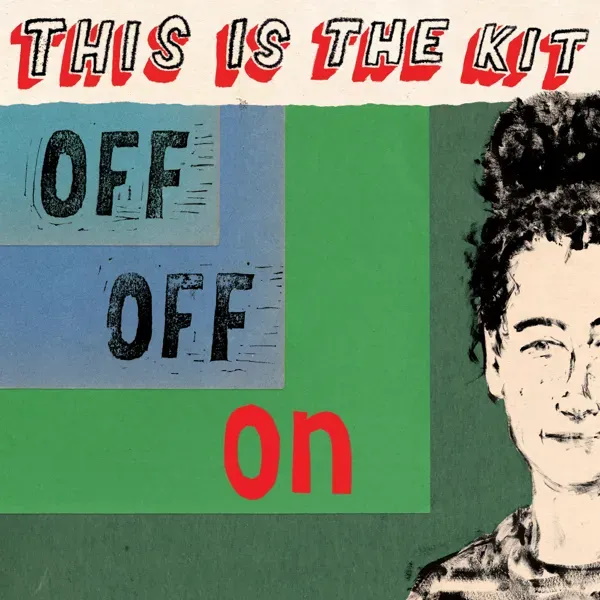 Off Off On by This Is The Kit is available now, buy it HERE.