Paramount Records – album Deep Cuts
In relation to RHYS JONES Paramount Records 45s Deep Cuts in issue #116, here's an accompanying extension looking at the label's albums
---
NIKI AUKEMA
Nothing Free
Anna Niki Aukema first came to prominence as a member of the touring American version of Superstar from mid 1970 to '71 . Whilst on the road, Aukema met up future E street band member Roy Brittan and was approached by Paramount to cut an album, that featured  label mates Milkwood (more on them later), as well as Astral Weeks flautist John Payne on saxophone.  The album veers from good natured country to pop. The breakout track is the compiled 'Lucky Lost Sin' (tentatively called 'Folk Funk').
Aukema appeared on a compilation of the Massachusetts music venue Jacks in 1973
She sadly passed in 1992.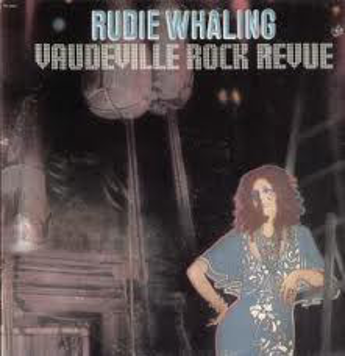 RUDIE WHALING
Vaunderville Rock Review
A porterage of Chips Moman who encouraged the budding staff writer to delve into production, Whaling produced tw0 regional 7" for Nashville independent label Avelle for  regional balladeer Wayne Kettelle.
Her sole offering starts with a vaudeville pastiche, with Charles Yves style Dixieland backing. This may be enough for the most patient of listeners to discard the record, but more shame them on them, for what follows is a an interesting, if somewhat inconsistent mix of tunes that is equal part an indicator of Whaling as not only a producer, but also as a vocalist. 'Chain Of Love' has a lovely gospel backing and some piercing guitar throughout.  'The Gambler' is another winner that has a low funk groove that gives Wahlings voice plenty of room to soar. Side Two has more bar-room blues (and extracted single) 'Cassie Runaway'. With its harmonica interplay things get experimental with the album highpoint, 'Moses', ripping off the horn line from  Lee Dorsey's 'Give It Up' before incorporating elephant like trombone squalls, groaning vocalise from Whaling, and after hours flute trills, pinned down by the lightest of percussion pulses. It is at complete odds with the rest of the album, but is an amazing mutant funk jam that out weirds even Di Di Favraeu  in the blue-eyed  freak-funk stakes. The rest of the album doesn't really recover, with an off the mark cover of 'Hound Dog', and a few other nods of the cap to vaudeville.
LINCOLN CHASE
'n You
Lincoln chase had carved out a distinguished career as a soul writer. When he signed to Paramount he released this album on a bemused, or baffled, audience. Forward thinking producer's, such as Norman Whittfield and Bergen White, had used his songs as templates to more left-field soul records with Whittfield and White. Lincoln Chase n You evolves into something far more peculiar than a unique major label musical statement
Part Captain Beefheart, part Eugene McDaniels social commentary soul, the lyrics are so cryptic and confusing it requires repeat listening to define Chase's train of thought.  His garblings are at least given a funky sonic palate by none other than Idris Muhammad and left-field jazz guitarists Roland Prince (compost) and Keith Loving ( Rashaan Roland Kirk's Blacknuss). N You  teeters between outsider music statement and a stream of conscious concept album that cross-references racial stereotyping to haunted house stories (along with reading out a grocery list). It's hard to give it an adequate evaluation. Further amusement comes by  trying to fathom Billy Meschell  involvement in this recording. Meschell, who had  produced some of Paramount's more conventional recordings, was co producer on this. One can only imagine that he was there so that the studio wasn't burnt to the ground   This may have been a test run for Meschall, as he did produce the one-off proto-rap/orchestrated-pop studio concision by The Afro Saxons about the same time.
KEN MUNSON
Super flute
Ken Munson, soul flautist #1, was a fixture on the New York session scene. His first release, a cover of the Stan Jones outlaw country track 'Ghost Riders In The Sky', coupled with a groovy cover of 'Motherless Child' (which had already been given the flute funk workout by Sweetwater) was released on the New York indie Poverty Records (that had two other releases that included the sought after message funk 'Do Sup'n (Help Rescue Children)' by Bobby Lee and the proto rap effort by Al Granum. In both instances, these were produced by John Bennings, a local soul kingpin that headed numerous small soul labels in the New York area, but found greatest prominence as the label head of Spectrum Sound, an urban music division of Laurie Records. Bennings' talent roster was an impressive one, and he was somewhat of an innovator, with a penchant for message music or hip spoken word singles. In 1973 Paramount came a callin' with the thought of Bennings working as a staff producer to expand their soul and jazz  repertoire. Bennings relaunched a few of the artists from Spectrum Sound  as Paramount Artists. Most prominent was soul crooner Hoagy Lands whilst psych-funk one shot Monarch (aka Zack Bocelli ) was given a mellower makeover as Rodriguez alike Shannon. Emulating the jazz funk stylings of  labels like Kudu and Flying Dutchman, Bennings also released two albums with jazzy reworkings of prominent soul hits of the day. This sou- jazz experiment went no further than releasing two albums. The latter was a smooth sax LP by Billy Gordon, the other being Super Flute. For the most part Super flute  is a successfully funky record with drum-heavy compositions (in part composed by Munson and Bennings). His playing is busy and locks into grove whilst wah-wah guitar interplay. 'Scramble' and 'Rocks In My Bed' have a certain cinematic feel to them. (One may hazard a guess that Munson was the featured flautist on The Clay Pitts Orchestra of the Female Animal soundtrack from '70). The reworkings of The O'Jays 'Back Stabbers' and Temptations' 'Papa Was A Rolling Stone' seem to be a toss up between showcasing arranger Robert Banks' skills, and Munson's soloing.  John Bennings partnership with Paramount seemed to have fizzled out by '74, and he returned as label head to Spectrum Sound. Ken Munson released  a post-album one-shot single on the Connecticut label Open Door records in '76, entitled 'Fly Robin Fly'. It shows Munson in fine voice throughout with a polished funk backing.
SALLY EATON
Farewell American Tour
With hippie musical Hair winding up, record companies were picking up acts from the cast and trying their hand at musical careers. Perhaps, one of the most interesting is that of Sally Eaton, who unleashed  her musical statement Farewell American Tour in 1971.  If nothing else, it is a showcase of her range, and oozes (multiple) personalities that show Eaton was a fearless songwriter, equal part Dory Previn and Essra Mohawk. Her tracks are given even more credence by no more than three producers working on it. It works in her favour, as Harold Wheeler gives some songs a more hip flavour (a method he would emulate a few years later for Mary Stuart,  another actress turned singer). Eaton's audio exodus culminates in 'Flowers In The Air' (or 'Super Psychedelic Trippy Acid Technicolor', as it was originally titled). It features every acid-folk and psych period charm and is a tour de force. The melancholic 'Charlotte's In Trouble' (extracted as a pre-album release) shows  a veritable gift for storytelling, and her acting skills shape the song to a heart-breaking conclusion.
ROBERT SAVAGE
The Adventures Of Robert Savage Volume 1
Journeyman guitarist, Bob Arlin, had been a mainstay of psychedelic also rans. His contribution on The Leaves' version of 'Hey Joe' has secured his place in acid-rock history books. His next band were the Uni signed The Hook. Under the guise of Robert Savage this seems to be Arlin's last throw of the dice in a power-rock trio. Augmented by nameless backing singers the album bounces from one genre to another without any real consistence; opening 'Beaver Baby' seems to have a wild Westbound era Funkadelic feel and rightly lets the backing vocalist scream and shout over the wailing guitar. A second jolt of energy comes from Side Two opener 'Beware The Cyclops' with its nod to the theme from Bernard Hermans score to The Seventh Voyage Of Sinbad (in all its fuzztone glory) Impassioned one take instrumental, 'Road Apples' closes the album.