Watch The Shindig! Online Festival 2021 here
Please watch, and enjoy, our anniversary online festival from Saturday 24th April, a year on from our mammoth seven-hourer. A lot has happened since then. So here's to the future. Featuring an array of amazing artists, including Gruff Rhys, Daniel Romano, The Seeds and Pearl Charles, and segments from the Shindig! team, it's the perfect hour and a half's viewing. Please share away, and donate. All details below
---
Charities We're Fundraising For
Head to our 👉 JustGiving Page 👈 now and you can donate to two amazing charities.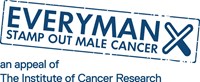 Everyman is an appeal run by The Institute of Cancer Research (ICR). Every year some 10,000 men lose their lives to prostate cancer and over 2,000 others have their world turned upside down by a diagnosis of testicular cancer. These men are the reason we are fundraising for male specific cancers. More info here. Donate here.

The Pink Ribbon Foundation is a grant making trust, its mission is to fund projects and provide impartial financial support to breast cancer charities. We are committed to ensuring that all of the charities that benefit from the work of the Foundation receive maximum gain. More info here. Donate here.
---
The Artists
GRUFF RHYS
Our favourite Welshman, Gruff  (Gruffudd Maredudd Bowen Rhys) has been playing in bands since 1985, gaining world fame with Super Furry Animals in 1995, after signing to Creation Records, blowing minds with fantastic albums and stage shows that combined laid-back '60s vibes with punk, techno and all manner else. Their 2001 Rings Around The World album was the first to be released on both CD and DVD, with the latter containing unique animations and films for each song. Gruff has also released seven solo albums, with the latest, Seeking New Gods,  set to be released by Rough Trade on 21st May. He has also made two fantastic documentary films, Seperado! and American Interior, in which you can witness his warm, self-deprecating, deadpan humour.
Enjoy the special performance Gruff has recorded especially for us.
---
THE SEEDS
One of the legendary '60s garage bands (also see The Chocolate Watchband, The 13th Floor Elevators, The Standells, The Count V, The Blues Magoos, Question Mark & The Mysterians ad nauseam) .
The Seeds were in fact a popular draw in LA on the back of their smash hit single 'Pushin' Too Hard', but like many of their peers will forever remain in the garage-band firmament. The enigmatic Sky Saxon may have died in 2009, but garage historian Alec Palao, original organ player Daryl Hooper, and San Fran singer extraordinaire Paul Kopf, keep the music well and truly raw and alive with a new line-up, playing both the back catalogue and faithful new music.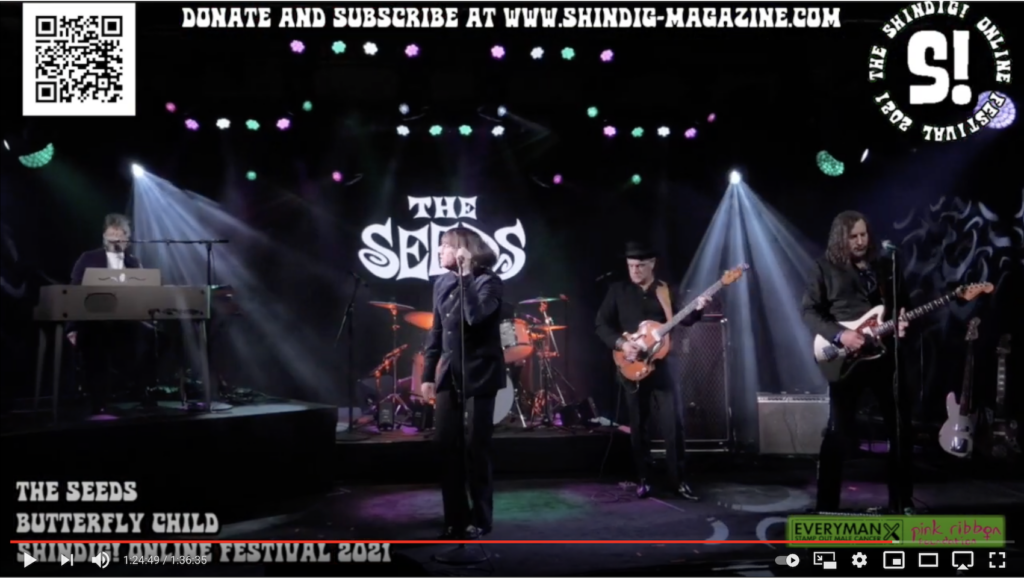 The guys have filmed something absolutely fantastic for us.
Their new single is out now on Hypnotic Bridge.
---
STEVE CRADOCK
Steve Cradock made his name with Ocean Colour Scene in the early '90s, bringing a '60s flavoured mod/rock sound into an era otherwise dominated by grunge and baggy. Their 1995 album Moseley Shoals went on to sell 300,000 copies worldwide. In '92 he joined Paul Weller's band, who he has recorded and toured with ever since. Alongside this, and numerous session and production jobs,  Steve has played with The Specials and produced PP Arnold, and released three fine albums of his own, with the second, 2011's Peace City West, having just been just remixed and released on vinyl for the first time.
He offers a unique performance for Shindig!
---
DANIEL ROMANO
Well and truly a renaissance man, and definitely one of our favourite contemporary male singers, Daniel Romano has recorded more albums than he's had hot dinners over the past couple of years, totalling a dozen across the past 12 months. Romano can embody all manner of genres, whether that be country, acid-folk, hardcore, psychedelia, prog, new-wave, or good ole rock 'n' roll. This ice-cool, musical chameleon can truly make any style his own. At the core, the focus is generally on the song and dynamics, packing a punch with verse, chorus, solo and bridge.
We look forward to you seeing this talented Canadian perform two recent songs recorded with his band for your pleasure.
Daniel's new album Kissing The Foe is out now and available from his Bandcamp.
---
PAUL MOLLOY
PAUL MOLLOY
A true practitioner of Scouse psych, Paul Molloy has played in a number of bands over the past 20 years. He was in a late line-up of  The Zutons before forming Serpent Power with Coral drummer Ian Skelly, an ongoing project who have issue two excellent albums. In 2015 he joined The Coral. Paul's gorgeous solo album,  The Fifth Dandelion, was released in August 2020. Order it via The Coral's site.
Here he performs exclusively for your delectation.
---
PEARL CHARLES
LA native Pearl Charles debuted in 2015 with a jangly, psychedelic hued album before going more pop with her 2018 follow-up, Sleepless Dreamer, introducing elements of '70s Fleetwood Mac, and a stoned, glossy, powdered, Cali vibe into her oeuvre. Brand new album, Magic Mirror, is certainly top of the list for being one of 2021's best albums, building on the previous record's template with confident moves into disco-ball glitter and mature singer-songwriter efforts that deserve to go platinum.
For Shindig! she records two songs with her beau Michael Rault, including a cover of one of her main inspirations classics. Last year's festival saw Pearl back Michael, now he returns the favour.
---
JOE WONG
This LA-based composer and songwriter is perhaps best-known for the scores and incidental music he has made for a number of cult Netflix shows, including mind-fuck animation The Midnight Gospel. His debut solo album Nite Creatures is a cerebral, orchestrated journey into beautifully arranged baroque-psychedelia that takes it cues from Scott Walker, The Zombies and Love.
Joe's unique performance will be a real treat.
👉 Website 👈
---
SIMON LOVE
Potty-mouthed Welshman Simon Love combines witty, sardonic humour with vintage pop smarts and legendary song-writing chops. He's been compared to everyone from Adam Green to DH Lawrence, with us calling him "wickedly British and distinctly funny".
Check out his videos, and of course his special performance for us.
👉 Website 👈
---
ELECTRIC LOOKING GLASS

LA's technicoloured pranksters Electric Looking Glass, featuring players from a number of the area's psych bands and transplanted Canadian, Brent Randall, all sing, write and offer distinctive musical harmonies and dynamism from their vintage gear. Their late '60s anglophile brand of pop touches on all of the cornerstones that made the era so memorable, and can be heard across a handful of singles. Their debut album Somewhere Flowers Grow will be released on We Are Stolen Bodies on 30th April.
Be sure to watch all of their videos, shot on Super8, and their brilliant performance filmed for us.
👉 Facebook 👈
---
FLEUR
Dutch girl Floor Elman hooked up with members of The Kik to sing some vocal numbers for their instro project, Les Robots, and before they could even mutter "Merci" Fleur was born. Singing in French, with bang on the nail authentic backing, Fleur recreates the Yé-yé sound of the '60s with aplomb. But it's no mere novelty or parody act as prestigious festival and TV appearances in Holland attest. Her debut self-titled album was released by Spanish label Bickerton a few months ago.
Fleur offers us all the positive, care-free vibes we need right now. Enjoy her sweet performance.
👉 Facebook 👈
---
HELICON
Glaswegian lads Helicon have been playing their own brand of neo-psych since 20o9, but really grew into themselves in 2015 when sitar player (sitar-ist?) Graham Gordon joined. Laced with the trippy tones of the classical Indian instrument, the band pile on layers of fuzz, delay and reverb to create an intoxicating, pulsating stew.
Signed to Fuzz Club, their second album, This Can Only Lead To Chaos, was released over lockdown.
Their Shindig! performance is guaranteed to fry minds and detach your soul.
👉 Facebook 👈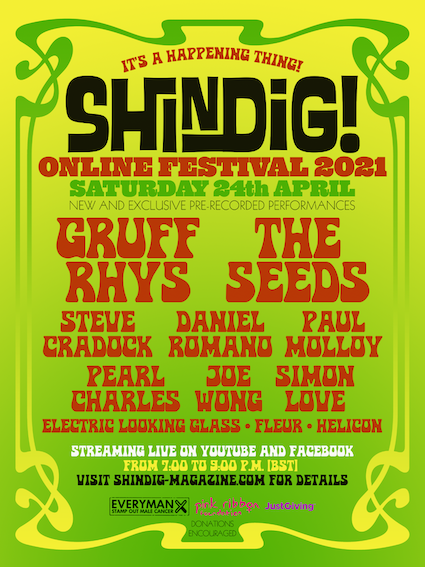 ---
Last Year's Epic Seven-Hour Marathon
---
Be sure to tune in live on the 24th and chat in the comments area about this brilliant event. As above, the show will remain on YouTube, so you can continue donating afterwards.
Watch. Enjoy. Donate here.