Solo Sun – ex Superimposers Dan Warden's new album 'Energy Magic'
MARTIN RUDDOCK chats with former SUPERIMPOSERS frontman Dan Warden aka SOLO SUN about his new album Energy Magic
---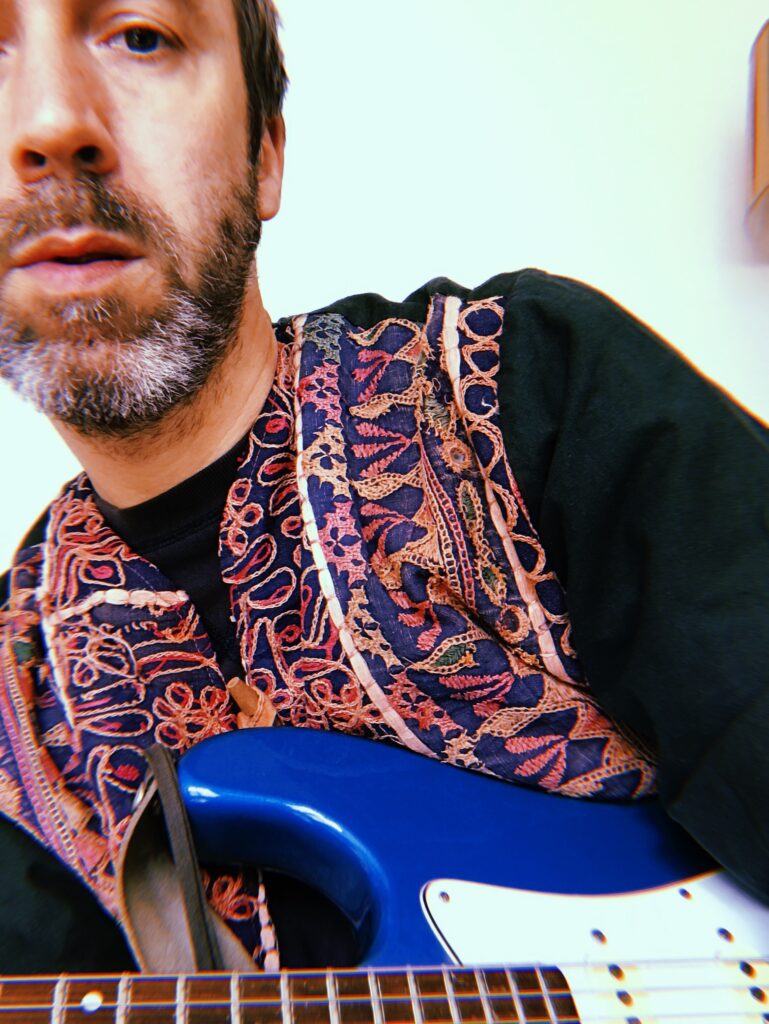 Shindig!: You've been releasing music under various guises since the early 00s, this is your second album as SOLO SUN, give us a potted history of what you've been up to over the last few years?
Solo Sun: I've been spending time writing and recording after slowly putting together a modest home studio at my flat in London. I released my first Solo Sun EP, 'Into The Sun' a few years ago. Shortly after I put out my second EP, 'Let's Speak/Lift Up your heads', again as a Bandcamp release. Then I got stuck into recording my first full length album, Gold Ace. During this time I put together a Solo Sun band with brothers Jon and Chris Beagley, which we debuted at a show in Kentish Town towards the end of 2019. I then began work on my recent second album, EnergyMagic throughout the first lockdown.
SD!: Long-term fans of The Superimposers will find a lot to enjoy with Energy Magic, the melodies and your voice are familiar but the vibe is very different from the sample-based sound of TS. How has your music developed over the years?
SS: The Superimposers were very much a studio band., Like many bands, we worked as a team. We had a melting pot of ideas and took a great deal of time to develop those ideas together, vetoing decisions along the way, that's why there is a different vibe to what I'm doing now. It was a coming together of an assortment of musical influences and we had a varied approach to recording. Before TS, I was very much into writing and completing a song on a guitar then recording it as so. That way of writing comes natural to me. A Very simple approach. Solo Sun is like a return to how I used to write, It's quite a traditional way, I guess. I'm not going backwards, I've just recognised a formula that worked and I've taken that forward to now. Also I'm able to be a little more self indulgent in what I produce these days as I don't have to compromise as you might in a band. I love pop songs and short instrumentals, I like punchy three or four minute arrangements that do and say everything in that short space of time. I have fun with it, there's no room for serious contemplation and I'm not looking to appeal to any particular audience.
SD!: Your two albums as Solo Sun are very much in the vein of great lo-fi one man band and home studio albums like the McCartney trilogy, Wild Honey or Skip Spence's Oar. How do you build that sound and get that blend of the song and the room down? 
 SS: I start with a finished song usually written on guitar. I get a rhythm down, get a groove going and usually a scratch guitar take then the fun begins. I use a combination of cassette 4-track multitrack and Pro tools to record with. There's no cut and paste going on. I like to do complete takes straight through which helps with the energy and dynamics of the recording. Warts and all. Mistakes make for magic moments.
I record in quite a large living room with high ceilings and there's no soundproofing. There's a school playground out the back too. If you listen to my music closely you can often hear all the kids screaming, cars whizzing by at the front and dogs barking next door. It all adds to the colour of the track. I sometimes record acoustic guitars in the bedroom and occasionally vocals in the bathroom.  I've a couple of nice old microphones, a nice mid-70s Horner Strat copy, a nice old Epiphone Casino and a collection of early '80s Casiotone keyboards that I run through guitar effects pedals to create some of the string sounds. I've a lovely Japanese-made '60s short scale bass I picked up for next to nothing. It's got a great "plonk" to it, very cheaply made, like a plank of wood but sounds good. I've a large old rusty tambourine and an assorted collection of percussion. I've also got one of those old Melos echo chambers which add a little grit. All this equipment goes some way to producing the sound I create. I don't really plan the parts I record, I have a vague idea and things fall into place. It's quite free. I experiment and do my best to break the rules of recording. I tinker with compression and reverbs and generally mess around with the sound till it sounds good. The only rule I follow during the mixing stage is that if the track sounds good, it probably is good so leave it, it's finished.
SD!: Who and what inspires you as a songwriter?
SS: My inspiration comes from the power of a song or a piece of music by any artist, and how it can move you and how it can help to lift you or make you feel melancholic. Whether it's the words or the feel of the music itself. That may sound naff but I don't care. The power in music impressed me very much as a child. I've loved and have been captivated by music from a very early age, My parents bought me and my brother up on a diet of Tamla Motown and The Beatles and whatever was on the radio at the time. We moved around the country a lot too, and I went to many schools that I hated, so music was a great escape. Music was played all day long in our house when we were growing up, and its had a lasting effect on me.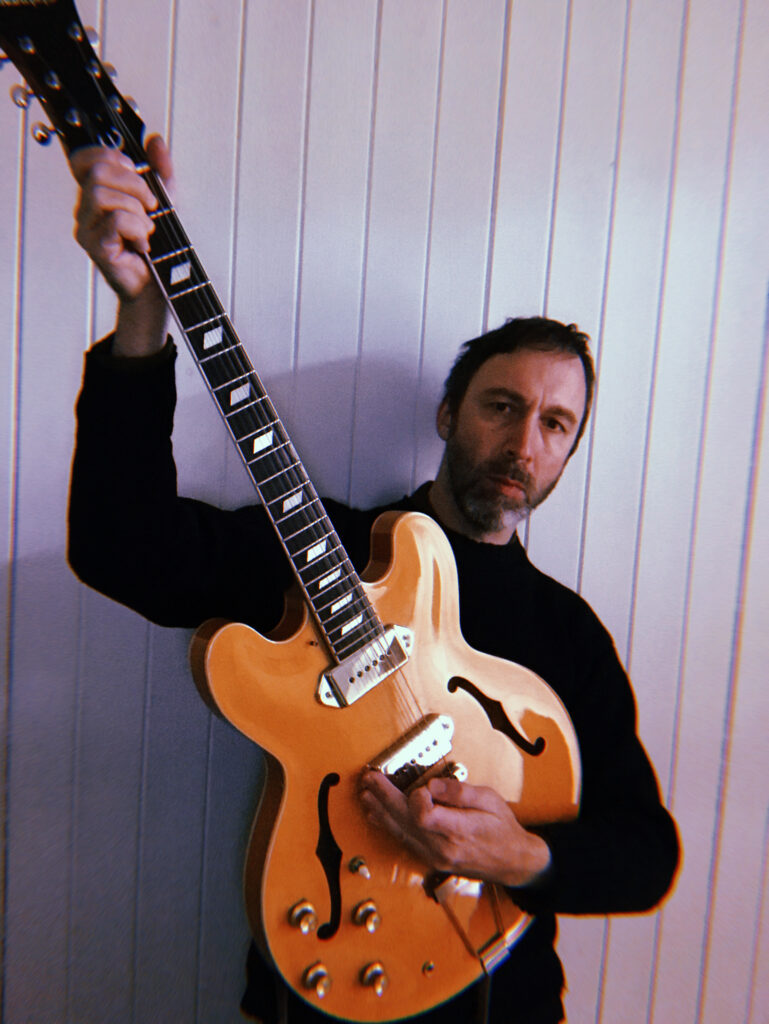 SD!: How do you start a song? What comes first and when do you know you're onto something?
SS: The song starts from the first chord I play, usually whilst cooking or waiting for a kettle to boil. I'll start humming a melody and I'll find the chords as I go that fit with the mood of what I'm trying to achieve. I make it up on the spot. There may be A vague idea of a lyric or a feel. I'm inspired in the moment. I get a surge of excitement and record an idea into my phone. I rarely hear a melody in my head before I pick up the guitar. It all comes out at once. If I manage to arrange the song quite quickly and find that I'm drawn to keep playing it because I enjoy it then I know I'm onto something.
SD!: Both Gold Ace and Energy Magic come decorated with your own art, lots of intriguing patterns, a sort of monochrome psychedelia. Tell us a little about your artwork?
SS: I draw free hand with a black pen and paper. I don't like to label things but I suppose they could be considered abstract. It's something I've been doing on and off for years. Like my music, I make it up as I go and I keep at it until I feel it's finished. I fill up writing pads full of the stuff,. I've created at least a couple hundred pieces. I'll listen to some music and get lost in the drawing for a few hours. It's a meditative process. I stick to black and white as I'm able to create a lot more depth in the drawings. I was struggling to decide on some artwork for my first album and I had friends telling me to use my drawings. I record and release all my own music so why not do the artwork too. The music and the artwork seem to compliment each other.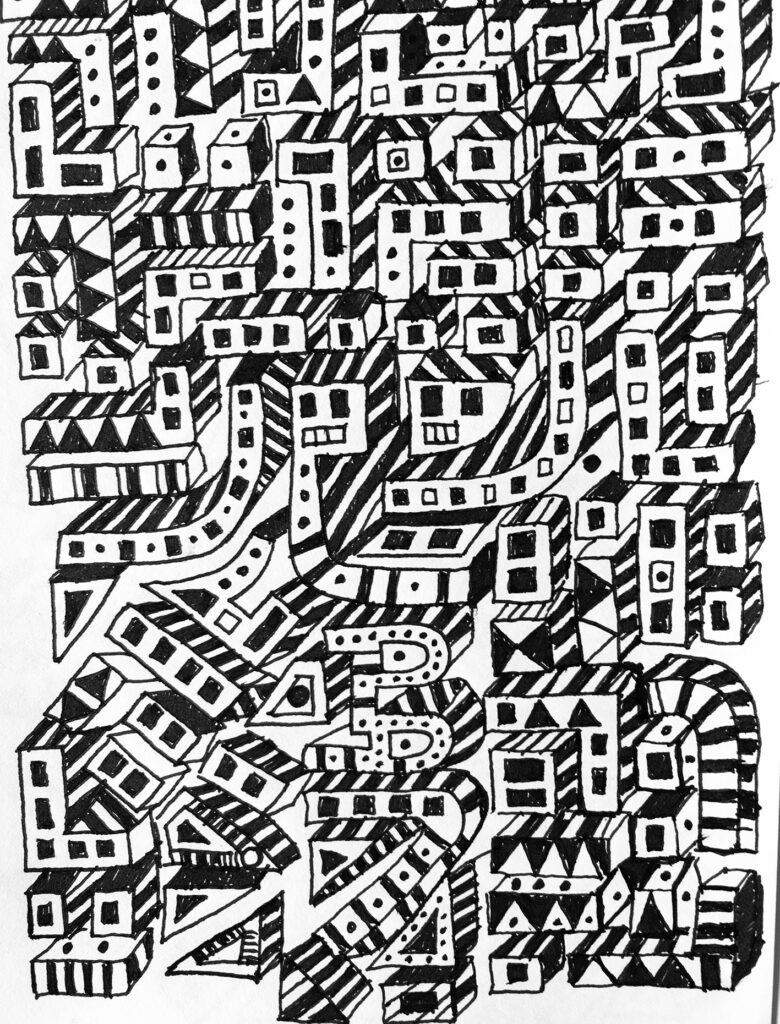 SD!: What's it like to be out there on your own as an artist in the weird landscape of 2021? What's next for Solo Sun?
SS: I really love what I do and I enjoy the music I've been making. Its great that other people enjoy it too. There's no pressure and I'm not trying to live up to anything or anyone. I'd like to play live again one day, and it'd be cool to work with other people along the way, but if that's not possible for now, because of what's going on in the world, then I'm happy to continue writing and recording as I have been. I've just started work on my next album. I've a lot of good new songs that I'm excited about. I'm always writing, my phone is full of musical sketches and songs. I have no label, no deadline and to be honest, no plan other than to enjoy the process and keep doing what I'm doing. Honestly, I'm as intrigued about the future of Solo Sun as much as the next person.
Energy Magic by Solo Sun is available now from solosun.bandcamp.com