Silver Synthetic… "a certain area of rock 'n' roll song craft"
JON 'MOJO' MILLS chats with Chris Lyons and Kunel Prakash of SILVER SYNTHETIC ahead of the release of their debut album
---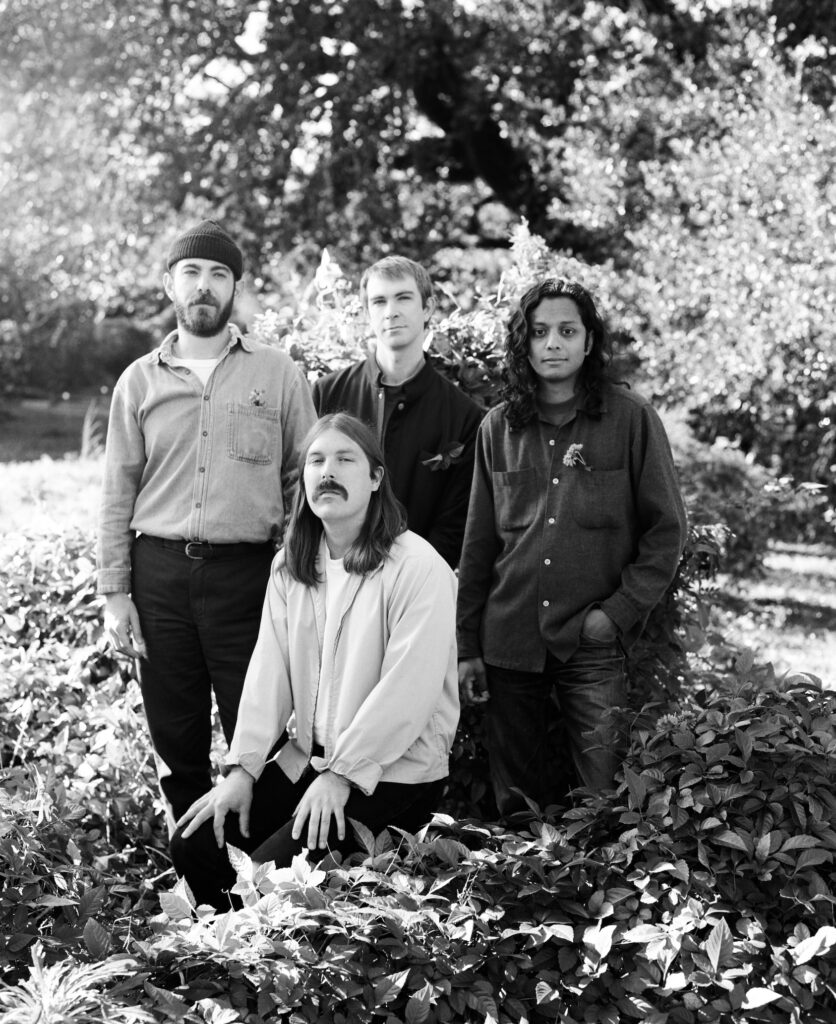 Shindig!: You guys have a very easy going chooglin' vibe… What have been some of your influences?
Silver Synthetic: Between the four of us we have backgrounds in, among other things, jazz, punk and  free improv.  What brought us together in this group is a shared appreciation of a certain era of rock 'n' roll songcraft.  Name most any of the usual suspects from that time and you'll find them in our record collections.
When it comes to chooglin, we are fans of it in all forms– from Elmore James to Endless Boogie.  A lot of people aren't aware that our drummer, Lucas, is a well regarded blues guitarist locally so his influence on the chooglin aspect of the band is two fold.
SD!: What are some of the contemporary acts you like? I hear a few similar benchmarks as The Nude Party.
SS:We can't speak for them but Rose City Band, John Andrews & the Yawns, and Cut Worms come to mind in terms of other bands that seem to be tapping similar, or at least adjacent, musical wells to ours.
We're lucky to live in a city full of great bands that sound nothing like us.  Video Age, Esther Rose, Quintron & Miss Pussycat, Benni, Static Static, Sick Thoughts; the list goes on and on.  It's a blessing to be part of a music community that isn't pigeonholed in sound, genre, or aesthetic.
SD!: You are still referred to as garage/psych in the press. I don't hear that at all. If you could coin a term for your sound what would it be?
SS:We've never called ourselves a garage/psych group and have deliberately stayed away from a lot of the signature sounds of "modern psych."  We've always considered ourselves as a straight ahead rock 'n' roll band – two guitars, bass, drums.  We call it The Painters Street Sound in honor of where we made our first record.
SD!: How did you hook up with Third Man?
SS:We did a short weekend run of shows in Tennessee in the fall of 2019.  Some TMR folks were at the Nashville show and got in touch shortly after to ask if we had recorded anything other than our 3 song cassette that we were selling on tour.  Luckily, we had recorded and mixed our album months earlier so it was off to the races from there.
SD!: What do you like about the label's ethos?
SS: Where to start?  We really respect their commitment to releasing an insanely wide variety of music.  If someone had told us when we started the band that we'd be sharing a label with Sleep, we would have asked to hit whatever they were smoking.  Whether it's deeply researched comps, crucial reissues, releases from huge bands, or smaller artists like us, the sheer volume of cool music they are sharing is astonishing. Add to that, everyone there has remained incredibly supportive, enthusiastic, and creative while trying to navigate the covid-hellscape music environment.
SD!: How long did your album take to record?
SS: One week of recording at Chris' house.  One week of mixing at our engineer Ross Farbe's house.
SD!:  You have a lovely vintage warmth to your sound. How important is old gear and vintage recording methods for you?
SS: A lot of old instruments tend to sound better because they were built better – a simple product of higher quality manufacturing.  None of us can afford large,  expensive vintage instrument collections but we have managed to acquire what feel like the proper tools to make the music that we want to hear.  There are a few special vintage gems in there but it's generally a mix of old, new, modified, and weird custom gear obtained as cheaply as possible.
When making a record, we prefer recording to tape. Most everyone's favorite albums were recorded that way for a good reason.  Tape documents sound, like film documents images, in a tangible and honest way.  It's a bigger lift to make edits so the performances need to be stronger from the get go which makes for less fuss in the mixing stage and a better end product.  Just play your shit right!  That said, we do take advantage of certain modern conveniences in the interest of saving time, money, and sanity.  The modern tools are especially important for us in the writing and demo phases. Ross Farbe has a well curated and very useful mix of old and new recording equipment so we got the best of both worlds working with him on this album.
SD!:  Your videos are a lot of fun. I love the vibe you give off. It's important. Big question: what is that vibe?
SS: We have a good time making all of the videos and really just focus on making them connect with the mood of each song.  Everyone is going to walk away from the videos and the music with a different feeling but we'd like to think the music speaks for us in terms of conjuring up any kind of mood or vibe.
SD!: Bands, albums and singles important to the band?
SS: That's going to make for a very long list but some things that were in the air around the recording of this album were Lou Reed's Coney Island Baby, Bob Dylan's New Morning, Sly's There's a Riot Goin On, Television's Eno Demos, Fairport Convention's What We Did On Our Holidays, Judy Collins' Who Knows Where The Time Goes, and JJ Cale's first record.  Neil Young's ethos and entire discography, even the stinkers, are a constant source of inspiration.
SD!: Hopefully we start to come out of COVID very soon after the April release of your album. What are your plans?
SS: Just like all other musicians, we are eagerly awaiting  the return of shows and touring. It seems like we've all still got to be patient for a while longer but it does look like there are little bits of hopeful light appearing.  Whenever it's safe for everyone involved, we'll definitely be out there playing these songs. For now we are just trying to maintain and keep working on music however we can.
Silver Synthetic is released by Third Man on 9th April. Go here for ordering link and more info