In Shindig! #106, THOMAS PATTERSON interviewed the indefinable guitarist CHRIS FORSYTH on the eve of the release of his new live album First Flight, an improvised delight recorded during a residency at East Village venue Nublu with a band including members of the group Garcia Peoples
---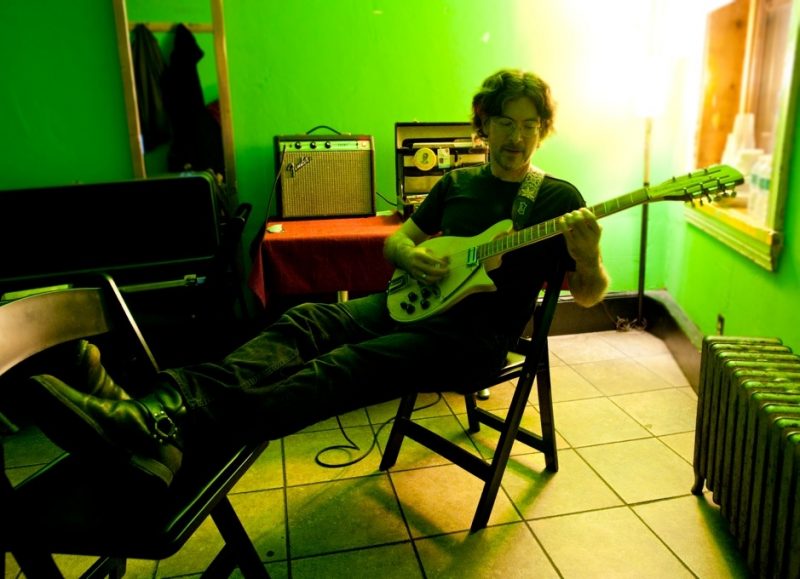 On April 23rd , Algorithm Free will be releasing a new Chris Forsyth LP/DL Rare Dreams: Solar Live 2.27.18 recorded live at London's Cafe OTO three years ago this month with the final iteration of The Solar Motel Band. The album includes two long Solar Motel jams, 'Dreaming In The Non-Dream' and 'The First 10 Minutes of Cocksucker Blues' plus two Neil Young covers, 'Don't Be Denied' and 'Barstool Blues'. The album is available for pre-order.
As an online treat, here's the unedited transcript of our original interview with Chris from last year.
 Shindig!: We've been long time fans of your work at Shindig!, but whilst we've spent a great deal of time listening to your records, we know very little about you personally, other than you're based out of Philadelphia. Can you please tell us a little bit of your history? How would you describe your music and work?
Chris Forsyth: I was born in 1973 and grew up in New Jersey in the '80s on classic-rock radio, then got into underground/punk/Our Band Could Be Your Life bands in my teens and college years, taught myself how to play guitar a bit, and moved to Brooklyn in '96. I didn't really know what I was doing but I figured New York would be a good place to figure it out. I started to lose interest in contemporary rock music in the late '90s but fell in at Tonic, a venue in the Lower East Side that hosted a great constellation of improvised music, avant-rock, free-jazz, and experimental/outsider music of all stripes.  It remains the coolest music scene I've ever witnessed or been a part of first hand. At the same time, I studied with Richard Lloyd of Television for 18 months and, essentially, he taught me how music works and how to play it on the guitar. I got really involved in experimental music and had a group called Peeesseye in the 2000s that played drones, feedback, and very noisy high strung improvisations. We toured the US a bit, but mostly in the EU. That group wound down in the late 2000s and in 2009 I relocated to Philadelphia, which is cheaper and funkier and more fucked up than whatever NYC had evolved into. I like it. I became tight with the late great guitarist Jack Rose, who really inspired me to play more lyrically and expose the latent/dormant Richard Thompson/Jerry Garcia tendencies in my playing. I also think it took me the decade of playing weird avant–garde music to allow the lessons I'd learned from Lloyd to really marinate to the point that I could deploy them convincingly. I think of myself as a rock guitarist but in an era when rock has lost its prominence as a popular music and is in a similar cultural position as jazz was in the '50s – it used to be popular, but now it's art music. The audience is smaller than it once was, but the music is getting more interesting. I feel like I'm trying to do something for rock that comparable to what John Fahey did conceptually – taking the raw elements of a traditionally vocal music (in my case rock, in Fahey's blues), largely getting rid of the vocals, adding some unusual influences, and distilling it to an elemental largely instrumental form.
SD!: How did your residency at Nublu come about? Did you have any specific aims when you started? How often did you perform, and how did you choose your collaborators?
CF: Nublu is a venue in NYC's East Village and, unlike most venues in New York over the last 10 years or so, it has a very music-centred vibe and the people that run it are very involved on the day-to-day and very cool people – true music lovers. I was offered a gig there in 2018 and had never heard of the place but when I looked up their calendar it seemed to be largely free-jazz and jam bands, and I thought, "That's the sweet spot right there!" They're very much about improvisation and free-styling, whether it's jazz or rock or hip-hop. The first time I played with Garcia Peoples was at Nublu in March of last year when they asked me to sit in on a set at their record release show when Ryley Walker, who was scheduled to play, had to cancel last minute. The Garcias and I were already friends for years and familiar with each others music, but we'd not played together and there was no time for rehearsal, so we did a 30-minute version of my song 'Techno Top', and covers of 'Calvary Cross' and 'The Other One'. It was a blast and people really responded – see NYCTaper recording here. I think it was at that show that the promoter invited me to do a weekly residency for September. You see, I love playing gigs but I don't really love touring and I'm not looking to go on the road for six-eight months a year like a some of my peers. So, a residency is kind of perfect. I played every Friday in September, two sets, with different guests each week centered around drummer Ryan Jewell and bassist Peter Kerlin. The idea was to mix it up week to week, trying not to repeat songs or set lists. The first week the Garcias played with me, the second week, it was a thrill to play a set with The Dream Syndicate's Steve Wynn and his wife the drummer Linda Pitmon (who plays in tons of Peter Buck bands) the third week produced First Flight, and the fourth week was with Ryley Walker and saxophonist/trumpeter Daniel Carter and Tom from Garcia Peoples. In between all this I played a show at Johnny Brenda's in Philly with Garcia Peoples, Ryan Jewell, and Peter Kerlin baking me. That show came out as the Peoples Motel Band LP in March, the set with Daniel Carter produced the Techno Top DL release in May, and now the First Flight LP. If we'd gotten a good multi-track recoding of the set with Steve and Linda, I suspect that'd be a candidate for release too (we only have an audience recording from NYC Taper). So, it was very productive.
SD!: What was it like playing with the musicians on First Flight, and why did you choose this set for physical release? And why is it called First Flight?
CF: I was interested in trying some new collaborations during the residency and the promoter suggested I contact guitarist Dave Harrington to play. Dave is someone who I was tangentially aware of, but did not know personally. I knew he kind of overlapped the worlds of jazz, jam band, and electronica and plays with an insane effects pedal set up. I suggested having Ryan Jewell play drums, with whom I've played with for years, and Dave suggested Spencer Zahn on bass, with whom he's played a lot. So, there were two factions in the group, but each was unfamiliar with the other. We met at the club about a half an hour before the set and we decided to totally wing it – no discussion or framework beforehand. Hence the title First Flight – it was our first time playing together. And the set turned out to be a real joy – completely spontaneous, but focused, cooperative, lots of listening, everyone working together, no one hogging the ball or trying to dominate, but full of expression. I think the music speaks for itself. For me, it was just about the most enjoyable set of music I played all year. And the rhythm section totally cooks.
SD!: How did you hook up with Garcia Peoples, and what did they bring to your music, and vice versa?
CF: I've known those guys for years. They grew up in New Jersey, near the City, and they've been coming to shows since they were in high school, I guess, and I met them at my shows or other peoples shows. They are like 15-20 years younger than I, and seem to be out practically every time I'd see music in NYC. They're just great, enthusiastic, hungry musicians with positive attitudes, and they have this family band dynamic which is great – Danny (guitar/vocals) and Cesar Arakaki (drums) are brothers and there are rotating members who sometimes are there and sometimes aren't. They've been playing together since high school and I think Garcia Peoples is the only band those guys have ever been in. Probably the number one factor they bring to the music is fearlessness. They are not afraid to try something new, they are always very present. Plus, Danny especially has the sickest gear. Every time I see him he's like "Look, I what I got," and it's invariably some vintage beast of a guitar or amp that no sane person would risk taking to a gig. His apartment is basically a giant pile of guitar cases!
SD!: What happened to The Solar Motel Band? (and indeed, what or where is a Solar Motel?)
CF: The Solar Motel was a real place on Route 1 in Central Jersey, near where I grew up. It had a great sign but by the '80s it was semi-abandoned and a very seedy kind of place. It just had a vibe that a couple friends of mine and I liked. We'd go there and hang out in the parking lot. It was one of those magnetic places that evoked something ineffable for me. And like most weird things in New Jersey, it was just sitting there in plain sight on the side of a highway, largely ignored. So I always liked the name. Ultimately, The Solar Motel Band basically evolved into nothingness, I guess, but it all happened by accident in the first place. The first full "rock band" record that I recorded was Solar Motel, which I made in 2011, but it wasn't released until 2013. It's the first time that people started calling me up and offering unsolicited gigs. But I didn't have a band! So, I put one together to play the music from that album and the band name seemed logical. That line-up lasted for a couple years, then the members started coming and going with bassist Peter Kerlin being the only constant. Eventually, I found that I was just putting together bands for each gig or small tour, based on whoever was available at the time, and I started to like the variation. It kept things in flux in a good way, kept the music from getting stuck. As in any relationship, if you play with the same people over and over, it can get predictable and even the improvisations start to develop a consistent arc. It's always basically been me and whoever I'm playing with, so I dropped the pretense of a band identity. It just made sense at a certain point.
SD!: How does a venue affect the way you play, if at all, and where are your favourite places to perform?
CF: Sure. Everything affects the way you play – the venue, the weather, what you had for dinner, the audience, how well you slept the night before. In terms of venues, I like places that have a personality that is about the music, where the organisers or promoters are really trying to make something happen other than only turning a profit. Places with an independent soul. In NYC, I like Union Pool and Nublu, Cafe Oto in London is great, Cave 12 in Geneva, The Hideout in Chicago. In Philly, I like Johnny Brenda's and I have my own little spot called Jerrys On Front, which is an old storefront space on a dodgy strip under the elevated train that holds maybe 75 people.
SD!: You have a wide back catalogue now. Where would recommend a newcomer to your music start, and why?
CF: I always direct people to the most recent release, because it's the most exciting to me. So, nowadays I'd say check out First Flight or Peoples Motel Band. I think they're the two best things I've done. They sound good, they're dynamic and unpredictable, but there's no waste, either. I like the idea that if you're going to do a 10-  or 20-minute song, you'd better be able to justify the duration. My favourite music is very lean and economical. Every moment has to count.
SD!: How have you been keeping sane during the pandemic so far? What have you been listening to music wise? And do you have any thoughts about what's next for music, especially the kind of intimate, controlled improvisations at which you excel?
CF: For me, it's been a rather productive time, actually. None of this was pre-planned, of course, but I was fortunate to have gotten high quality multi-track recordings of a number of gigs last year that turned out to be worthy of release. So, when Bandcamp stepped up to support musicians with their "no fee" days, it provided an outlet for me to release them, which I've done on my own label Algorithm Free. I'd pitched the Peoples Motel Band LP to No Quarter, the label I've been working with since 2014, last fall, and although they liked the music, they passed because they didn't think live albums were particularly marketable. Funny how the pandemic suddenly turned that on its head and gave the notion of a good live record new currency.  But then again, I exist very much on the fringes of the music industry, partly by design and partly because what I do doesn't really fit in very well with the industry itself. The conventional wisdom of the last 10-12 years or so has been that because the tech companies have changed everything, musicians should give away their music to the steaming services and then survive on the road. That has certainly been proven to be a dog shit idea now, hasn't it? In the US at least, the gigs have been largely controlled by a cabal of booking agents and other generally slimy parasitic operators, so my policy has been to play gigs only when invited and to set up my own shows in Philly and NYC. I'd rather have a high quality experience every time I play than go out on the road and roll the dice. Touring is basically like waiting tables, even for acts you might think of as established – sure, Thursdays, Fridays and Saturdays are probably gonna be pretty good wherever you are, but there's always Sunday, and Monday, and Tuesday somewhere when no one may show up. So, in service of the music, I've skipped all that. I think it's much better for the music, my health, and my life in general. I'm fortunate to have a supportive label in No Quarter and a manager who gets what I'm doing and is not trying to get me to fit into the existing industry boxes, and most importantly, great musicians who are willing to play with me. Then again, since those boxes have been largely wiped out by the pandemic, we'll see what things look like whenever this passes. What I do know is that I'm focused on making the music interesting to me and by extension, the fans who are tuning in, which, to me, is the true success – getting the music right and hopefully having some people tuned in. Now that First Flight is coming out, I'm starting to think about studio projects again. I may do some long distance recording with people like drummer Ryan Jewell and bassist Doug McCombs in Chicago, and see where it goes. My policy, on stage and in life, is to embrace the disruptions and follow them, so I think some more interesting music might come out of this.
First Flight and Rare Dreams are available here