Ahead of issue #113's 20 Questions with the rock 'n' roll obsessed MIRIAM LINNA, Shindig! hears yet more memories, anecdotes and news. Pre-order the issue here
---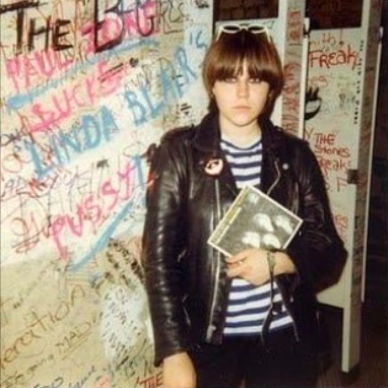 The Official Kinkdom Project
The childhood British Invasion indoctrination is now evident in Waterloo Underground, the worlds first and only all-Kinks weekly radio show, which began its "Let's Go, Kinks Reunion" chant  in 2018. Marc Miller and I started the show with our brilliant engineer (and ultra-Kinkster) Matt Clarke, blasting the greatness of The Kinks (and nothing but The Kinks) and counting on a reunion. Last year we brought in Johnny Aquino, a major league Kinks collector and fan, who was eager to bring podcast-style interviews to the blast, so we now do two hours made up of a one hour interview show and  one hour of Kinksongs and commentary (live ev-er-y Friday night at luxuriamusic.com). We chat with serious Kinks fans, writers, collectors, and musicians – all of whom are a total gas to gab with.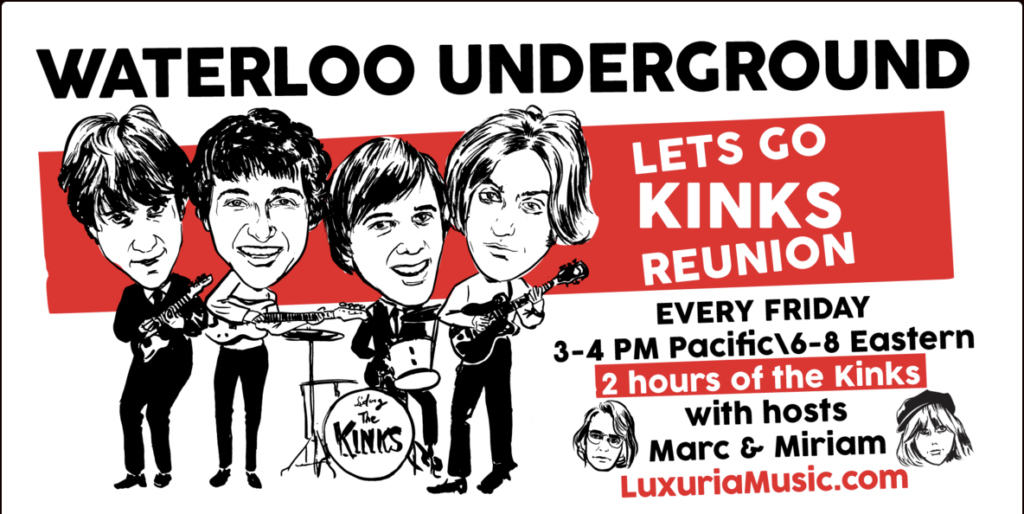 Marc Miller (who I first met for a moment in Boston in 1978) and I created two internet radio shows. Marc spent time in real radio, as program director at WBCN, and has an instinct for radio and love of the music. I only possess the last part of that sentence. Crashing The Party was our first baby, with the goal being to hornswaggle everyone into digging original  vocal group recordings. We're working on a best of collection of rarities and favorites from CTP and are focused on irregular interviews with the lost heroes of rock 'n roll— the collectors-turned-labelmeisters. All of our shows are on our website, crashingtheparty.co  – each is two solid hours  of gabs and spins, without a notion of purveying to any particular crowd. In fact, it's always great to hear some punk-rock lunatic going ape over the Equallos or to have a vocal group diehard hear something they'd never heard before. It's music to make your mind go wild. Hard core candy store! Waterloo Underground is the world's first and only two-hour radio show focused on the Kinks. Marc and I started the show with our brilliant engineer (and Kinkster) Matt Clarke, blasting the greatness of the Kinks (and nothing but the Kinks) and counting on a reunion. Last year we brought in Johnny Aquino, a major league Kinks collector and fan, who was eager to bring podcast-style interviews to the blast, so we now do two hours made up of a one hour interview show co-hosted with Johnny (available at our website) and a two-hour show that combines one hour of interview and one hour of Kinksongs and commentary (live ev-er-y Friday night at luxuriamusic.com).   We chat with serious Kinks fans, writers, collectors, and musicians – all of whom are a total gas to gab with.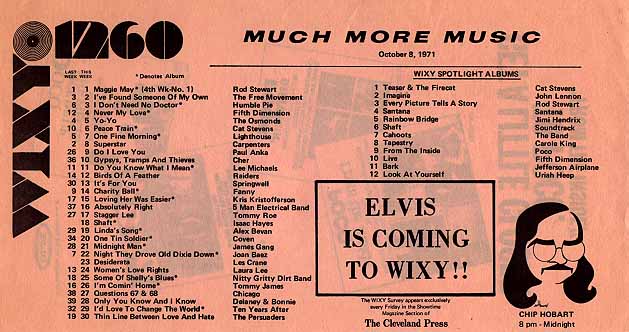 Cleveland Scene
My family moved from Canada to the States in January 1967, when I was in the middle of seventh grade. What an astonishing difference in everything! Our new American small town was 50 miles from Cleveland.  AM  radio at the time was CKLW out of Detroit and WIXY from Cleveland. I discovered the FM dial in high school with WNCR and then WMMS—   we were all exposed to incredible music with both of them. I won the Pink Floyd Dream Contest at WNCR in '72, the dream I had sent in  was read on the air (to the tune of a Van der Graf Generator instrumental!) and I won all seven PF albums from Piper At The Gates Of Dawn to  the just-released Obscured By Clouds. Yes, I have a tape of that zany dream reading. Don't hold it against me. I was instantly 16-year old a Pink Floyd LP completist  and remain a fan to this day. Everybody played in Cleveland because of the great radio promotion and the large all ages  venues were always packed to the eye teeth.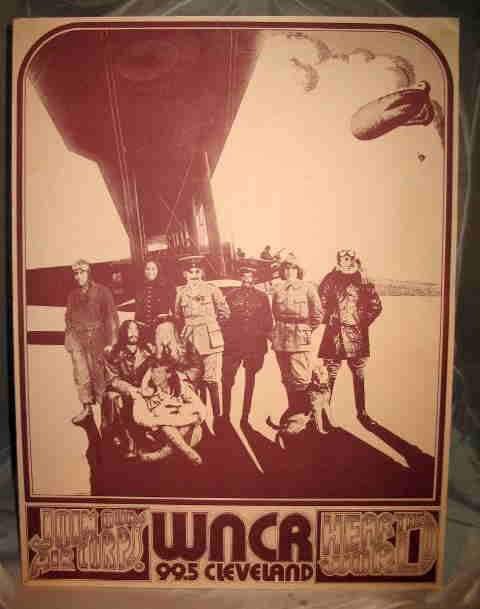 Britain 1973
My sister Helen and I spent several months in Britain in 1973. I was 17, she was 22. We had been working at a fiberglass factory in Ohio  that had produced the original Corvette sportscar bodies (and molded  Eames chairs) – believe me, the work was nowhere near as glamorous as the iconic items they were known for. With money earned, we bought one way tickets to across the pond  for a non-stop escapade that took us through England, and into Ireland and Scotland,  catching every rockin' show – especially and specifically  the Spiders From Mars. We'd befriended kids in London and we'd all hitch up north, east and west, meeting at venues and having a blast. It was quite a time. Helen and I were the first American fans to hear Pin Ups – we were huge Bowie fans (I would last thru Young Americans, at which point I tore the posters off my bedroom walls and "went punk-rock" . One day we were walking past Trident Studios and were clowning around under the sign, when Bowie's bodyguard Stuart George came by, asking "What are you girls doing here?" We were shocked. Look, we were Bowie fans from his first shows in Cleveland, and knew Stuart and Bowie – both were incredibly great with all the fans, personable, ultra cool. Once Helen and I lead the band through the side streets into the back of Public Auditorium, as they wanted to avoid traffic and were running late. We got a bit lost and ended up driving. (with the Spiders trying to keep up with Helen's frenetic driving,  into and across the field of the baseball stadium!  It was a very lively scene with fans and bands in Cleveland, absolutely a total blast. But I digress. Back to Trident Studios. Stuart told us that Bowie was in the studio and to come back later. We figured we'd get an autograph then, and were not prepared to be invited up into the studio to preview the new album. We were on cloud nine, being served tea and biscuits and sitting across from DB, just Helen, me, and he. Big stuff for a couple of girls from the boondocks!
When we ran out of money, we interviewed for jobs at a record factory outside London, where we toured the place, seeing millions of albums being  jacketed and so excited at the prospect. But we didn't land the jobs. Instead, we ended up making meat pies in an assembly line  at the Tefler's factory. Not quite the same thing! "Everything but the moo!" Helen and I shopped at the Rock On stall, and I still have a couple letters from Barry, catching up with what was happening on our opposites sides of the pond. I remember clearly buying  Wizzard's new 'Angel Fingers'  after hearing it playing into the street. Magic! 
Yes, we trawled the legendary sites we'd read about – our first day in London, we spotted  Roger Daltrey taking a stroll, and Helen and I followed him, hiding behind corners, just curious to see what he was up to. That same day we got locked into a record shop with Elton John, who checked out with a hundred albums, it seemed. We were absolutely flipped out, believing this was teen-fan Mecca. It was. That time in England absolutely influenced my future. Much too much to tell in one paragraph!
By the way, Howard Thompson had been the intern when Helen and I visited Trident Studios in '73! Small world!  And it was he, who on the '78 Suicide visit, brought us tickets to see The Flamin Groovies at the Roundhouse. Incredible!
The Stooges
Fast forward, and back to factory work in Ohio by Christmas, with the first must-see show to look forward to in January 1974 –  Iggy &  The Stooges opening for Slade – mind blowing. Everybody we'd ever attended shows with – strangers all , but future players in my life—  was at that particular show, which to me was the pivot point for everything. Iggy is the first (and last) guy who I've ever seen at eye level in ladies underpants. Memorable, to say the least! Slade was one of my favourite bands, too, possibly too juvenile for Helen, but I was crazy about them (still am).  That double barrel threat of UK vs USA loud sound blasted us out of orbit. I think everybody in the room ran out and started a band. Helen and I gave Dave E. A ride home to suburban Lakewood after the show, Dave McManus being the lead singer for Electric Eels, local noisemakers deluxe. We were to become pen pals, and really, friends for life. I was happy to reconnect with him recently.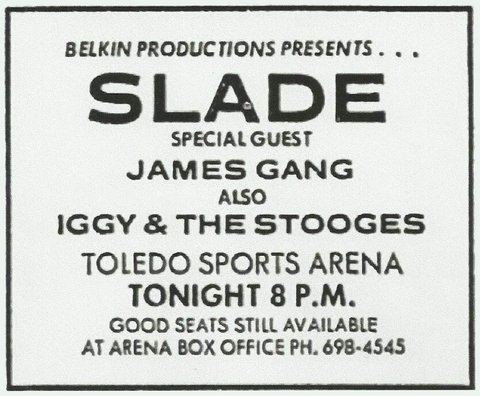 From my blog, I described the impact of The Stooges: Helen and I were right up against the stage, right, directly in front of James, and left of Iggy. Heidi and Mona and Becky were clutching the edge of the stage, chests heaving. These things I note, because there was nothing like this before, and nothing remotely like it afterward. If Helen, who was snapping photos like it was going out of style, Iggy staring right into her lens, had turned to take a photo of the audience, it would have revealed a roomful of zitty no-counts, each and every one of them with their mouths wide open, their eyes glittering with a weird light, and their hands tightly clutching either the rotty velvet seat back in front of them, or the arm of whoever was closest to them. It was as though spaceships were landing, or Christ was coming, finally, through the clouds.
Kent State University
State University in Kent Ohio, a college town triangulated between Cleveland and Akron. I  resided  in a deserted hotel across from the Community Store, a local record store. I was deep into record collecting by then, not thinking of it as anything more than hunting down records and being surprised by them. I'd started hawking records for my brother while I was in high school. I'd circulate a stack of his old records from desk to desk and got a small cut of the profits, generally exchangeable for something from his stash. What a racket!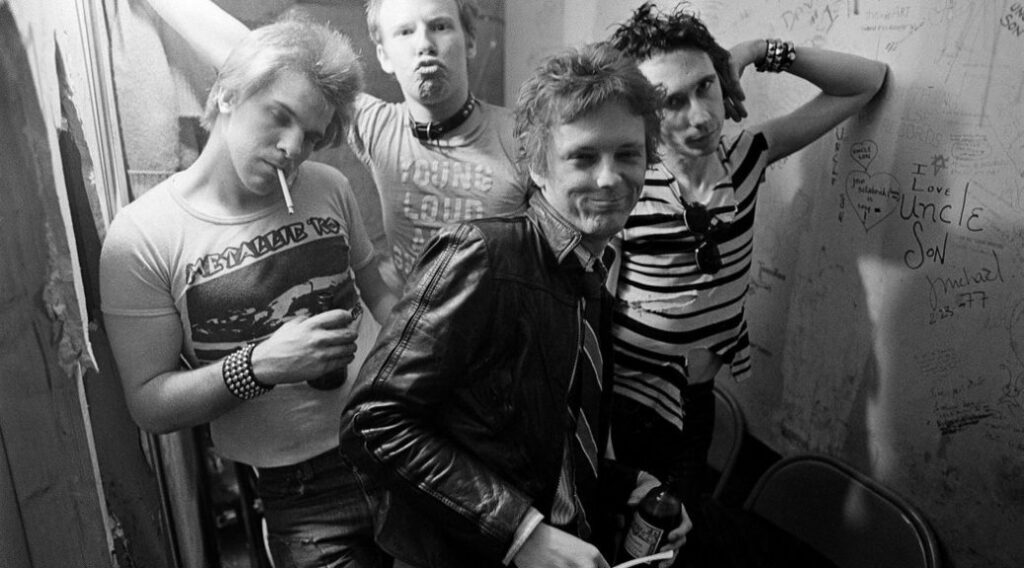 The Dead Boys
I need to mention The Dead Boys here, because I was pals with Stiv, and actually it was at his request that The Cramps played their first show. In 1975, he got me working as a telephone wheeler dealer in some rat trap firemen fund operation. We'd make the calls from his place. Stiv had an old piece of "art" on his wall that he had made in high school. It was a collage of pretty girls faces cut out of magazines, all circling the centre focus – a zitty, four eyes year book photo of his majesty. As if! I believe he visualised that dream of being adored coming true, and it did. I was with a small gang of friends including Stiv and the late, also-great Nicky Knox, who came to visit New York in '75, before The Cramps or The Dead Boys had been born. Stiv had no effect on the ladies at that time, that I could discern. It was astonishing to see him work his hoodoo on the punk-rock lovelies from the stage a year later. On that trip, he and I went to visit Johnny Thunders and his new baby and girlfriend. Johnny gave us stuff. I got his worn out white platform boots and Stiv got a bunch of other stuff. I write about that visit, charmed by seeing the love in Johnny's eyes for his gal and baby. That too would change. Moments!
Rockets From The Tombs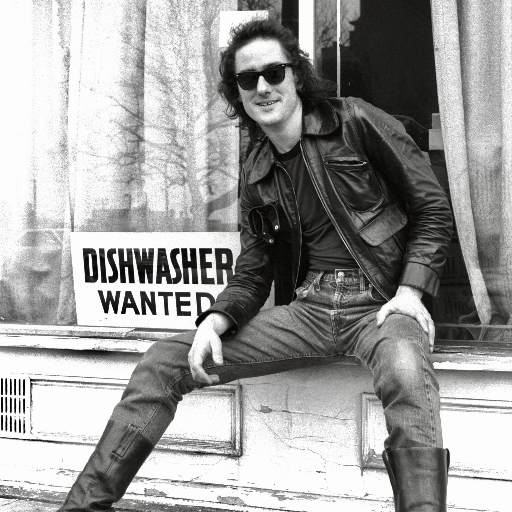 One day, I heard a show on WMMS that featured a live performance by a guy named Peter Laughner who I knew nothing about, but I thought he sounded great and so I wrote a brief fan letter. I got back an amazing letter describing a band he was forming, with an invitation to meet up. That letter was the key to a lifelong friendship. His life on earth was cut short in 1977 but I still consider him one of my best friends, and think of what advice he would have for me. He was a tenanted, sincere, sympathetic soul. Many late date accolades have come in the past few years. I'm glad of it, but nothing describes what he meant to me. Someone wrote a book about him recently, which I haven't read. The writer contacted me a few years ago with all sorts of horrid complaints about him. I immediately informed this person that if they ever wrote a negative comment about him, they would have to answer to me. I'm told the book is clean of negative comments. I was close pals with Crocus Behemoth too, who appointed me Rocket From The Tombs Fan Club president, being as there was no one else to fill the bill, most likely. It was Helen and I who glued the sleeves together for the first 45, that weird cheap gatefold cover. Crocus and Peter were the co-bosses of Rocket, as far as I could see, each wielding the power over us minions within earshot. They were an incredible group. Their sound was loud, honest, aggravating, and exquisitely energising. 
The Cramps
The biggest thrill for me personally, in The Cramps,  was  opening for The Ramones. While still in Ohio, Stiv, Nicky, Dave E. and I had driven down to see The Ramones first midwest show in Youngstown, and we were absolutely sold, and inspired, by their immense talent and appeal. They played to a dozen of us fans there in Ohio, like they were playing for a thousand people. Stellar!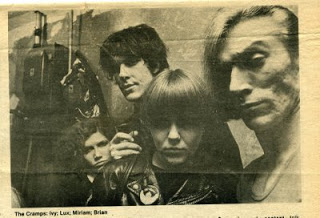 Without dipping in a trashy tell-all, I was ousted from The Cramps right after the '77 blackout. My friend Nicky came in. I felt like it'd been a set up, and I didn't know for decades, not until 4th February 2017, when Nicky phoned me out of the blue to ask, "What's up, Mir?" It had been 40 years, and in that first phone call we were back to our great Ohio friendship. He explained what had happened back in the day and all wounds were healed instantly. I would remain friends with him again until his passing in the summer of 2018. What an amazing thing that he called that February day, which incidentally is Lux's death anniversary. I felt that all misconceptions in life were dispelled.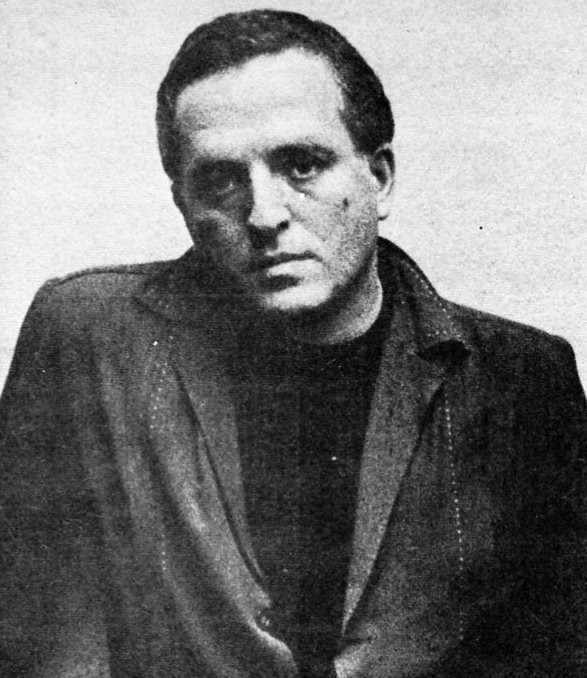 Marty Thau
Over the years, Marty persuaded me to buy many of his masters, including The New York Dolls pre-Mercury LP demos, The Ramones demos, and The Real Kids recordings. So Norton is home too much of Marty's music. I was very close to him right util his passing. Marty lived nearby, and as his health began to fail, he'd call and ask me to run errands, mostly for a newspaper and a pack of cigarettes. He was an amazing man and I miss him dearly.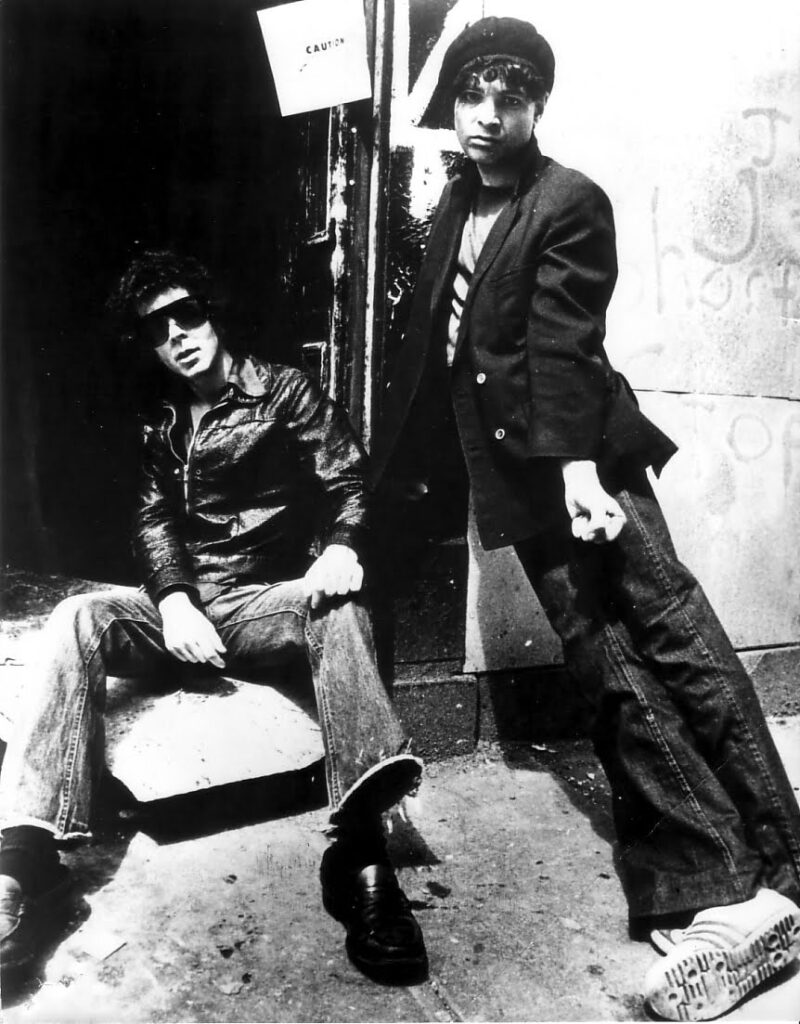 Suicide
Marty and I went to England that summer to accompany Martin Rev and Alan Vega who were beginning a tour as openers for Elvis Costello. And they're such nice guys! I loved those guys.
Many of you know the story of the riot in Brussels that erupted while Suicide was onstage. This was one of the craziest moments in rock 'n' roll that I have ever witnessed, how quickly an entire audience can turn violent when unknown music enters their craniums. It was like instant crazy had been sprayed in their faces. Cushions torn and thrown, screaming, trashing of everything in sight. Scary, exciting, and a lesson in the power of sound.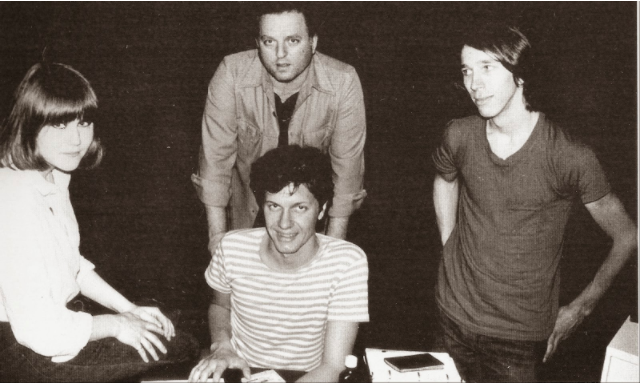 Underdogs
About loving the underdogs, it wasn't deliberate. I would have loved the Groovies, or The Fleshtones, or any of the bands and artists that ended up on Norton or in Kicks to have become world famous chart toppers. In fact, in the case of these two bands in particular, I was certain that they would become household names. I was dear friends (still am!) with the 'tones. That they never made it "big" in the world at large just makes them a bigger deal in my mind. Their love of making music and delivering it like nobody's business every time they play, makes me happy. It makes everyone in the audience supremely happy. It's a vindication, every time. And happiness should be our #1 goal in life. Not so much to ask, is it? And I always just felt glad all over to be in the thick of noisy, sweaty joy. I loved  raving like a proper fan. Anyway, when we originally got down to business (ha!) with Kicks, it was a mutual decision to focus on artists who were not getting ink elsewhere at the time, or at least to present those who did get some press at the time  with rock 'n' roll energy, humour, and heart. When we had gone nuts over some insane record where the artist was unknown, we'd go digging. It was, as you can imagine, very different from today, where so much information is now at our fingertips with the internet. What can be said is that we caught them early, and got their stories hot off the griddle.
It was also great catching people who had been living incognito for years – so many couldn't believe that anybody cared. We were lucky to bring Hasil Adkins out of the woodwork, and Esquerita as well. In '86, when we issued Out To Hunch, we had no plans to start a working label. It was a one shot for us. The three various artist albums called Hipsville had paved the way, whatever that means, but an album of one unknown guy's music? Yeah, there's a business plan hatched in an executive board room! More like in the parking lot of a White Castle! Somehow, it became a growing concern. For the general public! We started pounding out records while we worked on more issues of Kicks, and we also started a Norton Mail Order print catalogue, carrying hand-picked titles that we could grab a few copies of and make available to fellow Nortonians.
Little Richard, Andre Williams and The Great Gaylord
These are three giants in rock 'n' roll and rhythm 'n' blues, and what an honour and privilege to have worked with them. Of course Andre and Richard have left the building, but The Great Gaylord still screams and shouts, albeit in solitude.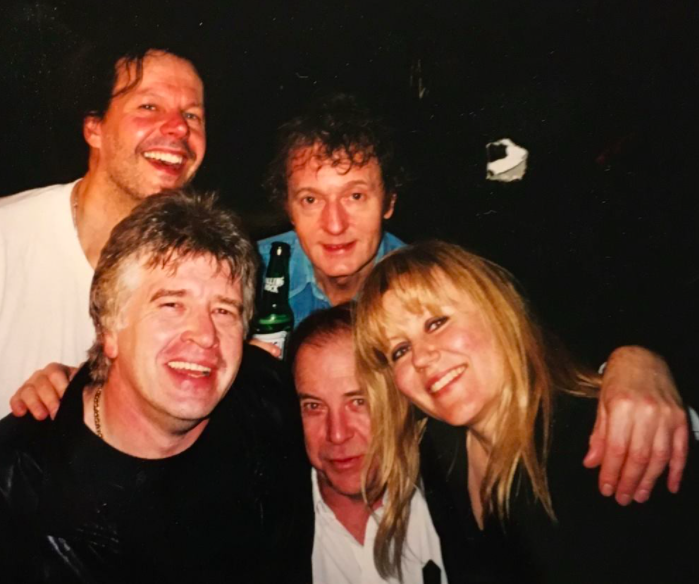 Items found in a record
My best find was buying the first  English Pretty Things album and finding a very telling letter inside, as well as a superb rigging 8 x 10. Who was to know that we would end up issuing three Pretties LPs, a ten inch, and 7 45's? That photo became an LP cover shot for us.
Heroes
So many heroes –Ron Haycock, Jack Starr, Link Wray, Bobby  Fuller, Florian Monday! The beat goes on.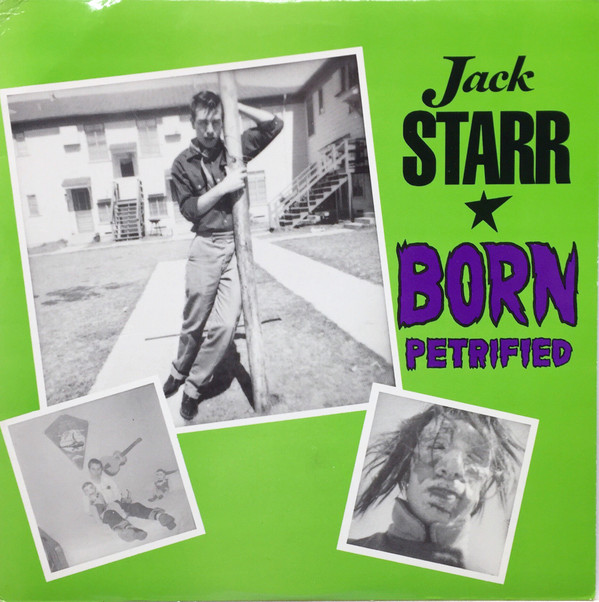 Kicks Books 
Kicks Books grew out of a telephone conversation with Andre Williams in 2009. He was in rehab after a drug arrest, and was climbing the walls, set to break out. He told me that the rehab people said he had to do something productive while he was in there. I suggested that he write some songs, but nothing floated his boat until the word "fiction" was mentioned. "You mean make it all up?" We were off and running, and I made him a promise that I would publish whatever he came up with. He came up with a basic premise by eavesdropping on a young lady who was doing rehab time with him. He called her "Sweets" and built much of this real girl's life experience into the novel. Smuggling drugs tucked into her pantyhose, working herself up from a street girl to running her own house of blue lights, biting the essentials off a John… yes, Sweets is action packed. Andre would hand write pages and fax them in but then the fax machine blew up. I gave him a Fed Ex number and  then the pages started coming rapid fire in packages. All said and done, I gave our friend Nick Tosches the draft manuscript and he insisted on writing the introduction.  Andre wrote himself straight, got off drugs, and was proud to go back and speak at the rehab house when the book was published.  In the past 10 years of Kicks Books, I've published 17 books, the most recent of course being Billy's great Mind Over matter, The Myths And Mysteries Of Detroit's Fortune Records, with Michael Hurtt. When Billy passed in 2016, the book was a marked-up binder full of print outs, and stacks of drafts. It sat untouched here  for over a year. One day, I was speaking with Lenny Kaye on the telephone, and Lenny told me to use the book to work out the grief. Well, it took four years of work-out but I called Mike to urge him to gather up his loose ends, and I called Elizabeth Van Itallie, our book designer friend, to see if she would be up for the design. To me, this had to be the most beautiful book possible, the best paper, design, cover, binding. It was Billy's last project and it needed to be something that he would have been proud of. Marc Miller came in to co-edit and we were off to the races- painstaking races, and often limping along, but everyone came together, with many, many friends and collectors providings small details and photographs and discographical data, as the new bred say.
With Kicks Books,  I published Nick Tosches, unknown Sun Ra, Kim Fowley, Harlan Ellison, Royston Ellis… and more to come from Kim, Sun Ra, and Andre, as each trilogy is still in process  in the "hip pocket paperback" series. Coming this year is a photo book on early '60s teen gangs in Switzerland – these are the gang leader's  personal scrapbook photos of the gangs photographed by Karlheinz Weinberger, if you are familiar. At some point, the Bad Seed Bible needs to see the light of day. I did five issues of Bad Seed beginning in 1984, followed by two issues of Smut Peddler, and then El Loco, all alongside Kicks.
Billy
All through the years at Norton, Billy's main love was working in the studio with the artists. Even more than issuing lost masters, he loved working with Mary Weiss, Dave Baby Cortez, La La Brooks, Andre Williams, Daddy Long Legs, Bloodshot Bill, Hasil Adkins, and so many others, including his own vehicle, The A-Bones! Billy was always pulling people into the studio, organising tours and shows, and A&R'ing to his hearts content. He was such a people person, and loved the record world and the collector world and the friendships that spanned a lifetime.
Collecting
The culture of record collecting… is there such a thing anymore? Things exploded into outer space, and as with all good things that become popular, it feels like the heart went out of it to some extent.
Order Shindig! Issue #113 here  
Learn more about Miriam's various projects:
crashingtheparty.co
waterloounderground.com
nortonrecords.com
kicksbooks.com
kicksville66.blogspot.com