THOMAS PATTERSON talks Nancy Sinatra with Light In The Attic's MATT SULLIVAN and comp co-producer HUNTER LEA ahead of the release of Start Walkin': 1965-76 and the cover story of Shindig! issue #113
---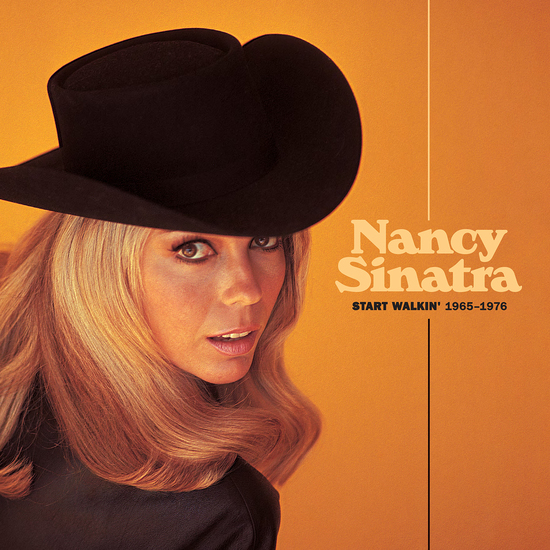 MATT SULLIVAN: The idea came from Hunter Lea, who did our Lee Hazlewood series. He came to us in 2005 or 2006 but it took a long time. I think we started trying a little more heavily around 2014. [Nancy's daughter] Amanda would come to the office, she was into it, but then it went quiet for a number of years. I think when the 50th anniversary of Nancy & Lee hit in 2018, people were asking on socials about a reissue.
HUNTER LEA: Before we started it was always my dream to work with Nancy as I'm a really big Lee Hazlewood fan and some of his most inspired work is because of Nancy and what she brings to it. Once we got in touch with the Sinatras, it started becoming more of a reality and we started getting excited and we're still excited.
MS: Amanda did such a good job of organising Nancy's archives, and thousands of photos, that when we came along there was a well of material to choose from. Nancy owns all her masters. It's something incredible that I didn't know until we started the project. Early on in her career, her Dad told her to own as much of her copyrights as she could. She has always been in control of her career, a thing that a lot of people don't realise. She was a trailblazer in that sense.
HL: Nancy has such a huge archive and I think a lot of things that have been overlooked. The huge songs fit within the story but there are a bunch of songs that never came out or were underappreciated at the time. For example, we've got three more reissues after Start Walkin' [Boots, Nancy & Lee and Nancy & Lee Again, all set for reissue this year]. On Boots, we've included a track called 'For Some', which was recorded the same day as 'Boots' and 'The City Never Sleeps'. That's a great track and nobody's ever heard it. On Nancy & Lee there are two really good duets, one is 'Tired Of Waiting For You', The Kinks' song, which we included on a seven inch we released on Black Friday, and a duet of the song 'Love Is Strange' that almost has the vibe of Elvis's 'A Little Less Conversation'. That Hal Blaine kind of break beat groove. It's early '68 so it's really cool.
MS: You just forget how many things had to come together to make music of that calibre. The song writing, the production, her vocals, the studio, the greatest session players of all time. To hear those records at that level is awesome.
HL: I've got a few ideas for more Nancy reissues, and we have to see how these one do, but there's lot of good energy and people seem so positive and excited about it that I would love to do more. LITA and I have put a lot of love into this release, and I hope that in a 100 years when people are still listening to Nancy, this is the compilation they'll go to.
For the full story of Nancy Sinatra's incredible life and times, pick up Shindig! #112 here
Head to nancysinatra.com to buy Start Walkin' 1965-1976