Dory Previn: A Risky Proposition
In this brief extract from TIFFANY ANDERS' fabulous DORY PREVIN feature from issue #108, we look back at her illustrious discography
---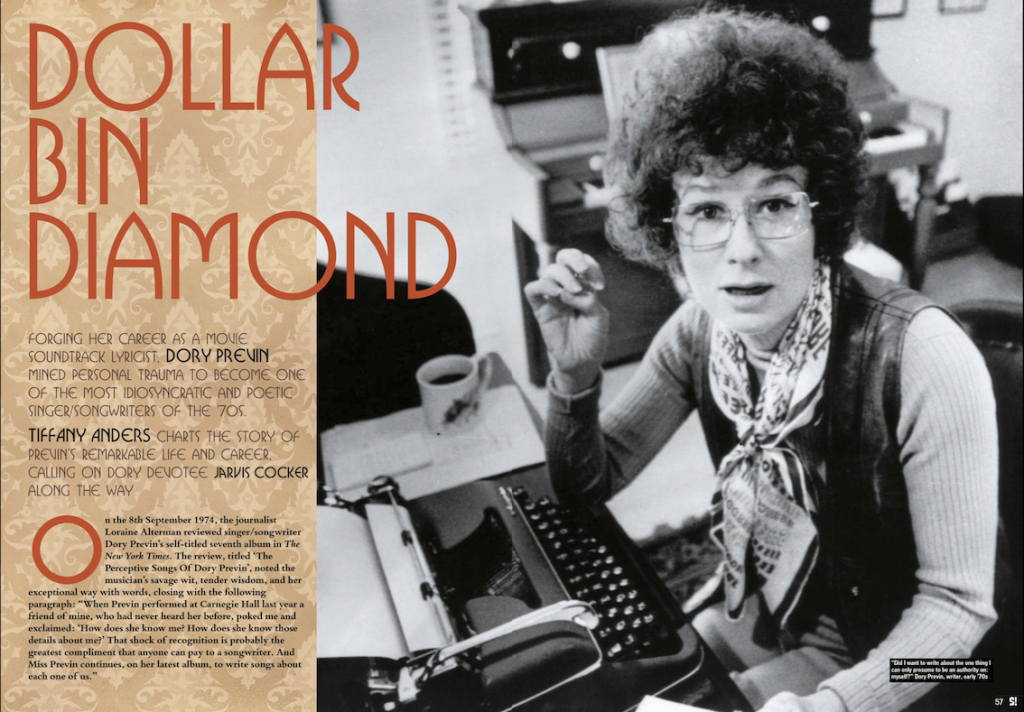 The timing of Dory Previn's new career as a singer/songwriter could not have come at a better time. It was 1970 and female songwriters were in the ascendant, including Joni Mitchell, Judee Sill, Laura Nyro, Carly Simon and pop-ditty writer turned star Carole King. Previn's work was so very different than these artists, however. For starters, she was a woman of 45, and the fact that a male music executive took a "risk"on a relatively unknown female artist of this age is something to behold in itself (indeed, you'd be hard pressed to find that happening even in this day and age). Previn was also a divorcee with the self-awareness that comes with age; while all of her songs are heartbreakingly real, Previn never took herself too seriously, and despite her sometimes dark subject matter, she herself found her material funny, telling the BBC in '76, "People would say they're too dark. Well I think they're hilarious. Get over what the subject matter is and stop thinking about suicide, and madness and incest and screaming and all those silly,vulnerable, funny, clownish things that we do in this universe and start looking at them from a different point of view."
She would release her first two albums as Dory Previn, On My Way To Where and Mythical Kings And Iguanas on the Mediarts label in '70 and '71 respectively ( a book of the lyrics of On My Way To Where would also be published). Her third album Reflections In A Mud Puddle also came out in '71 (this time on United Artists, which had subsumed Mediarts), and would feature a suite about her father called 'Taps Tremors And Time Steps (One Last Dance For My Father)'.
"My songs come out of my experience as a human being who happens to be a woman,"she told Loraine Alterman in an interview conducted alongside Carly Simon and Mary Travers in Record World in '73 –although her fourth album Mary C. Brown And The Hollywood Sign, developed from the song on Mythical Kings, was a concept album about Hollywood misfits, accompanying a short-lived theatrical review that Previn had written. Previn also turned her attentions to screenwriting, penning a television film titled Third Girl From The Left, directed by Peter Medak and starring Kim Novak.
Her star rising, she played at Carnegie Hall on 18th April '73, a performance that was captured on her fifth album Live At Carnegie Hall, and her work started grabbing the attention from the heavy-hitting songwriters of the day, with Bob Dylan, John Lennon and Leonard Cohen all asking to meet her.
In '76, Previn released her last solo LP proper We're Children Of Coincidence And Harpo Marx on Warner Brothers (about which Barbara Charone opined in Sounds on 3rd April, '76, "Of The Randy Newman/Harry Nilsson school of absurdist, black comedy, Dory Previn unleashes her cryptic wit and dry tongue once again. Hallelujah!")
This piece is extracted from the cover feature from issue #108. Order here