Shindig! Premiere: Shadow Show – What Again Is Real?
SHADOW SHOW are back! Motoring out of Detroit, not in a muscle car but following Ken Kesey's bus in a rainbow striped hearse, probably. 'What Again Is Real'? is a righteously psychotic reaction to an increasingly chaotic world which is released as a limited edition 7″ single psychedelic curators Hypnotic Bridge Records today! Watch the video exclusively with Shindig! Magazine.
---
A power trio of a mysterious hue, SHADOW SHOW combines elements of '60s garage and psychedelia into a 21st century modern pop-art incarnation. They project their own vision to the world: a spectacle of light as curious as shadow.  SHADOW SHOW They made their presence known nationally and internationally upon the release of their debut album, Silhouettes, released via Greenway Records / Reverberation Appreciation Society (US) and Stolen Body Records (UK). This latest 45 release, 'What Again Is Real?' b/w 'Is This A Dream?' is out now on Hypnotic Bridge Records.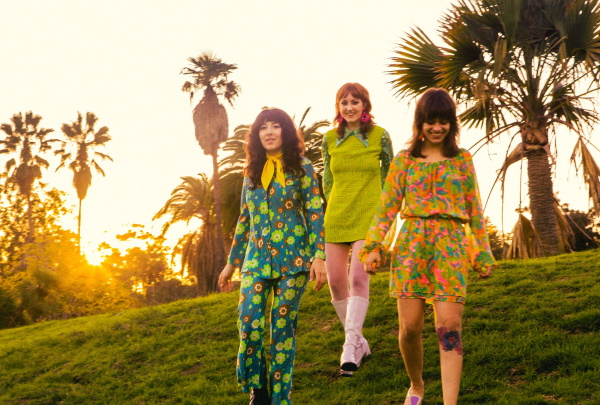 'What Again Is Real?' is full of rich and colourful imagery that inspires a Day-Glo fantasy "Upon this journey, we accept that despite inevitable doom, everything is okay- or so says the girl with flowers in her head." declare the band while a chorus of 12-string guitars and multi-layered harmonies transport the listener down a spiral into the mind's eye. Everything will be alright as long as we keep our heads in the clouds and love in our hearts, the counter-culture dream of our forebears is still within reach if we believe in each other. The video for "What Again Is Real?" was written and performed by Shadow Show, shot by Mat Dunlap in Los Angeles, with animations by Dawn Aquarius (LA's psychedelic artist de rigueur, watch this space for more on Dawn soon).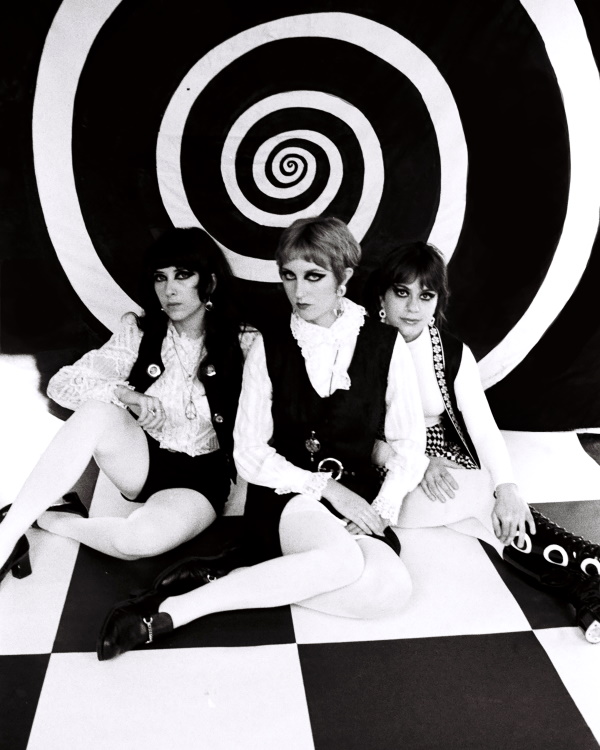 The flip side 'Is This A Dream' pays loving homage to The Feminine Complex, the legendary Nashville band whose sole album, Livin' Love, was released in 1969. SHADOW SHOW take Mindy Dalton's dreamy organ serenade to new heights, with thunderous drums, vibrant harmonies, and supro-toned guitars. Recorded in Ann Arbor, Michigan, both songs were produced by Matthew Smith (Outrageous Cherry, The Go, The Volebeats) and SHADOW SHOW, recorded and mixed by Kate Derringer, and mastered by Jim Diamond (The White Stripes, The Dirtbombs, Ghetto Recorders).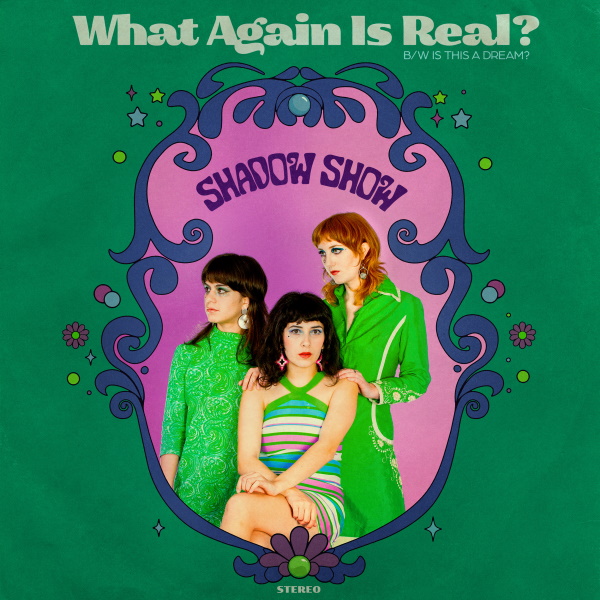 'What Again Is Real?' b/w 'Is This A Dream' is available on 7″ vinyl right now. Buy direct from the band HERE. Or order the 19th psychedelic time capsule from Hypnotic Bridge Records HERE.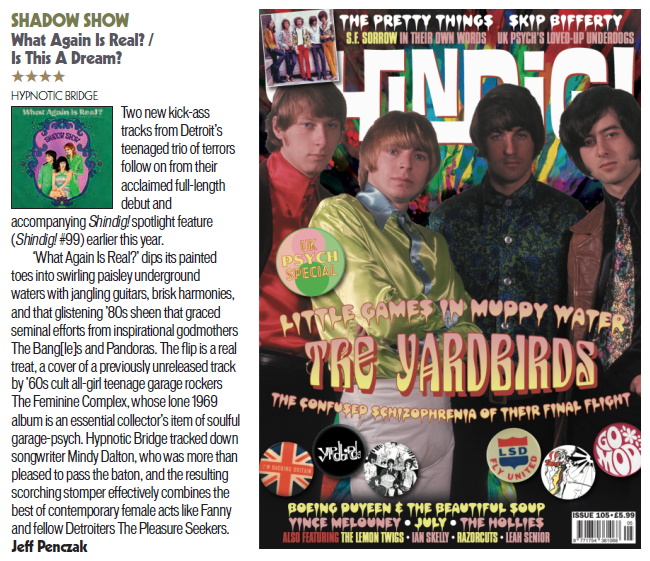 Here is Jeff Penczak's review from Shindig! Magazine Issue 105 which can be ordered HERE.