Shindig! Premiere: Mother Island – And We're Shining
Italian jangle psych specialists MOTHER ISLAND premiere the video for 'And We're Shining' right here with Shindig! Magazine. 'And We're Shining' is taken from their recent third album Motel Rooms which is out now on Go Down Records. Check out the video directed by Edoardo Bocchi below and let us know your thoughts in the comments.
---
MOTHER ISLAND is a surreal, whimsical and lunatic space where five musicians resurface their primary  dawning influences and personal interpretations  of the revolutionary rock from the 60's. 'And We're Shining' is a joyful, insistent, driving three-minuter that wouldn't be out of place on a Tarantino soundtrack, the opening familiarity of that disorientating Link Wray guitar twang is superseded by some distinctly Southern Californian jangle. The expansive sound reflects the bands love of Italian cinema and the soundtracks of the late, great Ennio Morricone. Director Edoardo Bocchi  had this to say about the concept of the video "The bells were ringing while the echo of Anita's vocals were permeating through a black and white deserted Venice. 'Don't listen to stereotypes and then be clear, talk to me, talk right now!' got whispered by the authentic and gorgeous citizens of Venice. The video is a sort of reportage about who really lives in this mysterious "lagoon forest" full of "little oddities", mixed up with the members of Mother Island performing in a timeless room surrounded by a warm golden light."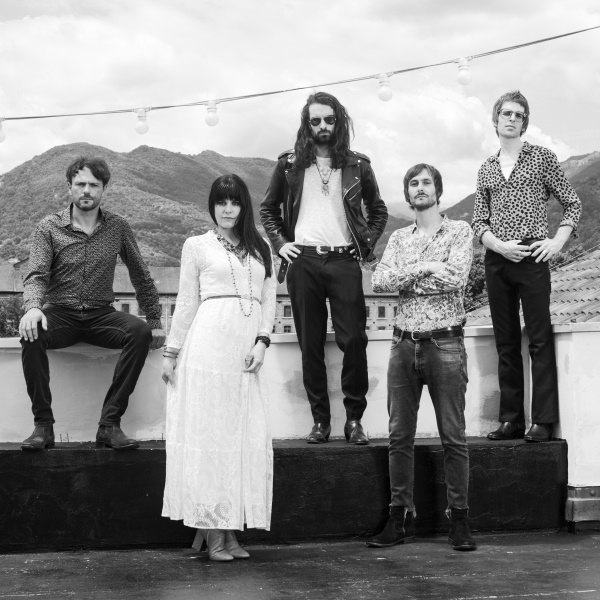 MOTHER ISLAND recorded their acclaimed third album Motel Rooms at the analogue specialist OutsideInside Studio located in the forested hills of Montello in Italy immediately after returning from touring the West Coast of America. With California still in their heart the band have combined the current LA sound (Allah-Las, Triptides, Dream Phases etc) with a distinct Italiana that is difficult to pinpoint as it hovers around the edges of everything on the record, a Non lo so if you will.
MOTHER ISLAND previously released two albums via Go Down Records, both recorded by Matteo Bordin at Outside Inside Studio: Cosmic Pyre (2015) and Wet Moon (2016). MOTHER ISLAND are certainly surfing their freddo after sharing stages with such luminaries as Mark Lanegan, The Pretty Things, Jacco Gardner, kula Shaker and Dead Meadow to name a few and are ready, more than ever to bring abroad their personal reinterpretation of what was rock'n'roll at it's horizon expanding best.

Motel Rooms by MOTHER ISLAND is available now through Go Down Records and can be purchased HERE.
Follow MOTHER ISLAND on Facebook.