John's Children: Andy Ellison Remembers Marc Bolan
John's Children founder ANDY ELLISON fondly remembers meeting the mercurial MARC BOLAN for the first time and the weeks that followed as Marc found his electric sound within John's Children.
---
PREFAB MARC.
The following day I was driven by Simon (Napier-Bell – manager of John's Children at the time) from Victoria to Wimbledon, and just outside the dog track, there on the side of the road, was a string of small prefab houses built during and after the war to house people who'd been bombed. Pulling up outside one of the cute houses, Simon said, "This is where Marc lives". I had been told on the journey down that Marc was a folk singer he was managing and that he'd never played in a band before, "He has some unusual songs that may or may not work with you lot. Just go in and have a chat with him, see what you think and I'll come back in few hours, say, around five o'clock, all right?"
Apprehensively I sauntered down the garden path and knocked on the door. "Hi, come in man", said a short, cool looking young guy, "I'm just about to cook some mushrooms on toast, would you like some?" Thrusting out a hand he said, "I'm Marc, you're Andy aren't you?"
Standing in the small kitchen, while Marc fried some mushrooms, he told me what he had been doing and I told him about the band. Soon we were sitting in his living room surrounded by Bob Dylan and Elvis records, after a while he said "Shall I play you some of my songs?" Marc was sitting cross-legged on the sofa, "This one's called, 'Hippy Gumbo'".
He picked up an old acoustic guitar and without any self consciousness, started singing this very strange song.
He continued to play me some even more unusual songs, "Here's one I am working on at the moment, maybe you can give me a hand?" That afternoon we worked on a song he called, 'Midsummer Night's Scene'.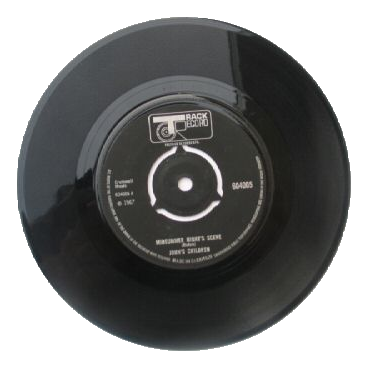 Then we talked about the films he liked and the books he was reading. I was beginning to warm to this diminutive, charming and some what eccentric character. By the time Simon knocked on the door at five pm, I said, 'See you down at our club tomorrow afternoon",
In the car on the way back, I pondered whether this was going to work at all, could this strange, cool looking, folky character, with the plastered down black hair, fit in with the wild John's Children, and what on Earth would John and Chris make of him? I really wasn't sure. As we were drove back to Bressenden Place, Simon dropped the Bombshell, "If you can make Marc work in John's Children, Kit Lambert and Chris Stamp will sign you to Track Records".
Of course Geoff (McLelland, original guitarist) was not to know about this secret audition. He worked in the daytime, which was handy and of course we couldn't use his guitar, so we borrowed a guitar from a mate of ours, Trevor White, who was in a local band called "The Candy Bus". It was a red Gibson SG.
Sure enough, at about one o'clock the next day, Simon and Marc strolled into the club, "I'll catch you later Marc" and looking over at us, "I've tried to warn him about you lot". Simon winked as he left. (The club in question was the 'Bluesette' in Leatherhead owned by Napier-Bell and later re-named 'John's Children Club' and was co-owned by the band. – ed)
"Hi Marc good to see you again, this is John (Hewlett, bassist and who Napier-Bell named the band after – ed)". They shook hands. Marc looked quite stunned for a second as he glanced over to the huge silver, double, Slingerland drum-kit and the wall of speakers, "And that is Chris (Townson, co-founder and drummer – ed) somewhere behind all those drums". With that, Chris broke into a deafening drum roll.
"Here's your guitar Marc", I pointed to the red Gibson leaning against the Jordan amps.
Hesitantly he picked up the red guitar. "And that's the volume knob". Chris added condescendingly. Putting the strap over his shoulder Marc donned the Gibson, Then nervously strummed a chord……Nothing…..Chris leaned over and spun the Volume knob. Marc almost jumped out of his skin and threw his hands to his ears as the wild feedback echoed out into the streets.
"That's OK, that's normal", John said, "We play quite loud". Chris got back behind his kit and started drumming wildly. Then we showed Marc the chords to one of our songs. Although it was taking Marc a bit of a while to get used to this massive sound and playing with other people he slowly started to get into it and at one point started bopping around the stage.
Somehow the band now sounded completely different, something was happening and by the end of the afternoon we just left Marc onstage still making wild noises from his newly found electric guitar.
We sat at the back of the club passing round a joint and watched as Marc seemed to be in a world of his own.
Then just as this was getting a little boring and Chris was about to go and snatch the Gibson from Marc, Simon arrived and shouted over the feedback "Marc!…. Marc! stop!…….. I promised your mother I would get you home in time for tea".
We rehearsed again the next day, Marc finding his way around one of our songs and then trying one of his unusual tunes.
At this point in time we were in the charts with, 'Just what you want, Just What You'll Get', which Marc just gave up on. So we concentrated on some of our other stuff,… 'But She's Mine', 'Jagged Time Lapse', 'Arthur Green', and then a couple more of his tunes, 'Sally was an Angel,' and one called, 'Sarah Crazy Child'.
On the fourth day of rehearsal, delivered by his girl friend, Marc arrived, dragging in some large folding silver screens. "I got these from my Mum's bedroom". He beamed. " It's a vanity screen, I've stuck tin foil over it" Then, very forthrightly, stated "I'm going to be able to control feedback man". He began by placing the screens around his Jordan amps, then knelt down inside as if by praying to the speakers, plugged in the jack and started producing the most horrendous sound you've ever heard.
We looked on very impressed. To this day I'm not sure if they really worked? Still they looked amazing, especially with Marc kneeling down inside the screens with the vibration almost bringing the walls of the club down.
The weekend had come and we had got the horrible task of meeting up with Geoff, (who had been at work Monday to Friday).
Simon was adamant that we must lose Geoff and accept Marc. Following our gig at Tiles, (the mod club in Oxford Street), Kit had said, "lose that tall guitarist and I will sign John's Children to Track Records".
We also now had a sneaky feeling that this new little bundle of strangeness, was fun to be with.
Somehow we had to break it to Geoff, that he was out of the band. "Hi guys", he said strolling into the club on that Saturday morning, with his guitar case casually slung over one shoulder. We were all sitting on the side of the stage. Chris who was feeling very awkward, got up and started fiddling with his drums.
"Oh wow! What are these screens?" Geoff asked.
"Well……" Said John hesitantly and standing up, "Geoff we have some bad news…..Honestly Geoff, we appreciate all you have given to the band, but "…….there was a long pause as if John was going to suddenly change his mind. "Right, here it is……..Simon feels we will be better with a new guitar player, one that he also manages…. yes those screens belong to him".
There was a long silence. "Does that mean I'm not in the band anymore?" "Yes," said John, his voice trembling. Chris was now fiddling louder with his snare drum. Again a long silence, "Well……thanks for everything guys……I mean it". The words stumbled out, as a tear welled up in Geoff's eye, "Thanks again……. I hope you all do well" Then picking up his guitar, he strolled out of John's Children's club.
We sat there for ages looking at each other. Had we done the right thing?
Monday came and Marc arrived with his girlfriend and we carried on rehearsing.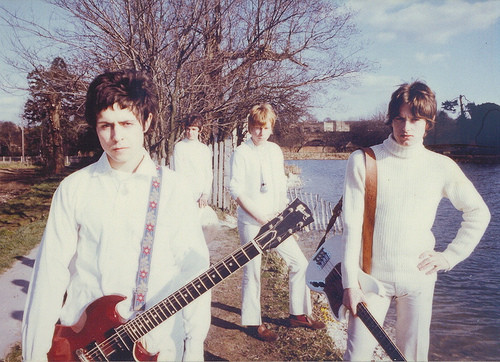 Our first gig with our new guitarist was a week away in Watford, but Marc was struggling to learn all the songs. When the night came he was shaking in the van and was swigging from a bottle of red wine, by the time we went on stage, he had almost devoured two bottles. He forgot most of the chords, and halfway through the gig walked off in tears. Afterwards in the dressing room, we tried to console him. This was not working out too well, even Simon seemed worried. We drove back in silence dropping the sleeping Marc off at Wimbledon.
Over the coming weeks Marc gradually did find his way with the band and also started to let himself go. If he played the wrong chord it didn't matter, the noise was so deafening, in fact we now had a new sound and the next few gigs went really well, especially as we had told Marc never to drink again before going on stage.
You may have heard that John's Children were avid drug takers, pills, LSD etc but these were only taken at weekends or parties. Believe it or not our outrageous violent stage act, was from four completely sober boys. That way, we were in control of everything.
We were booked for, 'Saturday Club', with Brian Matthew, we were going to do four 'live' numbers. In those days everything was completely 'live'. We finished off with a really wild version of, 'Daddy Rolling Stone', and started smashing things up in the studio, in the end I was rolling around on the floor with a microphone grunting and crying, (there are bootleg copies of this around somewhere and it sounds quite impressive).
After the session, Brian Matthews took Simon Napier Bell aside and asked him in a whisper, "Are those guys on drugs?"
"No!" replied Simon "That's just what they do".
The session sparked a new interest in the band and our next few gigs were sold out.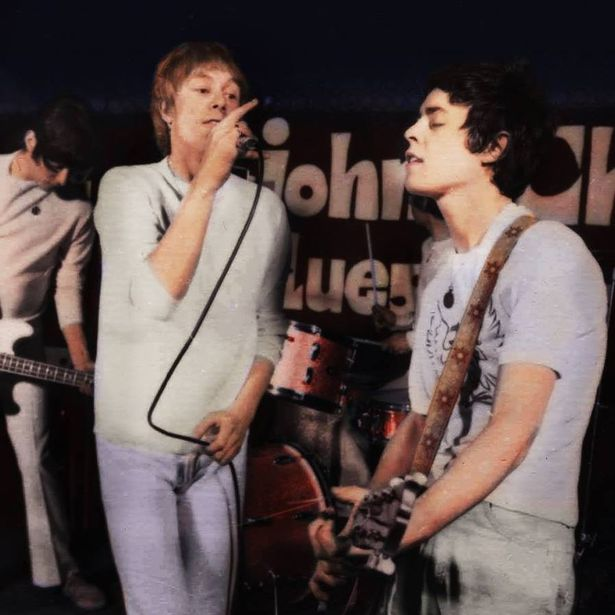 Many thanks to ANDY ELLISON for allowing us to use this excerpt from his, as yet unpublished, autobiography.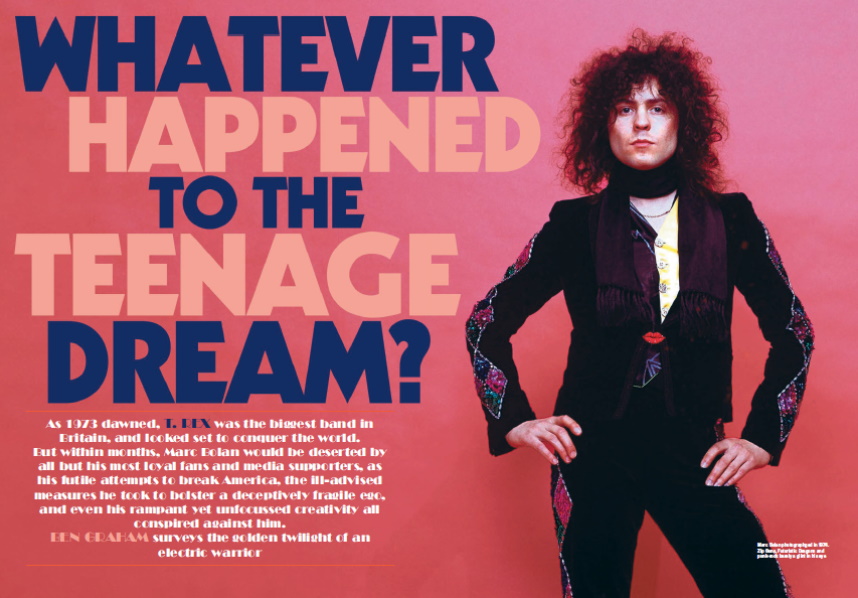 Read Ben Graham's feature on Mark Bolan in Shindig Magazine #106, on sale 6th August. Order / Subscribe HERE.