New Music! Matt Berry – Something In My Eye.
Acting legend and musical polymath MATT BERRY has announced that his new album Phantom Birds will be out on the 18th September 2020 through Acid Jazz Records and has released lead track 'Something In My Eye' today! You can listen to the song right here on the Shindig! Magazine website.
---
Of 'Something In My Eye' BERRY says "It's a song about putting a brave face on. telling everyone you're fine, when in reality you're really not at all. Not necessarily something you always hear from a male perspective."  Jaunty yet vulnerable, 'Something In My Eye' bounces along quite nicely with strident clipped bass notes and Craig Blundell's (Steven Wilson, Steve Hackett) understated drumming but it's underpinned by a melancholy delivered by slide guitar from legendary pedal steel guitarist BJ Cole. As is usual from the musical savant, Matt Berry performs the rest of the musical arrangement.
Phantom Birds follows on from 2018's inspired Television Themes album and is the latest step on MATT's meandering musical journey which now spans an unbelievable twenty years. With Phantom Birds BERRY has arguably created his best work as a singer and songwriter enhancing a musical reputation to sit alongside his acting work – the two overlap in the track 'Covered In Clowns', gleaned from an assortment of unrelated instances, he explains: "I auditioned for the director John Landis who offered me the part there and then, only to deny ever meeting me some weeks later…" well, we've all been there haven't we? 😛 More on Phantom Birds nearer the time….
Add 'Something In My Eye' to your favourite streaming service HERE.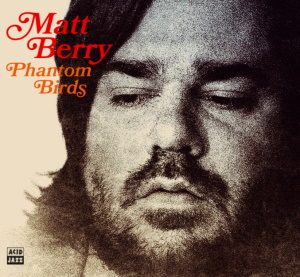 Released on September 18th through Acid Jazz Records
Phantom Birds
will be available on limited edition bone coloured vinyl, red vinyl, black vinyl, digipack CD, digitally and as a limited-edition cassette and you can pre-order
HERE
.