The Shindig! Session – EMILE (Sunday 7th June 18:00 BST)
The current global pandemic prevented EMILE from showcasing debut album The Black Spider / Det Kollektive Selvmord in the live arena, so this Shindig! Session is the first time these songs have been played live in public! Tune in here or on out YouTube channel at 6pm (UK time) to watch this amazing performance.
---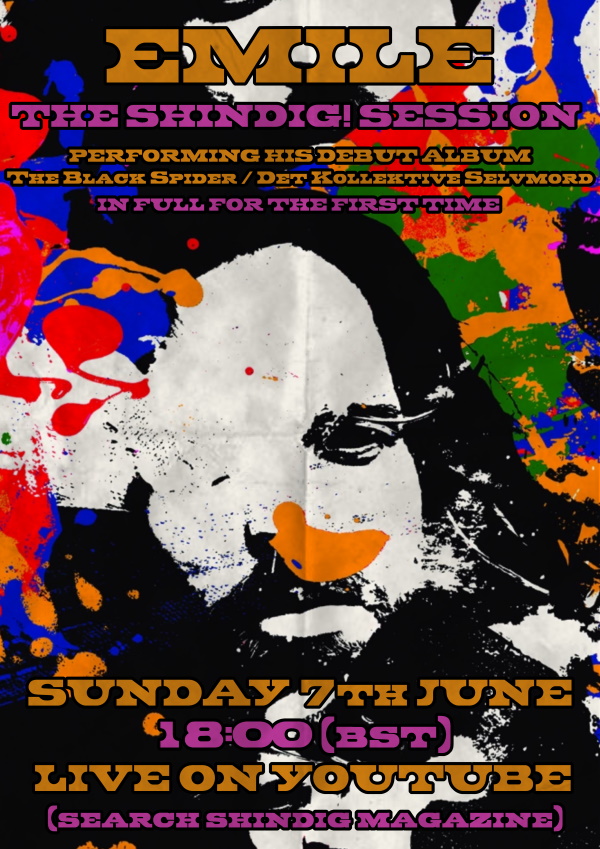 The 3rd Shindig! Session sees EMILE performing their debut album The Black Spider / Det Kollektive Selvmord in it's entirety for the very first time. EMILE'S psychedelic loner folk debut comes together like a weird dream. A dream that shows a side of reality too strange to observe in any other way. Driven by acoustic guitar and haunting arrangements, the front man of The Sonic Dawn presents a unique backdrop, on which songs about death, life, loss and fear of growing old melt together with a dystopian look into the near future of our civilisation.
EMILE says "I recorded this album because I had to. I wrote the first songs already back when we were working on Eclipse with The Sonic Dawn. Some of my favourite tracks in our stack, but somehow they didn't really fit into the rock group format. Or maybe they were too melancholic or mysterious to fit on the album. I needed to find a new home for these songs. I also needed to deal with a lot of heavy stuff, and make some real changes in my own life. Writing and playing music seems to be the only real way for me to do so."
Get yourself a Danish delight this Sunday at 6pm, either right here or over on our YouTube Channel if you want to join in the chat.
The Black Spider / Det Kollektive Selvmord by EMILE is available was released in April and is available HERE.