Premiere: The James Hunter Six – He's Your Could've Been
THE JAMES HUNTER SIX premiere 'He's Your Could've Been' with Shindig! Taken from the forthcoming album Nick Of Time, 'He's Your Could've Been' is released tomorrow the 14th February across all platforms through Daptone Records.
---
Back in the spotlight with a sublime new rhythm and blues record, JAMES HUNTER follows up six critically acclaimed albums with his latest recording, Nick Of Time, set for release on Brooklyn's renowned soul label Daptone Records. Nick Of Time is a shining testament of how a master songsmith continually draws fresh water from a bottomless well. 'He's Your Could've Been' is the second release from the album to be shared with the world, filled with bossa nova grooves and a horn section that could easily have appeared on an early sixties Burt Bacharach track all topped off with Hunters uniquely soulful voice.
Hunter tells of the origins of the song "One day Jessie (my wife) was telling me about an ex of hers who didn't appear to have any shortcomings whatsoever. In fact she couldn't figure out why she split up with him. Neither could I, but I wasn't complaining. Later she mentioned the conversation might make a good song so I wrote it. The tv game show line: "Look what you could have won"  was supplied free of charge by our friend Geoff Woods."
The album Nick Of Time was recorded at Daptone's Penrose Studio in Riverside California under the watchful eye of Daptone co-founder Bosco Mann and is steeped in an era when soul records were driven by earth-shattering vocal performances. James Hunter hands down ushers classic soul music into the 21st Century with a sense of timelessness that's rare these days.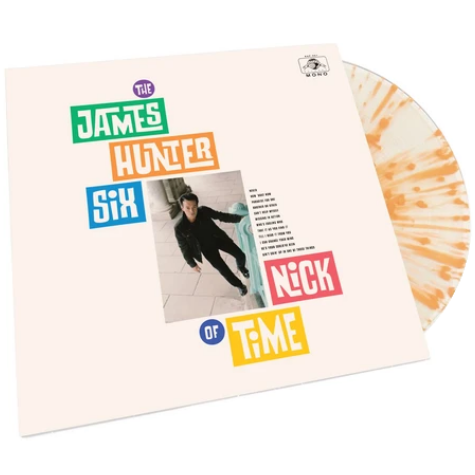 Nick Of Time is released worldwide through Daptone Records on the 6th March 2020 and can be pre-ordered HERE.
THE JAMES HUNTER SIX – EUROPEAN 2020 TOUR
Wednesday, May 6 – Mojo Club – Hamburg, Germany
Thursday May 7 – Columbia Theater – Berlin, Germany
Saturday May 9 – Technikum – Munich, Germany
Monday May 11 – Zoom – Frankfurt, Germany
Wednesday May 13 – Le Café de la Danse – Paris, France
Thursday May 14 – Fuzzyon – La Roche-sur – Yon, France
Saturday May 16 – Jazz a Liege-Brasserie Sauvenière – Liege, Belgium
Tuesday May 19 – Jazz Café – London, United Kingdom