Exclusive interview with Helicon ahead of new album.
Glasgow's HELICON release their latest album This Can Only Lead To Chaos on 24th January through Fuzz Club Records, MAGGIE GOSS caught up with vocalist and guitarist Jean-Paul Hughes for SHINDIG!
---
SD!: Hi Jean-Paul, we are super psyched for your new album, how would you describe This Can Only Lead To Chaos and what were your influences for it?
JP: Hi Maggie, yeah we're buzzing for people to hear it; feels like it's been in the vault ready to go for ages now. It's a strange one, when asked to describe your own album, as we like to leave a little mystique and let people form their own opinions but its noise. A good fucking noise. I suppose the title says it all, really. We have Aleister Crowley and occult influences in there, and we've drawn from our personal lives. But, as a band, we're driven by a rejection of mediocrity and mainstream culture. This record is more political and reactionary than what we've done in the past, but we're living in unprecedented times. We make stupid people famous. We elect liars and con men to run the world. The whole fucking shit house is going up in flames. Hyper-normalisation has taken hold, and if you're not fucking angry about it, you're not paying attention. You'll find it all in there with the signature Helicon sounds and good variation in each track.
SD!: Where did you record and who produced This Can Only Lead to Chaos? How did the recording go?
JP: We recorded and produced this album at Anchor Lane Studio with LuigI Pasquini. He's done great work with our friends, The Cosmic Dead and Tomorrow Syndicate, so we knew he'd understand what we wanted to achieve. Luigi creates a cool vibe and is very relaxed, so it made the whole process fun, even though we arrived at the studio with songs unfinished and utterly unprepared to record an album.

SD!: Did you do anything differently in terms of the sound of the band from your last self-titled debut album or the Zero Fucks EP?
JP: It's edgier and groovier than the first album. Tony Doogan recorded and produced our first album at Mogwai's Castle of Doom studio in Glasgow. Tony is a master of his craft. You lay down your tracks and get the fuck out his way to work his magic. Zero Fucks was a bit of fun recorded – mixed and produced in 1 day at Green Door Studio in Glasgow. This time, we took more time and were more involved in the mixing and production with Luigi, who worked his socks off on it. It still has those signature HELICON elements, but we explored new territory too. We were less prepared this time round, but that led to a lot more improvisation and creativity in the studio.
SD!: 'What You Love Will Kill You' is the first song that you released. What made you choose this song over the others?
JP: Casper from Fuzz Club actually chose it, as the first single. He likes 'em loud and violent. It's a track with so much impact; it's a great way to launch the record.
SD!: What are your plans to tour the album in 2020?
JP: We've a few dates around the UK planned in the Spring and maybe into Europe, if these Brexit Bawbags haven't fucked that for us too. But, we haven't planned too much, as our bass player, Mark, and his wife are due their first baby April/May, so he'll need some time out then. But, we're open to offers and actually need to get ourselves a decent booking agent, so I guess this is me whoring our asses out to see if anyone wants us – get in touch.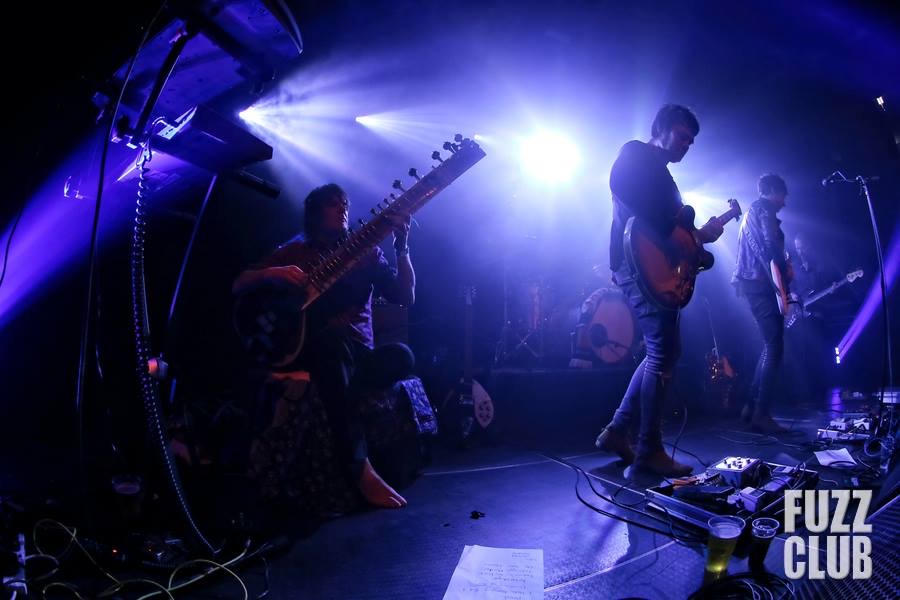 SD!: How does the songwriting process work for you guys?
JP: It's a team effort. You certainly need a framework or blueprint to work from, but we never stick to it too rigidly. We're always very open and collaborative. Anyone can throw in any idea, and we'll work it through to make it more HELICON, but we're pretty ruthless in dropping stuff if it's shite. Honesty and trust among us is essential in not getting discouraged, if an idea is binned. Even at the final stages of mixing and editing, I'm still totally prepared to change anything, if it might lead somewhere more interesting. That probably drove Luigi nuts at times, but he himself made some great contributions with additional synth lines and even song structure suggestions. Our creative process is a proper collective, not a dictatorship. So long as everyone does what I say.
SD!: The sitar is such a key element to your music. When you are writing new songs, do you write them with the traditional Indian sitar in mind, or does the sitar get integrated into your psych-rock sound later?
JP: It's a bit of both to be honest, but we are very conscious not to over-use the sitar. You don't want to get pigeon-holed, as the sitar band. Sometimes Graham will have a sitar part, and we'll craft the song round that; other times, we'll have something heavier and realise that the sitar can appear, as a nice little surprise when the listener doesn't expect it. It looks fucking great on stage too.
SD!: I think of HELICON as a psych-sitar band, but you have a heavy sound as well. How do you manage to blend the sounds so well? [if you want to talk about pedals, set up, etc here feel free…up to you]
JP: That's taken work to master. From our early days, we've always been a loud band with loads of fuzz, reverb and delay, but the introduction of the sitar forced us to really think harder about how we play. That's been good for us. As an acoustic instrument, the sitar is always on the verge of squealing feedback. That meant we've had to find a much more controlled and balanced use of volume and pedals now. Knowing when and what not to play is every bit as important as what you do play in creating the space around the sitar to shine.
SD!: Your last album, Helicon came out in 2017, and a recent three-track Zero Fucks EP. Besides recording This Can Only Lead to Chaos. What have you guys been up to? Do any of you guys have side music projects?
JP: Seb (Jonsen, Drums) and Graham (Gordon, Sitar) do. They both play in Tomorrow Syndicate with some of our other mates; Seb on drums and Graham on bass. Seb also plays drums in Stilton ("pop, rock, folk, glam to sing and dance to") and guitar in Scottish folk duo, The Poachers. Four very different bands and projects, but as Sick Boy said in Trainspotting, "variety is the spice of life." We're always busy in one way or another: whether that's day jobs, Graham's artwork, or my creative agencies and freelance creative collectives. I get bored easily, so I'm always looking for the next thing to do. Always moving forward. I'm a driven fucker, maybe too much for some people at times, but I believe in setting high standards, and I don't believe in sitting around waiting for inspiration to strike. It's a fucking slog getting through the obvious, and the cliché ideas to arrive at interesting work. The more work you do the more creativity you'll uncover. And we've a few interesting collaborations in the pipeline.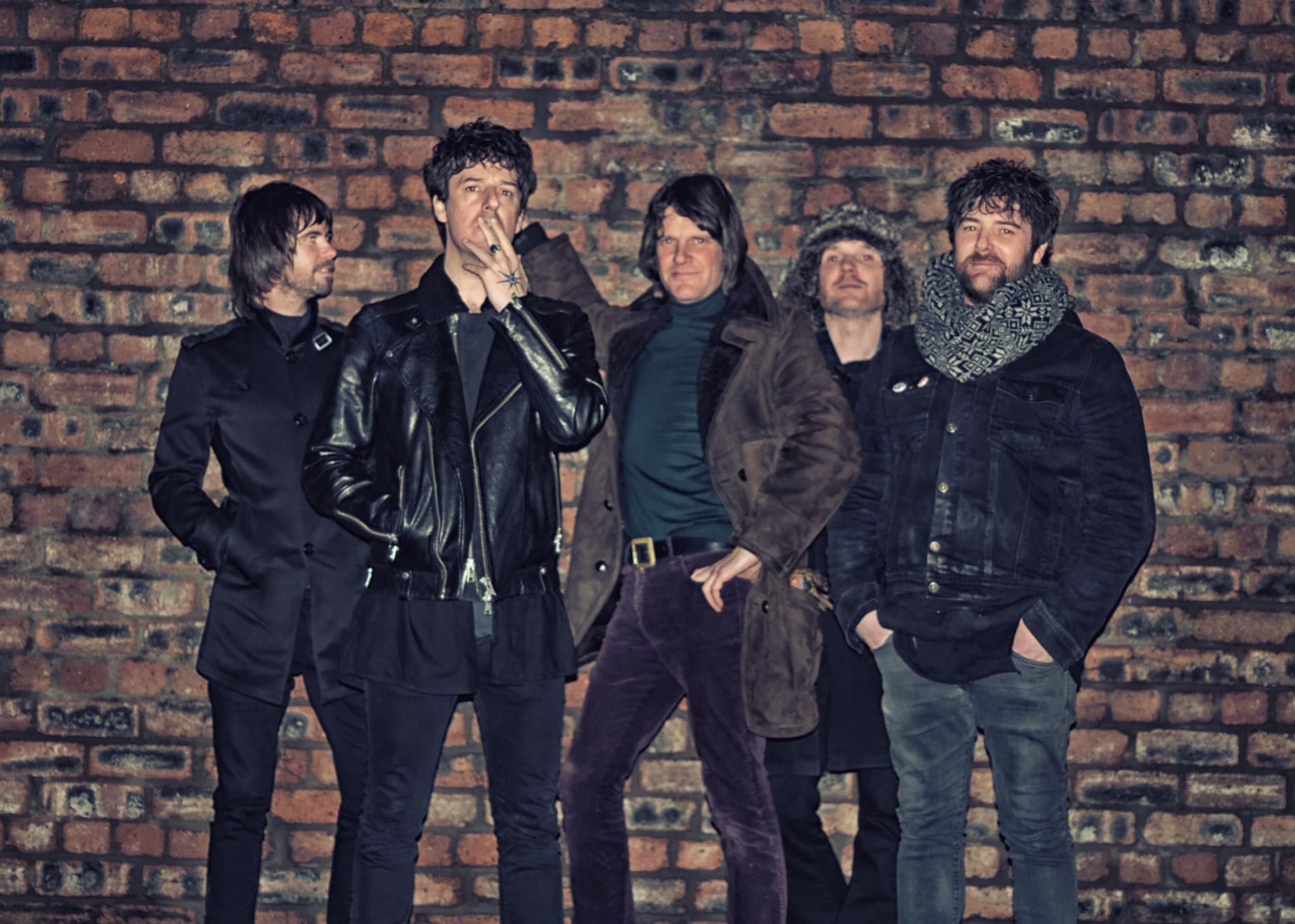 SD!: The five of you have been together, as a band, for quite a long time. How do you know each other? Where did you meet? Basically, who the f*** are HELICON?
JP: HA HA, We've been through a few line ups over the years, but yeah, this settled line-up now has been going a few years and sounds the best it's ever been. Gary (Hughes, Guitar) and I are brothers from East Kilbride, a suburb of Glasgow. You may know it as the wee shit-hole 'new-town' The Jesus & Mary Chain comes from. We've known Mark (McLure, Bass) from our school days in EK and got to know Graham and Seb through them playing in other bands on the Glasgow music scene. We liked what they did and knew we had to steal them. So, we did. We've got a good dynamic in the band, even though Gary and I fight like fuck at times but that's brothers in a band isn't it. We all relentlessly take the piss out one another and times on tour have been some of the funniest of my life. In fact, we're thinking of starting a podcast to tell some of the fucked up stories and situations we've found ourselves in over the years. We take our music seriously, but we don't take ourselves too seriously. Our working-class Glaswegian upbringing just doesn't allow you to do it.
SD!: Clad in the most killer 60's vintage clothing, I have to ask….where the f*** does Graham get his amazing style from?
JP: He's not called Groovy Graham for nothing and certainly is the band dandy. He takes inspiration from 60s counter-culture but he tells me he "knows a few dealers" (don't we all!) who source deadstock vintage from around the world for their own collections, and they always give him a shout, if they find stuff that would suit him. Sounds to me like he's not giving away any of his secrets, because really all he does is raid his old folks' homes in the middle of the night.
SD!: Who are your contemporary sitar or guitar heroes?
JP: Graham's sitar style is certainly influenced by Ananda Shankhar, but we don't have guitar heroes, as we've never really studied the instrument or other players' style. I was always worried I'd end up playing like someone else if I did. I suppose the Spacemen 3 mantra of "3 chords good. 2 chords better. 1 chord best." and minimalism can be maximalism is something that's always influenced our guitar style.
SD!: What's happening in the Glasgow psych scene these days? What bands do you recommend we check out?
JP: There is a thriving 'Glasgow psych scene.' I suppose but not too many psych bands as such from the city. Along with old stalwarts like ourselves and The Cosmic Dead, there are young bands, like Kundalini Genie, Domiciles (Fife). Check out Mike and Solveig – two of the most talented musicians I know; their dreamy psych-folk is a joy to behold and solo-artist Caitlin Rambler. The wider Glasgow music scene is as vibrant and diverse as ever. Our friends at Freakender bring the best psych, garage and alt-pop bands from around the world to Glasgow and have created an underground scene all of their own so keep an eye out for their shows. So many other bands I could recommend you to listen to, including Tomorrow Syndicate and Seb's other projects, as mentioned above. But, check out some of these great bands we've played or toured with recently, such as Black Doldrums, Throw Down Bones, Servo, Psychic Lemon, MDME SPKR, Frankie Teardrop Dead, Mildred Maude, Soundwire, Snakes Don't Belong In Alaska, The Gluts, Excellent Skeleton, 93 Millions Miles From The Sun, Superdrone and so many more…
SD!: We can't wait to hear This Can Only Lead to Chaos. Thank you!!!
JP: Thanks Maggie, hopefully see you soon.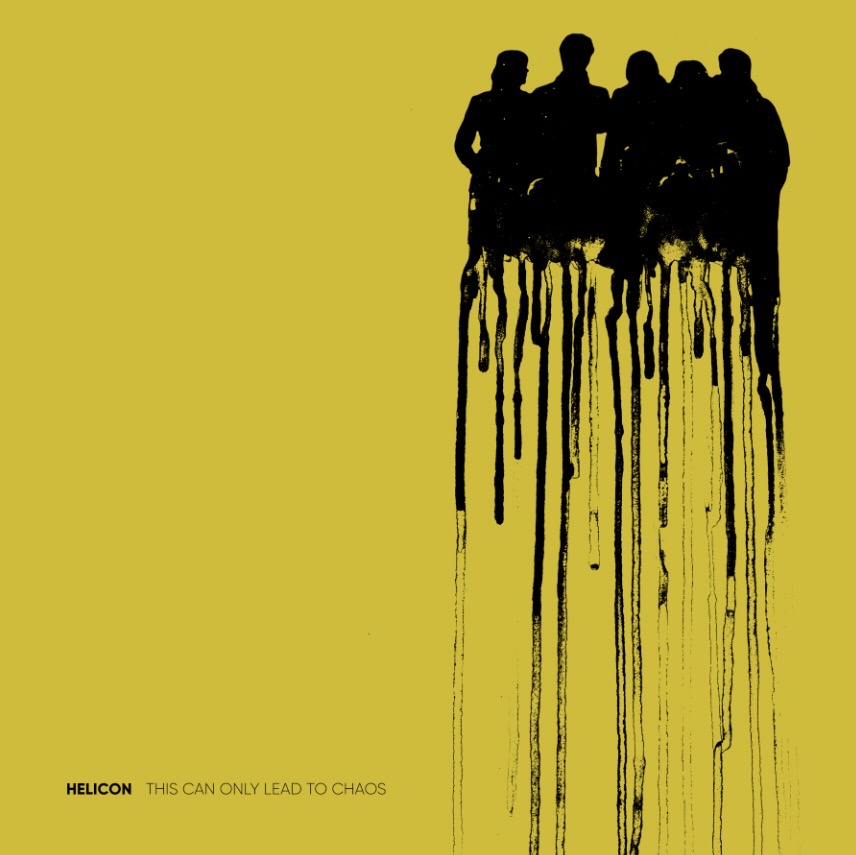 Pre-order This Can Only Lead to Chaos, set to release January 24th on Fuzz Club HERE.