Frankie And The Witch Fingers – Exclusive Interview
MAGGIE GOSS caught up with Josh Menashe of Psychedelic Garage Rock freaks, FRANKIE AND THE WITCH FINGERS for Shindig! at Austin, Levitation. FATWF have been relentlessly touring the US and Europe, since releasing their epic double LP Zam on NYC label, Greenway Records. Named after Dylan's cat, Frankie, the band consists of Dylan Sizemore (Vox/Guitar), Shaughnessy Starr (Drums), Josh Menashe (Guitar/FX), and Alex Bulli (Bass).
---
Formed in 2013 while at college in Bloomington, Indiana, FATWF eventually hooked up with drummer, Shaughnessy Starr, and found themselves residing in L.A. alongside contemporaries, such as the Oh Sees, Ty Segal, Triptides, and Mystic Braves.
After thrilling crowds at Levitation's sister festival in Angers, France, they were invited to play Austin, Levitation – killing it with two sold-out shows. They're clearly riding a cusp of a wave and are in no mood to stop! If you can't catch Frankie and the Witch Fingers live, check them out at: http://frankieandthewitchfingers.bandcamp.com/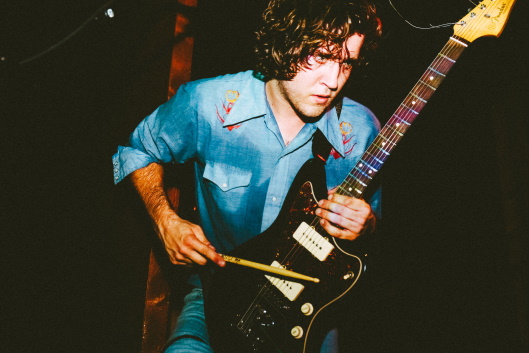 Though most flagrant witches have been burned throughout the year, listen closely to the fingers pressing mortal strings. The raw, rocking thud of Frankie & the Witch fingers.
– Ryan Drag, Heavy Birds
Shindig!: Great to catch up here at Levitation, Austin! You're playing a sold out show – the second night with Broncho, Death Valley Girls, Crocodiles, Elephant Stone, and Mint Field! Then, on the third night – with Coathangers, Nightbeats, Cosmonauts, Moonwalks, and more. Pretty awesome line-up! Have you played Levitation before?
Josh Menashe: We never played Levitation Austin before, but we had the pleasure of playing Levitation in Angers, France at the end of our European tour, which was excellent. It was probably one of our favorite shows of the entire tour. It was really special!
SD!: Who are you hoping to catch while you're here?
JM: Unfortunately, we've kind of just hung out at our venues that we're playing. But, it's not the worst thing in the world, because I'm going to play with some amazing bands like Night Beats, Elephant Stone, who were about to go on tour with, and Broncho, are amazing. Moonwalks are part of the Greenway family. I really want to see John Cale.
SD!: You guys have been touring extensively around the US and Europe. What is your favorite tour story? Give us the good details!
JM: We were in New Orleans, and Dylan and I got sprayed by a fire extinguisher. This guy who did it just didn't like us because we were from LA. It was after our show at our Airbnb. There were a bunch of bands staying at these different Airbnb, and this guy just didn't really vibe with Dylan and I. Because he doesn't like people from LA, and he sprayed us with a fire extinguisher! And that was fun. Very unexpected, and we didn't catch on fire for the next week or so.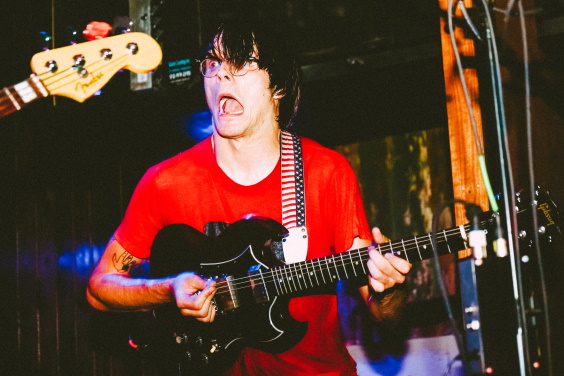 SD!: Do you have a favorite European or US City to play?
JM: For Europe, I loved our show in Barcelona. The people there just go absolutely crazy. They don't hold anything back, especially in Barcelona. People just go crazy. You feel like you're on the same level as the crowd. The crowd is just as sweaty as you when you're done playing.
SD!: You all live in LA now. LA's psych scene is going strong! You have Ty Segall, Triptides, Thee Oh Sees – just to name a few. How does the feel of the LA music scene compare to other countries and other cities you've been to?
JM: It's hard to argue with the the sheer amount of bands that play psychedelic or rock music in LA. There's always this kind of in a gravitational pull towards LA. Even bands that started in the Midwest like us or San Francisco, they kind of all ended up down in LA. I don't know how it really compares –  just because there's a lot of them doesn't necessarily mean the quality is better. There's just a lot. So, of course, there's going to be a lot of good ones. But you know, I also love the idea of a really cool band coming from a small town that you wouldn't expect. The New York scene is cool, because it has the ability to maintain bands. New York seem very difficult given transportation, practice spaces – because of the costs. So, if you can do that, it's pretty badass. Yeah. We really like The Mystery Lights! They're from New York.
SD!: Your most recent album ZAM (New York City's Greenway Records) is one of Shindig's favourites of the year! It is power packed from start to finish. It must have been a ton of work to write and record that amount of music. It's recorded live in the studio. Can you describe the process?
JM: It's the first record we did like this. We basically just rehearsed the songs for a month straight: tweaking them, getting the structures right, getting the feel right and got it to the point where we had five days in the studio. We were able to track every song in at least three takes or under. And you know, there are mistakes. I think the bass gets unplugged on a song, and we just left it.
SD!: Were there songs on it that you just did it in one take?
JM: Yeah, so the song ZAM is basically a jam. There's one part that's written on it, but we had extra tape left. We had this riff, and we were like, "Let's just jam on this riff." And that was the first take of that song. And we're like, "all right, let's put it on the album". A lot of people like it, so it's really cool!
SD!: Would you do a double LP again?
JM: Probably not for a while. It's cool to squeeze all that music on there; but, for Harry's sake at Greenway, he has to make twice as many records, you know. It's definitely a lot more work.
SD!: It's a lot of work for you guys to write and record it. There's that aspect of it, and then, there's the money. Is it both or would you say one outweighs the other?
JM: Yeah, the money and the logistics of pressing vinyl. If you do a run of 2000 records, you're really doing 4,000 records.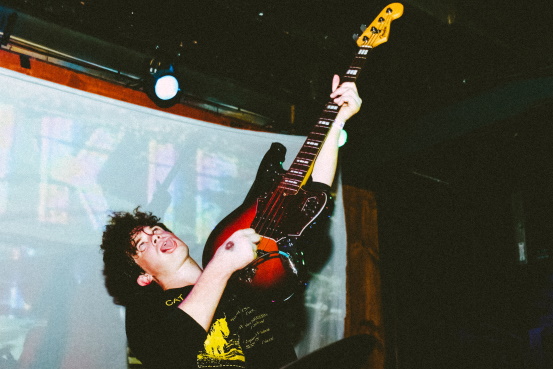 SD!: What are FATWF plans for 2020? Are you heading back into the studio anytime soon?
JM: We are – yeah! As soon as we're done with this tour, we are going to get cracking on the next record. We have most of it written, we just miss jamming, improvising, writing. You kind of lose out on that when you're on tour, so you get a new appreciation for it when you return; we're ready to get to the other side of the music. We're going to record pretty soon, after we get back, and hope to have an album out by midway next year.
SD!: When you're touring, are you also writing & collaborating?
Yeah, we actually talk about the songs a lot. We'll listen to our demos on a voice memo, like I'm speaking into right now. We just kind of demo stuff out on these, and we'll listen to them, discuss, and take notes. It's kind of weird to think that we're practicing by talking about it, but that's all we have. It's a journal of just sharing ideas and being able to hear a rough version of a song so much that you can start to picture the other elements. And then, when it comes time to implement those elements, you're just so stoked cause you're like. It's this thing I've been hearing, and now, we get to do it. It's really exciting.
SD!: Are any of you currently involved in side projects?
JM: Touring makes it tough to tour with other bands, and we've all narrowed it down to this being our main project. I play in a band with a girl named Annie Lipetz, and it's called Premium Destiny. It's kind of dreamy – almost like film score music, and we're actually about to score our first film, coming in December. It's an independent film. I can't say the name of it, but the band is called Premium Destiny.
SD!: Any particular bands out there that you currently dig and would recommend that we check out?
JM: We just played with this band from Lexington, Kentucky called The Sweet Country Meat Boys, and they blew me away. They were just a three piece, heavy music with amazing visuals. They're amazing. Sweet Country Meat Boys.
SD!: The band is named after Frankie the Cat. How is Frankie? Is it your cat?
JM: Frankie is Dylan's cat. When Dylan moved to LA four years ago, he had to leave Frankie behind. Our mutual friend, Virginia, fell in love with this cat. So, he let her have him, and none of us had seen him for four years. He lives in Toledo, Ohio now, and we just saw him five days ago. We got to stay in Toledo and hang out with Frankie! He totally remembered Dylan, and he has no idea that we're touring the country in his name. He has no idea that his name is our career. Yeah. Awesome!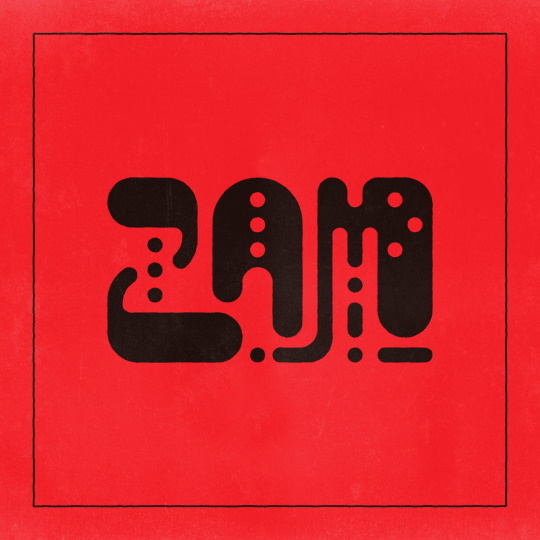 ZAM is available now via Greenway Records or wherever you get your good stuff!
NOTE: Since this interview ALEX BULLI has left FATWF, Shindig! join DYLAN, JOSH and SHAUGHNESSY in wishing him a all the best in his future ventures.