Premier: The Rosalyns – Come Back
San Diego's all girl groovy garage group THE ROSALYNS share 'Come Back' with Shindig! 'Come Back' is the lead off track from their debut album Outta Reach which is released through Pig Baby Records on November 15th.
---
THE ROSALYNS first assembled six years ago to pay tribute to the "girls in the garage" sound of
the 1960s—trailblazing bands like The Pleasure Seekers, The Liverbirds, The Clingers, The
Daughters of Eve, The Ace of Cups, and The Belles, young women who took up guitars, basses
and drums to make some rock 'n' roll noise of their own. For the five ladies in THE ROSALYNS, the
inspiration of those original girl garage rockers runs deep. You can hear it in every note they
play on 'Come Back' and the whole of their debut album Outta Reach.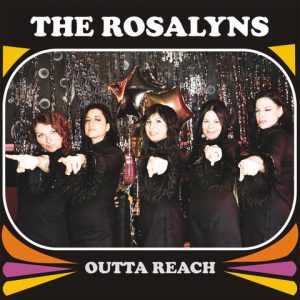 The first 200 copies of Outta Reach will be pressed on shocking lipstick red vinyl and you can pre-order it HERE.
The album release party will be at the Casbah San Diego on the 29th November. All details HERE.