Video Premier : Gabbard and Perkins – Donuts At Bill's
Shindig! Magazine presents 'Donuts At Bill's' the first release from GABBARD AND PERKINS self titled debut album, get lost in sunshine country sounds and salivate at the thought of the sugary delights at Bill's.
---
GABBARD & PERKINS are ANDY GABBARD (Thee Shams, Buffalo Killers) and M ROSS PERKINS, both of whom hail from Dayton, Ohio. Ross is a talented multi-instrumentalist who was offered a support slot with MGMT at their peak on the strength of his home recordings but turned them down due to anxiety and went to roadie for ANDY GABBARDS' Buffalo Killers on their tour supporting The Black Crowes. "Andy and I have been involved in a lot of projects together over the last 10 years, but we've never made a record like this before. It's something we've talked about doing for a long time." says PERKINS
The album 'Donuts At Bills' is taken from has been brewing for the best part of a decade, a country infused lilting album that flows and drifts, it feels like an easy high, you can almost feel your shoulders drop and the days stress slip away. M ROSS says "After we put out Andy's Cedar City Sweetheart record, it just felt like the logical next step for the two of us to finally make an album that just centred around him and me. Our sounds blend really naturally since we've been kind of developing together as artists in parallel for a decade or so now. My mom says she can't tell which of us is the one singing on any of these songs. Sometimes I can't either."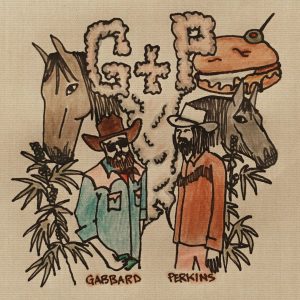 'ANDY GABBARD has the last word "When I was writing songs for our album together, I would ask myself, 'what do we both like?' So, Donuts At Bill's is an ode to the greatest 24-hour donut shop in world."
The album Gabbard & Perkins will be available on all digital platforms from mid-November 2019.
The self titled debut album by M ROSS PERKINS is available now from Sofaburn Records.
Cedar City Sweetheart is the latest release from the prolific ANDY GABBARD and is available HERE.