Le Guess Who? Festival – Full line up and preview.
In a little more than a month the one of the most exciting European festivals, LE GUESS WHO? in Utrecht will open it's doors once again. CAMILLA AISA previews this years offering for Shindig!
---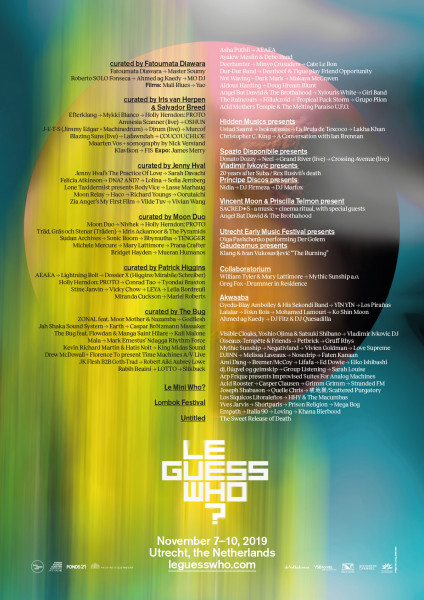 The countdown has begun to Le Guess Who 2019 and Shindig! will be there for the second time in a row, keeping last year's promise. 'Cause that's what happens: other festivals tend to leave you dazed, while Le Guess Who leaves you wanting more. It's not that there isn't enough: on the contrary, making your choices each day, going to one show while four or more others are happening, can be impossibly hard. But Le Guess Who was born with the intention of dismantling boundaries (regarding what a music festival can culturally represent in the present day, or what kind of acts can follow one another on the same stage, or what level of curiosity modern-day festival goers are capable of). And so you go for some beloved names and stay for the unexpected. Looking at the poster, you're likely to bump into plenty of unfamiliar artists: for once, instead of making you feel slightly uncomfortable – there's no permanent satisfaction to musical devouring, huh? Been there…, all the unknown names create one more level of excitement.
This year's curators are Moon Duo, Fatoumata Diawara, Jenny Hval, Patrick Higgins, The Bug and Iris Van Herpen with Salvador Breed.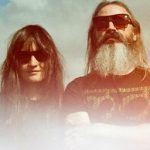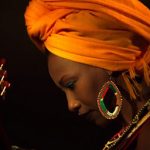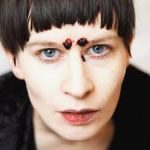 It's naturally up to Moon Duo to cook up the most Shindig!-friendly of the curated line-ups, including Träd, Gräs och Stenar, Sonic Boom celebrating 30 years of Spectrum, Prana Crafter, Idris Ackamoor & The Pyramids and Tengger. The 2019 edition of Le Guess Who will also be a great opportunity to see what some of the most interesting albums of the year sound like in a live setting: Aldous Harding, Cate Le Bon, Gruff Rhys, Mega Bog, Angel Bat Dawid and Deerhunter are all enticing attractions. But the secret weapon and very strength of this festival, compared to more well-known others, is the element of surprise: enter the TivoliVredenburg, LGW's mothership, follow the directions to one of the halls and prepare for fortuitous revelations. You might end up savouring rock's raw edges with Tropical Fuck Storm, The Raincoats or Surfbort, tuning in and dropping out with the likes of Acid Mothers Temple and Mythic Sunship, or seeking visions in the instrumental textures of DJINN, Sarah Louise and a special collaboration between William Tyler and Mary Lattimore. It's not every day you get to meet the world walking the short distance of Utrecht's canals, and this year's global tour will move from Sweden (with Efterklang) to Rajasthan (with Lakha Khan), passing through Dur-Dur Band's Somalia and Gyedu-Blay Ambolley's Ghana. The new Hidden Musics program will provide more sonic travels through Greece, Pakistan and Mexico. It's going to  be a formidable, fun and inspiring ride again, whether you'll be seeing veteran Asha Puthli or newcomers Acid Rooster for the first time, or dancing to Khana Bierbood's surf rock made in Thailand.
While arriving too prepared doesn't really honour the spirit of Le Guess Who, there's
something cool you can do before November comes: make it a daily or weekly habit to visit
the line-up section of leguesswho.nl or check out the festival's New Music Discovery
playlist on Spotify. New sounds await all of us. See you in Utrecht.
Buy tickets for Le Guess Who? HERE.