Kacy & Clayton 'High Holiday'
KACY & CLAYTON will release Carrying On via New West Records on 4th October 2019. The 10-song album was produced by Wilco's Jeff Tweedy and recorded by Tom Schick at The Loft, Wilco's recording studio and rehearsal space in Chicago. 'High Holiday' is the second video taken from the album
---
Canadian Second cousins Kacy Anderson (22) and Clayton Linthicum's (24) new album Carrying On follows the international acclaim for their previous records Strange Country and 2017's The Siren's Song.
The music Kacy & Clayton make is inextricable from where they grew up. They sing about the kind of people you'd find in Wood Mountain, Saskatchewan (population very few). Their sound is equal parts homespun, coming from a family and community where playing music is an ever present part of social gatherings, and the rare country, blues, and English folk-rock they obsess over and collect.  It's an arresting amalgamation of psychedelic folk, English folk revival and the ancestral music of Southern Appalachia. For Carrying On, Clayton cites as influences: Bobbie Gentry's Delta Sweete, Hoyt Axton's My Griffin Is Gone, Cajun fiddle music, and the steel guitar of Ralph Mooney, who played on many of the records that defined the Bakersfield country music scene of the '50s. Sixties psych has also woven its way into these new songs; Kacy enjoys telling people that they live 250km from the mental hospital that coined the term "psychedelic."
Of Carrying On, Jeff Tweedy said "When I first heard Kacy & Clayton, I was struck by how much detail and nuance they had absorbed from what sounded like a large swath of my record collection. When I told them that they were as good as the artists they were drawing from, I'm not sure they believed me. On this record I don't hear those influences as much as I hear them taking the things they love so intimately and telling their own story. I think they're a truly great band."
Having toured almost nonstop for the last two years, Carrying On was conceived and honed on the road and recorded immediately after a jaunt across Western Canada, mostly as live takes with the minimum of overdubs.  The songs having been tried and tested before audiences each night with Kacy & Clayton offering, "This album has, by far, the most intense and confident performances we've ever done on record and I hope that intensity will be felt by the listener."
Kacy & Clayton toured the UK and Europe in 2016 with Daniel Romano, and again in 2018 supporting Deep Dark Woods. They returned in 2019 for headline dates around the UK and a spot at Shindig! Magazine's club night at The Victoria in Dalston. The pair will be announcing further dates for 2020. They will be heading out on the road supporting Ray LaMontagne in North America in the Autumn and will appear at the Pilgrimage Music & Cultural Festival in September alongside Foo Fighters, The Killers, and more.
Carrying On will be available on compact disc, across digital retailers, Standard Black Vinyl, Pink Marbled Vinyl exclusively available at Independent Retailers, and hand-poured colored vinyl with every copy unique available now for pre-order directly from New West Records.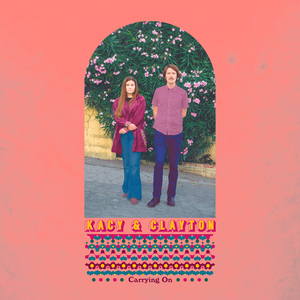 Kacy & Clayton will once again be playing The Shindig! Revue at The Victoria in Dalston on 10th February 2020. Ticket info to follow.