Love Letters And Hot Dates… The Curious History Of King Crimson's Live Albums.
JOHN MARTIN celebrates KING CRIMSON's extensive live discography
---
 "Sometimes it's like angels descending from the clouds on chariots of fire, blowing trumpets of gold in your ear. Baby Blue, I was there" –Robert Fripp, in the liner notes to Frame By Frame: The Essential King Crimson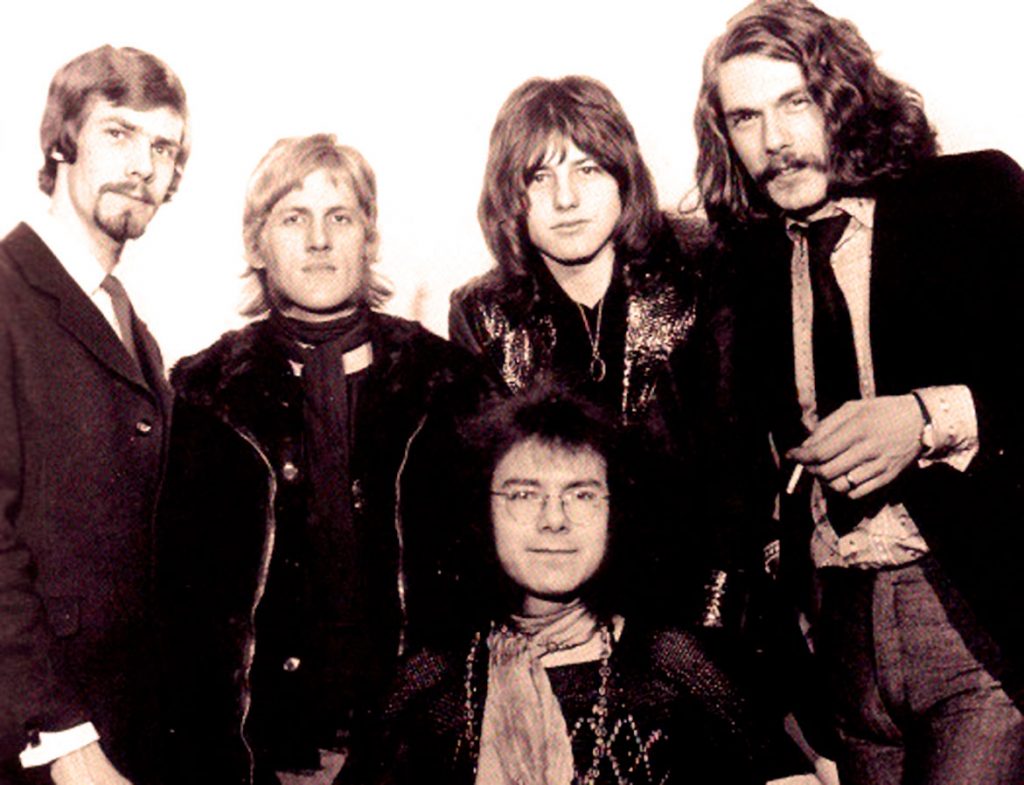 Among the many gnomic pronouncements attributed to King Crimson curator (he won't accept any designation as vulgar as "leader") Robert Fripp, one concerns the relationship between the studio album and the live show. The former, he assures us, is like a love letter, while the latter more closely approximates (or should) a hot date.
"Each have their own value…" he asserts, though in his view: "Crimson were always the band for a hot date. From time to time they could write a love letter too, but for me they were better in the clinches." This privileging of performance in Fripp's scheme of things has led to Crimson, in its various incarnations over 50 odd (sometimes very odd) years compiling what is probably rock's most prolific live discography (with only The Grateful Dead, I would imagine, coming close). But matters of the heart are never quite as cut and dried as Smart Alec aphorisms would have it and the tangled history of King Crimson live albums is littered with illicit affairs, blurred lines and deceptively dubbed dalliances…
The original line up of the band (Fripp on guitar; Greg Lake, bass and vocals; Ian McDonald, flutes, horns and keys; Michael Giles, drums; Peter Sinfield, lyrics and lights) inaugurated the dreaded prog rock with their October 1969 debut release In The Court Of The Crimson King. They also harshed many a mellow trip with the ferocity of their live work, unrepresented in any contemporary release but showcased since '97 in the Epitaph box set and a series of Collectors' Club mail order discs and downloads which capture the band at The Marquee, supporting the Stones In Hyde Park and playing The Fillmore East on the ill-fated US tour where a combination of homesickness, "hedonism" and the proverbial "musical and personal differences" ensured that this particular musical candle would burn twice as bright but (not even) half as long.
After the mass defections which closed that tour (Lake to prog supergroup ELP, McDonald and Giles to record together as a duo), Fripp and Sinfield spent much of '70-71 putting together two albums (In The Wake Of Poseidon and Lizard) with a rotating crew of collaborators, the inherent instability of the band thwarting any tour aspirations until, in early '71 (after Elton John and Bryan Ferry had unsuccessfully auditioned), a new line up cohered around Mel Collins (horns and keys), Ian Wallace (drums) and vocalist Raymond "Boz" Burrell who, like Lake before him, was rapidly converted from guitarist to bass player in line with Fripp's requirements. This Crimson released the patchy Islands album in December '71, just as it was honouring precedent by effectively imploding during a US tour where the R&B sympathies of his new band mates were increasingly jarring with Fripp's own sensibilities. Sinfield seceded before another, contractually mandated US jaunt (Feb-March '72) from which Fripp posthumously put together the first official live Crimson release, Earthbound. Looking suspiciously like a contract filler, the album was sourced from unrepentantly lo-fi cassette recordings (subsequent releases established that far superior recordings of this band were available) and while it might be pushing it to call this Fripp's Metal Machine Music, it's certainly the first example of a trend that later caught on, the "official bootleg" (and was itself ironically bootlegged during the long period when Fripp suppressed it, until a CD edition finally emerged in 2002 as part of an ongoing series of releases marking the band's 30th anniversary). Deemed unreleasable in the States by Atlantic, Earthbound appeared on Island's budget HELP imprint in the UK and those who were moved to risk £1.35 on it found themselves listening to an ass-kicking rendition of the band's totemic '21st Century Schizoid Man' and the guitar heroics of 'The Sailor's Tale', no doubt wishing that they'd been better recorded, along with the B-side 'Groon' and some truncated stodgy jams punctuated by Burrell's scat-singing. If the album's title was Fripp's wry comment on what he took to be his departing band mates' limited musical horizons, it's easy to see why Alexis Korner was waiting in the wings for them with open arms. As Richard Williams noted in his Melody Maker review, Fripp's solo on the titular jam "sounds… suspiciously like frustration". Just in case anybody remained in any doubt about Fripp's feelings, audience applause after each number was ruthlessly expunged (though the 40th Anniversary extended edition, which also formed part of the massive Sailor's Tales Box Set, included applause for an Ian Wallace solo, presumably in tribute to the recently deceased drummer).
"The jury is still out on this Crimson, based on insufficient evidence…" commented Fripp in the liner notes to the Ladies Of The Road, a 2002 double CD compilation of Fripp/Collins/Burrell/Wallace performances: "Here is more evidence, although we have tampered with it"… as good an in-a-nutshell summary of his attitude towards live recordings as we're going to get. In the case of LOTR this means that the second disc ("Schizoid Men 1 – 11") is the band's heavy metal bebop anthem elongated into a 54 minute suite during which Fripp and Collins alternate furious solos, seamlessly segued from eleven different gigs. It would take a special type of anal obsessive to identify each uncredited gig in this Crimson collage, the effect on the average listener (if indeed that's what I am) being rather the impression of one's brain being pummelled into submission.
In mid-1972 Fripp put together the third touring incarnation of Crimson, poaching monster bassist/vocalist John Wetton from Family, drummer Bill Buford from a Yes that were about to go supernova and grafting on unknowns David Cross on violin/viola/mellotron and avant-garde percussionist/performance artist Jamie Muir. This band wowed UK and European audiences between late '72 and early '73 with a set consisting of mostly new material and lengthy passages of what Fripp pointedly insisted was improvisation, in contrast to the previous band's "mere" blowing. There were even suggestions that the new Crims were creating music as some kind of "magickal" act. Fine as their maiden effort Lark's Tongues In Aspic (released in March '73) was, some of the band's admirers felt that this element of "magick" hadn't make it through the door of Command studios so for a follow-up much of the next European tour (undertaken as a quartet, Muir having quit to join a Tibetan buddhist monastery) was recorded. Unacknowledged at the time, Starless And Bible Black (released at the end of March, '74) was a live album in all but name, with (in a reversal of what would subsequently become standard practice) two bonus studio tracks ('The Great Deceiver' and 'Lament') tacked on at the start. Shorn of all audience noise, the performances were mostly culled from a November 23rd '73 appearance at Amsterdam's Concertgebouw, comprising a handful of new compositions (the fiendish 'Fracture', the lyrical 'The Night Watch') and adventurous improvisations. Two minutes into 'The Night Watch', Cross's mellotron melts down, leaving the album track to be completed in Air Studios. While the title improvisation is a Marmite proposition, 'Trio' emerges as a delightful piece of pastoral whimsy, conjured out of thin air by Fripp, Cross and Wetton (Bruford is credited with "admirable restraint"). Fripp beefed up the complex guitar parts on 'Fracture' in the studio, conceding "double tracking that sucker from a live recording wasn't easy" (possibly the understatement of that or any other year). 'We'll let You Know' is a piece of spastic funk that congeals from metallic fragments onstage at the Glasgow Apollo October 23rd '73 and teasingly peters out just when it sounds like it's starting to get somewhere… always leave them wanting more. 'The Mincer' is a tight prowl excerpted from a much longer improv at the Zurich Volkhaus October 23rd '73, with Wetton vocals overdubbed after the event and another brick wall ending. The improvisations are unveiled in their entirety on subsequent gig-specific releases, anniversary editions and boxed sets (such as 'The Great Deceiver' and 'Starless'), which are also good places to pick up on tracks that briefly featured on set lists but never made it onto any studio album, eg 'Doctor Diamond', 'Guts On My Side'…
After the band returned from a run of US dates in summer '74, Cross resigned/was sacked (depending on who you believe) and other three recorded Red, often cited as the ultimate "stripped down, power trio album" but actually featuring plenty of over dubbed guitars (not to mention oboes, cornets and cellos) plus guest appearances by former members McDonald and Collins. Bruford had already described Crimson writing sessions as "excruciating, teeth-pullingly difficult music making", the situation now exacerbated by an increasingly disgruntled and mystically inclined Fripp's decision to "withhold the passage of opinion" during its recording. The Crimson classic 'Starless' had been broken in during the previous year of touring but the album was filled out with 'Providence', another applauseless live recording/love-it-or-loathe it improv excerpted from a performance in the state capital of Rhode Island in June 30th '74, via which Cross makes his only appearance on the album. Subsequently hailed as a seminal neo-metal effort, Red registered like a damp squib after Fripp, who initially agreed Buford and Wetton's request for McDonald to rejoin, about faced and declared, with its release imminent, that the band had "ceased to exist" in September '74.
Two posthumous releases marked the King's abdication. In the accompanying booklet to the March '76 double album compilation A Young Persons Guide To King Crimson it was finally confirmed that Starless And Bible Black was a secret live album. Several months earlier, USA had been issued to document the final American tour of this incarnation. At last, a "proper" King Crimson live album… well, not really! Fripp allowed applause on this one, in fact on the original UK vinyl release the audience's response to the closing '21st Century Schizoid Man' goes on indefinitely, in a locked groove, though it turns out that they weren't exactly responding to what you hear on the album. This set was compiled from the band's June 28th '74 date at the Asbury Park Casino, New Jersey though the aforementioned 'Schizoid Man' was transplanted from the Providence gig, two days later. That's the least of the liberties that were taken, though, when the album was mixed by Fripp and Wetton at Olympic Studios. For starters, Cross's violin parts on '21CSM' and 'Larks' Tongues Part 2', also his electric piano on Lament, were replaced in the studio by Eddie Jobson. His contributions to the muscular improv 'Asbury Park' were removed entirely. Admittedly, comparisons with the unadulterated Asbury Park gig (released as a download in 2005 and a collector's club CD the following year) prove that this particular track benefits from Cross's deletion, though it kind of undercuts your sense of awe that the band could have improvised something so powerful when in fact they subsequently took such pains over its presentation on record. The USA reading of 'Easy Money', with the benefit of hindsight, suggests that Fripp was already getting itchy feet, during a solo that starts fierce then turns lyrical and (at about the 5:43 mark) seems to choke off as he all-but absents himself from the music, which is allowed to fade altogether a minute-and-a-half later, just as he's getting back into it. Cue much discussion among Crim heads who didn't attend that gig as to what happened next. Volume 1 of the 2004 box sets The 21st Century Guide to King Crimson seemed to provide completion of the track, until perusal of the album's liner notes revealed that the tail end of the Providence performance had merely been tacked onto it. Suspicions should have been raised by the fact that two guitars can briefly be heard playing at the join… Crimson didn't acquire a second guitarist until Adrian Belew joined the band in 1981 and accomplished as he is, Fripp has not yet demonstrated the facility to play two guitars at the same time (though he may well be working on it). The integral Asbury Park gig finally reveals the anti-climactic truth, with Fripp vibing along half-heartedly as his mighty rhythm section push him over the finish line. Again, one wonders why this album was compiled from dates on which Cross's contributions were deemed below par and/or badly recorded, when subsequent releases established that there were plenty of other gigs to choose from.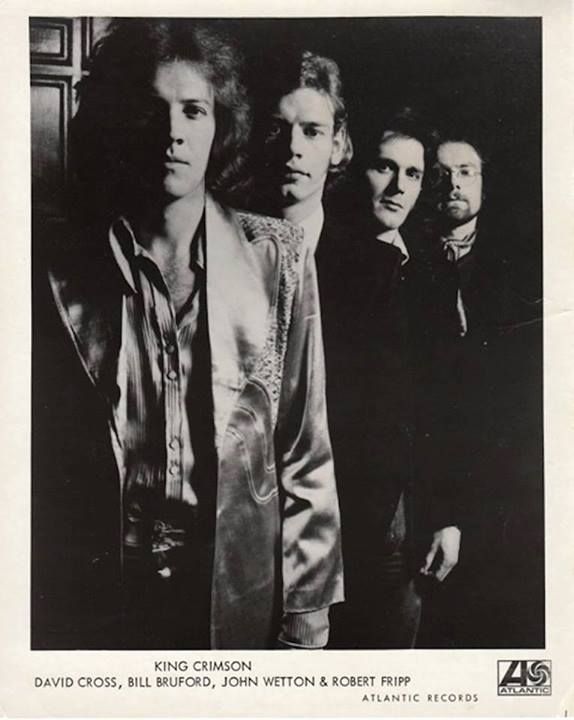 The Great Deceiver box set, released in '92 to counter the scores of KC '72-74 bootlegs circulating in Japan, belies its name with only minimal tweaking to this collection of complete and partial gigs. 'Larks Tongues II' from Pittsburgh, April 29th '74 is abridged and there's another abrupt ending as 'The Talking Drum' from Zurich Volkshaus November 15th '73 terminates at full throttle. Fripp's contemporary diary entries in the accompanying booklet embroider one of his favourite themes, the joy of making music versus the horrors of the music biz. David Cross, now rehabilitated, is present and uncorrected and gets his say in the booklet, too.
After a false start under the Discipline banner in '81, Fripp and Bruford reconsecrated King Crimson together with yanks Adrian Belew (ex-Zappa/Bowie/Talking Heads) on vocals/second guitar and super session man Tony Levin on bass and Chapman Stick. The first album of this line-up, Discipline, proved to be less prog than a prescient fusion of post-punk and World Music. Fripp claimed at the time that the new Crimson was the best band in the world and he might just have been right. A year later, things were going down hill during the recording of the patchy follow up Beat. A dearth of new material allowed some second (and I'm being generous) rate stuff onto the album ('Two Hands', I'm looking at you) which was filled out further with the track 'Requiem', on which the players improvised their parts over a pre-existing guitar loop recorded from one of Fripp's solo "Frippertronics" tours in '79. Fripp and Belew's falling out over this album prefigured the band's split in '84, following one more studio outing, Three Of A Perfect Pair.
Live releases by the early '90s "double trio" (which added drummer Pat Mastelotto and Trey Gunn on various gizmo guitars to the '80s band) and late '90s line-up (Fripp/Belew/Gun/Mastelotto) and indeed archive releases from previous Crimcarnationstended to be presented "as is/was", in a conscious attempt to provide compelling archeological evidence of the band's protean evolution, a process that reached its logical conclusion in 2014 (after Fripp had sorted out various long-running royalty disputes and emerged from a short-lived "retirement") when a three drummer, seven (subsequently expanded to eight) man line-up including old boys Collins, Levin and Mastelotto,together with some new faces, convened to tour the world, playing music from every phase of the band's development… the so-called "Elements Of King Crimson".
The bonus third disc of Live In Vienna (recorded December 1st 2016, released in 2018), knits together three instances of the intro music that was improvised for each post-2014 gig into a suite, recalling the way that improvs by the "double trio" during their 1995 tours of the USA and Japan were compiled into the Thrakattak album (1996). Most of 2016's Radical Action (To Unseat The Hold Of Monkey Mind) was recorded in Takamatsu, Japan on December 19th 2015, with songs interpolated from other, unidentified gigs, to represent everything played at some point during the band's 2015 tours. In a throwback to Starless And Bible Black, any audible sign of the audience was been removed from this set of three "virtual studio albums".
RA(TUTHOMM) is clearly a live album and marketed as such, which would seem to make less credible claims that Fripp disguised S&BB as a studio album back in the '70s simply because live albums generated lower royalty rates (or because he mistakenly believed at the time that this was so.) Nevertheless, it is entirely possible to believe that some of his after-the-event tinkerings with live – and indeed studio – recording might just be motivated less by aesthetic considerations than more, er, earthbound ones. It's all very well to argue that Crimson's music, rather than being carved in stone, is part of some mutable "ongoing present moment", but consider how theerasedparticipants, like the objects of some Stalinist historical rewrite, were on the outs with Fripp when these amendments were made, eg David Cross on (or more properly off) 'USA' and Gordon Haskell, whose vocal contributions to the In The Wake Of Poseidon's 'Cadence And Cascade' and bass on Lizard's 'Bolero' were re-recorded by Belew and Levin, respectively, for the Frame By Fame box. Now that Belew's own relationship with Fripp has seen better days, one wonders if he'll find himself disappearing from some future releases.
Serious musos have long regarded a place in the ranks of this band as one of the hottest dates out there. But those courted by Crimson's king during its first 50 glorious years might well want to keep one question in mind… will Fripp still love them tomorrow?